From Nice to Breathtaking: How We Transformed this Home
John and Liz needed help with new furniture for their whole house.
We set up a 2 hour in-home consultation–a Remodel Clarity Session–and when I walked in the door I thought, "This looks pretty nice. Hmm, not sure what is wrong."
After the normal introductions and home tour, it became clear why John and Liz needed to update their space. They purchased the home 10 years ago as a model home—complete with furnishings. Ten years ago, it looked extremely put together, but now Liz just plain "hated it." Everything was black, white or brown. She was tired of the blandness, and she craved color and elegance.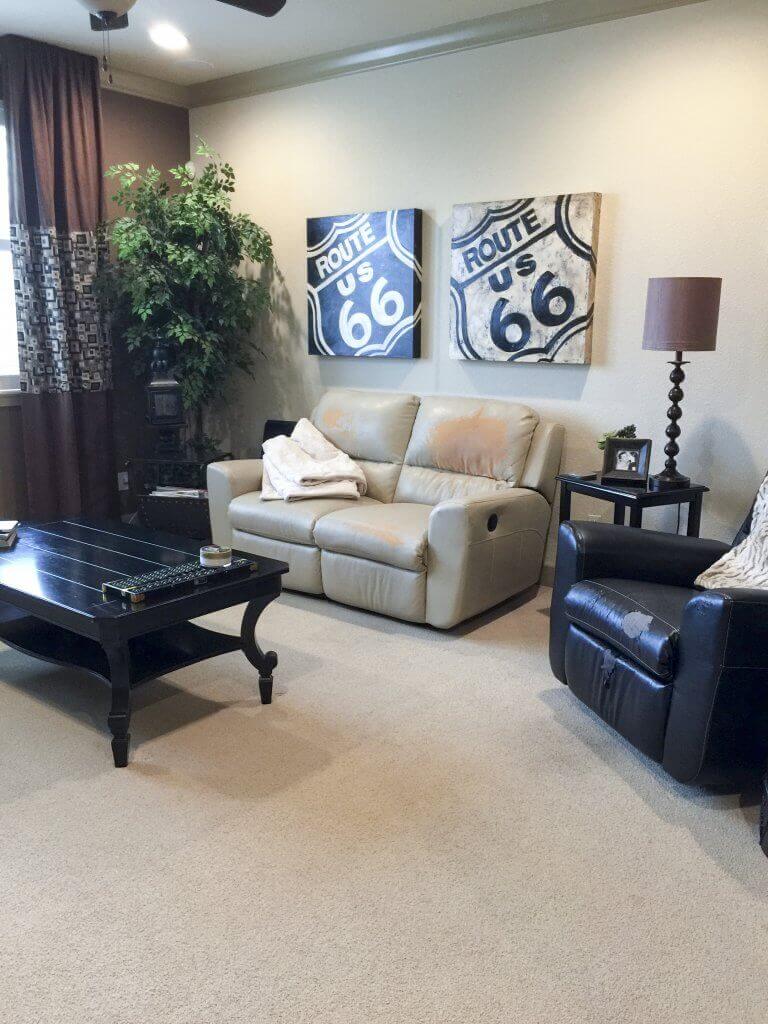 Yay, someone wants color! All too often, people tell us they want color, but in the end they default to back to beige because it's "safe." I had a great feeling that Liz would not play it safe.
We got to know John and Liz pretty well (as we generally do with our clients). We would show her various concepts and inspiration photos, and she would say "I like it, but I don't love it."
This has since become our mantra:  "Do you like it or do you love it?" We, of course, want you to LOVE IT.
Liz was tired of brown and black. We asked her to create an Inspiration File and noticed right away that she was picking rooms with lavender and navy blue. Our color palette became gray, lavender, and navy blue.
Pretty simple, right? She wanted the look of light, rustic wood while maintaining a sense of neo-classical design and elegant drama.
How We Updated This Home
Our first step was to pick a soothing and fresh paint color palette. We selected our two favorite Sherwin Williams colors, White Duck for the walls and ceilings (always paint your ceilings the same color as the walls–read here to learn why) and Worldly Gray for the trim and doors. With the walls freshly painted, we had the perfect canvas to begin creating elegant rooms.
John and Liz entertain A LOT, so they need lots of durable seating. Since the home was previously decorated by a designer, there were a few elements that still worked. Making a quick inventory of the items to keep, we directed our clients to donate the remaining items to a charity of their choosing.
Living Room: The wall art was a gorgeous piano image and we loved it (notice how we didn't just like it, no–we LOVED IT). We added classic pieces: a tuxedo sofa and winged back chair in soft chenille, velvet, leather, and satin. We also added sensuous drapery, tabletop items, and bookcase items—styled for an elegant sitting room.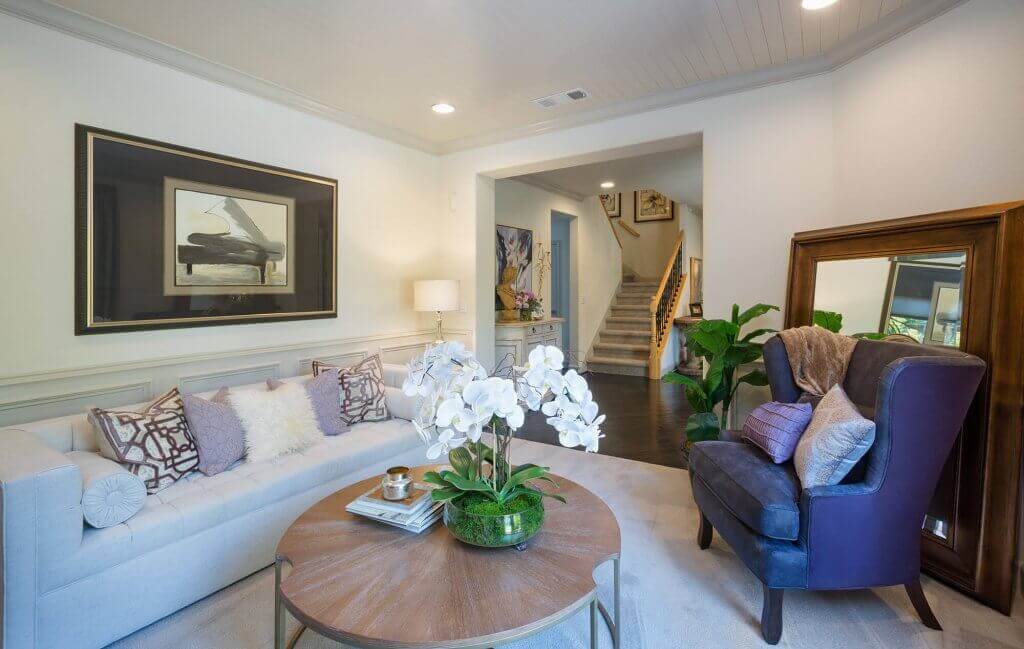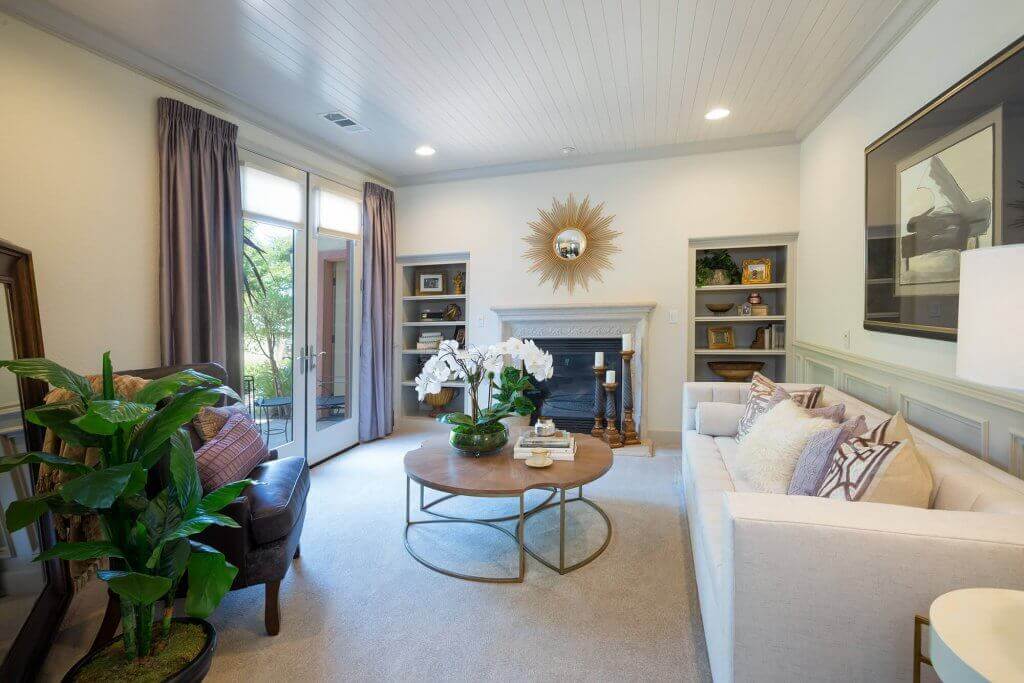 Dining Room:
The dining room needed a large round table and at least six chairs because John has meetings at the dining room table.  Liz wanted to update the wallpaper, window coverings, and velvet chairs.
We had a difficult time finding a table that was large enough to seat six people and would also fit in the room—but we kept searching and ended up with this beauty (pictured below).
Notice how all the window coverings are stationary panels? They wanted to keep the existing shutters, so we added decorative panels for "drama" and balance. We opted to design this soft, folded and pleated drapery that hangs so precisely on a stately rod.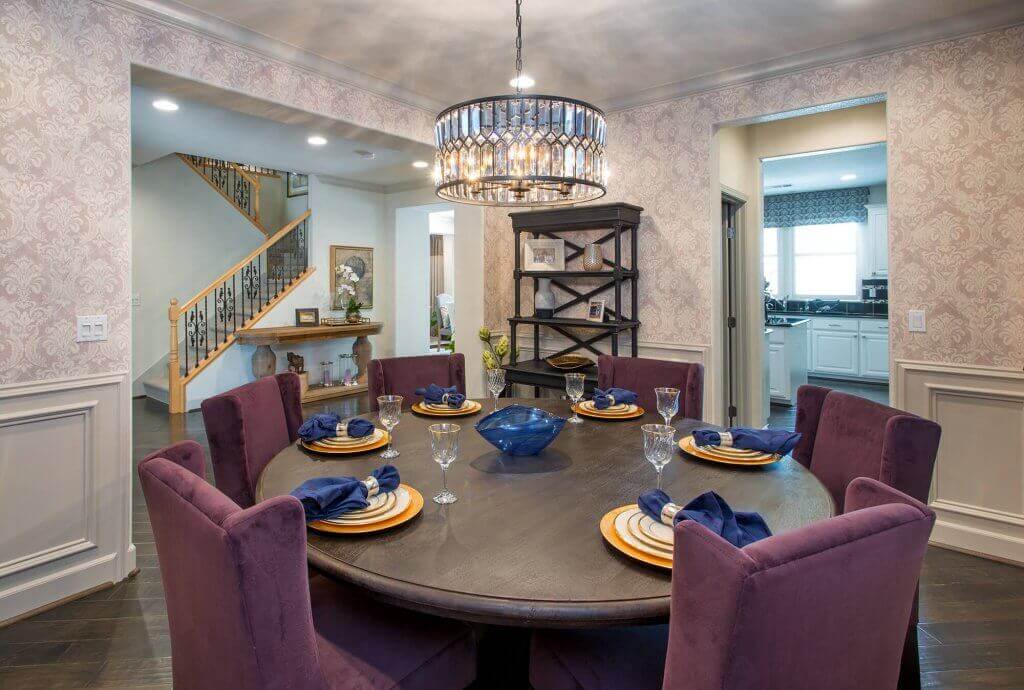 Family Room:
This is where the bulk of entertaining occurs, so we selected two custom sofas made with high performance fabrics to fit this room exactly.
The gorgeous stationary drapery panels are a luxurious satin and velvet. The pleat is a fan pleat, which feels updated from a typical pinch pleat.
We styled the fireplace mantel and added two tufted poufs as extra seating.
The orbit chandelier tops off the room perfectly, as every home needs a fancy chandelier.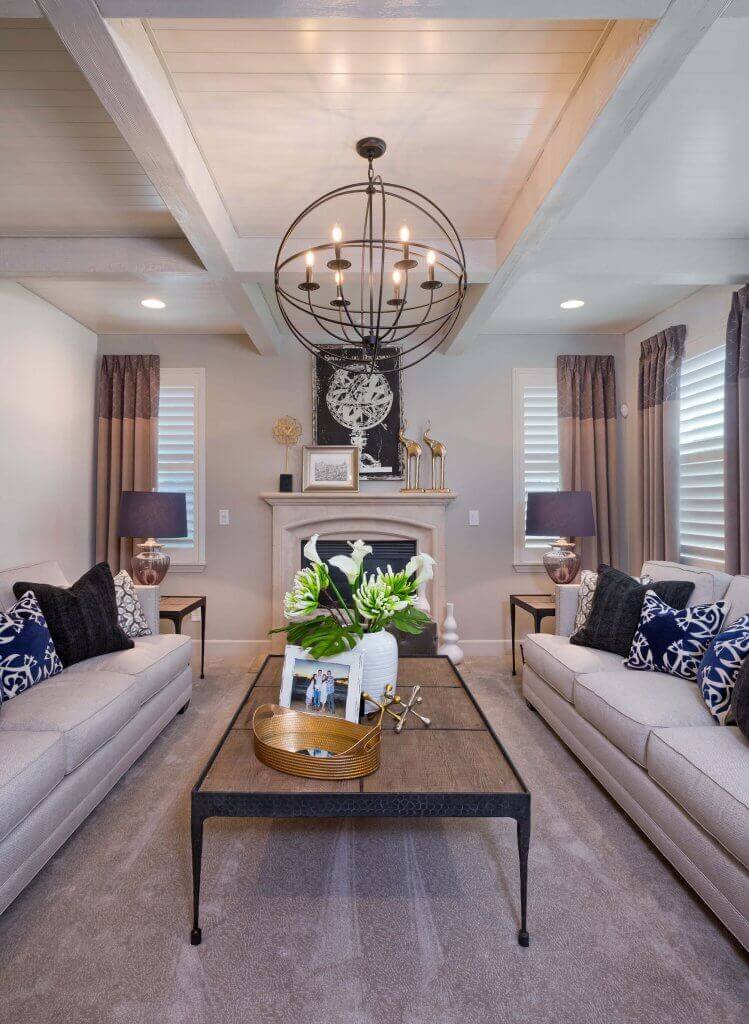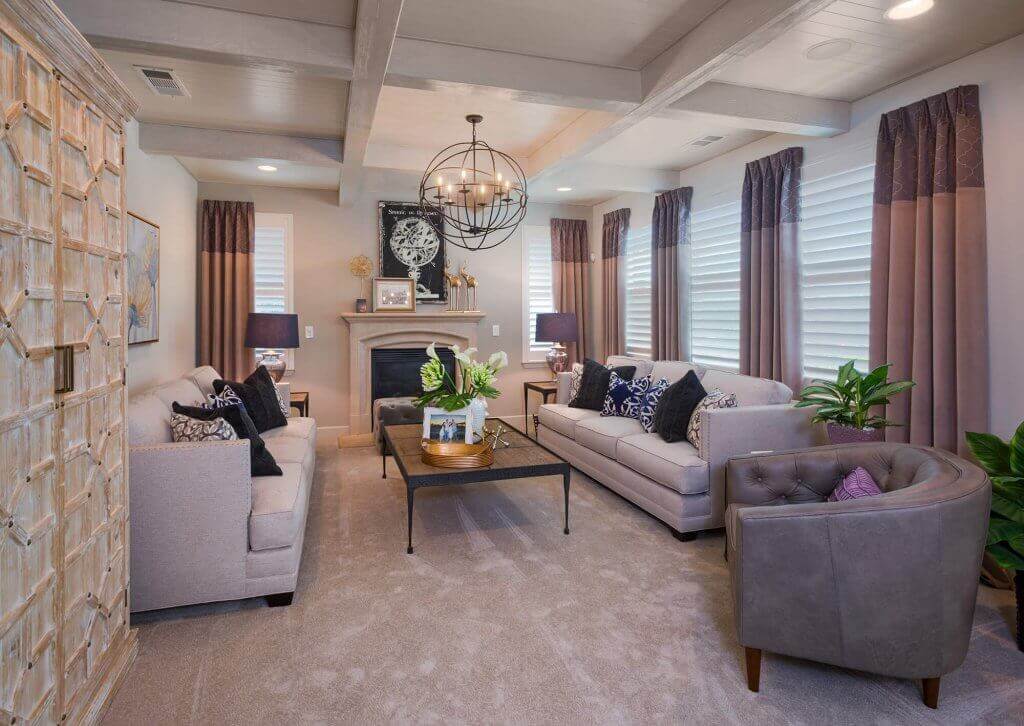 Eat-In Kitchen:
Adjacent to the family room is the kitchen dining. The linear chandelier, medallion and cuff pleat window panels, and a driftwood table make this room as luxurious as the rest.
We also added fancy slip covered chairs with a corseted tie back. Lastly, we added a pineapple plant centerpiece that symbolizes warmth and welcoming.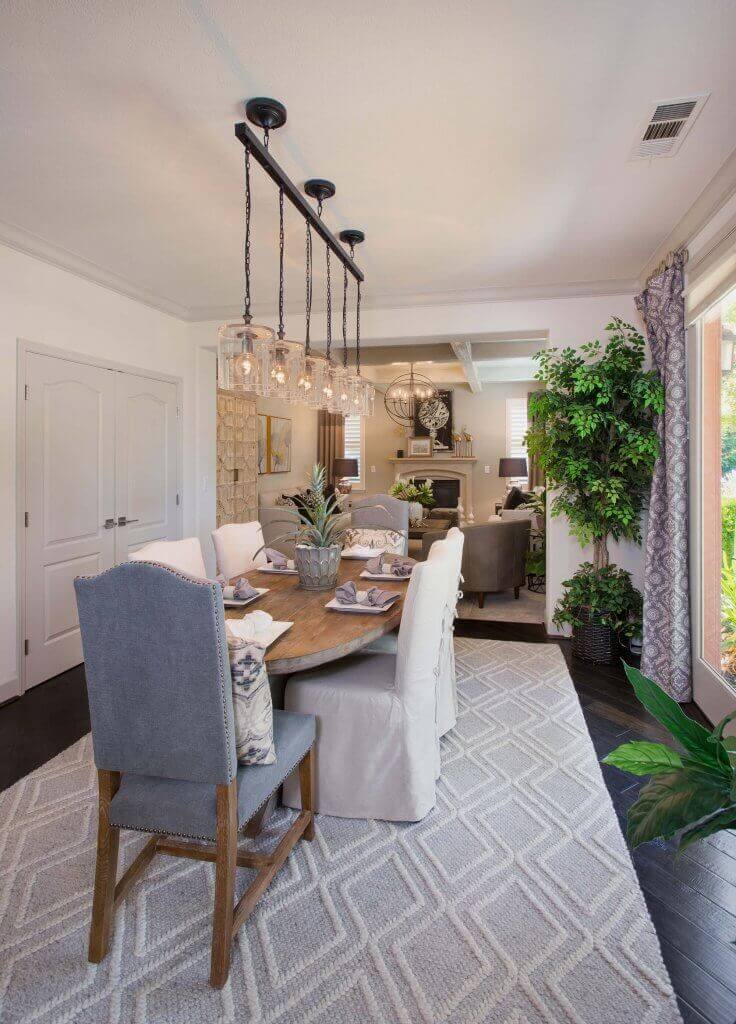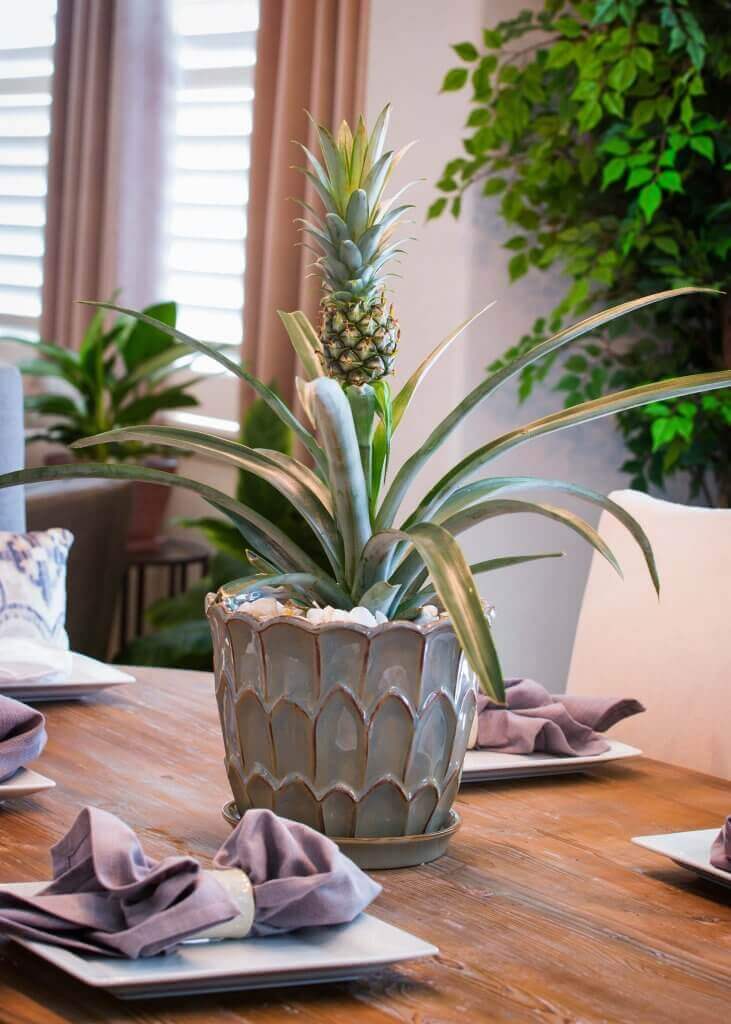 TV Room:
This is a loft on the second floor where the family watches TV and hangs out together. We selected a sofa with a chaise in a high performance fabric for that specific use. I adore high performance fabrics because they wear so well (and spills just bead up and wipe away).
For John's recliner (I know it doesn't look like a typical recliner – isn't it divine?) we were sure to get top-grain leather to prevent any peeling or cracking (which is what happened to his old recliner made of bonded leather).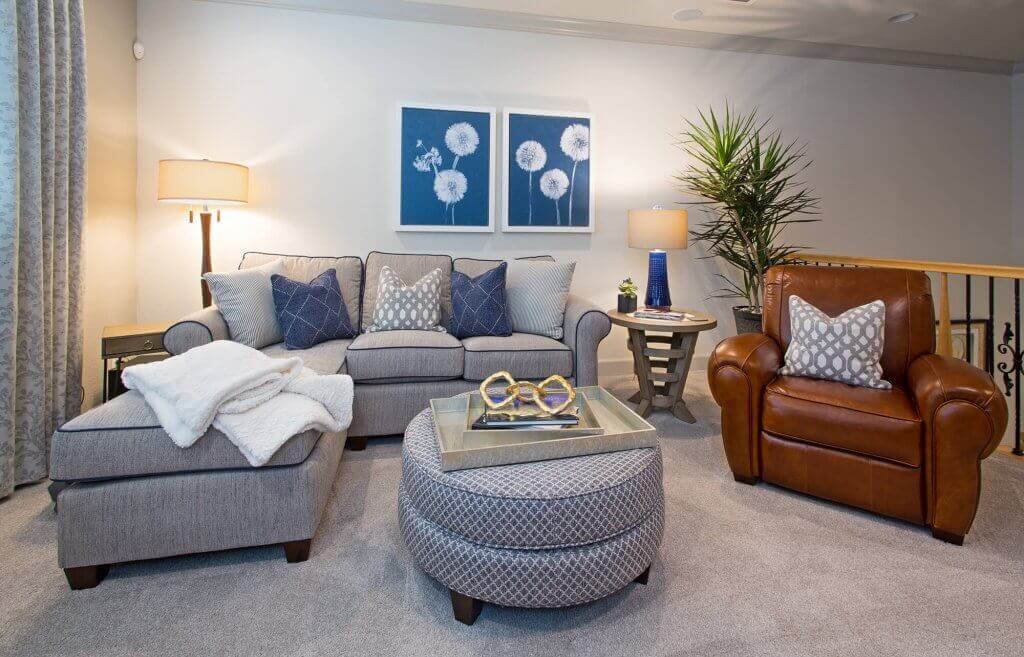 We thoroughly enjoyed each and every room in this home. Everything is interconnected, but unique on its own merit.
If you are considering new furniture for your home, whether it be one room or all of them, be sure to check out our services page.