Why I'm Remodeling My Beautiful 1950s Kitchen
She was anxious because she had a vague image in her head but didn't really know what she wanted when it came to each individual piece. Trepidation set in because she'd spent many years saving up the money for a remodel—and what if it came out all wrong?
She found herself procrastinating because she didn't want to commit. Her designers were shouting out rapid fire questions like – what door style do you want, what color countertop do you want, and what tile backsplash do you want? She couldn't answer the questions and the designers were becoming more and more irritated with her.
Was her anxiety and indecision wasting everyone's time? Would this project EVER get done?
Who am I talking about? Me!
Yes, I've taken the plunge. I'm remodeling my own kitchen this summer. I've talked about it for ages, saved up for years, and now that it's time to move on it, I'm frozen. Like a deer in the headlights, I can't figure out which way to go.
I advise people every day on this very thing and now I'm experiencing it firsthand. It is a scary thing, a big financial commitment with so many decisions to be made—decisions I'll have to live with for a long time.
Luckily for me, I have a great designer on staff, Sandra. She gave me some tough love and made me move forward. Next week, the carpenters are ripping out my old, well-used kitchen. We have a plan and have selected all the finishes, but it wasn't an easy process to get there.
Sandra employed the KTJ Design Process on me. She made me measure my existing space, start a Pinterest board, sketch out the new space plan, select many finishes, and then whittle them down to my favorites on a style guide.
It all became clear, and I am sleeping again. I feel so light and relieved that everything is moving forward.
The Pain Points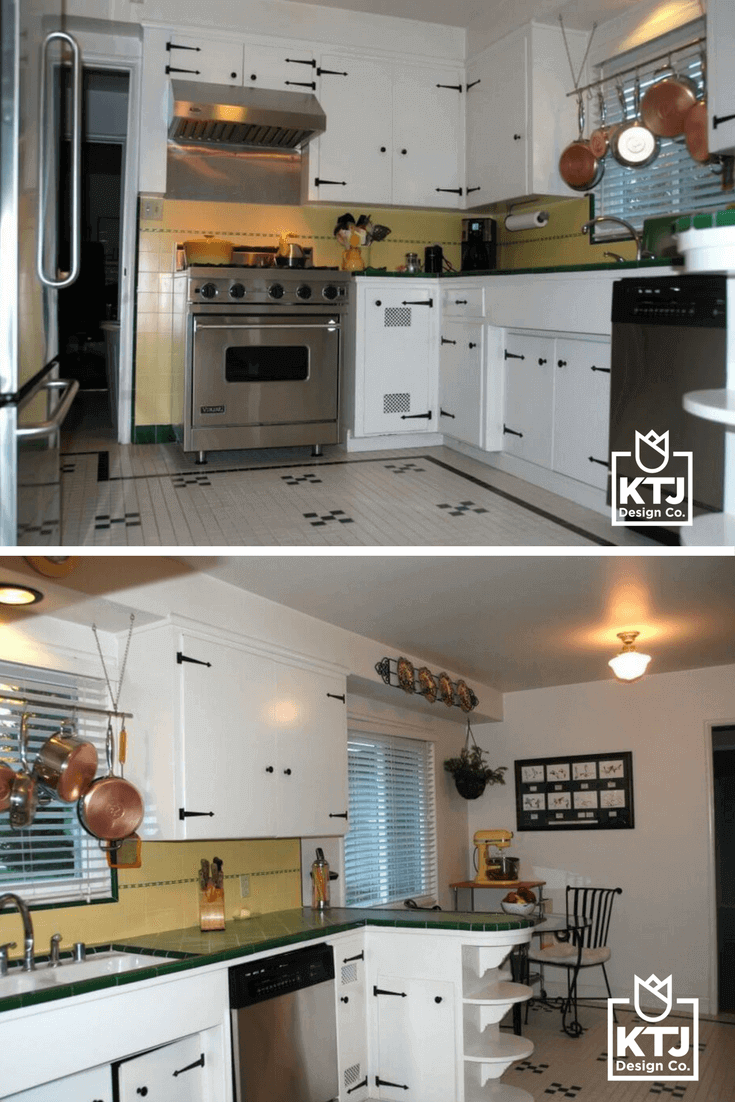 My home was built in 1952 and is a sweet ranch style home that I love. The kitchen is mostly original and the cabinets are literally splitting apart. The sink is pitted, and the grout is almost non-existent. Here are pictures from when we first remodeled the house 15 years ago. It was really a restoration. I wanted to keep everything original and the yellow and green tile was just so dang cute.
The Space Plan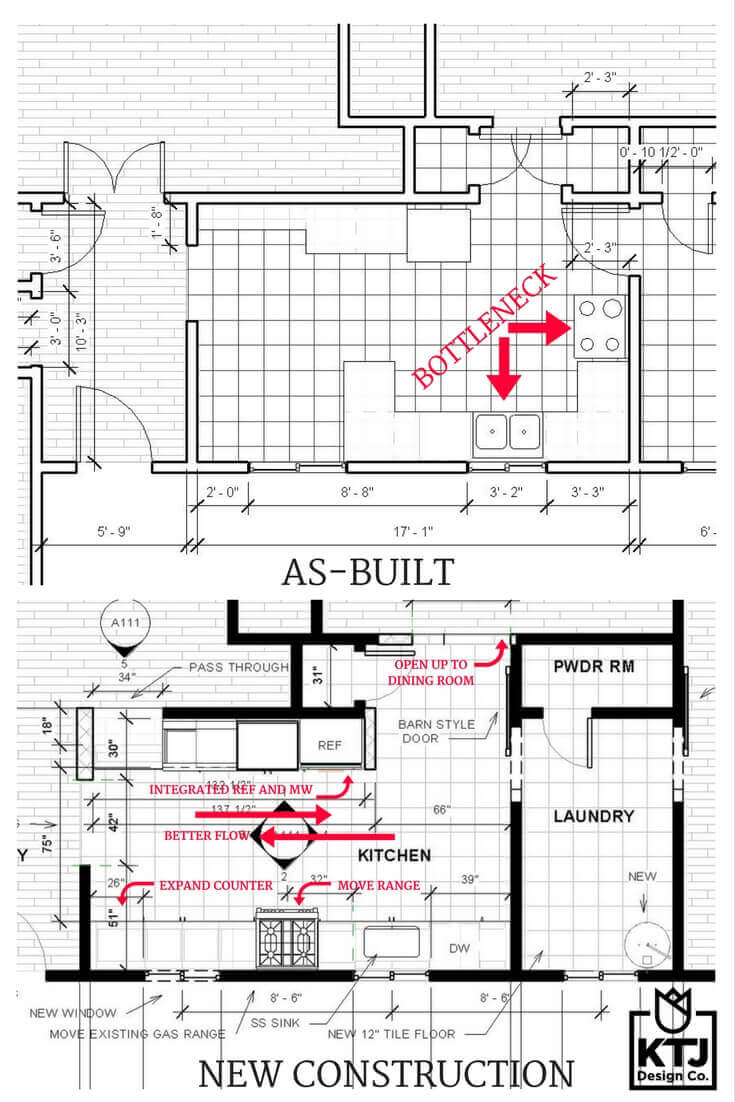 The main problem we are dealing with currently is the layout. The stove, sink, dishwasher and refrigerator are all crammed into a small corner, making it impossible for two cooks to work (let alone get coffee in the morning). I wanted a work triangle to accommodate two cooks and the latest in technology.
I opened up two of the walls slightly. I know everyone wants an "open concept" kitchen, but in reality, I don't care for them. I like a little separation. I did open the access to the dining room and created a pass-through between the living room with a counter height bar area. It will look great later with some saddle stools and sparkling pendants. This is just enough to make the space feel open, but it also keeps the kitchen out-of-sight at the same time.
Changing the layout to a galley style kitchen (two walls facing each other) allows for better a traffic pattern so that two cooks can easily pass each other. Hurray!
The Inspiration Files
We ask all our clients to create inspiration files in Pinterest or Houzz., and I was no exception. I started my Pinterest board and pinned everything that caught my eye.
Early this year I wrote a blog about tuxedo kitchens, and I knew I had to keep that style in mind.
The Style Guide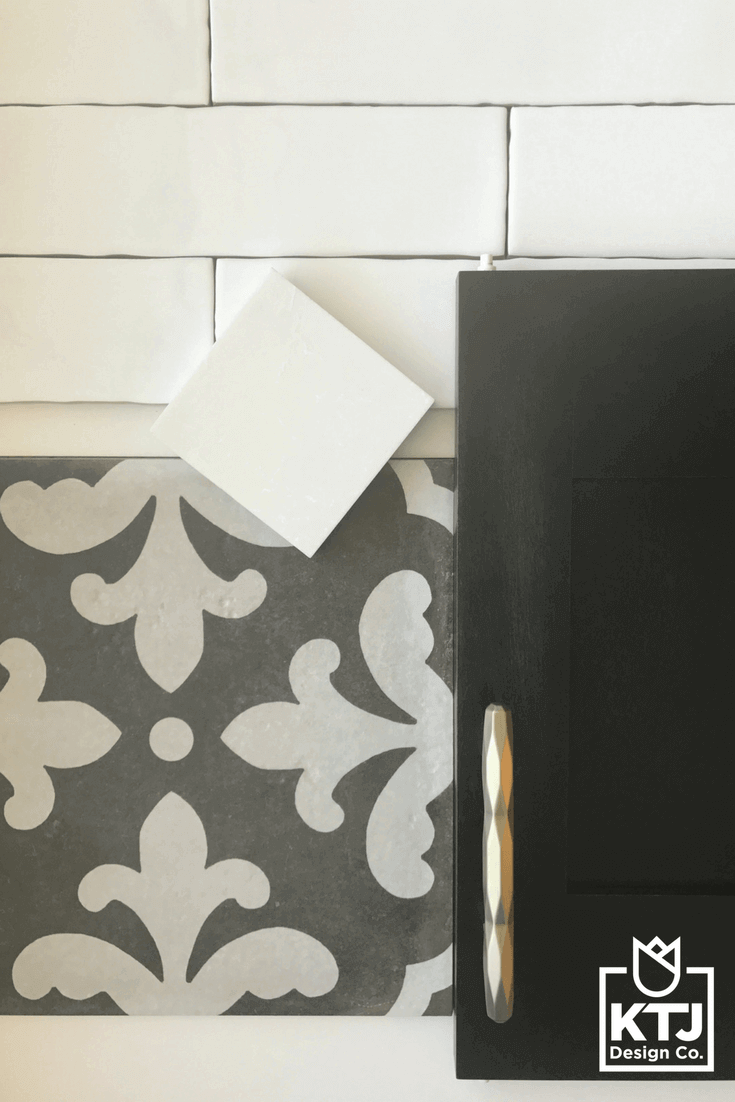 Pulling from our resource library and wide net of trade resources I selected these finishes. Next week's blog about what's new, now and next in kitchen design trends will tell you why I picked these particular finishes and more.
Want to watch the progress moving forward?
Be sure to  like my Facebook page and turn on notifications so you don't miss the updates on this project!