How to Keep My Oak Cabinets and Make My Kitchen Look Great
Oak kitchen cabinets were the standard in builder grade and high-end homes for so many years and now, almost exclusively, homeowners call and ask me "what to do with those [honey-colored flat-sawn] oak cabinets?" Oh they were so "trendy" in the 80's and 90's. But now they just look dated and worn-out.
You have several options:
1) Replace them (10,000 to $50,000)
2) Paint them ($8,000 – $20,000) or
3) Design around them
Because most often (not always – sometimes you just need to replace them), the solid oak cabinets that are quality made and have been well taken care of are quite beautiful. And honestly, next to appliances, in a kitchen remodel, the cabinets are the most expensive thing. So instead of replacing them, let's design around them.
How to Keep My Oak Cabinets and Make My Kitchen Look Great
Clean Them:
If your cabinets are in good condition (they were finished with a conversion varnish or if they were lacquered, it is not failing) and were a good quality to start with (as in quarter-sawn solid oak) you can give them a quick freshening with a good cleaning. Check in here for how to clean kitchen cabinets.
Counter Tops:
I bet those oak cabinets are topped with tile/grout counters. Let's remove that top immediately. Replace the tile with a solid surface countertop. A solid surface countertop will update your kitchen faster than you can say, "Iickety-split." My favorite solid surface countertop material is Silestone. It is a quartz product that is non-porous, stain resistant, scratch resistant, and antimicrobial. When I said solid-surface countertops, your mind immediately went to granite – right? Granite is ok, but the pattern is too busy to work with oak cabinets. There are other solid-surface materials, but go with Silestone. Lyra from Silestone's Nebula series is a good choice and it won't become dated in a few years (like granite).
Tile Backsplash
Dress up the backsplash with a beautiful mosaic tile or subway tile.  Subway tiles are a classic application and are typically plain white in a 3" x 6" size. But you could jazz it up with an unusual size or glass.  If you go classic with white or off-white subway tiles, use black grout. This will make them pop. How about this glass subway tiles from A.K.D.O. in a herringbone pattern? Ooh la la – to die for! The choices for mosaic tiles are endless. I like long skinny stone or ceramic and when applied vertically in a small kitchen will make it feel taller. You can also get a mix of stone, glass and metal for added reflection – a good choice for a dark kitchen. Please don't use travertine anything! This is a trendy material that drives me crazy.
Plumbing Fixtures
Updated plumbing fixtures and a new sink not only adds aesthetically to your kitchen, but can make it function better as well. Most kitchens sink have a two basin arrangement, but opt for a single basin.  Since nobody really washes dishes by hand anymore, there is no need for two basins and with one basin; it is easier to wash big pots and pans (or little babies). Bakersfield by Kohler  is a 31" undermount cast iron sink that is simple, but gorgeous (or simply gorg). Undermount sinks are important for cleanliness. A touch-less faucet with a single hole is the way to go, man!! Let me tell you why – cleanliness. I like this gooseneck style Sensate  faucet from Kohler. Again, we are looking for clean simple lines – why? Because your oak cabinets with all that cathedral graining are grabbing all the attention and we want to balance it out.
Appliances
Whoa, appliances run the gamut when it comes to choices (you might think tile has the most choices and you are correct, but I just told you which one to choose, so that dilemma is over) from low-end at about $1,200 to $25,000 for a high end cooktop. The decision boils down to how you cook and how much you want to spend. A little cost-benefit analysis is in order. If you rarely cook, then go for the low-end, but if you consider yourself the next Top-Chef, then you want more robust appliances. For low-end, Frigidaire is your best quality.  For high-end, I am partial to Sub-Zero/Wolf. But somewhere in the middle is GE Monogram Professional Series in stainless steel. This brand is going to take you a long way with style and function.  Get a counter-depth refrigerator to get a built-in customized look. When the refrigerator sticks out a foot, it just becomes a big behemoth necessity, but a sleek counter-depth refrigerator takes it from an ugly focal point to not being noticed at all.
Lighting
Ah, give me light or give me death (oh wait, I think that was liberty)! Lighting is the single most important thing in any room design. However, it is often left to the end of projects and gets the short end of the stick (or most likely the short end of the budget). Go big with lighting, as in a lot of it. Downlights for each big work zone and under cabinet lights for each little task is required at a minimum and if it is in your budget go for some decorative lighting as well. The decision for fluorescent or LED is not a choice anymore – just go LED. For under cabinets lights, check out LeGrand . It is not only lighting but essentially a wire management system. Ya know that gorgeous herringbone glass backsplash we are installing? How about if we don't put big holes in it with switches and outlets? Yup, that is what you get with LeGrand wire management systems. Super cool.
Hardware
I just want to know one thing? Where did the cabinet installers hide all the knobs and pulls? I mean really, why didn't they put handles on the doors and drawers. This is the one thing you can add without spending a ton of money. And, oh, that cleanliness thing I keep harping on – yeah, add pulls and knobs to help keep your cabinets clean. Top Knob has lots of pretty ones to choice from.
Here is our lovely oak cabinet kitchen brought up to date with new counters, tile backsplash, plumbing fixtures, appliances, knobs and pulls, and lighting. Plan on spending around $20,000 to $30,000.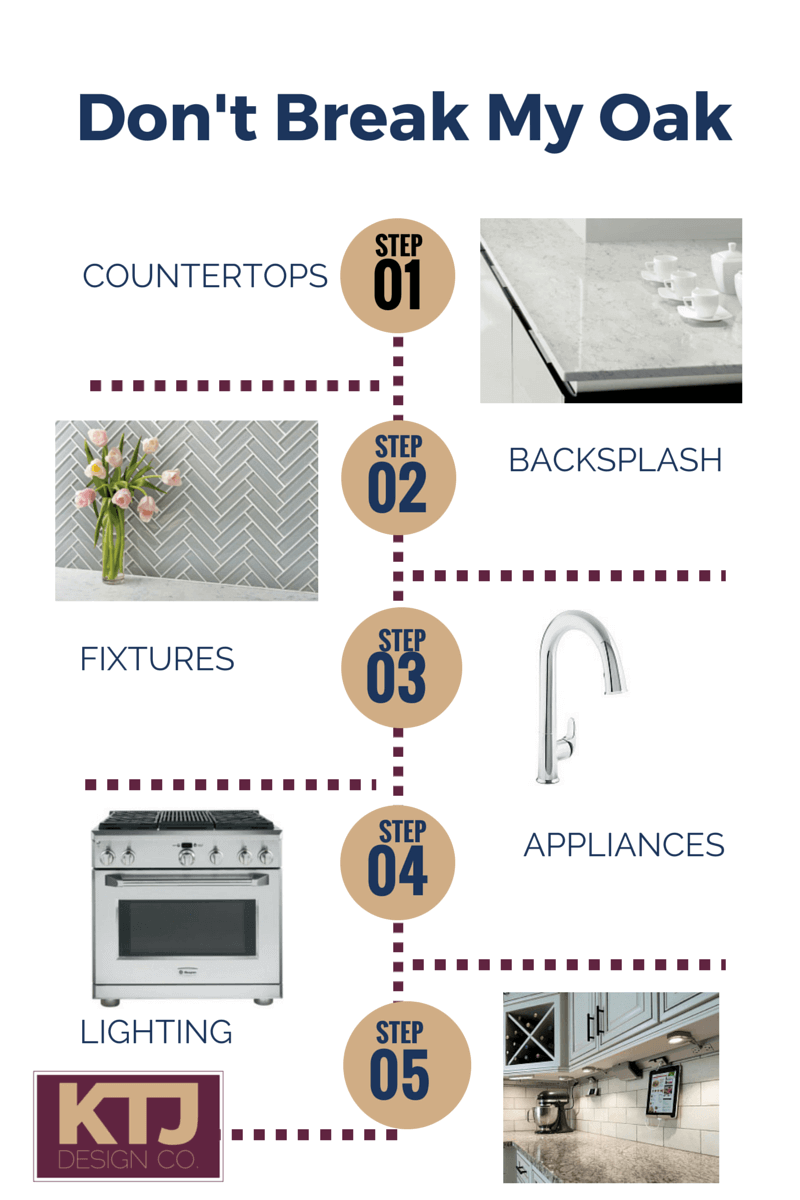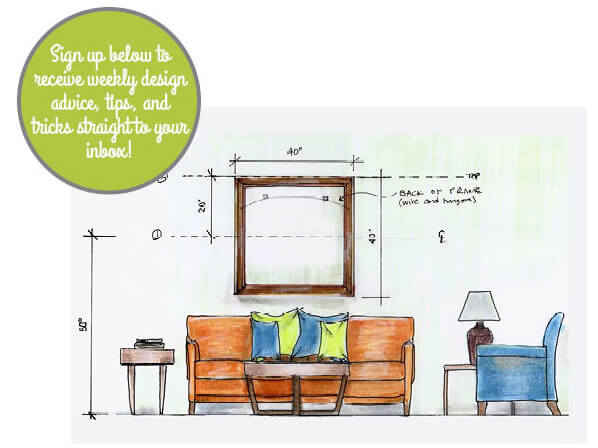 [gravityform id="4″ name="Free Updates Opt-In"]