How to Make Kitchen Remodeling Choices You'll Never Regret
This is part of an eight part series on kitchen design.  Don't miss out, get this series delivered straight to your in-box each week. We will go over the eight key elements you need to know before you start any kitchen remodel.
Part One: Love Your Kitchen! Design Layouts That Add Bliss
Does the current lay-out of your kitchen work just fine, but the finishes are like a re-run of "That 70's Show?"
Or do you want to completely rejigger the whole dang kitchen?
To make sure you will love your new kitchen design, you need to ask yourself a few important questions and then you need to figure out what style of kitchen you have or what style of kitchen will work best for you. This is your starting point when you decide to remodel your kitchen. If you want to keep the same footprint, if it is important to determine which type of layout you have, so we cull out my tips for getting the best retrofit. But if you want to scrape the whole dang kitchen, then knowing how you use your kitchen is where you go next.
We have a long design questionnaire for new clients complete. It help us figure out how you use your kitchen and it helps you take stock of what you have, what works and what needs to change. Here are a few of the most important questions:
How many cooks are in your kitchen at the same time? If there is more than one cook, then it is important to have multiple work zones.
How do you prepare meals? If you use every single pot, pan, and utensil then you need more robust appliances, but if you simply tear open a box and plop it in the microwave, then that expensive commercial type range will be a waste.
How do you shop? If you buy in bulk, then you need more storage.
Do you entertain a lot? Then your kitchen probably becomes the central gathering place and you need lots of space to the "observers" to sit, watch, and converse.
 A Little Note about – The Dreaded Work Triangle (dun, dun, dun)
There are three magic points in the kitchen – The sink, refrigerator, and stove/oven. To be the most efficient, you don't want any point from one to the next to be more than 9 feet (and the total between all to be more than 24 feet). There are lots of other rules of thumb when you comes to the design of the kitchen (but this is the big one). In fact there are so many rules that entire books (some of which are in my library) are dedicated to the topic. The reason, I say "dreaded work triangle" is because in large kitchens or open-concept kitchens, it is sometime difficult to obtain.
The Top Three Kitchen Layouts that Work the Best
The Galley Kitchen
The Galley Kitchen has two straight runs on each side. The sink is on one side and the cooktop or range is on the other side. The drawback to this space is that it is often difficult with two or more cooks to work because of the one way traffic pattern, but if you make sure there is 42- 48 inches between the two runs, two cooks can easily maneuver past each other. In fact, it is an extremely effective layout if you have one prep cook at the sink wall and the chef on the range wall, working in tandem with each other. Alternatively, you can have a single wall or "straight kitchen" and an island opposite it. This opens up the kitchen to the adjacent family room.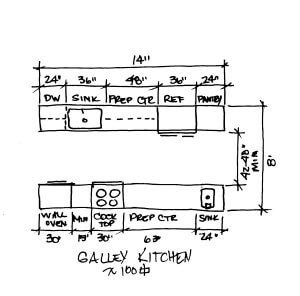 L-Shaped Kitchen
The L-Shaped Kitchen has a continuous long wall of cabinets generally with the range and refrigerator on one side and a shorter wall of cabinets with the sink adjacent to it (making an L). An L-Shape kitchens offers more privacy if, say, you are a cook who doesn't want too many people under your feet, because traffic flow is forced out of the kitchen. But you can add an island, if you want the kids or guest to sit and interact with you. And if you add another sink in the island, you will have another prep/work counter.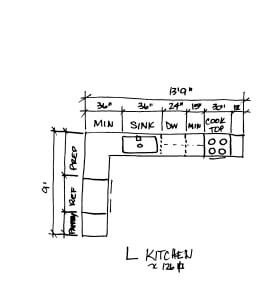 U-Shaped Kitchen
The U-Shaped Kitchen is three walls of continuous cabinets (making a U). It is the most versatile layout and has the most storage capacity. Also, it is great for more than one cook because you can have separate "zones" for multiple cooks to work without stumbling over each other. This type of kitchen offers the greatest amount of cabinets, although you should have lazy susans at each blind corner for easy access.  Plunking an island in the middle adds even more versatility and creates nice "hub" of the home.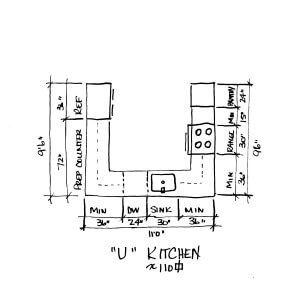 If you are ready to move on to the next step and (yikes) hire an interior designer, we at KTJ Design Co can help you get started. We methodically work through each step making the process easy and oh so blissful – I promise. Click here to read about our ReFAB Clinic Package so you can love your kitchen.

Make sure you are on 'da list and sign up here.
[gravityform id="10″ title="true" description="true"]