No Stress Room Makeover eDesign That Fits Your Real Life
Debbie called me last week. She doesn't know what to do. She has been trying to decorate her house since they purchased it last year, but she can't seem to pull it together. They are too busy to go furniture shopping because the weekends are full with the kids soccer games. And with her busy work schedule, she only has time in the evenings to search the internet. She finds things she thinks she likes, but then is scared to click the purchase button because what if it doesn't look right. Oh it is all so confusing. Jim is getting frustrated because he wants to entertain, but the house is a disaster and he is threatening to go to Costco and buy whatever furniture they have in the warehouse. Debbie is mortified her sister-in-law will come over and say "oh ya, I saw that couch at Costco next to the lady passing out jalapeno poppers."
Can you Imagine It? – A Done For You Room Makeover
What if, and just imagine, what if you could get a done for you design and all you had to do was click a few links to get all the goods? Wouldn't that be a dream come true? You don't have to take a day off work to meet with an interior designer, we do all the work virtually, so you can ask or answer questions and approve items when you have a spare moment (like on a soccer field in the grass on a lawn chair with your cell phone!).
What the Heck is eDesign Anyway?
KTJ Design Co offers virtual design packages for our clients who want a professional interior design, but don't have have the time to do face to face consultations and presentations. They are more than ready and able to do the shopping online and on their own time frame. Our e-design packages include everything you need to complete your new room: a style guide that shows how all the pieces go together, a shopping list with links to all your items, a scaled floor plan that shows exactly where to position all the goodies, and setup instructions with information from how to get your room ready for the final installation all the way to how to hang the artwork. And best of all, your personal interior designer is just a phone call away if you get hung up on any step in the process.
Here is an Example of What You'll Get with your eDesign
I've created this example design for a typical living room and it's yours for the taking! If this design fits your room, then use it, hey baby "signed, sealed, delivered, it's yours." Feel free to download the link below to get the shopping list with a budget and tear sheets with links to everything you see on the style guide and on the furniture legend. This is a $799 value – yours for the taking! "But wait there's more," (I love it when they say that on the TV paid advertising!) by reading this blog, you can purchase a Room Makeover at a discount. Use the code CLASSY at checkout  and get a $200 discount off the normal price. If you would like to learn more about what is included in an eDesign Package, click here.
Let's Set the Scene – Classy and Current
You can give your home that tinge of exclusiveness with this straightforward and stylish room. It is is designed with relaxation in mind with a sofa that is an instant classic. The sofas square silhouette and extra deep seat, plenty of accent pillows, generous arms, and clean knife-edge cushions – all filled with plush down and feathers wrapped in crisp charcoal blue linen, invite you to sit and unwind.  Coupled with a matching generously sized chair, the set is perfect for long conversations over glasses of Merlot or popcorn in front of a good movie.
For extra lounging the Hans chair and ottoman are examples of mid-century Scandinavian craftsmanship. Stretch out with a good book and it is no wonder this is our most popular chair. Covered in top grain leather, this chair will instantly become a cherished family heirloom.
Neatly placed between the seating is a rectangle coffee table with an x-base iron frame which complements all the pieces flawlessly. A set of trays atop the table creates multi-functional storage and a perfect place to display your artistic elements such as the set of beautiful natural toned ceramic glazed vases, bone boxes and striking gold and iron sculptures. Two end tables create a unique personality for your home décor. Each table is styled with novelty in design and exhibit a hint of eccentricity to distinguish you from the ordinary. Add an elegant touch with stunning table lamps in a gorgeous fluted mercury glass base. They offer a textured, multi-colored look while a taupe lamp shade completes the style adding a classic touch.
Tucked under the furnishings is a plush medium pile wool rug in a slate blue ombre pattern and it feels so soft to the toes. Adding warmth and comfort, this large rug grounds the room setting the mood with its lulling pattern.  Displayed over the sofa, the abstract artwork is inky rivers washed in deep blue with copper leaf accents. Never to be ignored are the windows. Dress them in stripped cotton drapes finishing your complete room from top to bottom.
Classy and Current – Floor Plan, Style Guide, and Furniture Legend
Here's the details of a classy and current living room all ready for your family to enjoy in your oh so posh and polished decor.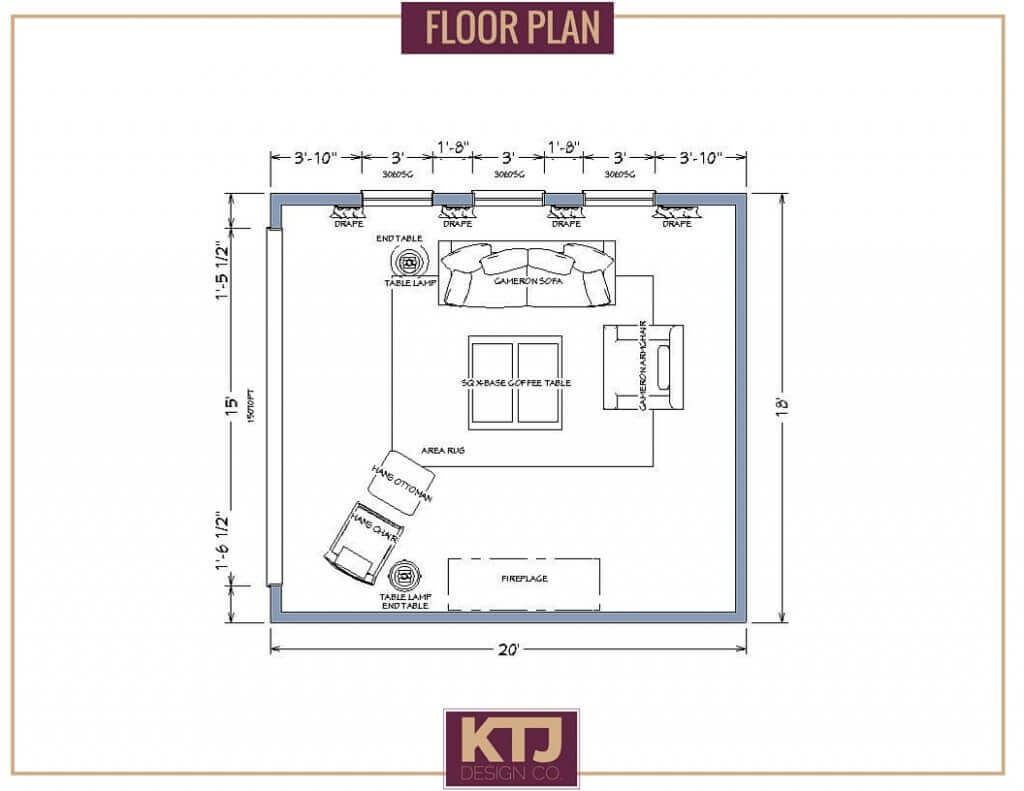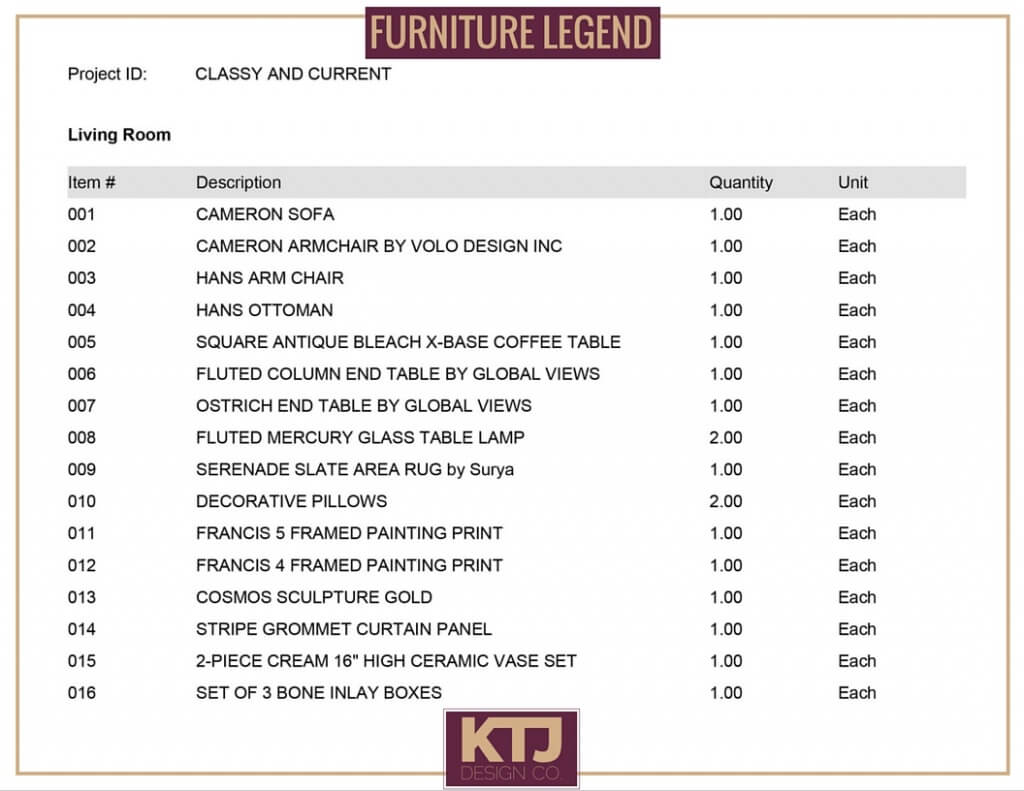 Does This Look Like a Design You Would Like?
If you like what you see, feel free to download the Product Resource Guide and Budget. It includes a detailed description of each item and a direct link to purchase it. If you appreciate the process that you've read today and are excited about getting a floor plan, style guide, and furniture schedule, but you have another style in mind, then click here to purchase your own unique and personalized eDesign Package.  Remember, use the code CLASSY at checkout  and get a $200 discount off the normal $799 price.
Sign in right here to get your free copy of the above design. Your download will include:
Floor Plan (from this post)
Style Guide (from this post)
Furniture Legend (from this post)
Budget
Tear Sheets with clickable links to the Vendors
[gravityform id="17″ title="true" description="true"]
You will receive an email to confirm your subscription, once you accept it, you will automatically get the download. Enjoy!