Oblong Living Room Ideas – Be Bold and Go Big with Dark Color
What do you do when you have a long narrow oblong living room and everything is smushed (technical design terminology here) in one corner? That is the problem Bruce and Diane had with their oblong living room, which is in fact an L-Shaped room with the dining room on one leg of the L. They actually have nice furniture and very good taste, but wanted an update with some new furniture. They felt the room was "off" and they weren't sure why.
Several things are "off" with this room. First, that smushing thing I mentioned before, and second, there's no natural architectural focal point. Finally, the window wall looks very plain and uninspiring with shutters.
Read on to find out how I solved all these problems with these oblong living room ideas, then you can try out these tips in your own home.
Create a Focal Point Where There is None
First and foremost, the room needs a focal point. Without a fireplace or other architectural focal point, we need to create one. The nice thing about this room is the vaulted ceiling, but with tall ceilings, you need to fill the volume of space with something to bring the floor and ceiling together. Adding recessed can lights to the ceiling helped with the dark room (caused by the shutters- soon I'll have a blog about why I hate shutters).
To create a focal point we painted one wall with a bold slate gray color. This adds much needed drama. To exploit this drama and further accentuate the focal point, we added another layer with grand abstract artwork.
Move Furniture Away From One Corner
Next big, bold and dark flooring material with flowing color gradient and texture grounds the room and develops another architectural feature. Moving and centering the furniture under our new focal point and away from the corner provides balance and the symmetrical layout encourages conversation. Ample seating with charming curves in a plush soft gray sofa coupled with two extra-large chairs explodes the bold color of the wall.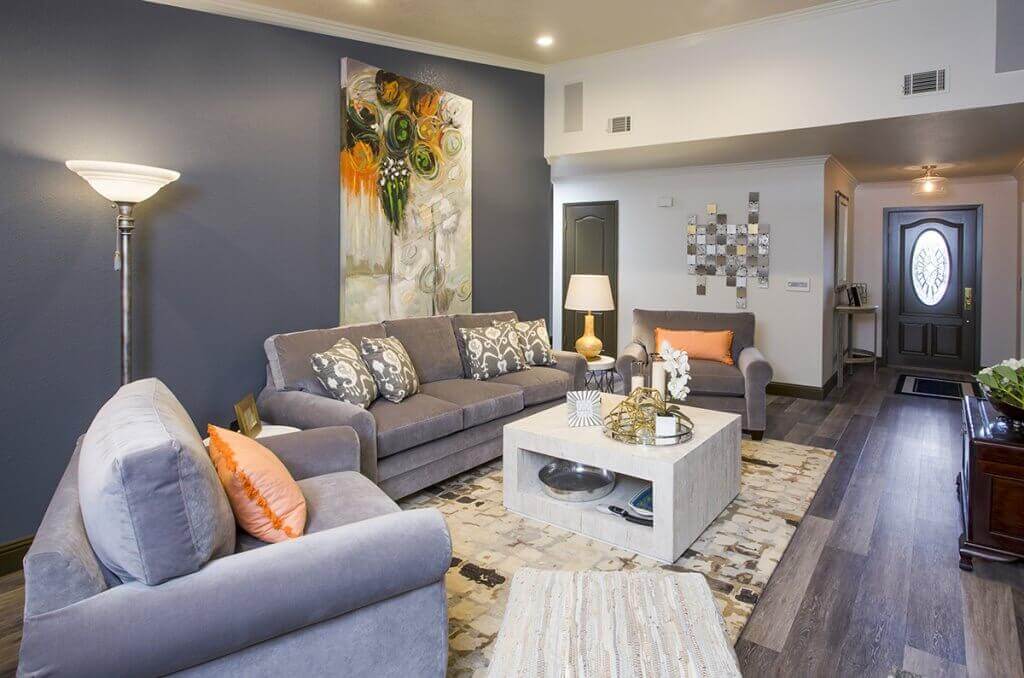 Dress the Windows with the Proper Drapery
Lastly, we added Ikat patterned custom drapery. This drapery has a reverse box pleat, which is a contemporary look, but still polished. The large scale patterned is striking and augments the smooth velvet with a vivacious pattern. The weightiness of the drapery anchors this wall and makes the windows feel fully dressed, tying together the "L" shape of the living room and dining room.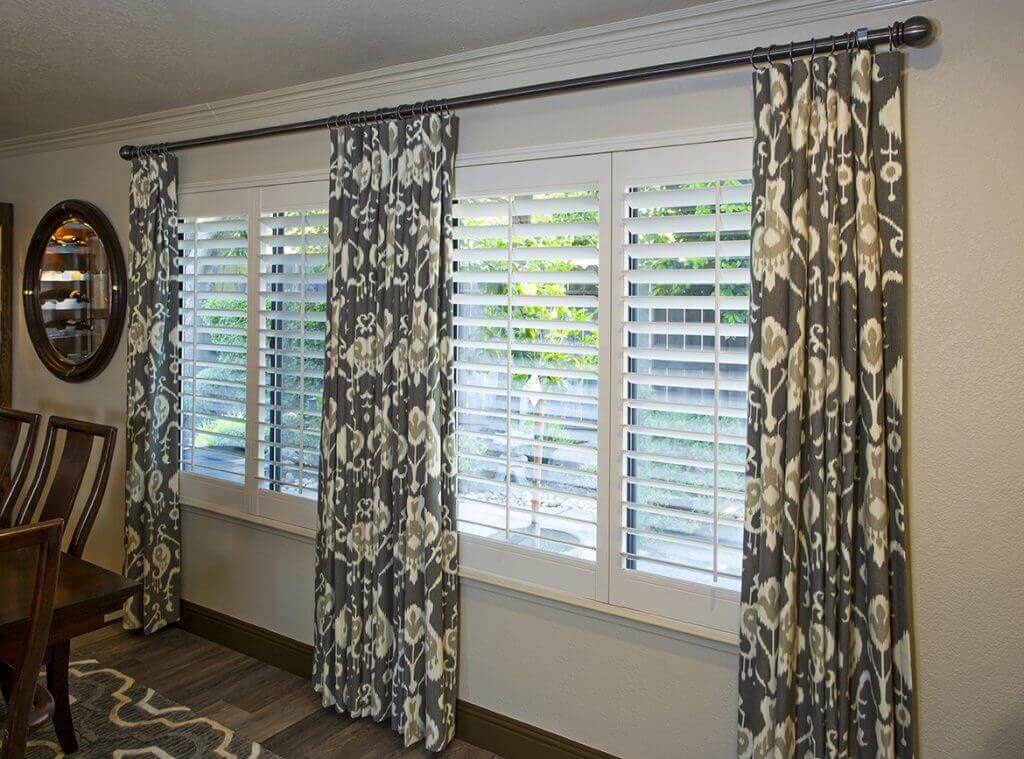 Finding the Balance for Your Oblong Living Room
A long oblong living room with little discerning features doesn't have to look squished and lop-sided. You simply need to find balance. Classic, but easy going forms and unexpected details are required. Nothing but generously scaled and genuinely comfortable pieces are allowed. Feathering in treasured existing furnishing (dining table, large trunk and large bar cabinet) gracefully distills the best of the past in a current, collected and curated room. Accent wall painted a deep slate gray as the back drop for grand abstract artwork emphasizes the perfect focal point balancing an odd oblong L shaped room.
With its authentic sense of style, our design captures the spirit of my clients' passion for entertaining, the desire for a fresh transition, but maintains the comfort of beloved keepsakes.
If you are having a similar design problem, go ahead and visit my services page. Bruce and Diane loved the Adventures in Renovation service and maybe you will too.
"We had our open house, and our friends and family couldn't believe the transformation. We are really pleased with the outcome" – Bruce