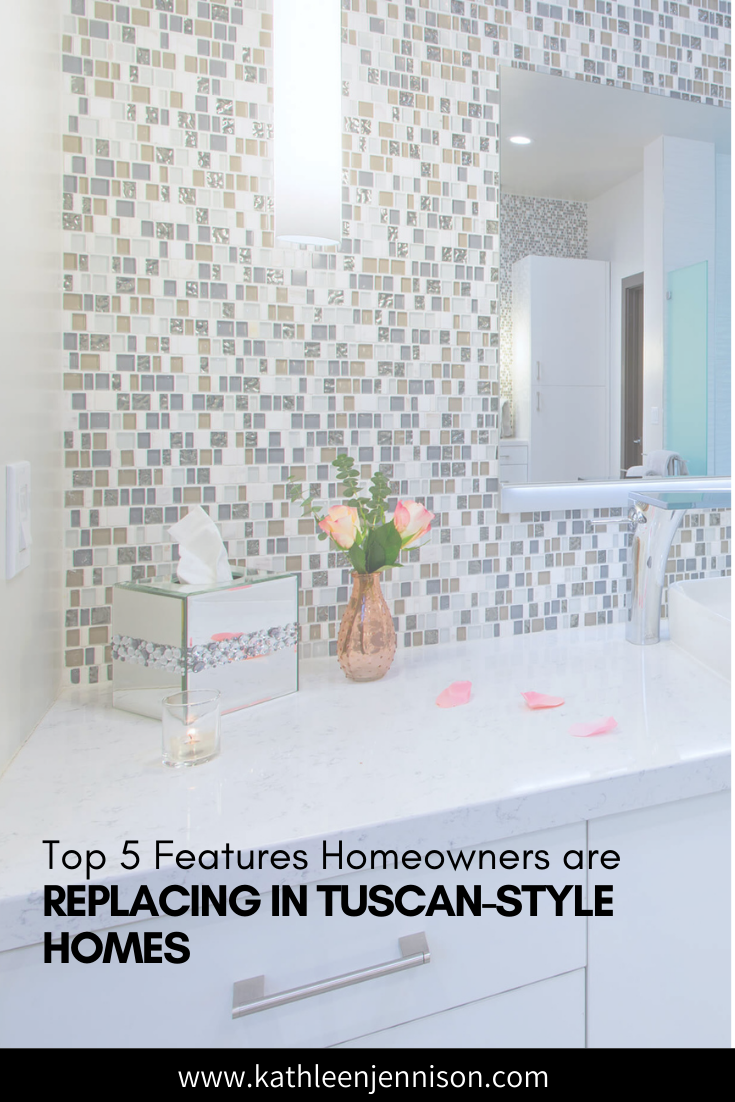 If you're from the area, you've probably noticed that Tuscan-style homes are pervasive around Stockton, including Modesto, Lodi, and beyond. Although the style's warm browns, austere metals, and cherry woods were a welcome palette in the '80s-'90s, our clients often come to us feeling tired with the Tuscan-style design and ready for a fresh take on style and features that support modern life.
Fortunately, this isn't the tall order you might think it is. You can modernize your Tuscan-style home with just a few tweaks, while still playing up what makes them special: tall, vaulted ceilings, wooden beams, and wide-open spaces.
Today, I'm sharing the top 5 Tuscan features homeowners are removing and what they're choosing instead. If your Tuscan-style home makes you reluctant to throw dinner parties or feels uninspiring when you come home each day, these remedies can help…
1. Heavy Tile or Travertine Floors
Travertine floors are a classic Tuscan-style finish. While travertine may keep your home cool during our hot California summers, they can instantly date your home and have you wishing for something more modern. Admittedly, replacing flooring is always a big line item in a budget, but the result is truly transformative. (And worth it, in my opinion.)
What do our clients say? While some choose to keep the home's original tile (like the home shown above), most clients will ask us to remove it completely. We often suggest replacing dark, heavy tile with light flooring in natural wood or a durable LVP (Luxury Vinyl Plank). If you replace travertine in a bathroom or kitchen, you could also consider more up-to-date ceramic or porcelain tiles instead. The options are endless. Here's a great example: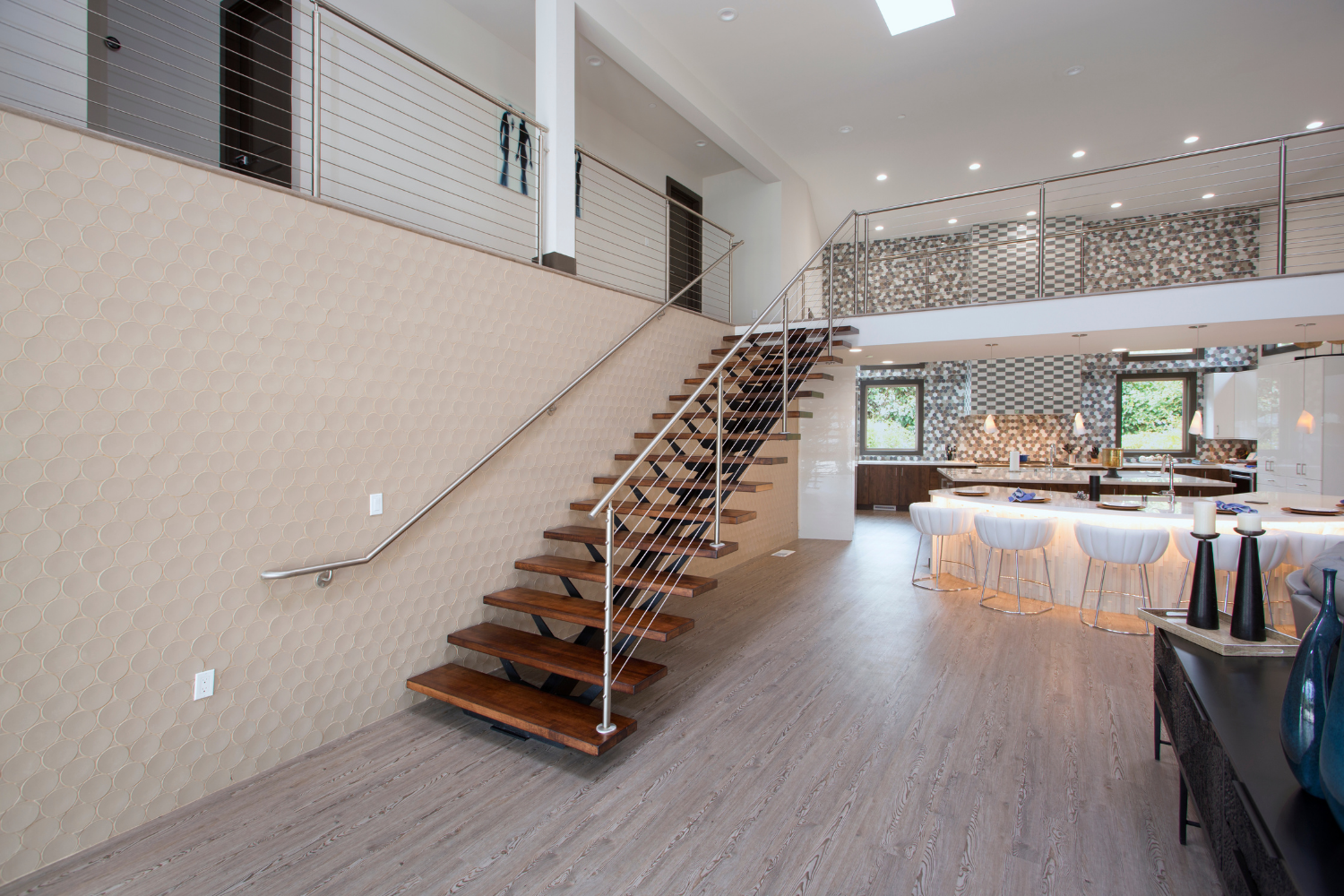 In this Los Altos Mediterranean Home, we installed LVP throughout the main floor to bring in the feel of natural wood and help it stand up to traffic from the pool. The LVP's lighter tones brighten the space, while a rich bronze color in the grain helps tie the home's darker elements together in a fresh, modern way.
2. Cherry Wood & Dark Cabinetry
Many Tuscan-style homes are characterized by the use of wood…everywhere. Dark cherry cabinets and millwork pair with travertine floors to create what our clients often call "a dark sea of brown." If you have this finish in your home, you may notice that the dark tones can make each room feel smaller and heavier.
That said, outstanding millwork is hard to come by, so if yours is of good quality, you can use that to your advantage. To freshen up your dark cabinets and millwork, you can have them simply refinished with a light wood stain, or mix it up with a painted finish. This will break up the heaviness while adding a great sense of dimension, like we did in this project: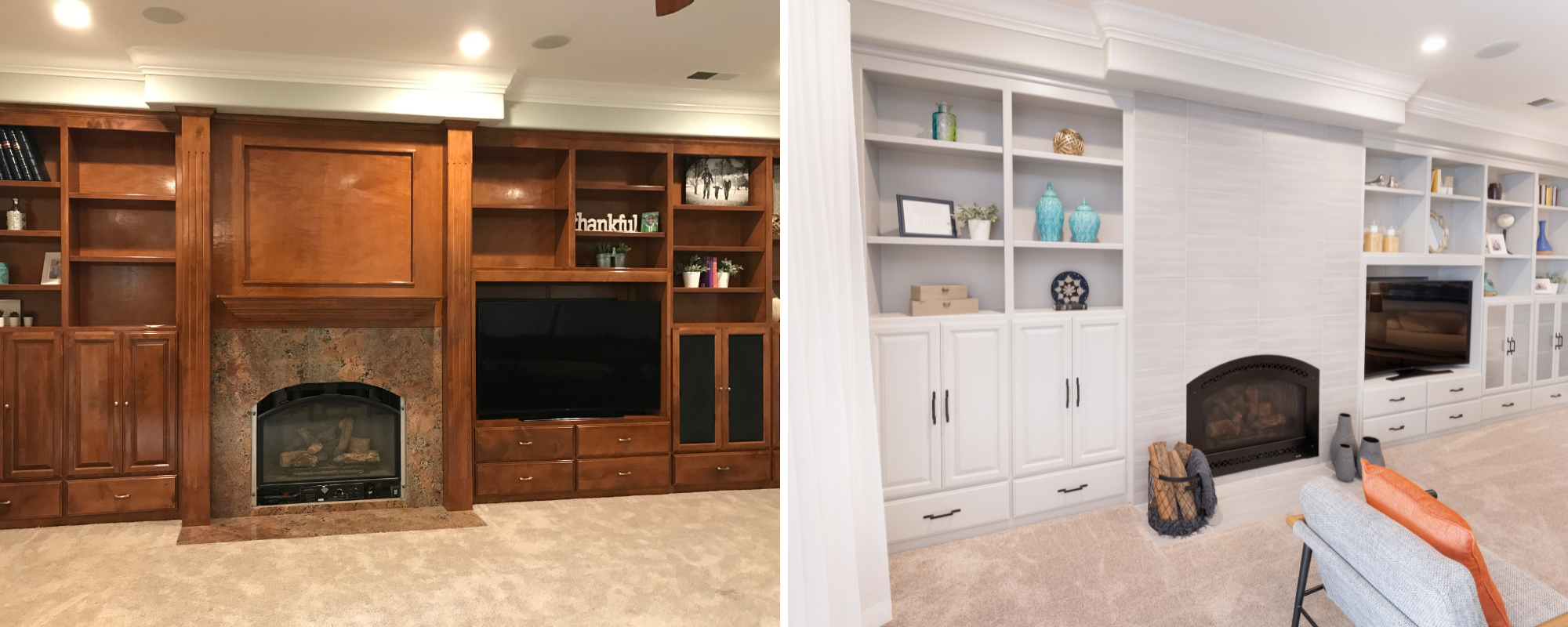 In our Acampo Vineyard transformation, this family of four wanted to update the dark, cherry built-ins in their living room. We modernized the shelving unit with light grey paint and white trim, and we refinished the fireplace with these large-profile ceramic tiles. Now, the space looks modern and fresh—no large renovation required.
3. Heavy Wrought Iron Accents
Our clients always point out the heavy wrought iron accents in their home, from light fixtures to hardware to accents on windows and doors. The general consensus is: Ditch the heavy wrought iron accents altogether! Fortunately, you can easily replace them with a lighter modern embellishment or eliminate the feature entirely.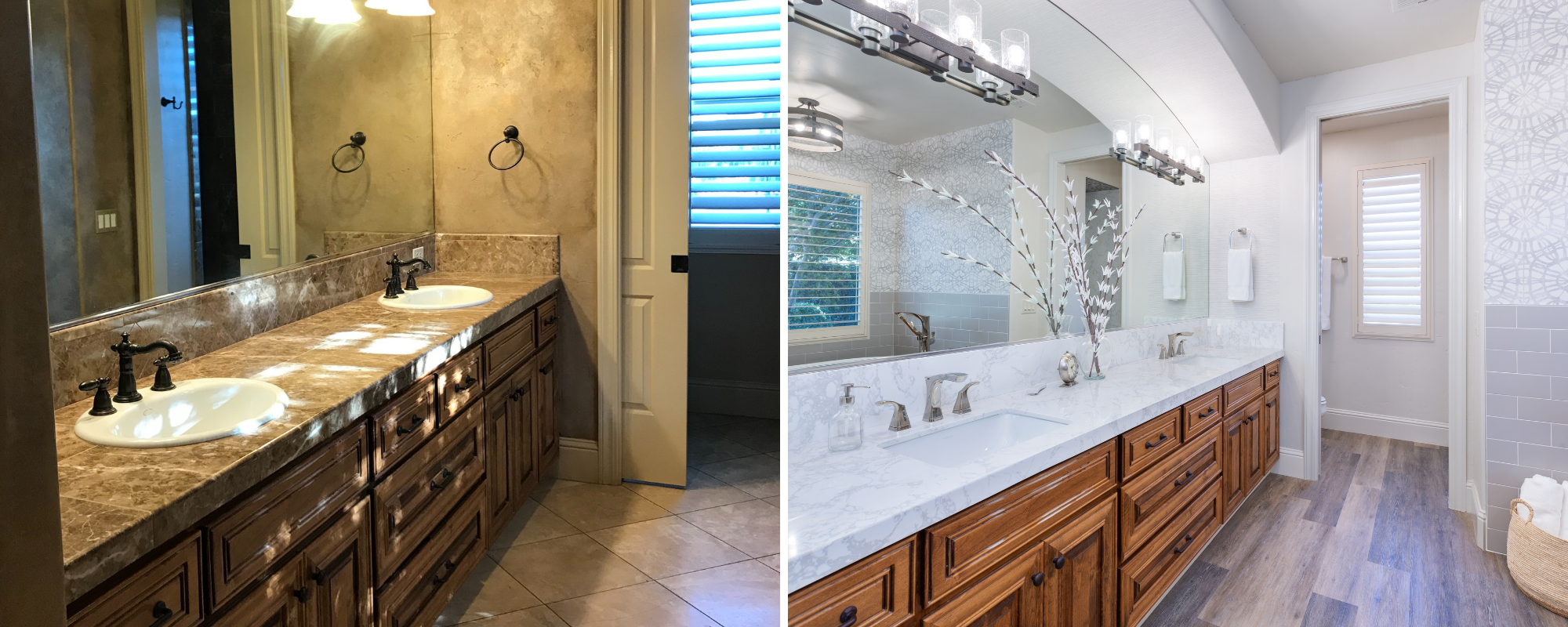 In this Before & After, the wrought iron faucet (or aged bronze), towel ring, and light fixtures were upgraded with more modern, clean-lined variations in matte and polished nickel. The warm tones of the original oak vanity helps blend a sense of warm and cool, welcoming and fresh.
4. Dark Furniture & A Palette Gold & Maroon
Tuscan-style homes are notorious for dark furniture, especially in leather. While this may sound like every homeowner's personal choice, it's actually not their fault. A light-colored sofa would look lost amid a Tuscan-style home's gold tones, deep reds, dark metals, and browns.
Fortunately, when we freshen up the interiors, we can also introduce new, more modern furniture into the home—and it will feel like a brand-new space!

Updating the cherry built-in, walls, and fireplace surround in our Acampo Vineyard project allowed us to introduce beautiful modern furnishings in lighter tones. Now, the space feels brighter and has a lively, playful feeling that wasn't there before.
5. Murals & Textured Walls
Heavily textured walls with faux paint are a decade-defining feature that ALL of our clients choose to trade for a lighter, more open design. We've also encountered the faux Italianate style trompe l'oeil wall, a realistic mural painted as a 3D scene of landscapes or objects. (For example, imagine a mural with a painted "window" overlooking an Italian vineyard.)
The initial version of this bathroom is exactly what I mean by "textured," painted walls, making our clients feel like they're living in the Renaissance. To modernize your walls, we can help you replace them with a great looking tile, fresh wallpaper, and light-colored paint (our go-to white paint colors are Sherwin Williams White Duck or Shoji White). The result feels fresh, contemporary, and much more serene.
There you have it — 5 features our clients are begging us to update and all the ways we can personalize it to fit your style and lifestyle. If your Old World, Tuscan Style home needs a refresh, we would love to help you too. Schedule a discovery call and let's see if we're the right team for you.

P.S. We are giving you an unprecedented sneak peek into how you will experience our design firm: the design journey of your project, the fine print, what we will do for you, and how we make your life easy. Get your Behind-the-Scenes Peek into Working with a Designer here.