When you've only got 35 square feet (7 '  x  5') for your bathroom, you better make sure you optimize every little inch, because that is not a whole lot of room. We recently worked on two teeny tiny bathrooms for our Parkwoods client. They contacted us to remodel their two bathrooms – His and Hers. We immediately noticed they needed more storage. But how do you get more storage in a mere 35 square feet of space? It was a challenge that we jumped right into (we like challenging spaces!)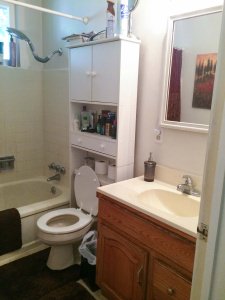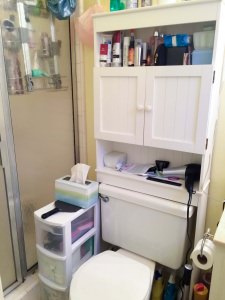 You can see from these pictures that every nook and cranny is stuffed with, em, well stuff!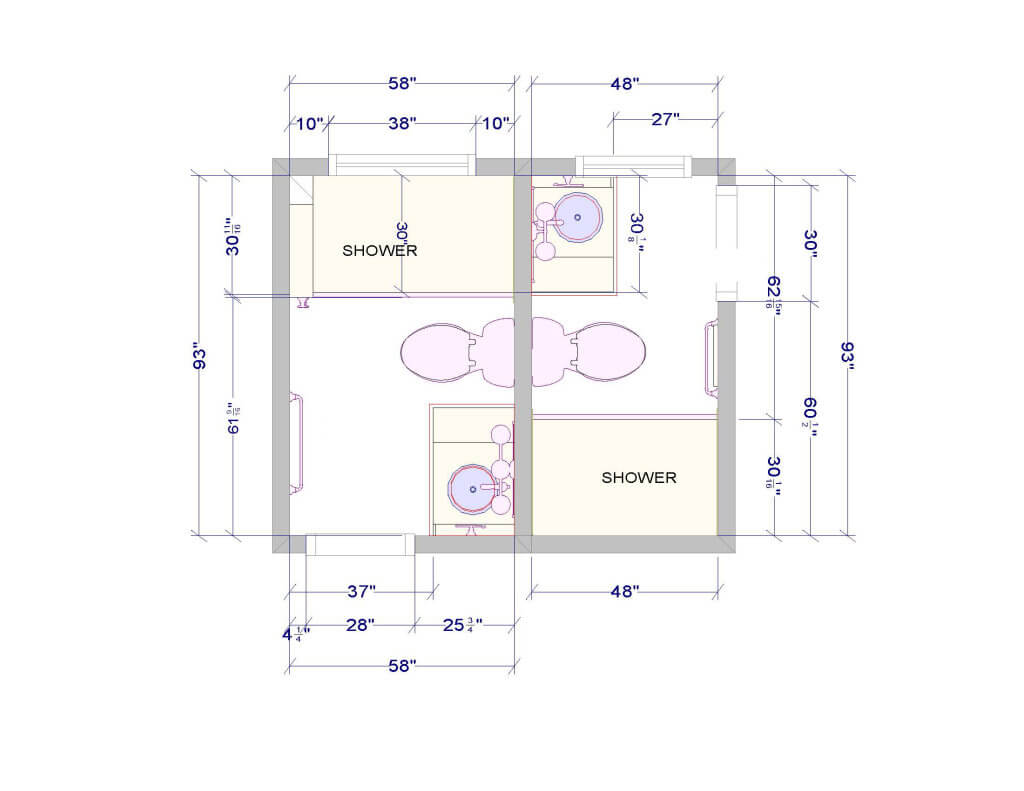 This is the revised floor plan. We couldn't change much of the footprint, but we could change what parts and pieces went into it. They each had very different design likes and dislikes, but respected each other choices. It was a lot of fun "marrying" their individuality while keeping  cohesiveness.
Bathroom Remodel for Teeny Tiny Rooms – Find Secret Hiding Spaces.
They like a big assortment of hair products and fragrances, so we decided that a tall pantry on the end of one shower would be the perfect hiding space. This one matches the vanity wood and you can see, they didn't waste anytime filling it. When the pantry is closed it looks sleek and tidy. When the pantry is opened all the products are conveniently stored and you can see exactly what you have in stock – no more digging into the cabinets to find your favorite hair conditioner behind the Epson salts.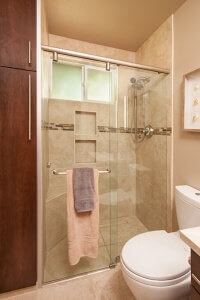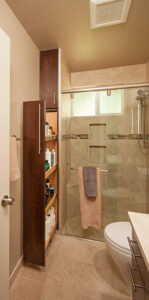 This sleek pantry went into his bathroom, but her bathroom was slightly smaller, so we couldn't put one in her bathroom. But we could give her a very special secret hiding place! We noticed that she had some very expensive and luxurious perfume bottles. How about a special niche just for them? We designed a recessed cabinet with a door that looks like framed art when closed, but open it up and viola – its a perfumery.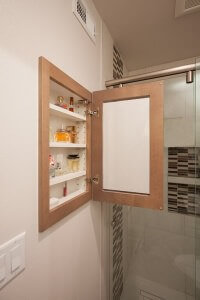 Bathroom Remodel for Teeny Tiny Rooms – Make The Ordinary Extraordinary
We all have or have had a medicine cabinet. That dinky rusted metal thing in the wall can hardly hold a small medicine bottle. That is definitely not too appealing. But when you pick a medicine cabinet that is spacious, lighted and gleaming on the inside, it becomes  very valued. We selected this medicine cabinet by Robern. With integrated dimmable LED lighting inside and out, adjustable glass shelves, interior power outlet and USB Ports, a magnetic strip, and mirrors inside and out – wow, you've got a state of the art medicine cabinet that not only looks stylish, but has a lot of storage capacity (plus it is fun). And once again, they filled it to capacity, but it is all neatly tucked away.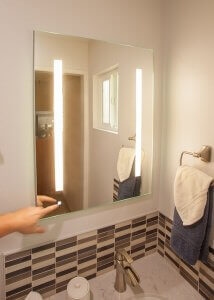 The sink vanity is the easiest and best way to get extra storage. A roll-out drawer tucks away and makes the perfect caddy for toiletries.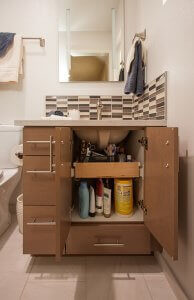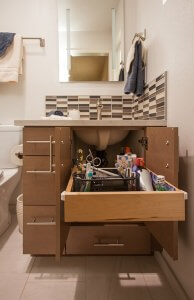 When designing your bathroom, make sure to design in tiled niches and a corner bench in the shower. This makes those showering necessities readily available, but always neatly stored.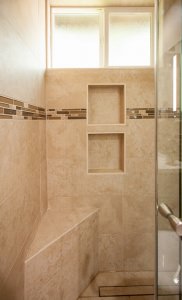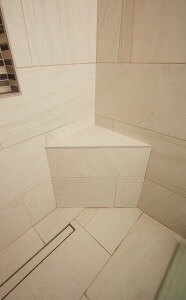 Bathroom Remodel for Teeny Tiny Rooms – Make it Feel Larger
Every bathroom needs a toilet and a shower, but the key to making a teeny tiny bathroom feel larger is to find fixtures that don't have a lot of extra bulk. We opted for a cute little toilet from Toto. What makes it so special is it's slightly shorter profile taking up less space. Plus the flush is not on the side (again – think less bulk), but it is on the top. This is sleeker and give the illusion of more space.
Another way to get openness  is to install a frameless shower door. Again, by eliminating the standard frame, rail, and tracks with a frameless shower door your room will feel airy and open. The top rail is fitted with two clips to hold the door that glides easily and beautifully.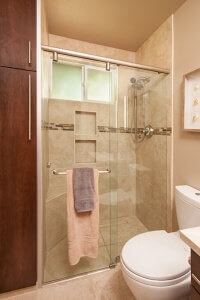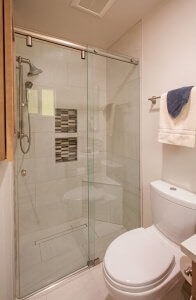 Bathroom Remodel for Teeny Tiny Rooms – Finishes with Flair
Of course it has to be pretty! And it has to be your style! We worked with our Parkwoods client to find just the right exquisite pieces that expressed their personality.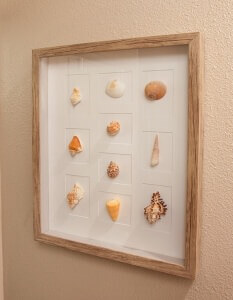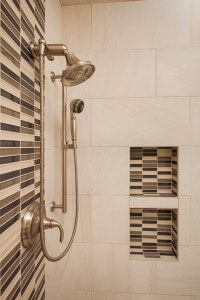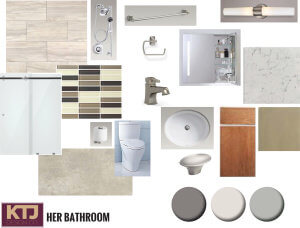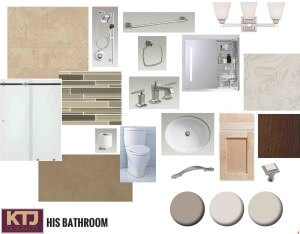 Do you have a teeny tiny bathroom that needs a renovation? I hope this helps you figure out how to get the most out of your space.
Don't forget, if you need help designing your bathroom (big or small), give us a call.

Are you on the mailing list? You don't want to miss out on any posts, so be sure to sign up.
[gravityform id="10″ title="true" description="true"]