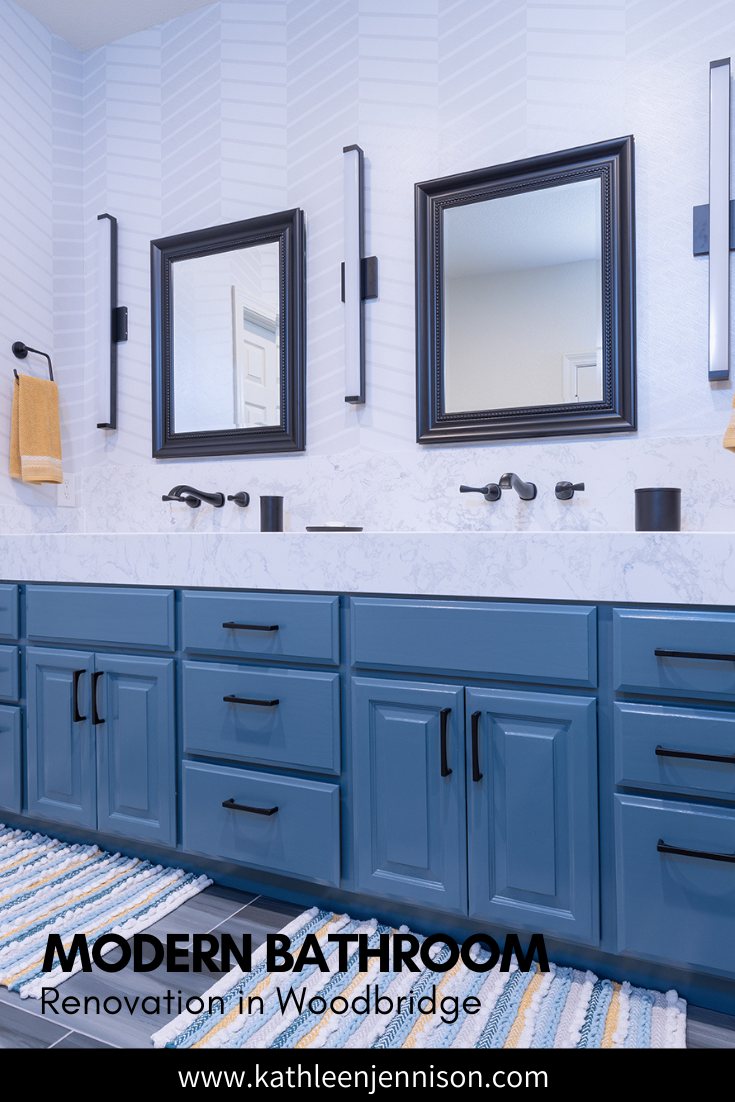 Modern Kitchen and Bathroom Renovation in Woodbridge
Moving into a new home can be exciting — new rooms where you can thoughtfully arrange furniture and endless possibilities for infusing your personal style into the space. However, that initial excitement and joy can quickly turn to frustration, or even sadness, after the honeymoon period in your new home is over.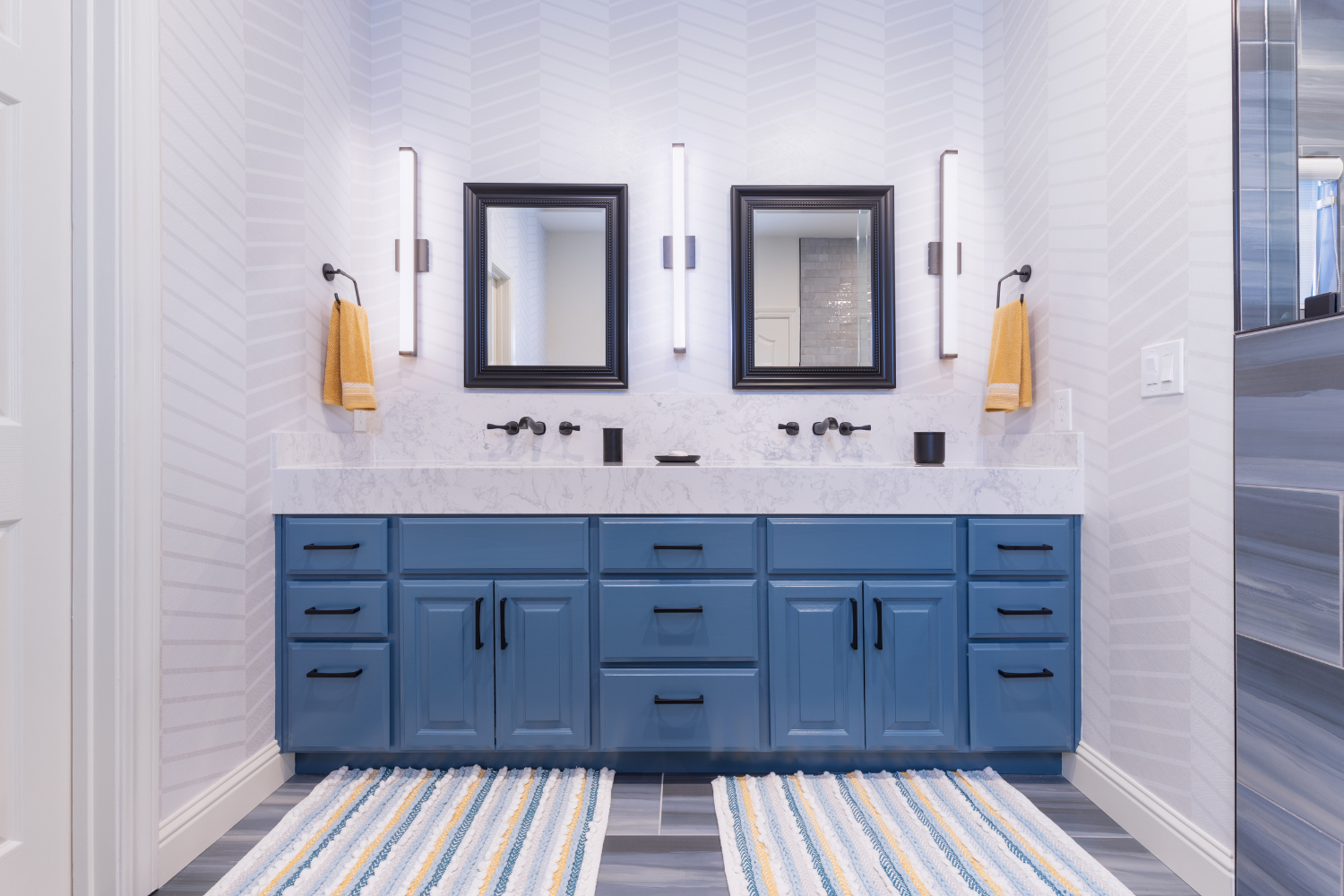 Our client, John, had a similar experience when he moved into his new home…
An Accomplished Stockton Professional
John is a recently single cardiologist who desired a comfortable space where he felt happy returning home after long shifts at the hospital. Unfortunately, the opposite was true: dark walls, an outdated kitchen, and a poorly designed master bathroom left him feeling isolated and uninspired. When John shared his frustrations with us, we knew we could help him achieve his goals.
Our primary focus was to create a functional bathroom for seamless daily use and a comfortable kitchen where John could enjoy cooking and eating. Let's look at the results…
A Refreshed Kitchen with a Comfortable Dining Nook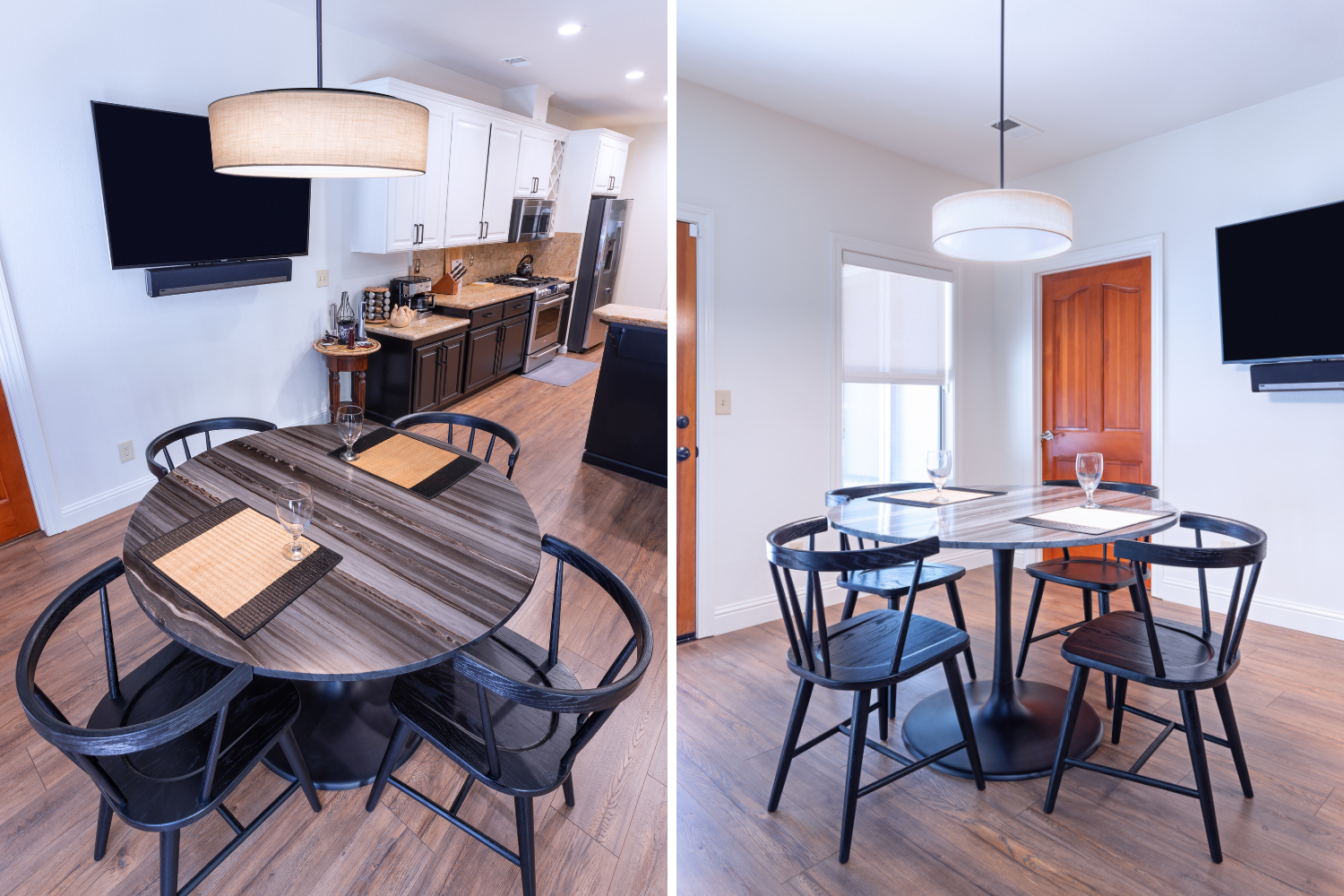 Not only does John's new kitchen look like it was designed for this decade, but the addition of the dining nook creates a casual and comfortable space to enjoy a meal. A beautiful pedestal table with a stunning wood grain texture, classic wishbone-style black chairs, and the glow of the modern drum pendant infuses this space with comfort and warmth. Now, John has his own area for enjoying quiet mornings before work.
To maintain the brightness of the new, crisp wall color, we chose to repaint the kitchen cabinets — a bright white for the uppers and a deeper, masculine black for the base. This classic combination adds a welcoming layer of interest. Finished with matte black cabinet hardware, John's kitchen has become a space where he feels content and can enjoy relaxing moments preparing meals.
Masculine and Luxurious Ensuite Bathroom Renovation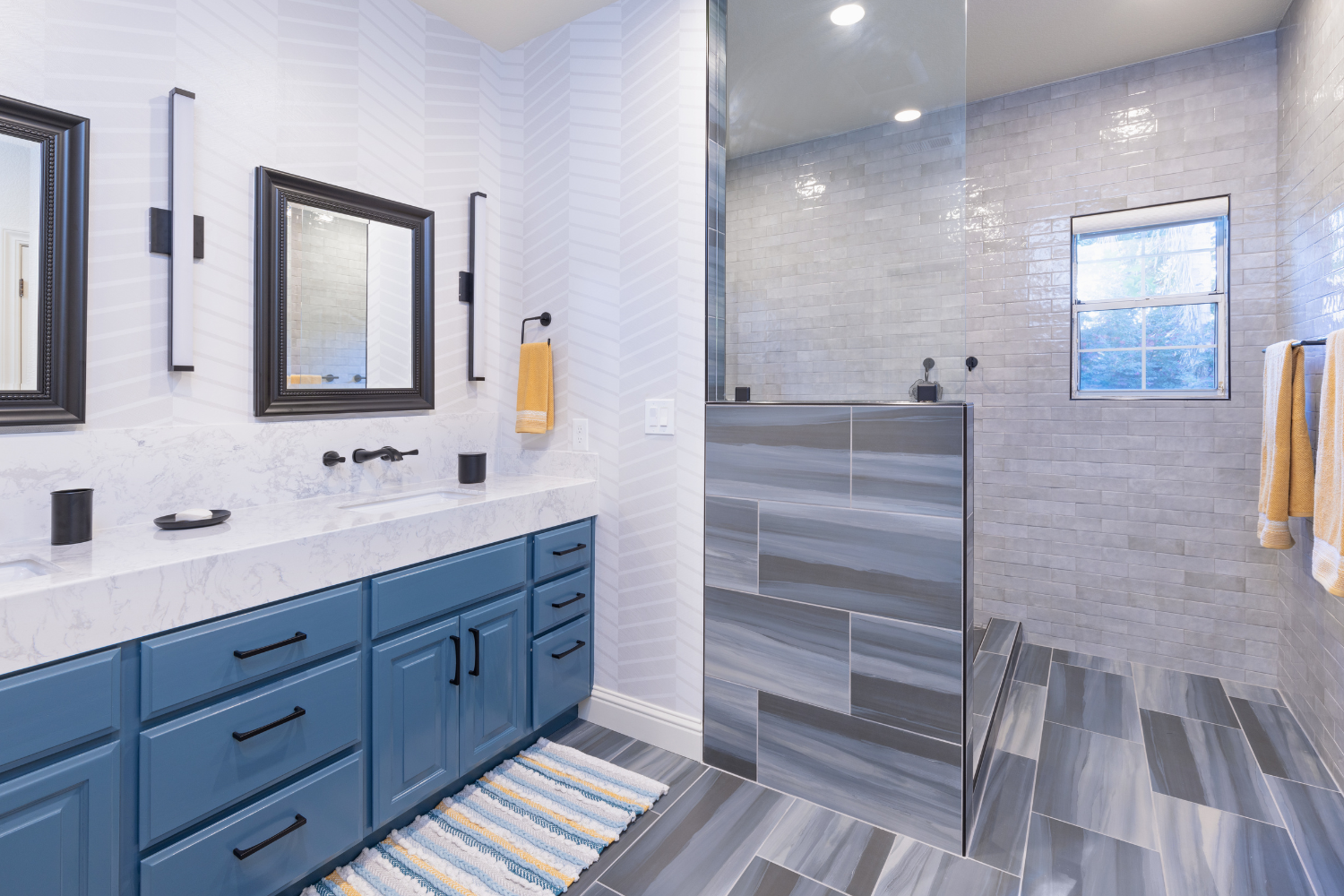 John's new bathroom design delivered everything he wanted: a highly functional, luxurious space with a masculine touch. Unlike the kitchen and other refreshed areas in the home, this bathroom required a complete gut and remodel. The result? A stunningly handsome space to prepare for the day and unwind at night.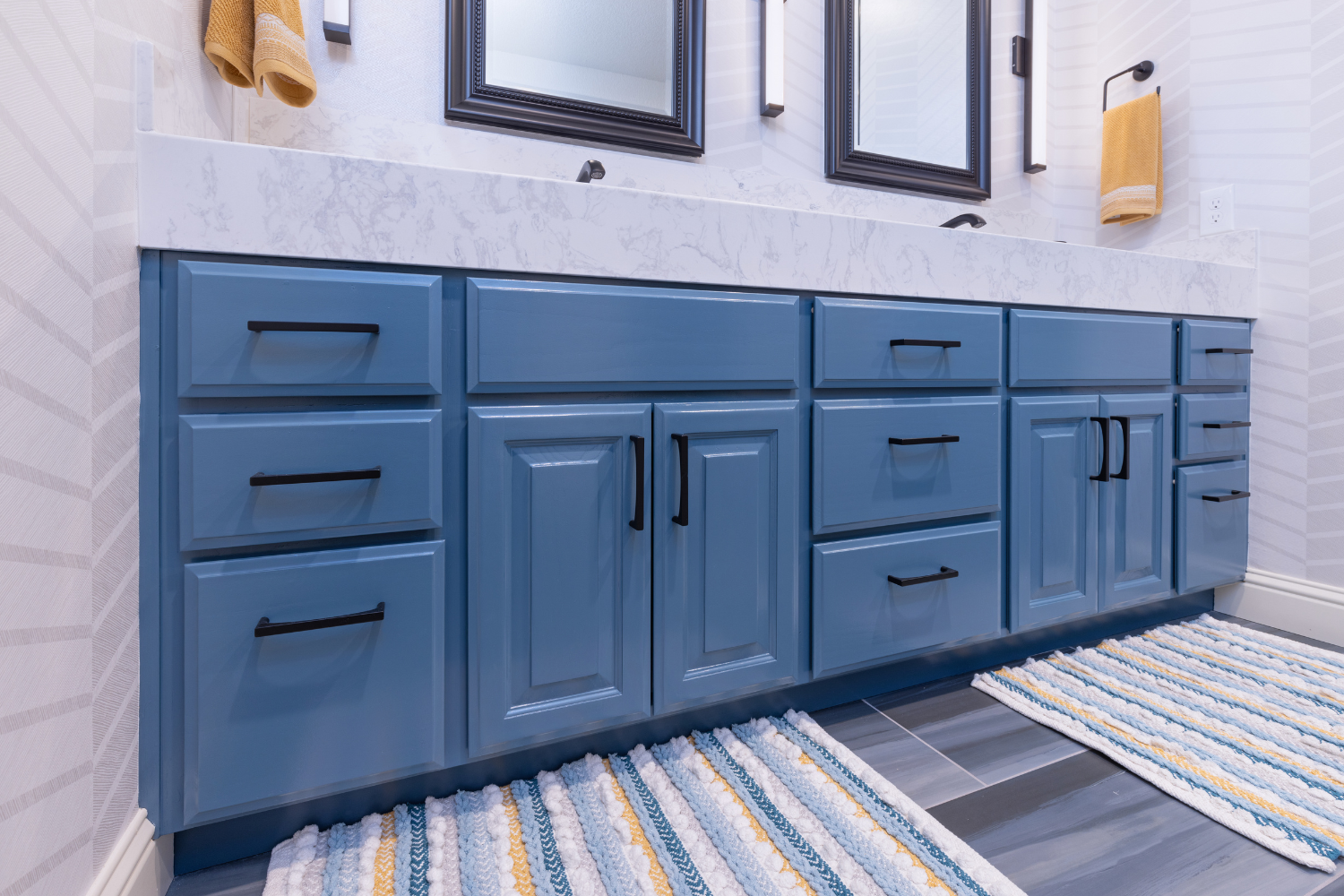 The vanity was the only reused element in this room, but it definitely needed an update. Old homes typically have 32" high vanities, but we like to design our bathrooms with vanities at 36" height for practical function and a more modernized feel.
To solve this issue, we made the Piedrafina marble countertop 4" tall. Not only did it bring the vanity to the proper height, but the thickness of the marble adds a sense of sophistication and luxury. Combined with new, soothing steel blue paint and matte black hardware, John's existing vanity has become a beautiful focal point.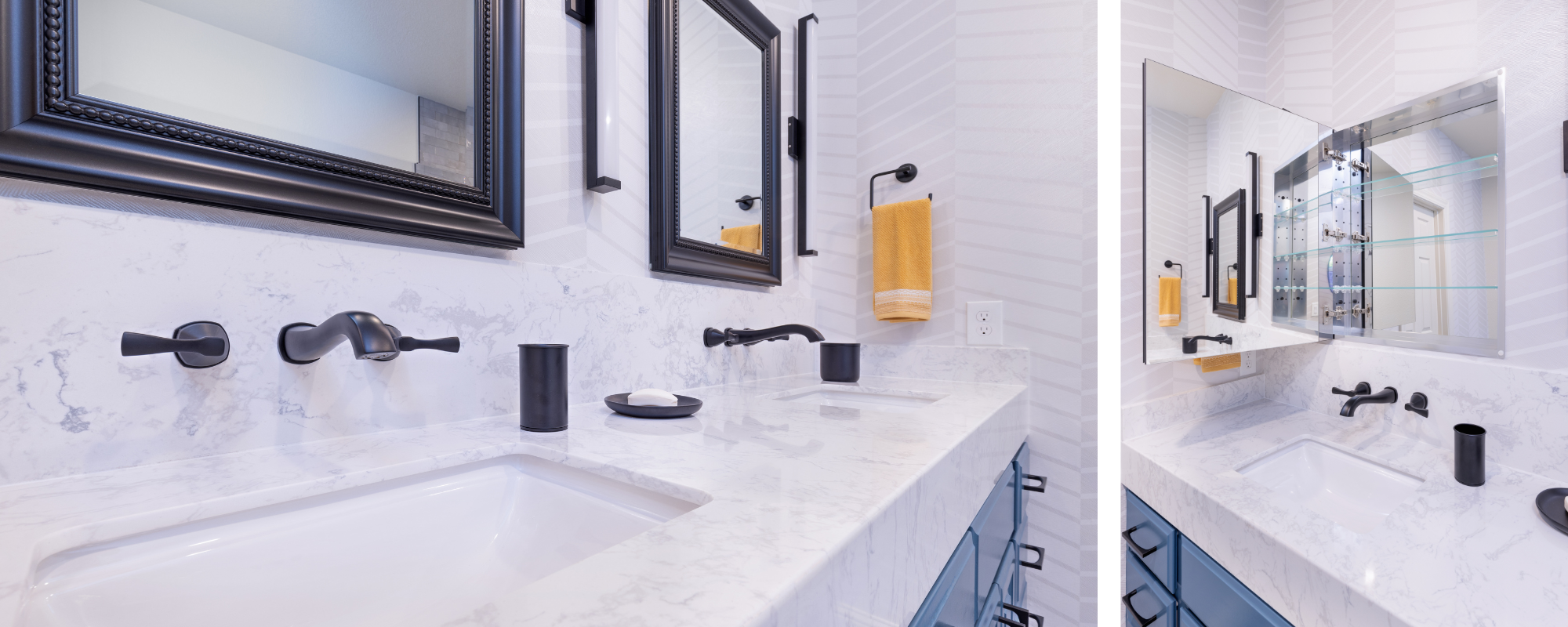 Complementing the vanity hardware, black plumbing fixtures were used to add a sense of masculinity to the space. Stunning wall-mounted Delta sink faucets bring interest and drama, balanced by the contemporary, dimmable wall sconces above. Herringbone patterned wallpaper in neutral hues accents the darker elements while wrapping the room in softness.
The two mirrors hide an additional practical function: recessed medicine cabinets. John is a self-proclaimed neat freak and loves that he can tuck items that typically clutter a vanity countertop into these cabinets. As a result, keeping his bathroom neat and tidy is now effortless. Mission accomplished.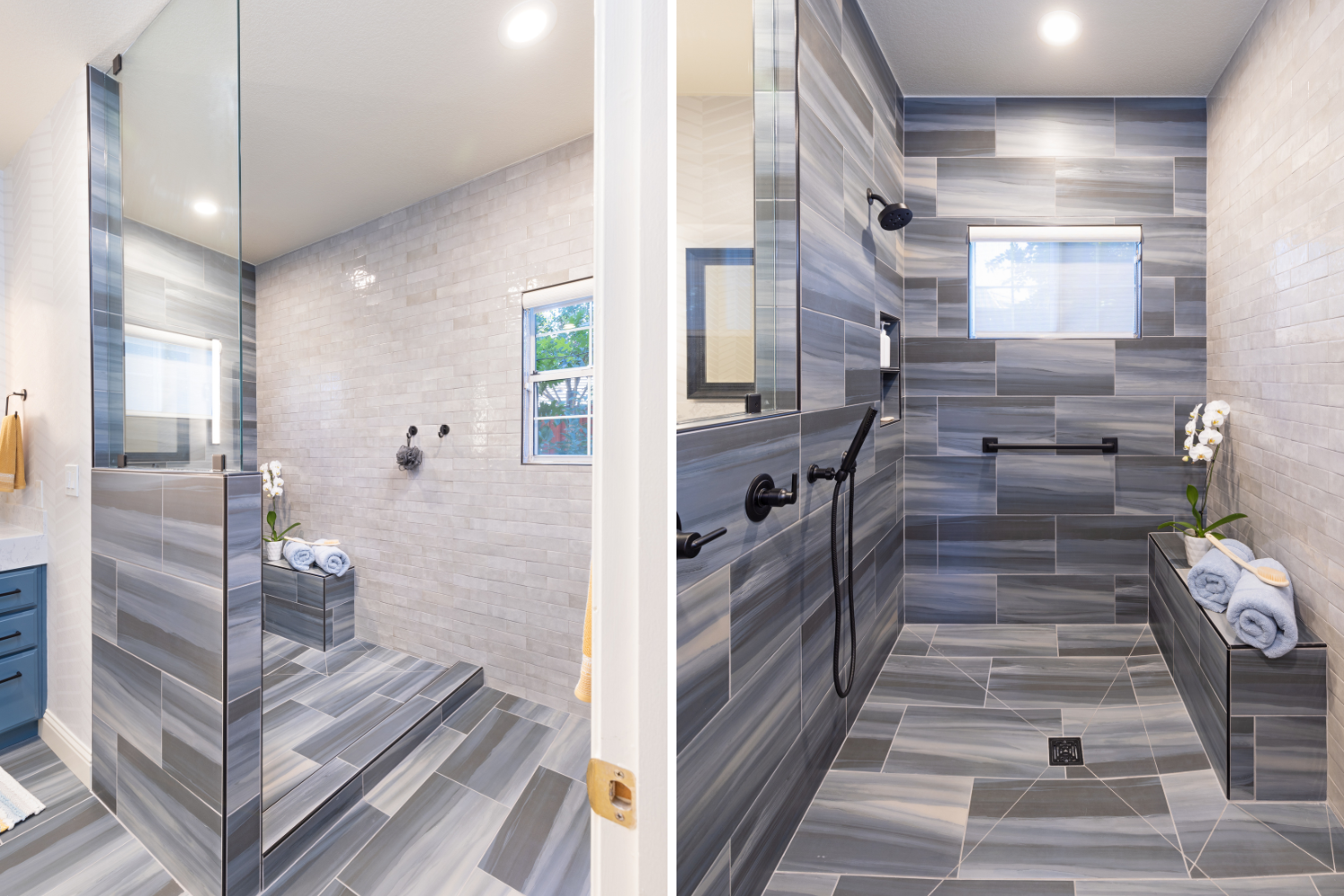 Prior to the remodel, an extra-large soaking tub and a tiny shower occupied this space. The original shower was also raised and had a significant, cumbersome step at the entrance. We wanted curbless, but the plumbing pipes were not low enough to allow us to achieve the proper slope. So instead, we compromised with a low-profile curb. And once the soaking tub was removed, there was plenty of room to create the spacious, luxurious walk-in shower that John desired.
The same large format tiles that we used on the bathroom floor were carried into the shower floor and walls, creating a seamless transition and an immersive experience in blue-gray tones. In order to get the proper slope on the shower plane, our tile setters cut precise triangular pieces. Finally, we installed zellige subway tiles on two walls for added contrast, character, and brightness.
In all my shower designs, I purposefully position the shower valve right at the opening of the shower. Why? Because there is nothing more irritating than standing under the shower head and getting hit with cold water when you turn it on. In addition, John appreciates the added feature of a bench and handheld showerhead.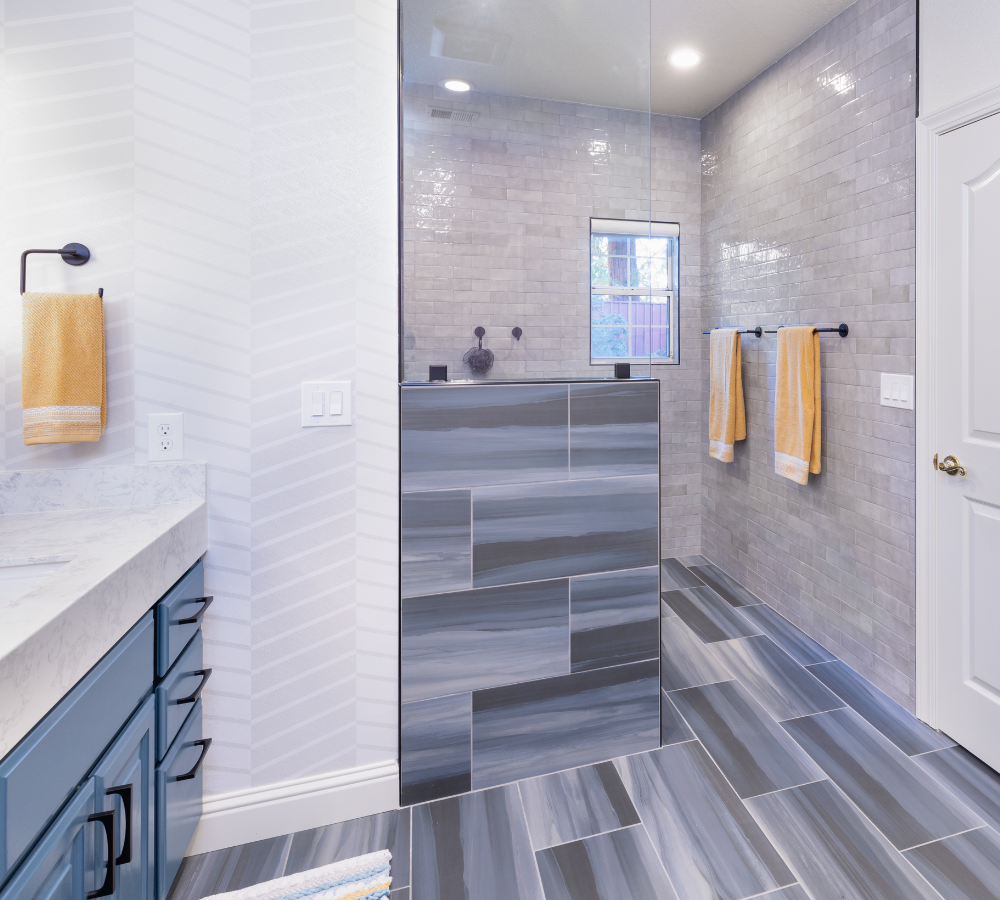 To complete the ambiance, we created a comprehensive lighting plan for the bathroom. In addition to the sconces at the vanity, new dimmable can lights were also installed in the shower.
Two windows are positioned to provide natural light, and with the custom vinyl fabric roller shades from Skandia Window Fashions, John now has complete control over both lighting and privacy. The best part? These shades stand up to moisture and have a textured fabric appearance, making them aesthetically pleasing and practical for bathroom use.
A Home that Inspires Joyful Living
It's no secret that these spaces are gorgeous, but the best part of this project? John now loves coming home. He feels relaxed, comfortable, and happy with his updated surroundings, and it's easy to see why. From the added functionality in the kitchen to the state-of-the-art bathroom oasis, his daily life has been brightened and eased in a way that only great design can do.
Are you considering a renovation in your home? We'd love to help you create a cohesive design to enhance your life. Reach out to us, and let's start the conversation.
Until next time,

Photographer Credit: Caroline Photography