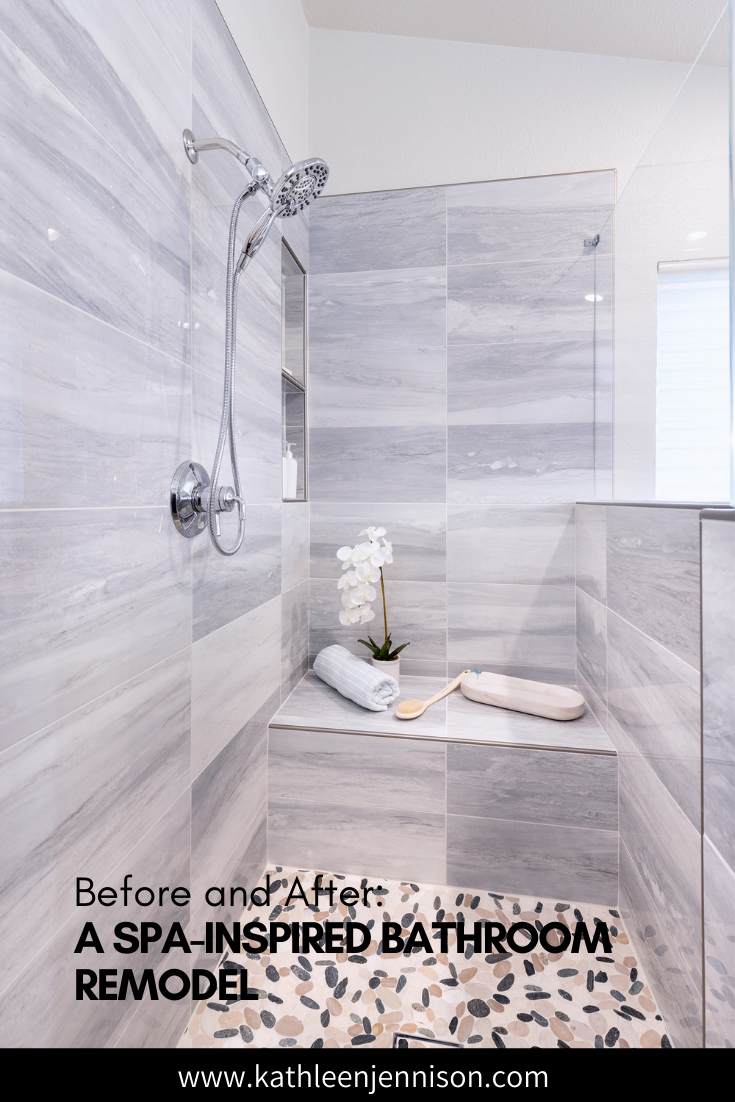 Before and After: A Spa-Inspired Bathroom Remodel
Before we started this project, our client Heather told me her bathroom was THE ugliest bathroom ever. In fact, during our Discovery Call, she said it was ugly thirteen times. (I know because I made a tally in my notes every time she said "ugly.")  She told me that she and her husband, Lowell, could not agree on any solutions or finishes. They had tried to figure it out, but their diverging desires were proving to cause too many arguments, and they needed our help.
Design Goals & Challenges
Between you and me, I was skeptical that it was the ugliest bathroom ever, but 'lo and behold, when we met for the Remodel Clarity Session, I had to agree – it was ugly. Don't believe me? Take a look for yourself…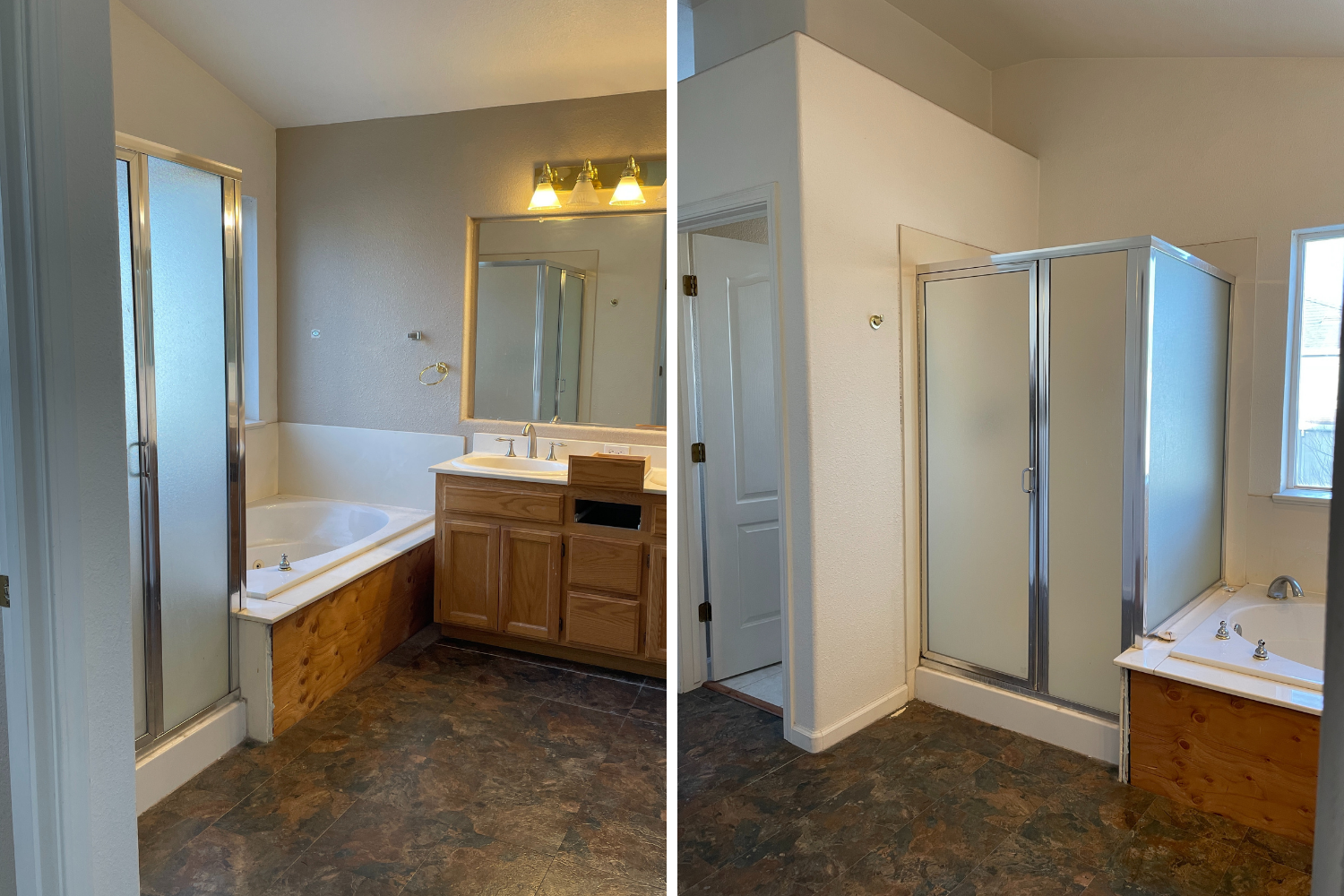 Yes, we could do better.
During our 2-hour consultation, we came up with two brainstorming ideas on how we could make the bathroom more usable and function better for our homeowners. Neither of those designs was what we ended up with, but this is one strategy to scheme and play with the space. The couple's goals for their new bathroom included:
Bigger shower
No tub
Larger vanity top (1 sink was an option)
Pretty plumbing fixtures
Better lighting
Exhaust fan
Attractive tile and flooring
A spa feeling
No fishbowl window
More storage
Of course, as with any project, there were challenges along the way.
A large, nonfunctional soaking tub that took up too much space, leaving minimal room for the shower
Not enough storage and counter space
The useless "bridge" over the bathroom door was an eyesore
The soffit ceiling ledge around the toilet room made no sense and served no purpose
The opening to the closet was wide and could be smaller, allowing more wall space in the bathroom
Poor overhead lighting made anyone's reflection in the mirror terrible
Outdated and dark flooring
The large window allowed the neighbors to see inside the bathroom. Yikes.
A small, nonfunctional alcove in the bedroom that could be put to better use in the bathroom
The Solution
Gut the space! We designed a brand-new bathroom with a large shower during the Design Concept phase. In order to create a more spacious shower, we reconfigured the closet to steal some space and moved the vanity to the adjacent wall. This allowed for new windows with a taller sill height and a slimmer width to allow the light to filter in but still provide necessary privacy.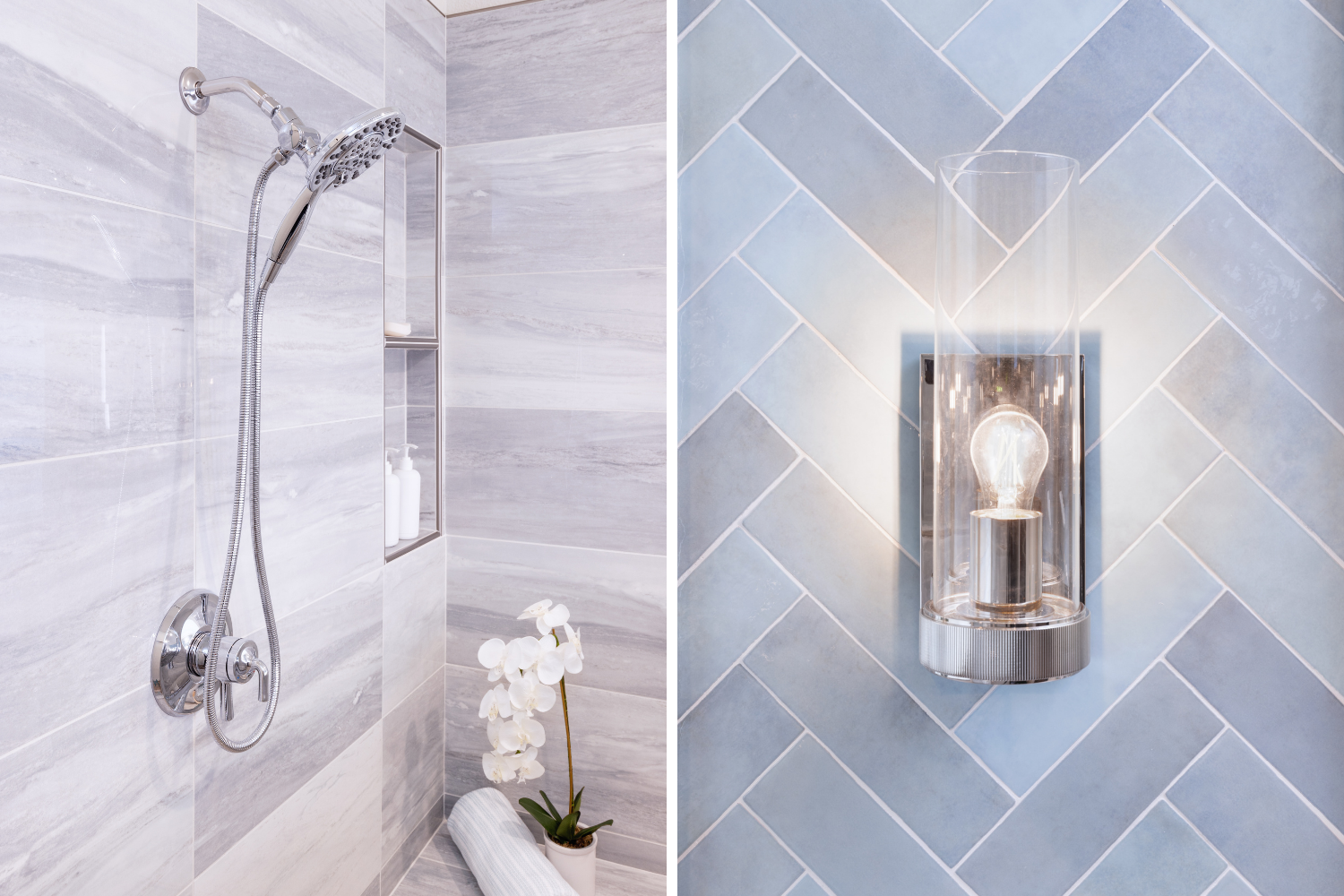 At this point, we provided our clients with three design options. Each of them included beautiful plumbing fixtures in glimmering chrome, spa-inspired tiles, and fancy lighting.
Heather and Lowell liked the new layout, and only requested a few tweaks. But they were not completely inspired by the tile selections in each scheme. She wanted more of this, and he wanted more of that. It seemed they couldn't find a solution, and neither was willing to compromise.
Sound like a problem? Not for us.
On the fly, we pulled other tiles and finishes from our library. Then, together with our clients, we mixed and matched tiles, quartz, cabinet finishes, and flooring until we came up with just the right combination. Spoiler alert: everyone was satisfied.
I have to admit that after about 90 minutes of "What about this?" and "How about that combination?" I was beginning to wonder if they would ever agree. Once I showed them the combinations as a whole, however, emphasizing how the color and texture of one element played off the other elements, I could see them softening and finally coming to an agreement.
Perfect – we had the plan, and we had the finishes. Now it was time to bring in the Tradesmen to get the bids.
Oops, another snag…
Their dream bathroom's budget proved to be more than they wanted to invest. Moving the plumbing on the second floor and changing the window location pushed the cost over the limit. Back to the drawing board for us. We came up with a new layout that solved all the problems, minus a window to provide privacy. The solution? Privacy shades instead.
The couple's newly designed bathroom was worth waiting for. Come and see for yourself…
The Final Reveal: A Polished and Luxurious Bathroom
What was once dark and dated became light, bright, and a breath of fresh air. The transformation created a space where Heather and Lowell could truly relax and pamper themselves.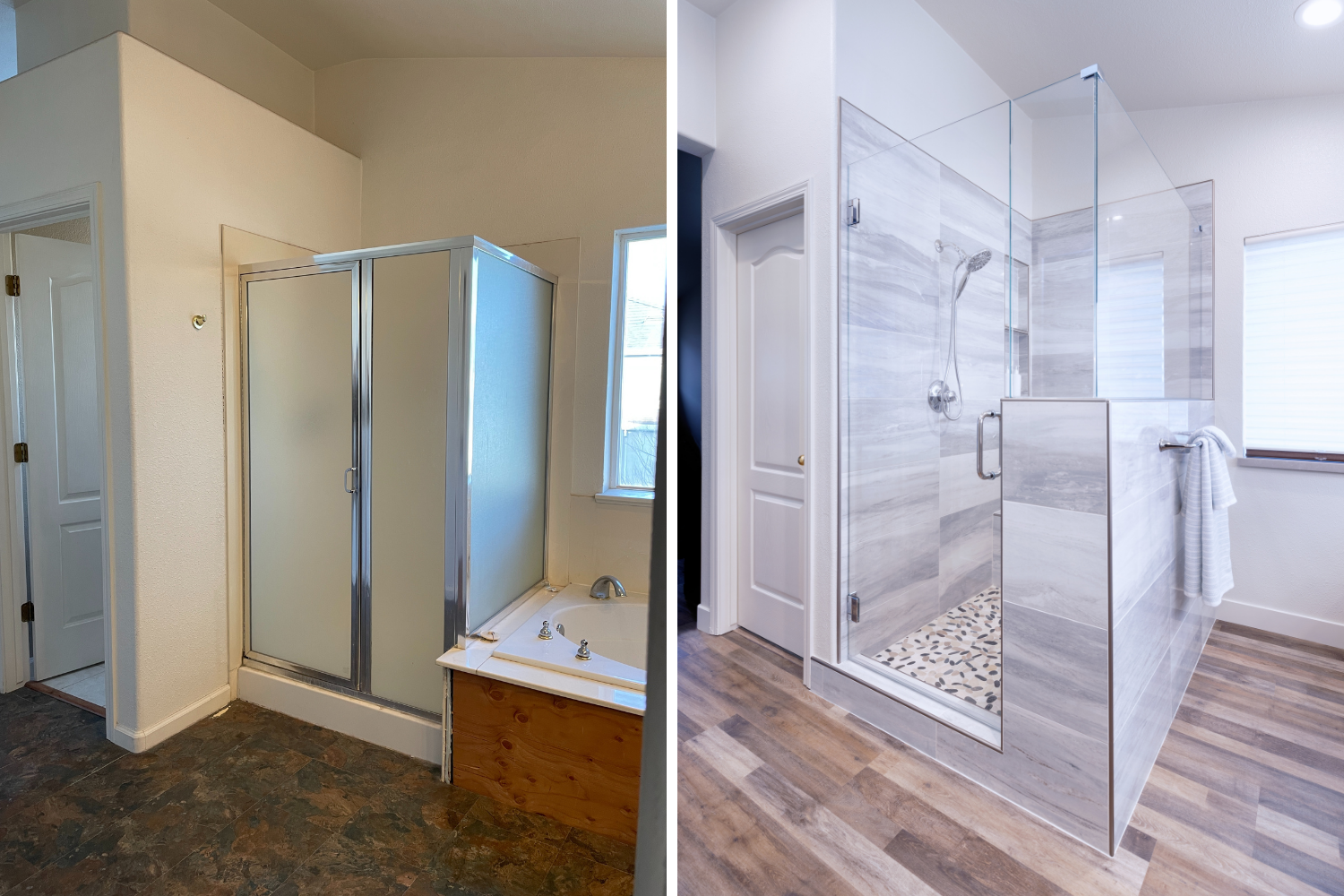 A large shower with clear glass and large format tiles in a dreamy, flowing pattern, mimicking the sand and waves, makes this space feel open and inviting.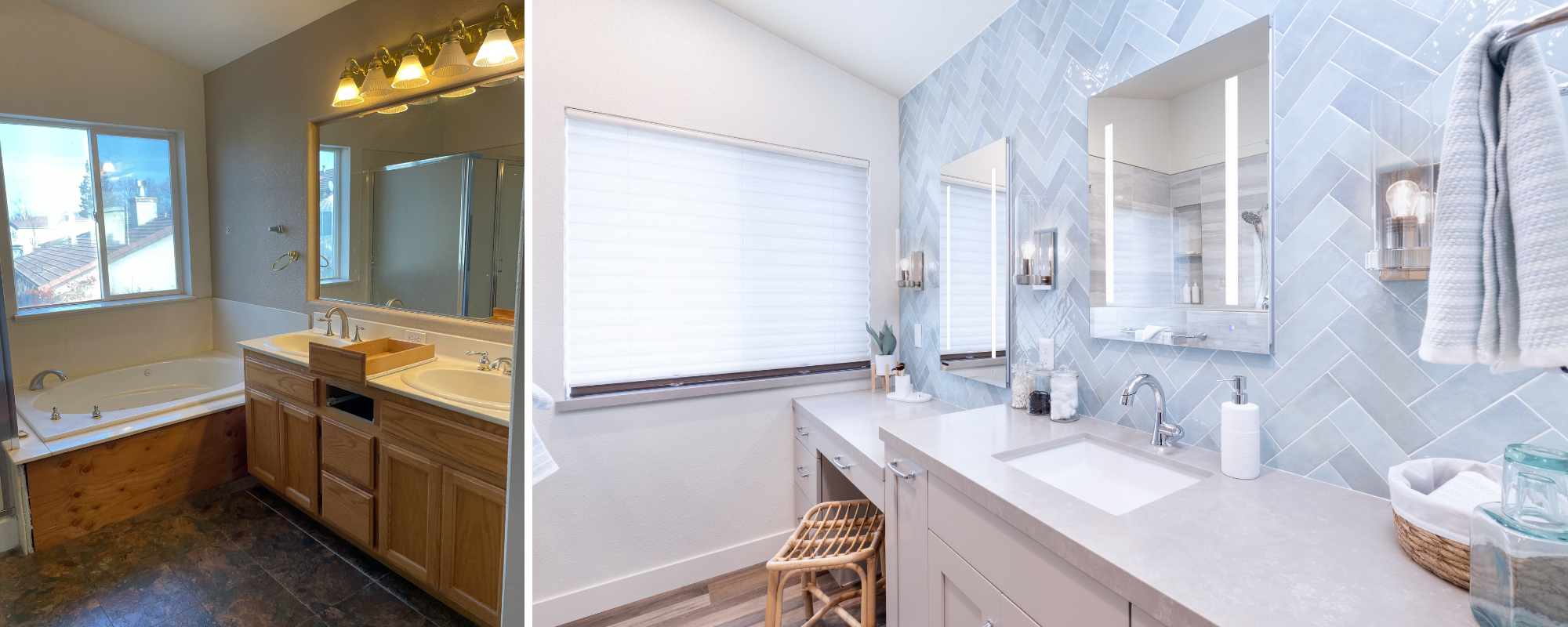 Mirrored and lighted medicine cabinets provide the best light for shaving and makeup and much-needed storage to keep the countertops neat and clean. In addition, a dedicated makeup vanity gives Heather a space of her own.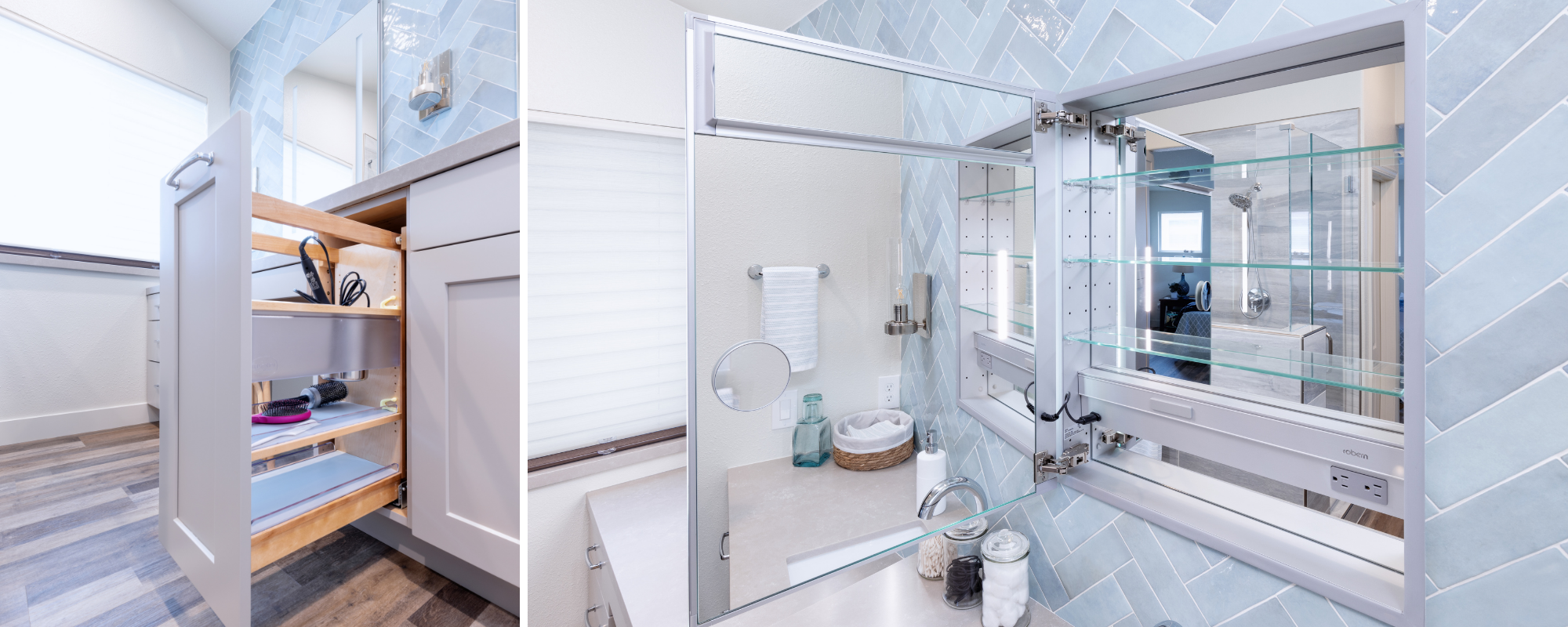 Each cabinet in the vanity has its purpose, including pull-out grooming caddies and deep drawers. Beautiful Zellige tiles in soft blue and gray tones laid in a herringbone pattern give the room movement and interest.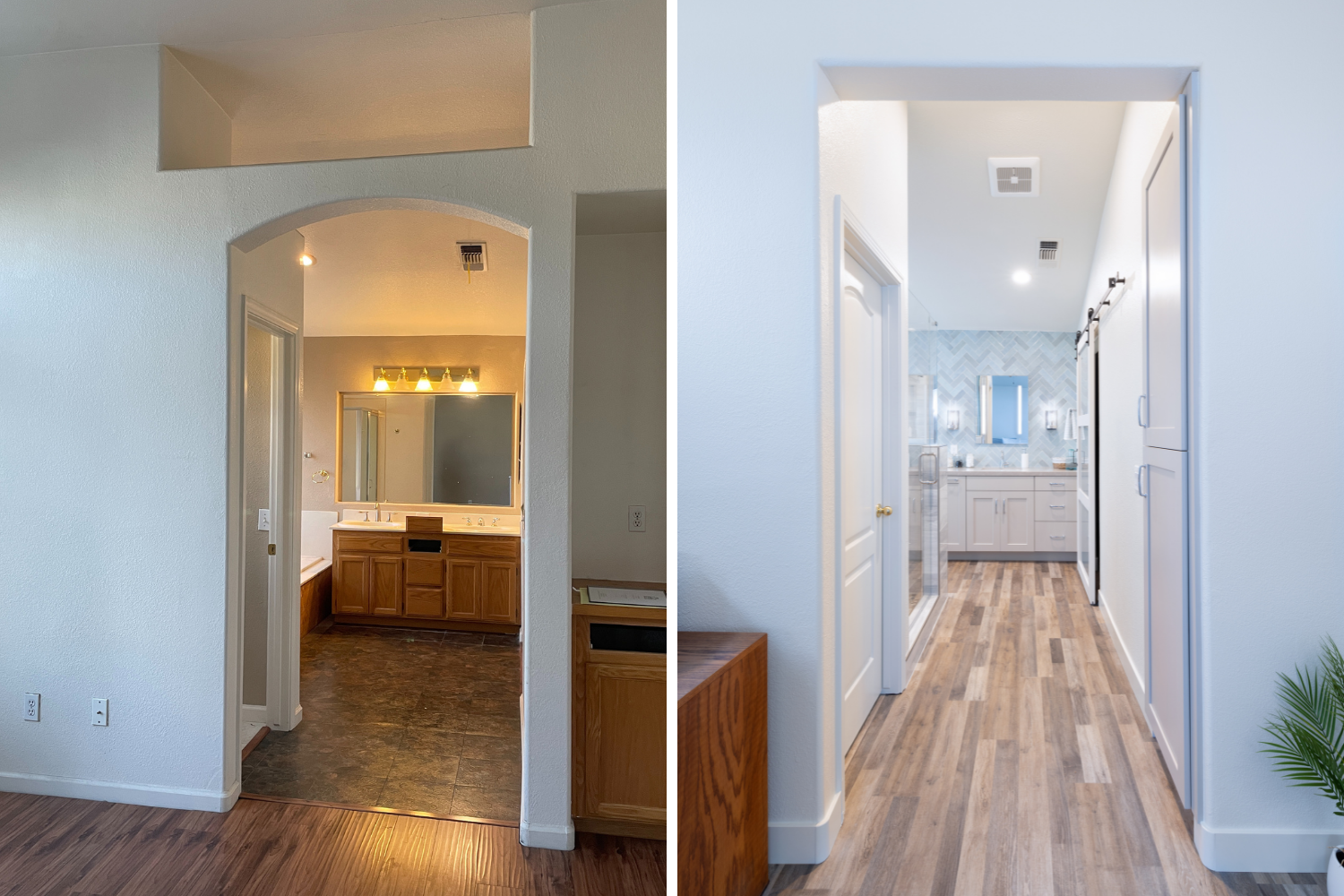 Luxury Vinyl Planks (LVP) were installed throughout the whole space, making for a cohesive and durable result.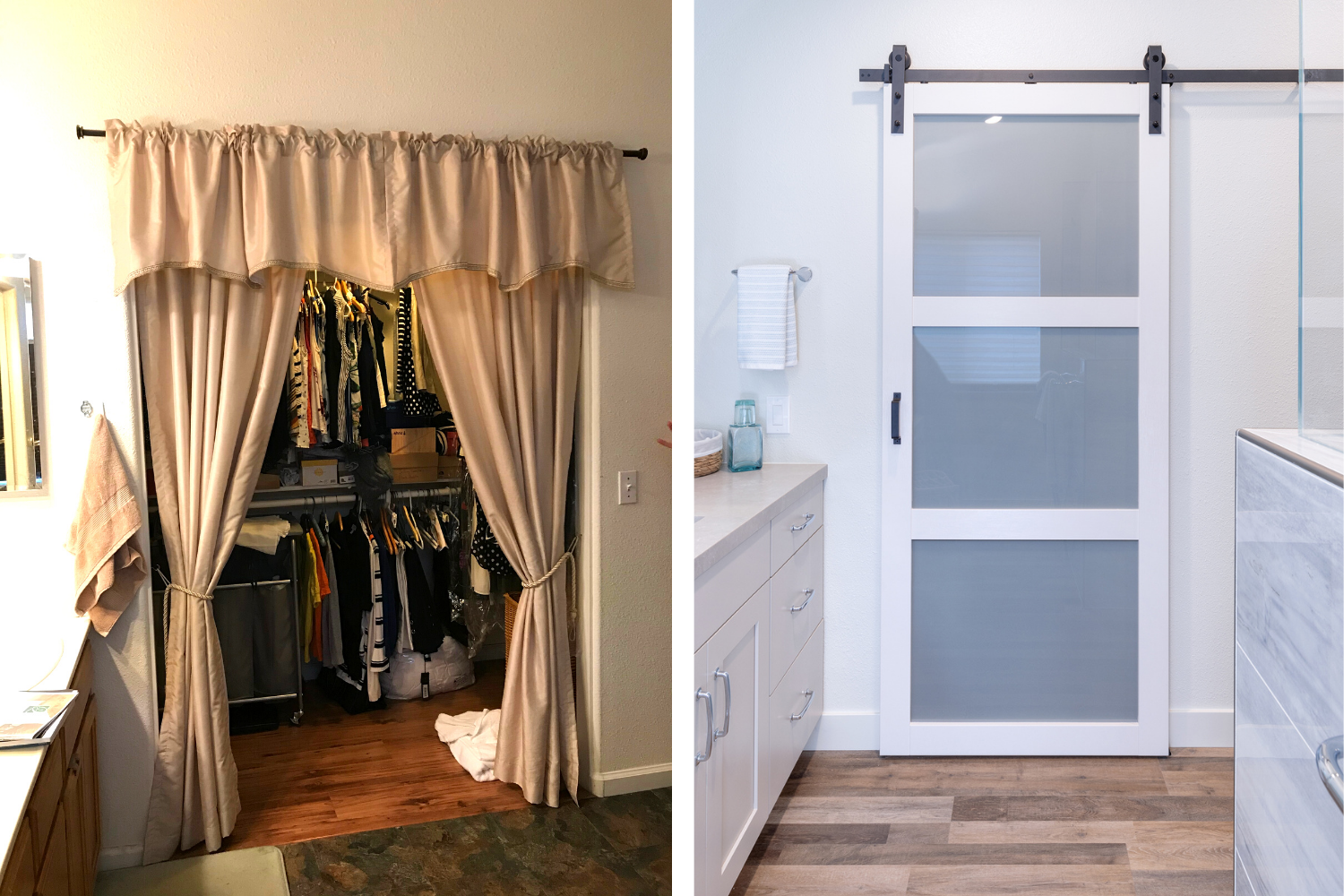 And the cutest door over the closet replaced saggy drapes.
Words from Our Happy Clients
Both Heather and Lowell are scientists by profession, and they have been the most enjoyable clients I've ever worked with. They logically analyzed every aspect of the remodel. They could articulate their concerns, which allowed me to explain why we did one design over another. They trusted us completely, which made their bathroom remodel go smoothly.
The final result is what we all expected – a spa-inspired oasis. Heather told me we saved their marriage. I'm not too sure about that, but they are happy with their home again and looking forward to other upgrades in the future!
Are you considering a renovation in your home? We'd love to be a part of your project. Reach out to us here, and let's discuss your goals for your new space.
Until next time,