See How Easy You Can Have the Best Dining Room by the Holidays
You picked the big pieces – the table and chairs (click here if you missed the last blog- Would you Like to Have a Beautiful Dining Room by the Holidays? ). Although the table and chairs are the biggest, most expensive pieces, not to mention a huge commitment – you did it. Good for you!
I bet you are feeling very accomplished right about now, but……..uh-oh, there is a problem. The dining room still looks bare and unfinished.
That's because you need to take the next steps and choose a buffet table, sideboard, or hutch. Then I will show you how to top it off with some artwork or mirrors (Next week we will talk about the window coverings, rugs and lighting).
And here is where I have a confession to make. It's a little neurotic and embarrassing but here it is – I have a china obsession. There – I said it – I collect china dishes. I have a set of china dishes for Easter, for Thanksgiving, and for Christmas (well, actually, several sets for Christmas).  But it doesn't end there, because, you see,  I have to have the stemware, the flatware, and the linens to go with each set of china dishes.
It started out innocently.  I got my first set of Noritake Ivory China for wedding gifts and then I found another set of Noritake china at an estate sale, and then I started collecting Johnson Bros. and so it goes on and on.
The moral of the story is I have a nice glass front china hutch to display all those sweet dishes and a buffet for all the flatware and linens and so should you.
Dining Room Ideas – The Buffet
The buffet is used to store china and linens and as a sideboard for serving food. It is generally 36″ high (about 7-8 inches taller than the dining able) and is generally 36-48 inches long. You can add a hutch on top with glass fronts for showcasing china and stemware.  I like a long buffet with a mirror over it and a separate china cabinet for displaying dishes and stemware.
The buffet balances out the room adding the necessary weight to one side. It doesn't have to match the table and chairs, in fact, a mismatched look is nice.  If you don't have enough room for a buffet, consider using a bar cart.
Here are a few dining room ideas for buffets that will look great with the dining table and chairs you chose last week.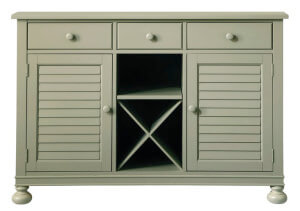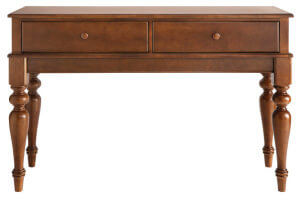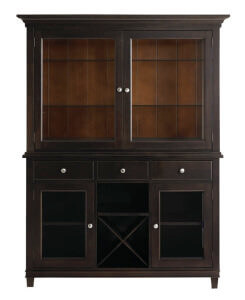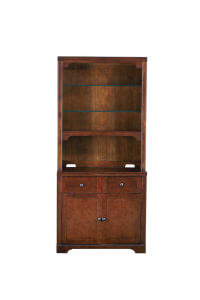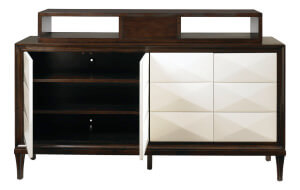 All of these items are available at the Design Workshop and we can help you get them ordered right away so they will be here in time for Thanksgiving.
Dining Room Ideas – Artwork and Mirrors
You can pick artwork,  create a family photo collage, or add a mirror. I think all three are perfect for the dining room and would recommend picking a piece of artwork, make a photo collage with family pictures, but have all the frames the same color and/or same style. Then of course, I already said, put a large mirror over the buffet.
Your dining room is coming together and here is what we have so far. Which one is your favorite?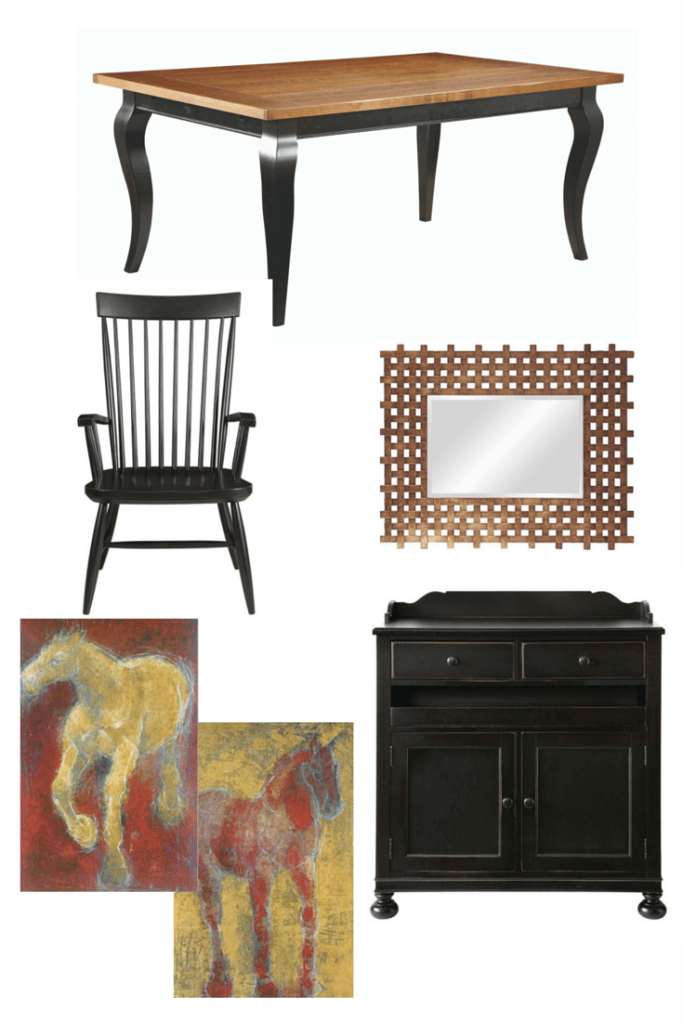 Farmhouse Folly has wood and black finishes. This sideboard have cute bun feet and goes nicely with the Windsor chair. The tables butcher block top feels so farmhouse, but remains somewhat formal. Match the sideboard with a rustic iron mirror in a cross hatch pattern and abstract stallions artwork and you are on your way to an updated Farmhouse style.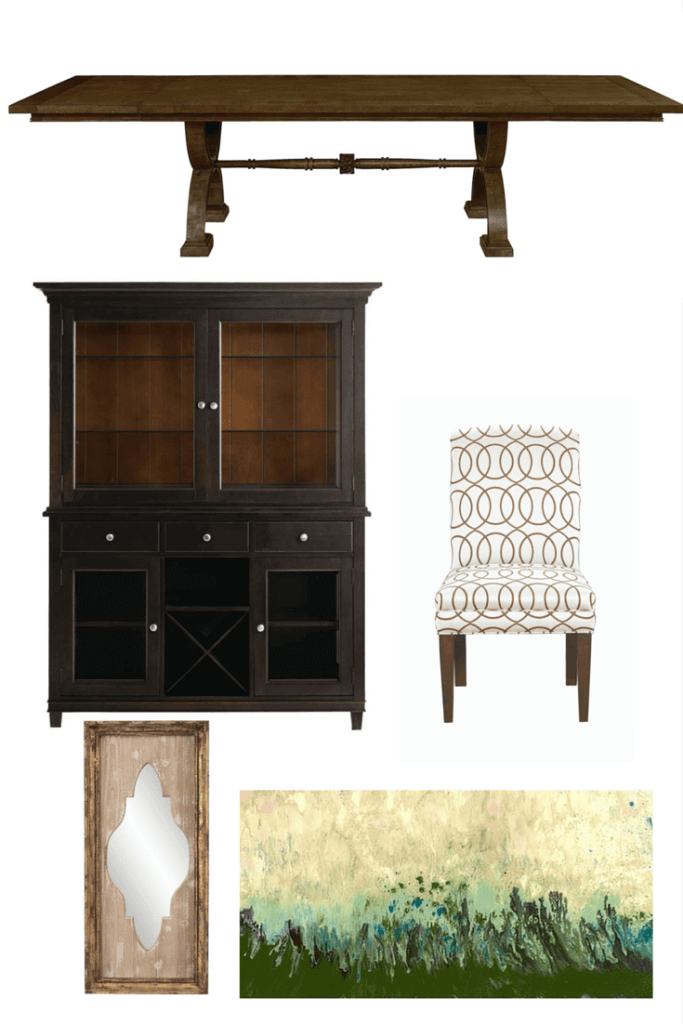 Traditional Trellis has a so on trend trestle table paired with upholstered armless chairs in a scroll pattern. And how about that hefty buffet and hutch? You can certainly fill it with all sorts of china and stemware and even add some wine. This large artwork will balance out the massive table and the gold leaf finish mirror (come into the Design Workshop to see it in person – so cool) is rustic but classic all at the same time.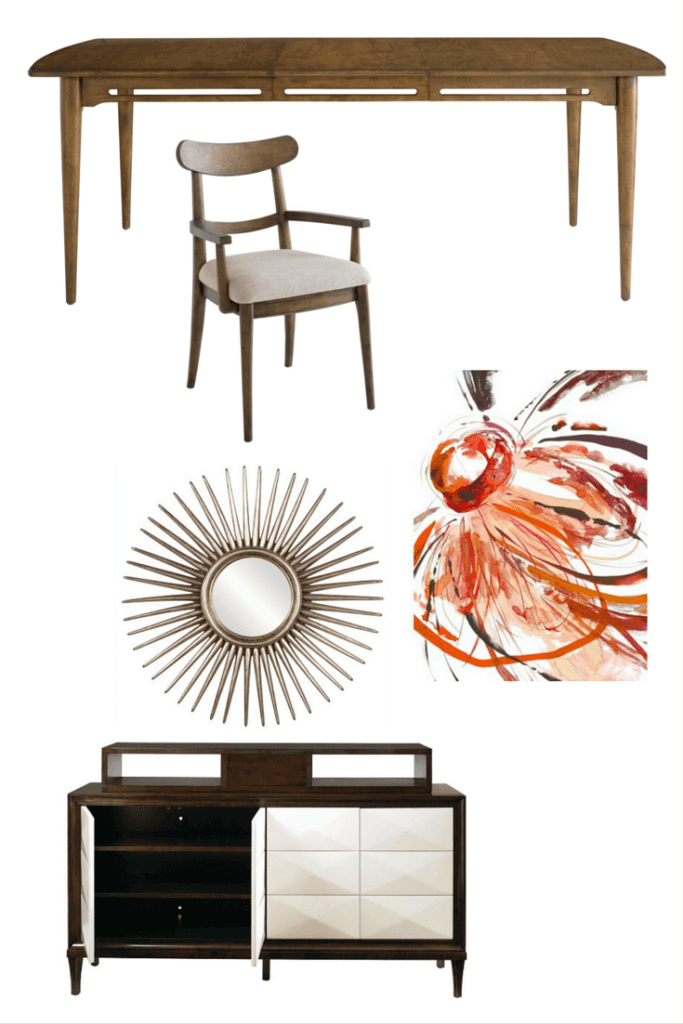 Modern Moment is a cliche of all things modern with the danish wood and soft bends, but we can't resist it! The somewhat Hollywood Regency buffet glams up the space and the floral artwork is a cascade of an exceptional color palette that will serve this room well.
We are two-thirds of the way finished with your dining room. The next blog will top it off with window coverings, rugs, and lighting.
See all the dining rooms on Pinterest Follow Kathleen Jennison, Design & Build's board Interior Design Dining Room on Pinterest.
Make sure you are on the list  (by subscribing below) to get the complete the story! P.S. – if you sign up below you get my free Paint Color Palette Guide to help you pick out the best paint colors for your dining room design.

[gravityform id="10″ title="true" description="true"]