Lila and Rick told me they wanted their bedroom to remind them of all the wonderful family vacations they had in Hawaii. They wanted it to feel serene and fresh. It should be a refuge from the work day, where they could relax and unwind.
I didn't want to pick bedding with palm fronds and pineapples on it. No, the room should only give a hint of its origin, yet evoke the feeling of a happy memory. This is the perspective drawing I made of how I thought their room should look and feel.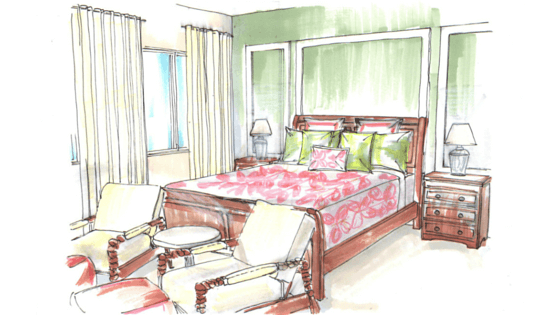 Here is a picture of the finished room. Lila told me that when she had friends over one of them told her it looked like a hotel room in Hawaii. Bam! We nailed it. You can see the complete portfolio here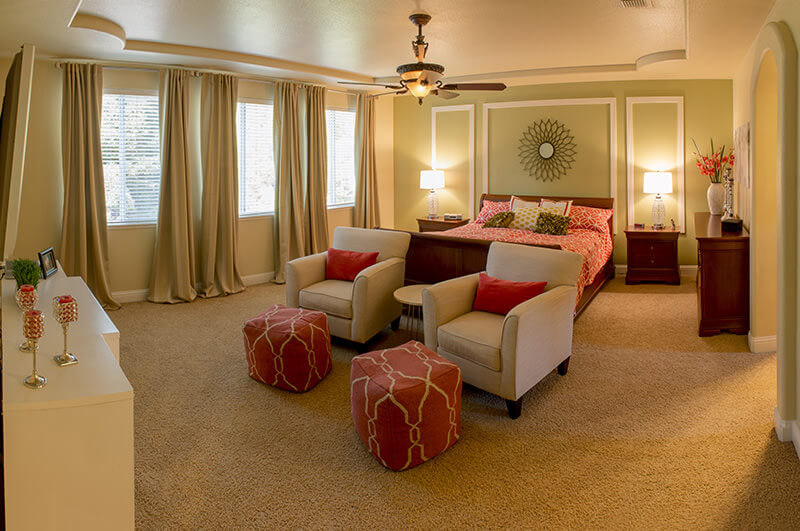 Last week in the blog I showed you some some sexy beds. Now it's time to put some sexy bed linens on those beds. I could tell you all about cotton and tread counts, but you can google that stuff and find tons of information about bed sheets, duvets, quilts and the like. But I want to tell you how to pick your bed linens based on how you want to feel in your bedroom. (Just in case you want to know – I think all sheets should be 100% cotton. There should be one duvet and one quilt. And tons of pretty decorative pillows is a must)
[ctt title="All sheets should be 100% cotton" tweet="All sheets should be 100% cotton. #KTJDesignco http://ctt.ec/chs4T+" coverup="chs4T"]
Think about all your favorite family vacations or of happy moments in your life. Times where you felt safe and relaxed. That is your starting point for your color palette in your new sexy bedroom and will help you pick out the perfect bed linens.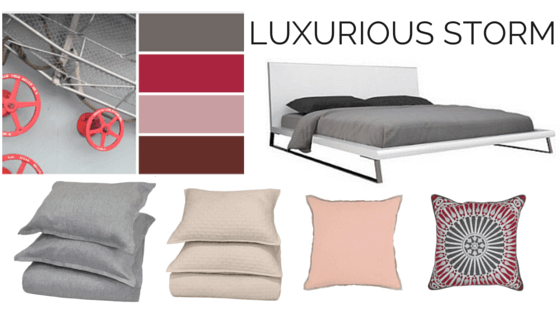 Did you go on a cruise for your honeymoon? How about a Luxurious Storm Palette. Subtle hues of stone gray, red ruby, and rose pink set upon your modern platform bed is luxurious. It feels feminine and masculine all at the same time and each time you walk into your bedroom you immediately remember that special time.
What about that spur of the moment weekend on your friends yacht around Sausalito? Can you remember looking up at the sky with only the sound of the waves and birds and feeling completely calm? How about a Rising Sky Palette? Soft denim colored duvet cover and embroidered pillows on this craftsman style wood bed feels just like yacht and sea.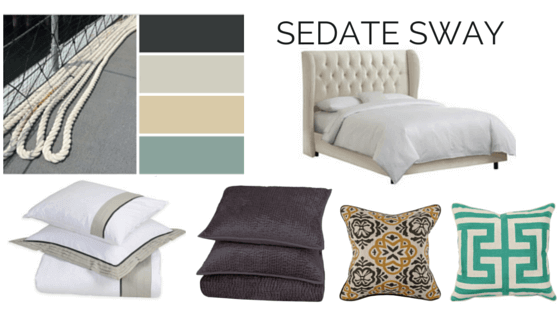 Did you catch the big fish in Alaska? Can you feel the waves hit you in the face and the fresh air in your lungs? It was an exciting day, but the best part was the trip back to the harbor as the sway of the boat almost put you to sleep. How about a Sedate Sway Palette? Black, gray, buff and seafoam green bed linens will whisk you away to a time and place of relaxation and jubilation at all once.
Strolling around Seattle, popping in and out of pubs and feeling the cool mist on your face was only the best time of your life because you were with the love of your life. How about a Harbor Mist Palette? A duvet cover that reminds you of sailcloth and a soft velvety quilt under your canopy bed is just the ticket to create a room that feels right at home.
So go grab a picture of a special moment in your life and use it as your inspiration for your bed linens and bedroom color palette.
Did this get you inspired to remodel your bedroom? But you just aren't sure how to pull it together? Then the designers at KTJ Design Co can help you. Check out our design packages and get your sexy bedroom.

Make sure you sign up for the mailing list to get the next blog on bedrooms and the decor you need to finish it off delivered straight to your inbox.
[gravityform id="10″ title="true" description="true"]