How to Pick a Rug that's Uniquely Your Own
I've been explaining my point of view about why it is so important to me that your design is Uniquely Your Own. You deserve a high level design that is of the best quality at the best price. This is how you can achieve a curated professional look that says" I hire the best designer" design for your home and make it uniquely your own.
Here's where I start with my designs – at the floor (bottoms up my dear)! Picking the right rug is not only about choosing the best color or pattern, it's more importantly about getting the correct size for your room and the best material for your lifestyle.
Figuring Out the Correct Rug Shape and Size
There are a gazillion blogs and Pinterest Boards out there about rug size. But the main thing is to get the largest size you that will fit in your room. I like all the furniture to fit on the rug (and this keeps all the furniture off the wall and in a tight conversational configuration).
Here are the best shapes and sizes for each room.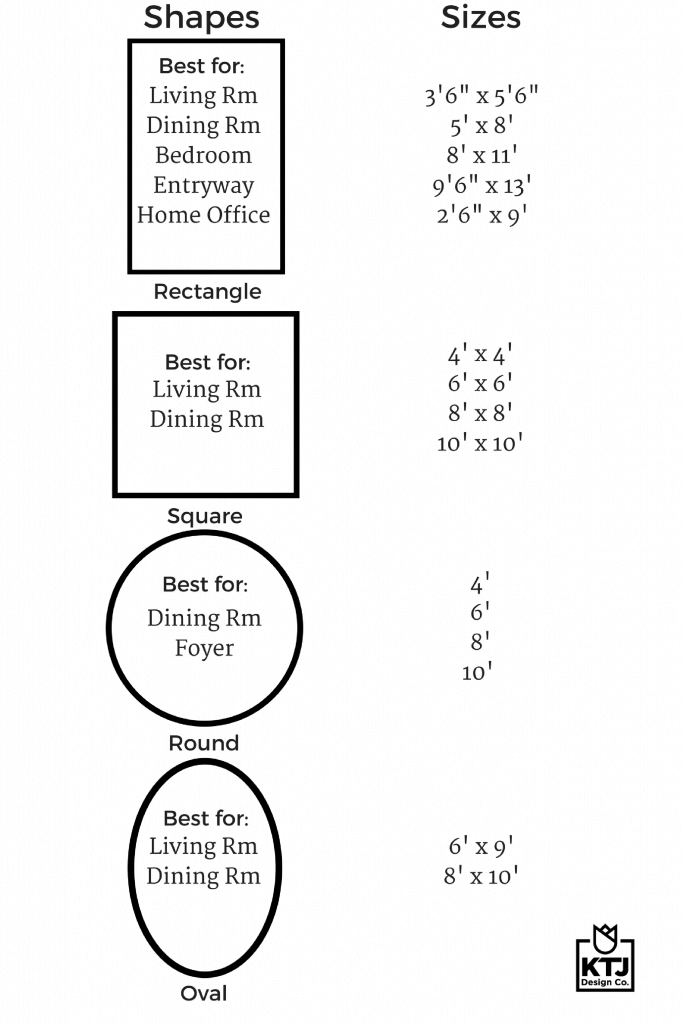 Understanding the Best Rug Construction
This is a lot of detail, but it is good information to know what you are getting when you are shopping for a rug. Hand-made will obviously be more expensive, but if you are looking for an heirloom piece, this is your best bet. That being said, machine-made rugs that are constructed of natural fibers (like wool, silk, or sisal) can be just as nice and if properly cleaned, last a long time.
HAND-KNOTTED: The most common hand-knotting traditions are Persian, Turkish and Tibetan. The rug begins with a background of vertical warp threads and weavers then tie individual knots of horizontal weth threads to create the design. If you are looking for an heirloom piece this is the best of the best. You can also expect to pay a premium for this labor intensive type of rug.
HAND-LOOMED: This rug is created on a traditional loom. A vertical warp is created and then a shuttle is used to apply the weft. Loomed patterns may have a loop or cut pile surface texture with an appearance similar to hand-tufted rugs. Unlike hand-tufted rugs, these rugs do not require a backing.
HAND-TUFTED: A canvas is stretched tightly over a frame and the design is drawn by hand onto the canvas. A tufting gun is then used to push yarn through the canvas to cover the entire surface area. Tufted rugs can have a cut or loop pile. After tufting, a latex backing with canvas is applied.
HAND-HOOKED: A technique used in hand-tufted rugs to create a loop texture.
HAND-WOVEN: Textures and patterns are created by weaving different yarns through a vertical warp.
HAND-CRAFTED: A rug that is handmade using techniques such as piecing, stitching, die cutting, etc. Hand-crafted can describe hair-on-hide and leather rugs, cut felt rugs, embroidered rugs, etc.
FLATWEAVE: Flatweave is often used to describe kilims and dhurries. A hand-woven construction that typically has no pile and is reversible.
MACHINE-MADE: These rugs are constructed on large automated looms. The designs are created by lifting the weft yarns to the surface to create pattern.
Choosing The Rug Fibers
WOOL: Wool rugs are an excellent choice for high traffic areas – living rooms and hallways, or spill-prone spaces (like dining rooms.) If you want a rug that is durable, long-lasting, and naturally stain resistant (think pet-proof), you really can't go wrong with a wool rug.
SILK: If you want a truly luxurious rug for your bedroom, pick a silk rug. Just remember they don't do will with moisture, can be quite expensive, and are less sturdy than a wool rug.
COTTON: Cotton rugs are great natural fiber and many of my vegan clients ask for them. Flat weaves are generally cotton. The plus side is they can be thrown in washing machine! Since they are light-weight, though, you must have a rug pad to keep them from slipping around.
JUTE AND SISAL: Made of natural materials, jute and sisal are a fun casual look for a family room or breakfast nook. Keep in mind that jute is the most coarse and firm, which makes it uncomfortable underfoot. Sisal, however has a smoother and finer surface, but still has a woven-like texture.
SYNTHETICS: Made of nylon, olefin (never get a rug with this material!), polyester and acrylic yarn these rugs are created to look like wool and high-quality fiber rugs at a lower price. Because they are inexpensive, they can be replaced more frequently with updated styles or swapped out for the seasons.
POLYPROPYLENE: Outdoor rugs are made of Polypropylene, but with better and better technology, these rugs come in more and more fun colors and patterns and can easily be used indoors. They are easy to clean (you can seriously take them out on the patio and hose them down) and a good choice under a dining table or a home with toddlers.
Once you've figured out what type of rug is best for your family, you can then decide on the color and pattern.
I have a large living room, and my rug is 9'6" x 13". It retailed for $2,600. The sofa and two chairs sit on the rug with just the front legs. I have a yellow lab and a black lab, one big husband, and two small grandchildren. I picked a wool rug with a subtle cream and gray textured pattern. We live in the living room and the wool rug has taken a beating with dogs sleeping on it and kids eating on it.  I'm getting ready to re-do my living room and I thought I had to replace the rug, but I got it professionally cleaned and it looks good as new and I've decided I don't have to replace when I re-decorate.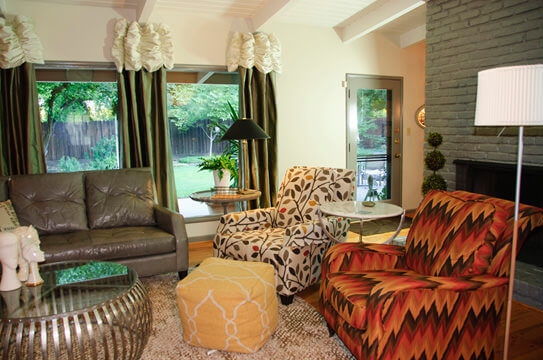 In the Design Workshop, we specify Surya or Jaunty Rugs. As I've said before, these are the brands I like because of my sales representative and excellent customer service. Just this year we had a client who bought a rug from us. She had purchased a rug from Ethan Allen and spent over $5,000. We got her the same shape, size and material for half that price.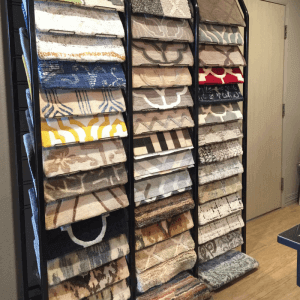 Even if you're not ready to hire KTJ Design Co for a full interior design, think of me when you want a new rug. I can ship to anywhere!