Fab Kitchens – Find Your Unique Kitchen Style
Part Two: How to Make Kitchen Remodeling Choices You'll Never Regret
Do you know your kitchen style? Maybe?  Maybe not? Let's do this little exercise to capture your design style.  You need to create an inspiration file. Tear out images from magazines, or go to Pinterest and create a new board. Pin every kitchen that sparks your interest. Another good way to get inspiration is on Houzz where you can begin a Kitchen idea book.
At first just add anything and everything thing that makes you stop and look. Then find common elements in them and move those into separate folders or boards. Go over, the new organized files/boards, and cull out images you lost interest in and narrow it down to five photos that really speak to you. What is common in all of them? That is your style.
Give it a name (any name that describes the look to you) and make it your own style. Here are a few examples:
Art Deco   Hollywood Glam   Urban Industrial   Asian Zen   Nostalgic  Mid-Century
Seaside Retreat   Global Contemporary   Luxurious Classic    French Villa
Rustic Mediterranean   Elegant Country   English Charm   Boho Chic
Naturally Neutral   Simply Sophisticated   Vintage Chic   Tuscan Warmth    Cozy Modern
Make of list of the three top adjectives that describes for your style. Pick three dominate colors. Then make a style guide that lists the elements you like (cabinets, lighting, appliances, flooring, colors, tile, and layout). Use this list to keep you focused and on track as you create your kitchen design.               
Three Kitchen Styles and Why They Work
Kitchen Style: Cozy Modern
Modern is all about white walls and clean simple lines. This white on white on white kitchen with contemporary touches makes it cozy and modern all at once. Incorporate industrial components with restaurant'ish appliances like a large stainless steel range and hood, two 30" glass door refrigerators and a pot-scrubber type faucet. Continue the industrial feel with metal barstools.  Tuck the drawer microwave into the island to maximize those thick white quartz countertops to continue the simple lines.  Use floor to ceiling subway tiles for a classic vibe. Offset all the cool and sleek finishes with warm hand scraped honey colored luxurious floor planks.  And as always, add a funky chandelier that is sure to spark conversation.
Kitchen Style: Urban Industrial
Is it a kitchen or laboratory? Essential elements in this kitchen are oiled soapstone counters atop white shaker style cabinets. Black and white nuances like tiny mosaic tiles, black handsome cabinet pulls, and bulbous glass pendants with school house charm are reminiscent of high school science class.  Ceramic wood-like plank tiles and wood and metal stools bring a muscular, utilitarian vibe into an energetic space.  Leave some of the upper cabinets with open shelving to display your shiny glassware and continue the industrial character.  Want to push your design over the edge? – Add a piece of artwork of a frog! (not dissected of course)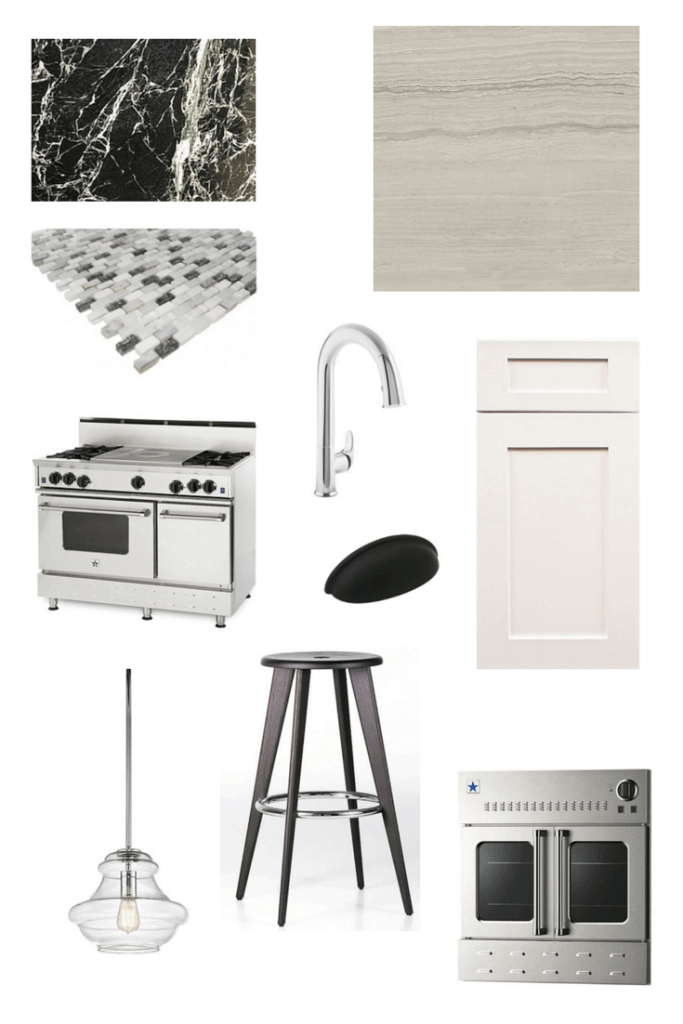 Kitchen Style: Vintage Chic
Mix up the metals in a vintage kitchen making it feel refined, yet oh so sumptuous.  Matte black appliances with steel and gold accents coordinate perfectly with oil rubbed bronze plumbing fixtures. Use basic sophisticated hues in your color palette and bits of warm wood to balance out all the metals. Painted raised panel cabinets with a bronze glaze amps up the vintage feel. Backsplash tiles in glass and metallic sporting a geometric pattern provides that bit of an edgy modern moment your kitchen style needs.  Keep the quartz countertop and ceramic tile floor simple and let all the metal from the appliances all the way to the black and cooper pendant do the heavy lifting in our Vintage Chic kitchen style.
Which design is your favorite? Let me know in the comments below or send me an email and let me know what you named your unique Kitchen Style.
If you need some design help for your kitchen remodel, the designers at KTJ Design Co are ready to help you get started. Purchase a ReFAB Clinic Package (click here to learn more) and your Dream Kitchen Style can come true.

This is part of an eight part series on kitchen design "How to Make Kitchen Remodeling Choices You'll Never Regret." Don't miss out; get this series delivered straight to your in-box each week. We will go over the eight key elements you need to know before you start any kitchen remodel.
[gravityform id="4″ title="true" description="true"]