Everything you need to Know about Coffee Tables
Should we call that table that goes in front of the sofa a coffee table or cocktail table? It seems to me that in the morning we should call it a coffee table and in the evening we should call it a cocktail table. Hmm, what do you think? You ponder that for a second, and in the meantime read these simple rules of thumb for the next time you want to know "What is the Best Coffee Table."
What is the best size for a coffee table?
A coffee table should be one-half to two-thirds the length of your sofa. This makes it easy to get around, but also makes it accessible from all seats on the couch.  For an average 84 inch sofa, your coffee table should be 42 inches to 56 inches long.  Place the coffee table about 18" from the sofa, this allows enough leg room, but it is still within reach (for placing the coffee cup or wine glass, depending on the time of day, of course).


The Svendborg Coffee Table Set – $1,142.00
The Svendborg coffee table set consists of a 2-foot by 4-foot parent table topped by Carrara-style marble under which are nested two half-sized tables which are fabricated entirely from stainless steel. It is a coffee table that doubles it ability to serve when more space is needed.Size: 18.13″H x 48″W x 23.63″D16.5″H x 20.5″W x 20.5″D16.5″H x 20.5″W x 20.5″D
What is the right height for a coffee table?
Coffee tables are generally 17 inches to 19 inches high. This is good to know, just in case you want to use something not originally designed as a coffee table, such as a stack of vintage suitcases or an antique trunk. Lower coffee tables are popular in modern designs, and conversely taller coffee tables are used in traditional designs.

Soren Coffee Table Teak- Grey Wash – $1,491.00
Mid-Century aesthetics prevail in the Soren collection featuring curved surfboard inspired silhouettes. Shown in plantation grown teak top in hand rubbed grey wash finish, and plantation grown mahogany with solid grey angled legs.Materials – Plantation grown teak veneer and Plantation grown mahogany  Country of Origin – Indonesia
How to choose the right shape for a coffee table?
A rectangular coffee table is the most popular. It fits nicely in front of a long sofa. It offers a symmetrical and orderly design and works well for placing those decorative items on top, like books, trays, candles, or vases. A square coffee table works well with a smaller sofa or a sectional.  A round or oval coffee table is a nice balance if you have a lot of hard straight edges on other furniture pieces (it is also good when you have toddlers so they don't bump their heads on the corners).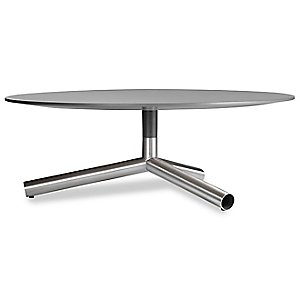 Sprout Coffee Table by Blu Dot – $599.00
Add an element of urban elegance with the Blu Dot Sprout Coffee Table. A low-profile form and clever use of low impact, non-warping materials makes this coffee table unique in the world of furniture. Features an MDF tabletop and stainless steel legs, through which color flirtatiously peeks.
How to decorate a coffee table?
What you put on top of the coffee table can range from all sorts of things, like books and magazines, collections of treasures, or plants and flowers. But one thing you must have is functional storage, because after all, how many times have you looked for the TV remote control?  Storage can be as simple as a wooden box, a basket, or a nice tray.