How to Quickly Style Your Coffee Table
It's easy for the coffee table to become a "drop zone" for everything from Cheezits to yesterday's newspaper. …but since the coffee table is generally front and center of any room, it's important to keep it pretty.
Keep your coffee table looking stylish by using these common household items:
Hardcover Books
Books are a great way to bring your personality to your coffee table. Don't use the raggedy paperback John Grisham novel you took to the beach, and don't grab books just because the cover photo is pretty. Instead, be sure to get books with hard covers that reflect something that interests you.  Hunt for them in thrift stores or used book shops.
An Attractive Tray
Use trays to group decorative objects so that they look collected instead of random. Trays are also great for holding TV remotes or phone chargers. I like to find trays with a mirrored bottom or textured sides (hammered copper).
Decorative Objects
Look for decorative items that are interesting, sculptural or quirky. A bowl of sand dollars you've been collecting since grade school or that Eiffel Tower memento from your last European vacation make great decorations (and great conversation starters).
Varying Heights
It's important to have varying levels in your coffee table style to break up the lines. Add a taller element with a curvy sculpture (my favorite sculptures are abstract human forms) or a hurricane lamp / tall vase with a candle in it.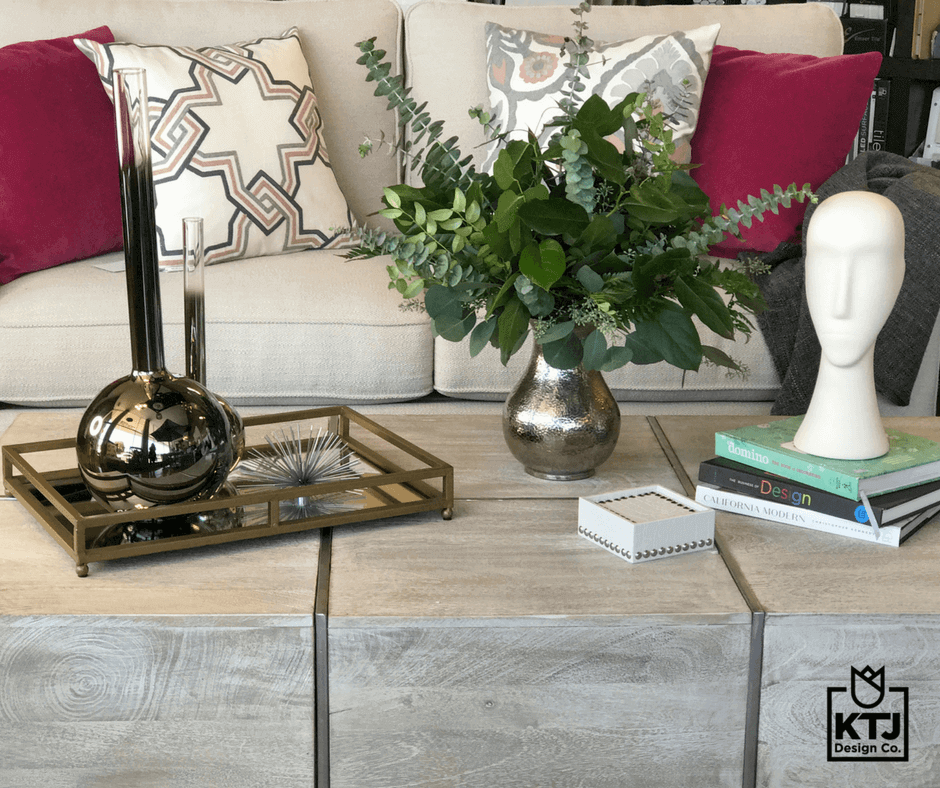 Greenery
Add some texture and color with greenery. Hint: Fresh flowers, a plant, or faux greenery can be combined with your tall vase.
How to Arrange Your Coffee Table
To begin styling your coffee table, start by dividing your table into four quadrants:
Quad 1 – Four books, stacked, with a decorative metal object on top of them.
Quad 2 – A mirrored tray with a succulent in one corner and the TV remotes next to a plant pot.
Quad 3 – A tall hurricane candle lamp / vase.
Quad 4 – Leave this space free. (You need a place to put your coffee cup and feet, for crying out loud!)
Did you enjoy this blog? Well there is more design goodness in my bi-weekly newsletter that you won't want to miss. Sign-up here to get the Inside Story delivered straight to your inbox.