Three Top Design Trends In Kitchen Appliances
Interior Design isn't something you just learn once – the best designers are constantly growing, learning, and improving so they can provide you with a dream home. As an interior designer it is important to stay up to date and current with all technology.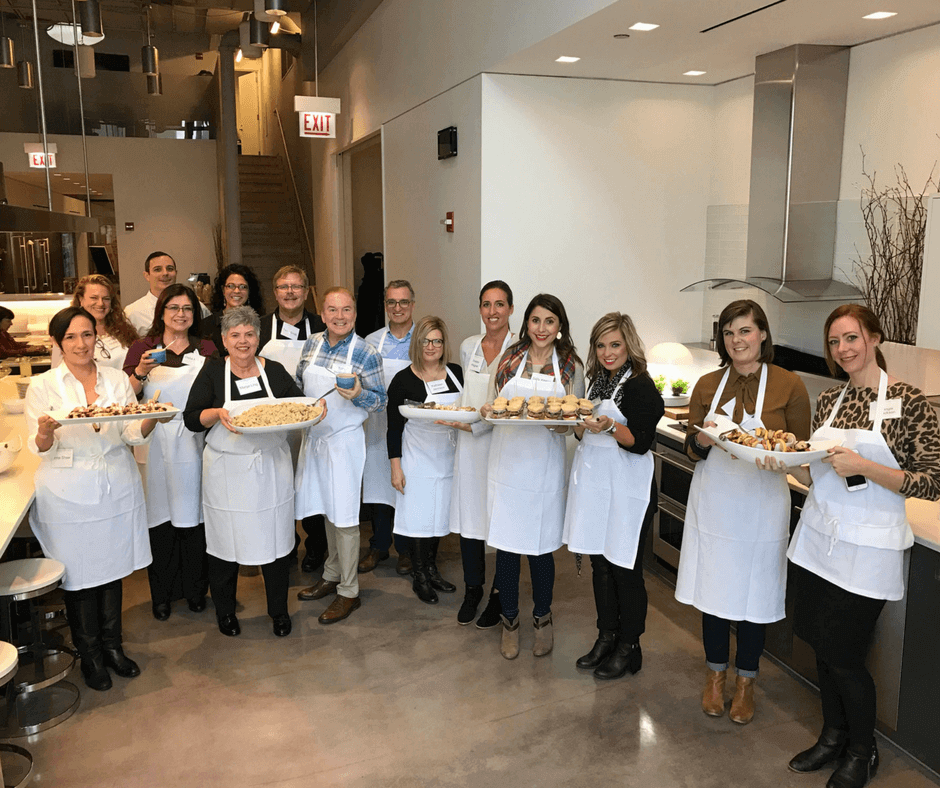 One of the ways I maintain my viewpoint and I make sure it is current is to go to continuing education courses. Today I want to tell you a little more about an exciting field trip I took to Chicago to the GE Monogram Design Center. I was thrilled when I got their invitation because it is so important for me to stay up to date so I can help you make sure your kitchen is uniquely your own (not to mention I got a three day all expense paid trip to Chicago!).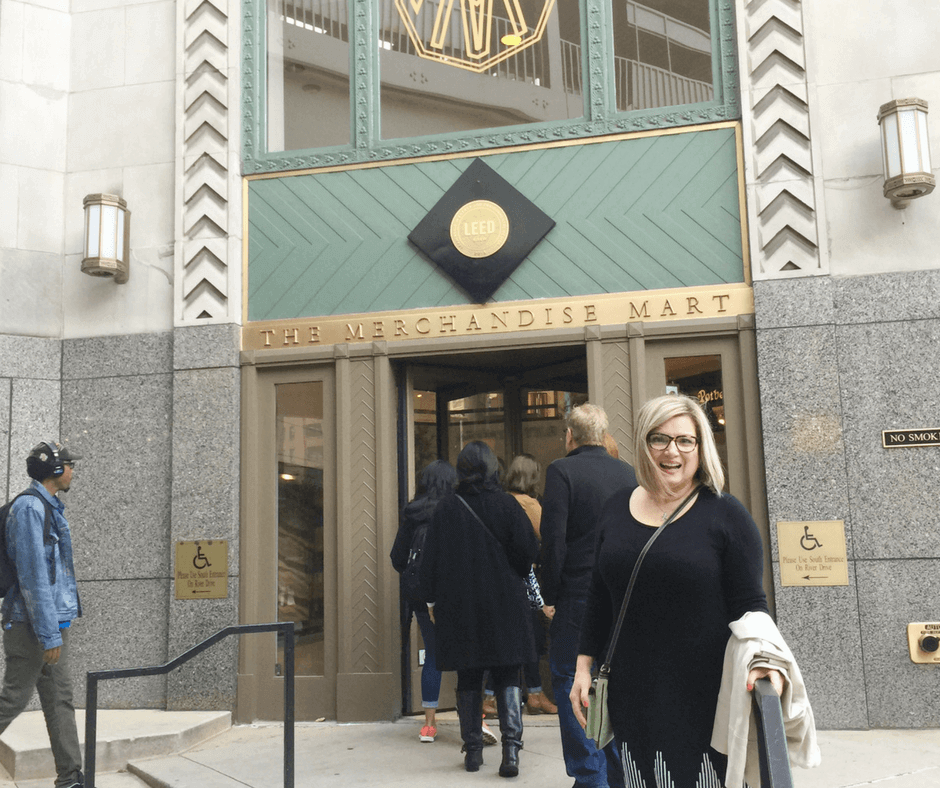 It's not enough for me to just look at catalogs and whip out my paint deck – I am required as a Certified and ASID Interior Designer to take these courses every year. Here's a little behind the scenes look at what I learned.

The Monogram series of appliances is actually one of my favorites and I specify it often for my kitchen remodels, so I am fairly familiar with the product, (or so I thought), but I learned about three pieces that really excited me (I know, I know – we designer chicks get excited about kitchen appliances): The induction cooktop, the 4-in-1 speed cooking system, and integrated refrigeration.

I've Been a Cook-Top Snob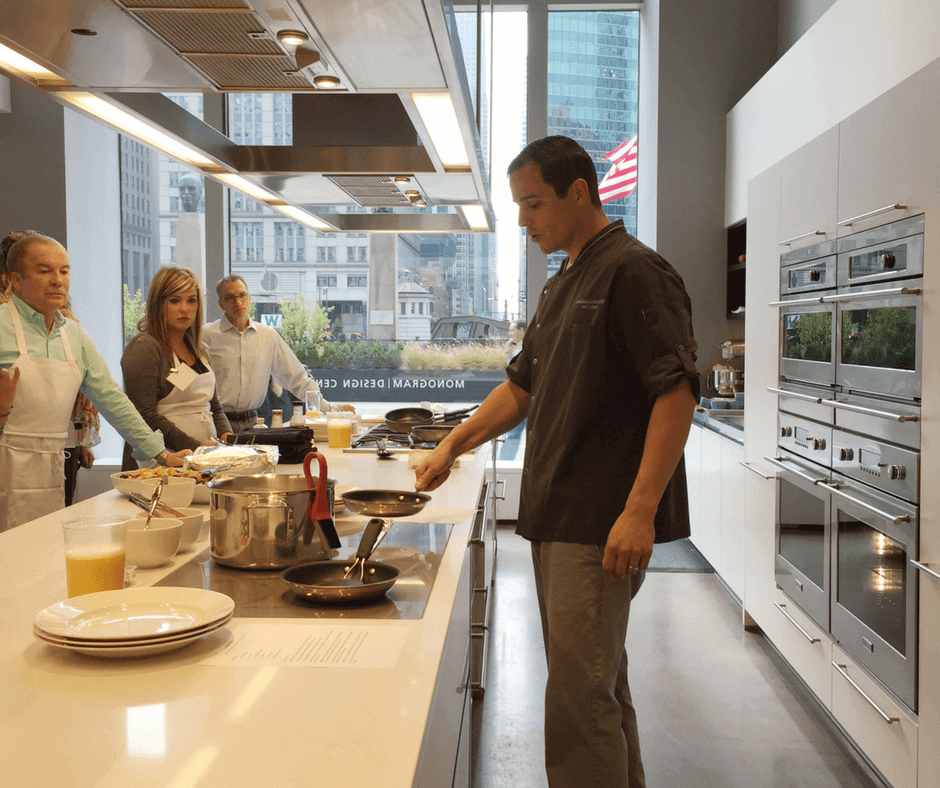 I have to say I've been a snob when it comes to gas cooktops – as in that is the only one. But, whoa, was I wrong! The induction cooktop in the Monogram line is so freaking awesome! And I actually got hands on training from Chef Jon on using the induction cooktop. The speed, safety and cleanliness of this cooktop is remarkable. Water boils in one minute, nothing but the pan actually gets hot, and cleanup is a breeze. Here is me cooking my omelette on a gas range. Then I watched others cook theirs on the induction cooktop. The ease and speed with the induction cooktop is impressive. You will definitely be seeing this in my future kitchen remodel designs.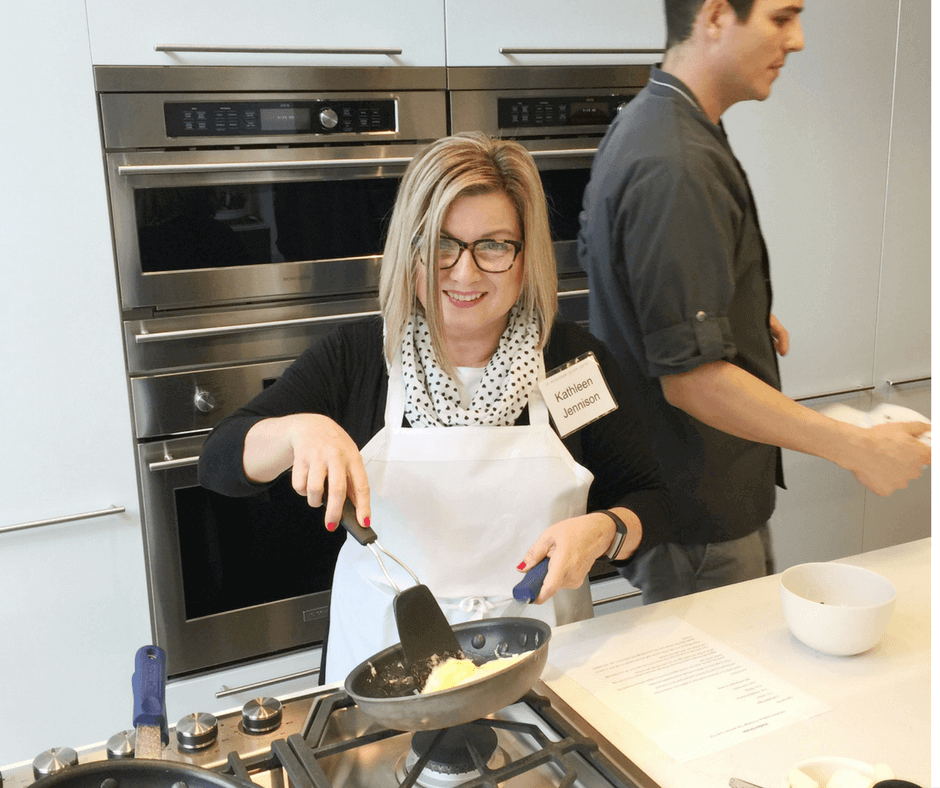 Why You Need Something Other Than an Ugly Behemoth When It Comes to Refrigeration
Refrigeration in the kitchen is essential but I really hate giant stainless steel refrigerators. It is a big ugly behemoth sitting in the corner. But with Monogram integrated refrigeration with an applied cabinet panel, you can't even tell it is a refrigerator.

As you can see in the picture, the refrigerator just looks like another cabinet.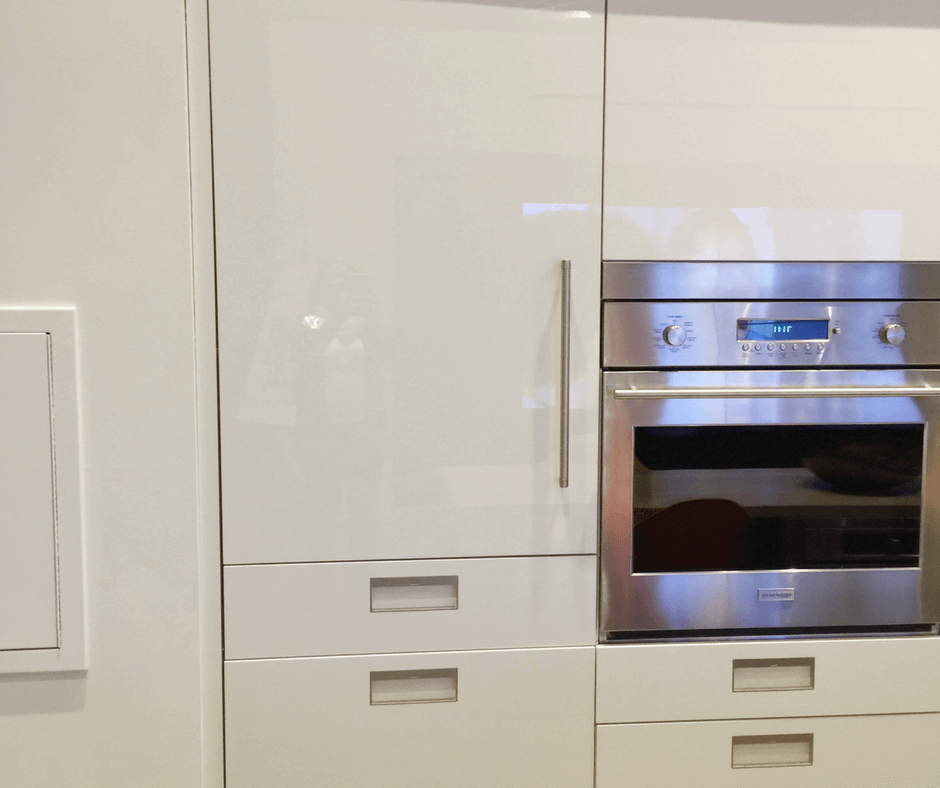 And in this picture the glass fronts are so cute. I left the lights on in one side and off on the other side so you can see the difference. I am seriously in love with this look. What I especially like is there are no shelves on the door. I hate how the jars in the door bang around and leave crusty drips.
Shall We Call It Speedy?
The best appliance that I had no idea existed is the speedcooking oven. It is actually 4 ovens in one. It is a conventional microwave, a convection oven, a warmer and ultimately a speedcooking oven that combines the other three technologies to give you the ultimate cooking experience. Chef Jon cooked a chicken for us in under 28 minutes. It was browned, tender and juicy. Here I am cooking brussels sprouts in 14 minutes. Forget about fast food drive-ins, you could make healthy meals in less time than it takes to idle in the drive-thru lane. The Advantium speedcooking oven will not only be in my future kitchen designs, but I will have one of these bad puppies in my kitchen very shortly.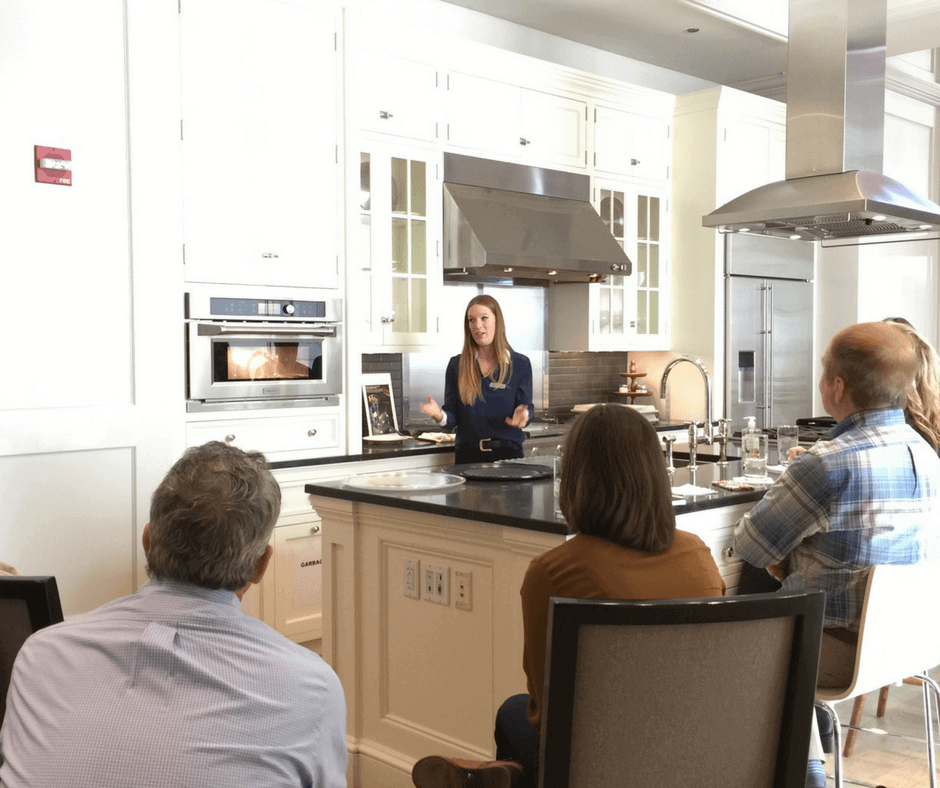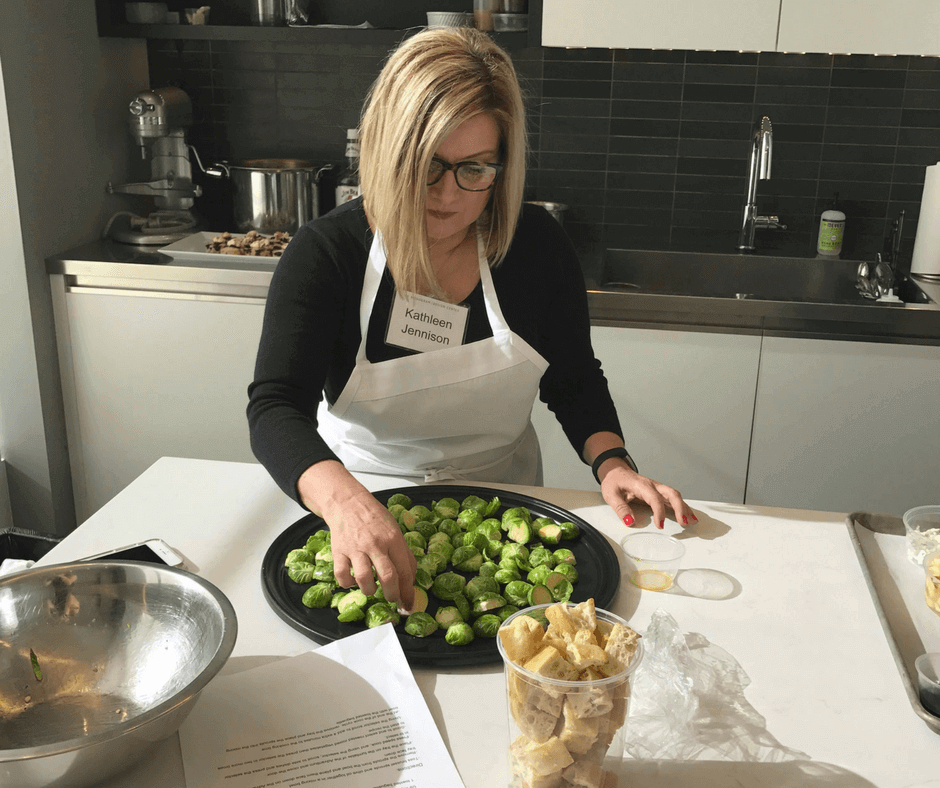 The Best Take Away
I really enjoyed this event for the learning experience, but another benefit is the chance to meet with other designers from all over the country. We shared experiences; backgrounds and knowledge in a way that is only possible at an event like this.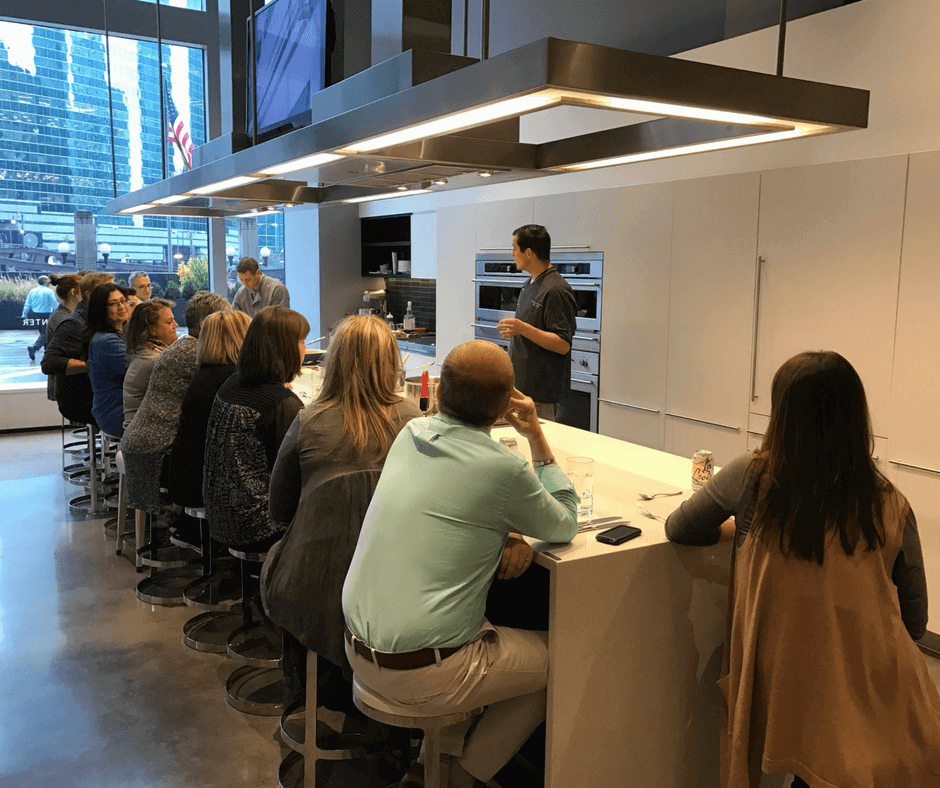 Continuing education is so important to me because it makes me a better designer. It makes me able to produce exactly what you need – a kitchen that is uniquely your own. You also get the confidence that I have hands on experience with products I pick for you.
What You Should Do Next

Be sure to sign up for my newsletter list to make sure you get these updates straight to your email in-box. In the next month, I will be writing a series of blogs on the latest and greatest for kitchen remodels that you won't want to miss.