Where Do I Start With My Color Scheme – Your Jumping Off Point
Picking out your color scheme is one of the most difficult things for homeowners – it's a big commitment! It's hard to get started, and if you make a mistake, it can be costly and time consuming to fix.
Want some help getting over your fear of color commitment? Here are the secret strategies design pros use when designing a room.
Color Scheme Strategy #1: Start at the Floor and Work Your Way Up
In design school, one professor told us to always start with the floor. This could be any sort of finish, such as wood, tile, or carpet. But when the design pros at KTJ Design Co design a room, we go one step further – we start with the area rug.
Here are three area rugs and the three complementary colors you should use as your color scheme.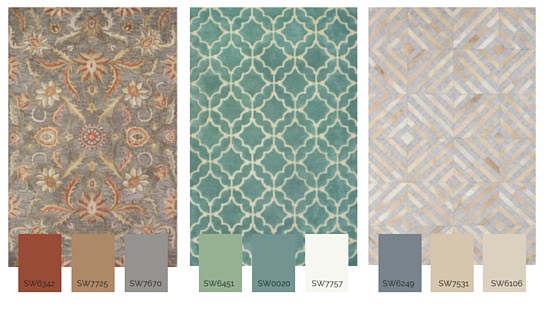 Color Scheme Strategy #2: Start with the Artwork and Work Your Way Out
Last week, a client informed me that artwork is a subjective selection. And yes, artwork is greatly influenced by personal feelings, tastes, or opinions. This is why we have our clients complete an extensive questionnaire before we ever meet with them face to face (whether in person or on the computer). We want to get to know you and this helps us predict what artwork you will love. Once you have the artwork you love, for whatever reason, THAT is your jumping off point.
Pick three colors from the artwork and – VOILA! – this is your color scheme.
Here are three bestselling pieces of artwork from our favorite vendor and the three complementary colors for each you should use as your color scheme.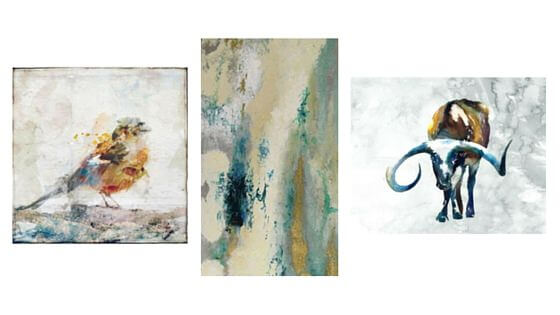 Color Scheme Strategy #3: Start with a Fabric and Work Your Way Around
This is the fun jumping off point, but can be the most difficult because there are so many choices. We at KTJ Design Co pick a fabric for the main piece (sofa), a fabric for the accent piece (chairs), and a fabric for the ancillary pieces (pillows and drapery).
Here are three fabric color schemes from our private label furniture fabricator. They'll give you the jumping off point for your color scheme.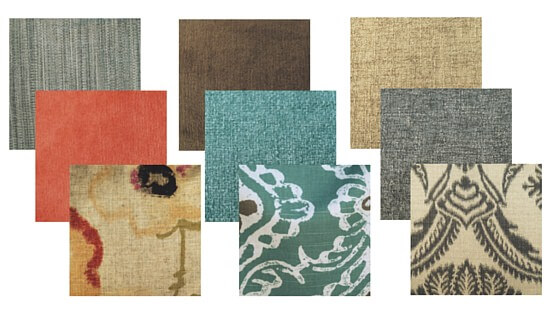 Color Scheme: Which Strategy Did You Pick?
Once you decide on your color scheme strategy, download a color matching app like the "Sherwin Williams "ColorSnap Visualizer" (Benjamin Moore has one too, but I like Sherwin Williams' app better).
Upload a picture of your rug, artwork or fabric and the app will bring up matching colors.
Pick three of the colors, and only THREE. Then go to the paint store and pick up color swatches and put them in your Design File (Don't have a Design File that you carry around in your purse at all times? We'll tell you how to develop one in just a bit!)
You will have a quick and easy reference for when you are out and about and see something you want for your room. Pull out the swatches and see if it matches and if you love it, buy it!
Now that you know how to do this, send me a picture of your strategy and your color scheme – I would love to see it.
If you still need help deciding on your color scheme, the designers at KTJ Design Co are ready to help! Check out our The Renovation Diaries Package and let us take the stress out of designing your room, just in case you feel like your jumping off point is the nearest bridge.