Why You Should Paint Your Walls White
As the cooler days approach I've got a hankering for a Manhattan. This is my favorite winter cocktail and I like it neat with Crown Royal whisky and a Maraschino cherry. It is a cocktail that should be savored slowly as each sip warms your body beginning at the forehead and culminating at the tips of your fingers and toes. As I sip and sip, I anticipate the plump cherry marinating in the whiskey and the idea of popping it in my month creates a sense of excitement.
This is how I feel about these no fail paint colors for white walls. I go back to them over and over in my design projects. I begin by fanning out the large paint deck thinking I need to pick new and exciting colors, but I always fall back on these tried and true colors.
In combination they create rooms that are calm and inviting. Imagine coming home at the end of a long day and pouring yourself a Manhattan and drinking it as it slowly relaxes the tension in your neck. That is how these paint colors will make your home feel – smooth and approachable. Now then, we will pick one vibrant color as an accent wall to be the cherry on top (or at the bottom of glass) when we design your room, but for now let's concentrate on the whisky and vermouth.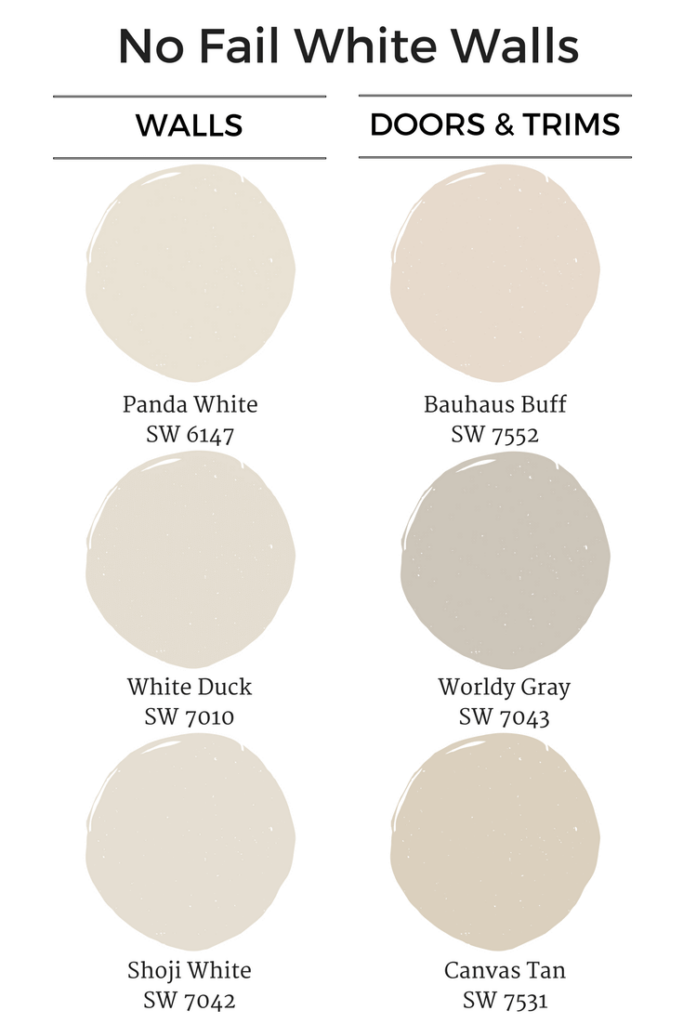 How White Walls Work In Your Décor Theme
Isn't white boring? Bland? Sterile? No, not at all. We typically suggest painting all the rooms in your house the same colors and painting them white.
White walls heighten the awareness of every element in your room. If you crave bold swatches of color, simply bring it in with big artwork or bright fabrics on your sofa and chairs.
White walls are a brilliant backdrop to display oversized and colorful artwork for a dramatic impact (think art gallery).
White Walls coupled with bright accessories like rugs, cushions, blinds, candles and vases dramatically change a room and can be swapped out with the seasons.
How to Properly Use White Walls
Paint the trims and doors a slightly darker hue. Did you notice that in the graphic? And were you thinking I goofed up in making the graphic? No I didn't get it backwards, just because we have been told to paint the doors, trims, baseboards, and moldings a stark white you assumed that is how is it supposed to be done. Well, don't do it. Paint the doors, trims and baseboards a slightly darker hue of white. Your room will feel anchored and harmonious.
Paint the crown moldings and ceiling the same color as the walls. Why? Because this will in fact make your room feel like it is floating. If you paint the crown molding and ceiling white, as your eye goes up the wall it will abruptly stop at the ceiling (a screeching halt is not good for your soul). Whereas if you paint the walls, crown molding, and ceiling all the same color, the eye effortlessly floats up and over the ceiling and doesn't even notice the height or different plane. Many a homeowner has balked at the notion, but when they trust me, they are so happy with the results.
When to Bring in the Bright Colors to Go With Your White Walls
If you are dying for a bright paint color (because I know there are so many colors and you just want to use one of them) paint an accent wall. The best places for an accent wall include the fireplace wall, the wall that anchors your bed or sofa, an interesting nook, or a bookcase wall (but remember to paint the sides of the bookcase too).
I can't tell you what color to paint your accent wall, because this will depend on your décor. My designer friend Jill Ornelas has a great blog about picking exciting colors.
Every phone call from a new client begins with, "I just can't seem to pull it together." Are you having a hard time "pulling it together?" It isn't easy, but the designers at KTJ Design Co are ready and waiting to help you. Check out our Remodel Clarity Sessions  and schedule an appointment for a New Year's Resolution to get a room that is "Uniquely Your Own."
Cheers!