5 Best Places to Easily Buy Beautiful Chandeliers
I believe you NEED a beautiful chandelier somewhere in your house (or two, or three, or more!), but finding the perfect statement chandelier can be a little tricky. I even made a few mistakes recently by not closely checking the sizes of each chandelier before ordering. We got one that was too small and one that was too big. We had to check the dimensions and try again until we got it right.
During this process, we used the 3 best places to easily buy beautiful chandeliers, and we're excited to share these great resources with you. When you're shopping for a chandelier, you might feel overwhelmed. You want something unique, and you don't want to go Home Depot, Lowes, or Costco (because seriously, everyone does that).
The five best places to buy chandeliers:
How to Choose a Beautiful Chandelier for Your Space
To figure out what size chandelier you need imply add together the width and length of your room. For example, if you dining room is 15 feet by 15 feet, you will need a chandelier that is at least 30″ in diameter (15 plus 15). Check out this previous blog post that teaches you how to calculate the perfect size pendants over an island.
How We Picked Lighting for Erica
Erica has a Tuscan-style home and wanted a large piece to accentuate her style. With spacious rooms and tall ceilings, it was easy to pick a great statement chandelier. We selected this beauty from Arteriors (link). The price would have been astronomical, but I extended my trade discount to Erica to help greatly lower the cost.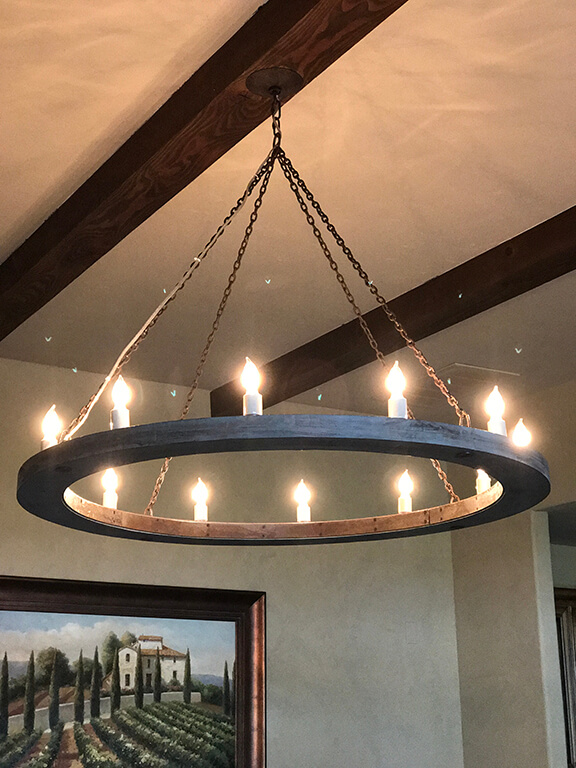 We also selected pendants for Erica's kitchen island and kitchen dining area from Classic Home Villa. (This resource is trade-only, which means you need to work with an interior designer to purchase anything from them, and the products are so worth it!)
Many people make the mistake of putting wimpy pendants over their kitchen island, but when you've got an island as large as Erica's, you need large pendants that will balance the top and bottom of the room.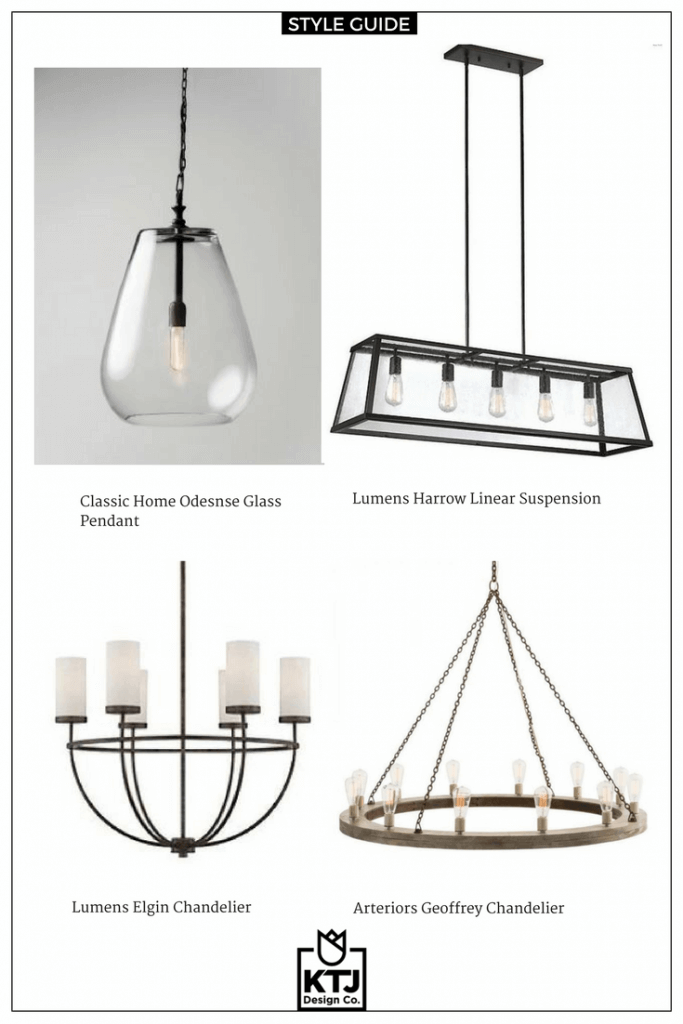 How We Picked Lighting for Elizabeth
Elizabeth's style is Neoclassical.
We've designed her formal living room, family room, entertainment room, dining room, and kitchen. Right now, we're in the procurement phase for each room, so we're receiving orders and waiting for many more. We should begin installation in a few months (stayed tuned for some off-the-chart pictures).
Here are the chandeliers we picked for Elizabeth: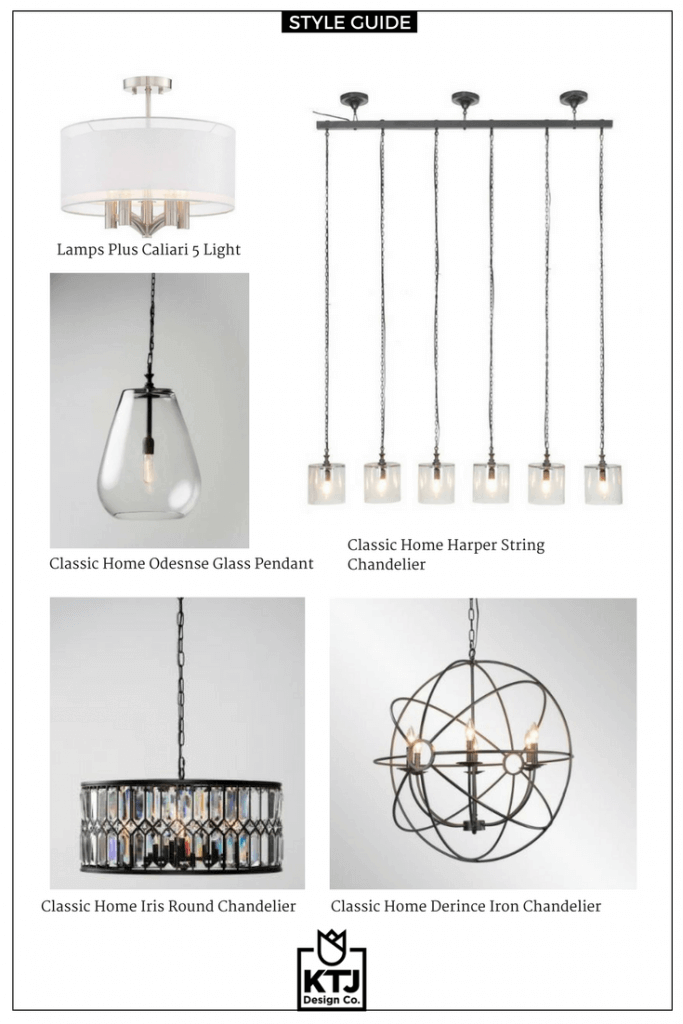 This Iris Round chandelier from Classic Home Villa is going in the dining room. When we first showed Elizabeth, she didn't like it, but once she saw it with all the other items in the room, she realized how well it all went together and loves it.
The Derince Chandelier is for the family room. This is where I made a mistake: I ordered the large version and quickly realized it was far too big. No worries, though, the small version has been ordered and is on its way.
The Harper String Chandelier goes over the kitchen table. This long, cylindrical chandelier is important because the kitchen, dining area, and family room are open and spacious. We needed a fixture that could flow from one end to the other and fill the expanse.
How We Picked Lighting for Don and Carol
Don and Carol's style is modern, and we're picking lighting for their entire house. This home is currently under construction, so it will be a few months before the fixtures are installed.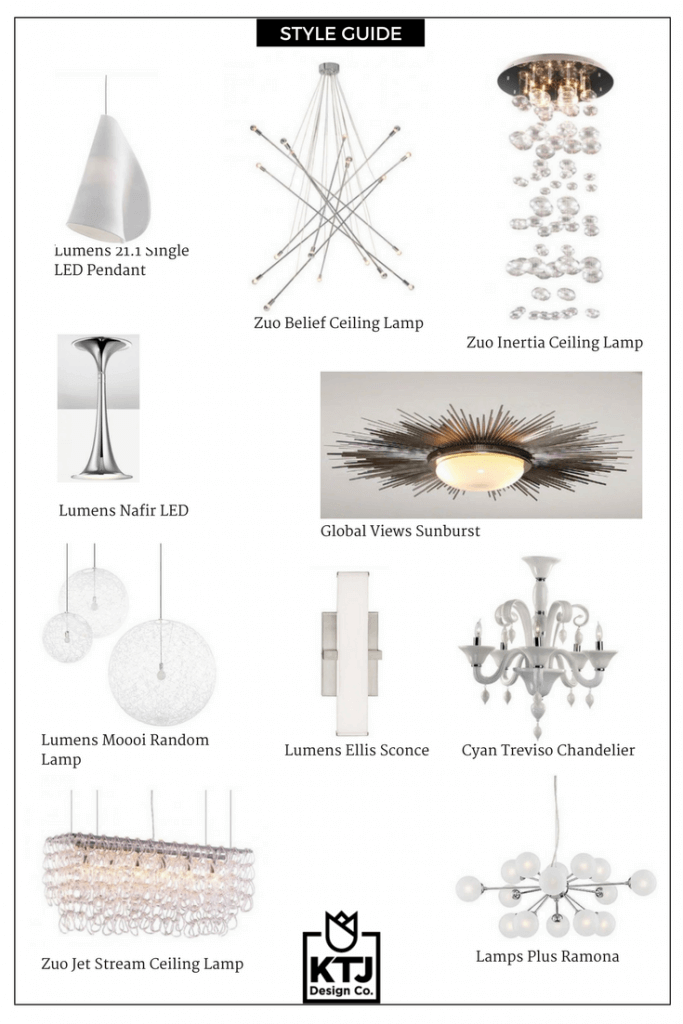 We sourced their light fixtures from the following brands:
Zuo Modern. They have many fixtures at a reasonable price point (pay attention to the sizes though!)
Cyan Design–our third favorite for chandeliers. They have many designs that are totally unique and over the top.
Lumens  is our greatest resource with options for every type of lighting and every style.
The Moooi Random (Lumens) is a modern icon. Since Don and Carol's living room is two stories tall, this large fixture (42" diameter) will fill up the space and add lots of drama.
Do you need to update your chandeliers or light fixtures? If you need help selecting lighting, let us know and we can help. Click here to schedule a Remodel Clarity Session to get you started.