5 Easy Steps to Make Your Patio the Coolest Hangout in Town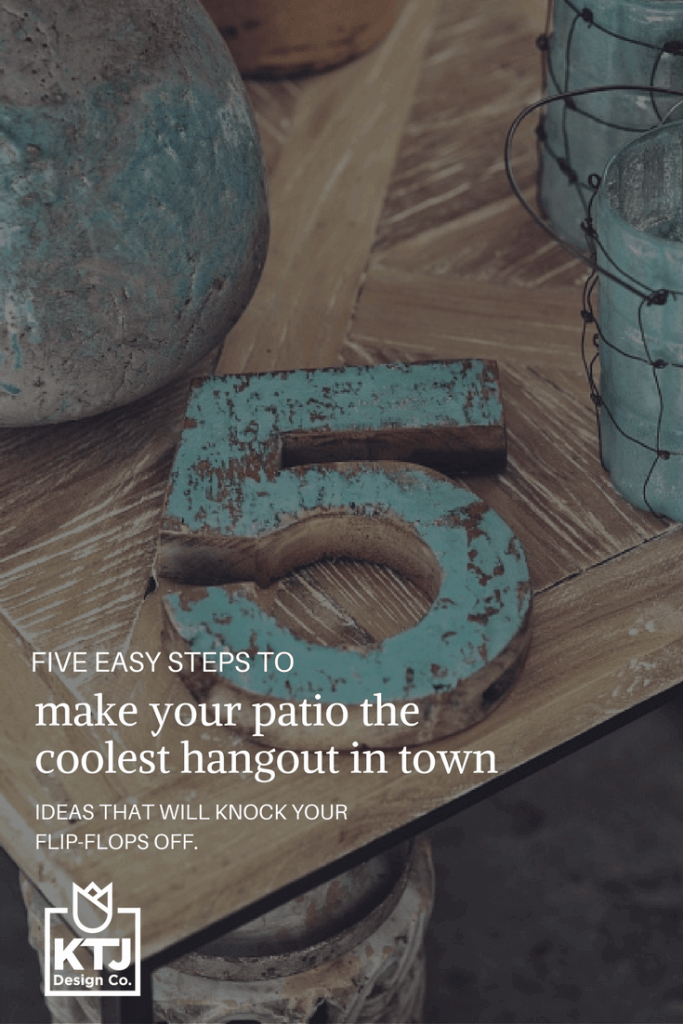 Give your outdoor room (AKA the "patio", AKA summer hang out central, AKA the place to be!) the same design attention as the inside of your house with these five outdoor room ideas. Make your outdoor room so wondrously inviting you'll want to live in it! Read on for more details on how to select all the elements you'll need to make your patio the most used "room" of the house.
DITCH THOSE HARD PLASTIC CHAIRS
Include sofas, coffee tables, side tables and ottomans. It is easy to plop a table, four chairs and umbrella on the patio, but you need to incorporate some of the same elements as you would any other living space of your house. With outdoor fabrics, you can have lots of comfy seating.
DRESS IT UP
And don't forget a few accessories to make your outdoor room feel inviting. Add toss pillows, vases, pots, and even outdoor lamps. This is the best way to personalize your outdoor furniture and add your unique style.
MAKE IT FUN WITH COLOR 
Don't be afraid to use bright colors for your outdoor room ideas.It is less intimidating than inside decor and it makes your backyard the chicest hangout in town. (Read this blog post to help you pick your color palette).
DON'T FORGET THE FLOORING
Fill every bit of your outdoor room and don't forget to include an area rug to ground and define the area. Outdoor rugs are relatively inexpensive and easy to clean – just take a garden hose to it and you are good to go.
ADD LIGHTING FOR MAJOR DRAMA
String some lights under the patio cover or install some uplights along the fence for drama. A super easy way to add ambiance is with candles. Use lanterns to house them. With outdoor lighting you'll be sure to enjoy your lush outdoor room after the sun goes down.
You can incorporate these 5 outdoor room ideas right away and start planning the greatest Labor Day party ever to show off all your outdoor room ideas.
If you need any help with your patio, the designers at KTJ Design Co are full of outdoor room ideas that will knock your flip flops off – plus we offer an outdoor furniture line that is top notch!
These three ideas are a few outdoor rooms we are designing right now.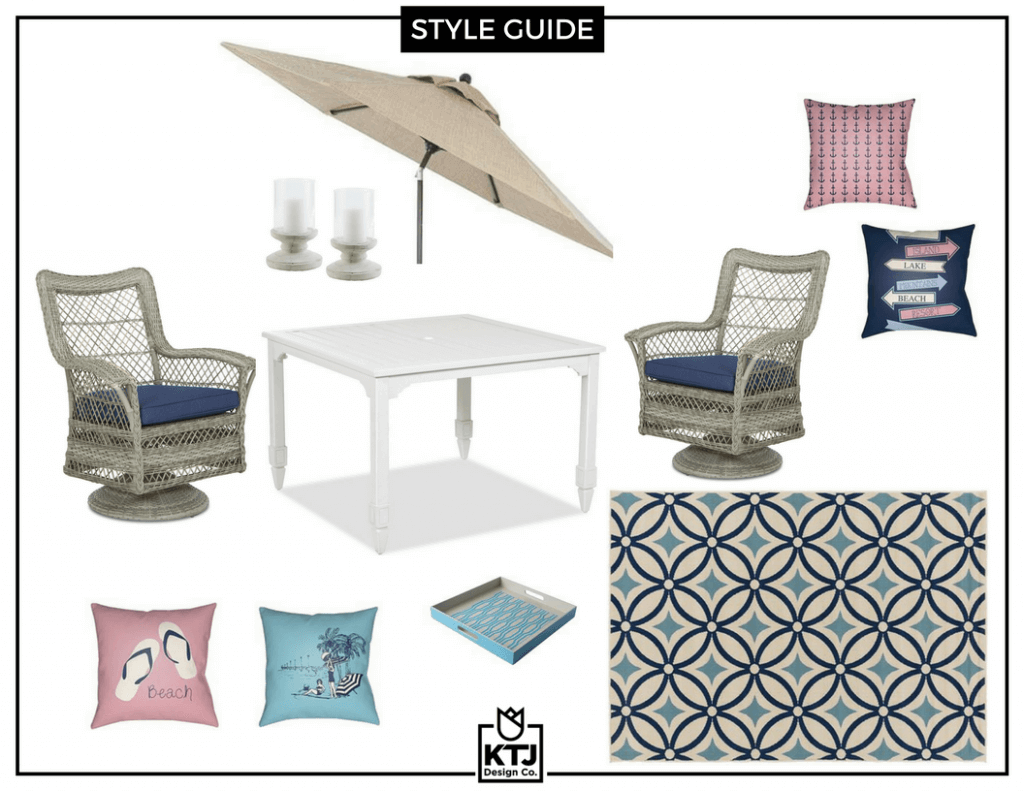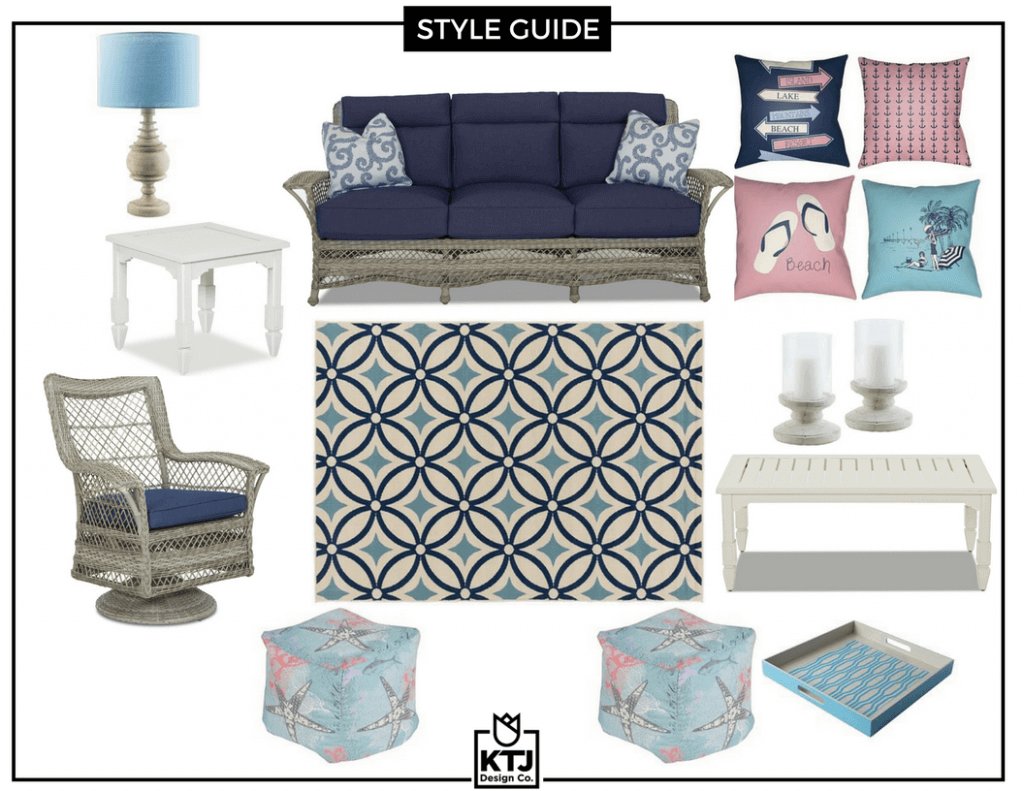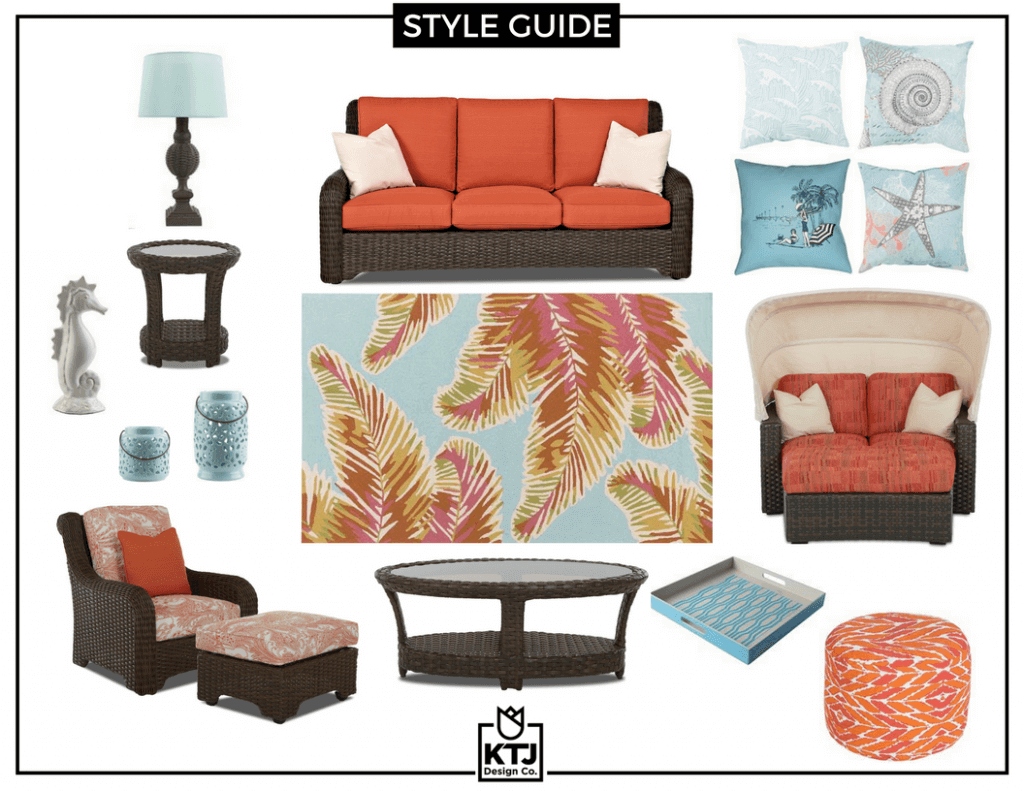 Hey, right now we have two patio collections in our Design Workshop at special pricing. Come check them out.
If you want one, this design package is just what you need. Go HERE to get yours.

Want to get content only my newsletter subscribers receive? Then sign up for my newsletter and get twice monthly emails with even more great content
[gravityform id="4″ title="true" description="true"]