How to Instantly Make Your Kitchen Bigger [plus a kitchen remodel calculator]
The inside of your kitchen cabinets are the most overlooked space-saving area in your kitchen. Most of my clients are concerned (and rightly so) about the look and style of the cabinet drawers and doors, but no one seems to ponder the inside of the cabinets (those important kitchen accessories) until we mention it.
And why do we think cabinet interiors are so important? Instead of telling you, we'll show you:
I just remodeled my kitchen, and before demolition began, I was especially tired of crawling around the kitchen floor to pull out stuff lost in the back of the cabinets. Most of the time, I completely forgot what was in there.
It would have been nice to have kitchen cabinet features and accessories that would give me easy access to anything and everything. And believe me, my new cabinets from Bellmont Cabinetry will have all of these fancy kitchen accessories (and then some—you'll have to wait and see when I reveal my new kitchen).
The Top 10 Important Unseen Kitchen Accessories
Here are 10 of the most important unseen aspects of your kitchen that you must consider for your next kitchen remodel.
Kitchen Accessories – Lazy Susan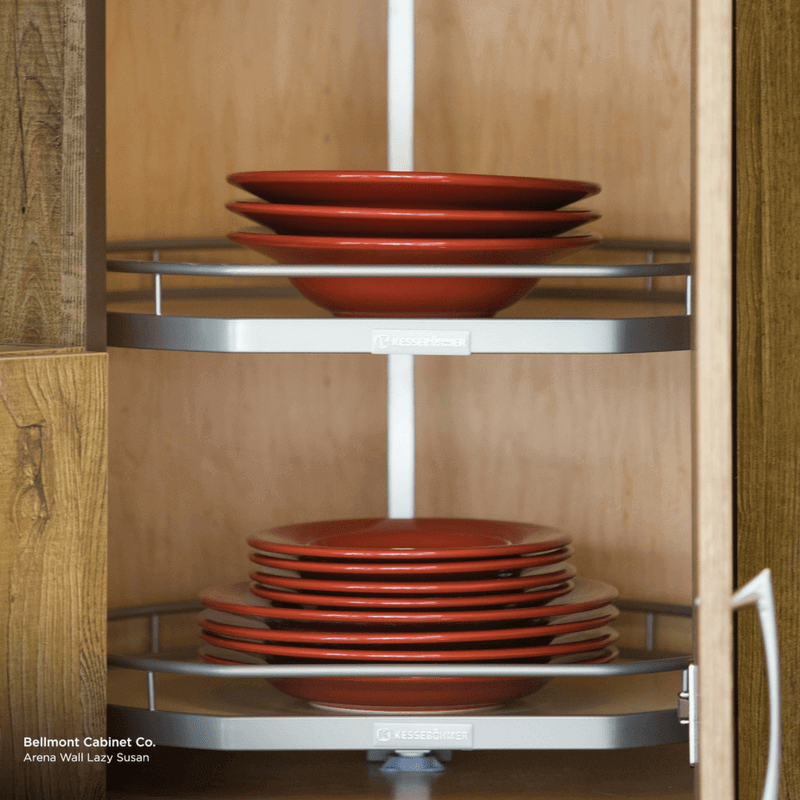 A Lazy Susan is a rotating shelf that takes the place of a stationary shelf. You can finally take advantage of the depth of your cabinets and use every inch of space by simply rotating the shelf—easy peasy.
Kitchen Accessories – Blind Corner Trays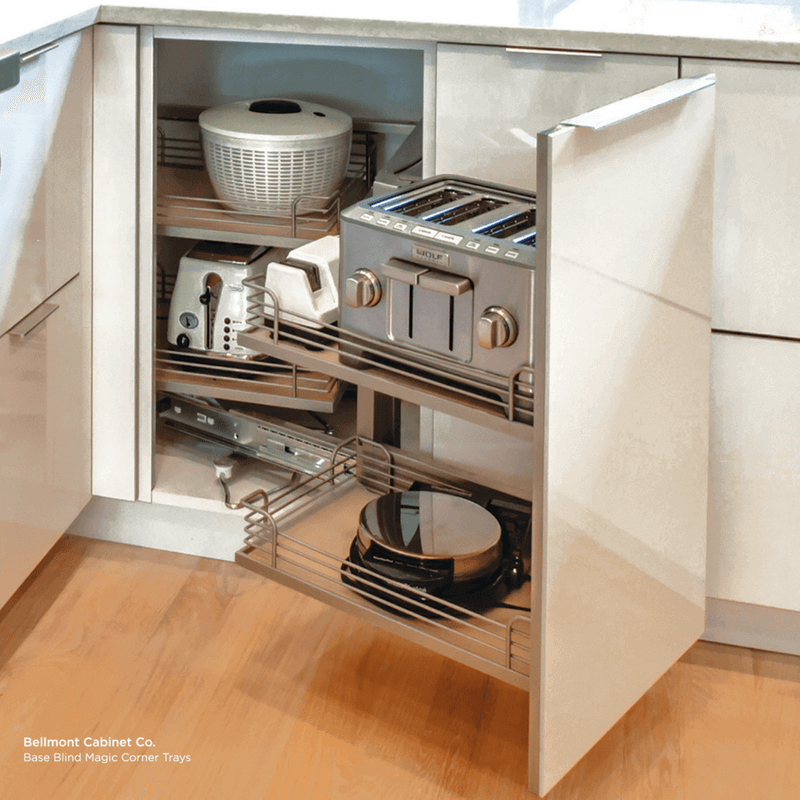 The blind corner is that space tucked in the corner of two cabinets that is basically dead space, or as we call it at my house, "the store-things-you-never-want-to-see-again corner."  But with blind corner tray kitchen accessories, you can easily swing out the trays and see everything that cabinet contains. No more getting down on the floor, pulling everything out onto the floor (while the dog sniffs and drools all over it) and hoping you can reach in to grab that large bowl or pot you forgot you had.
Kitchen Accessories – Pull Out Spice Storage

I have to say I was totally disgusted with myself when I cleaned out the spice cabinet. The teeny weeny jars were stacked three high and many had toppled over and spilled out the contents. And then there were duplicates of almost everything, hidden in the back and many, many years expired. If I'd only had a spice rack, all the spices would be seen and fresh.
Kitchen Accessories – Dish and Pot Drawers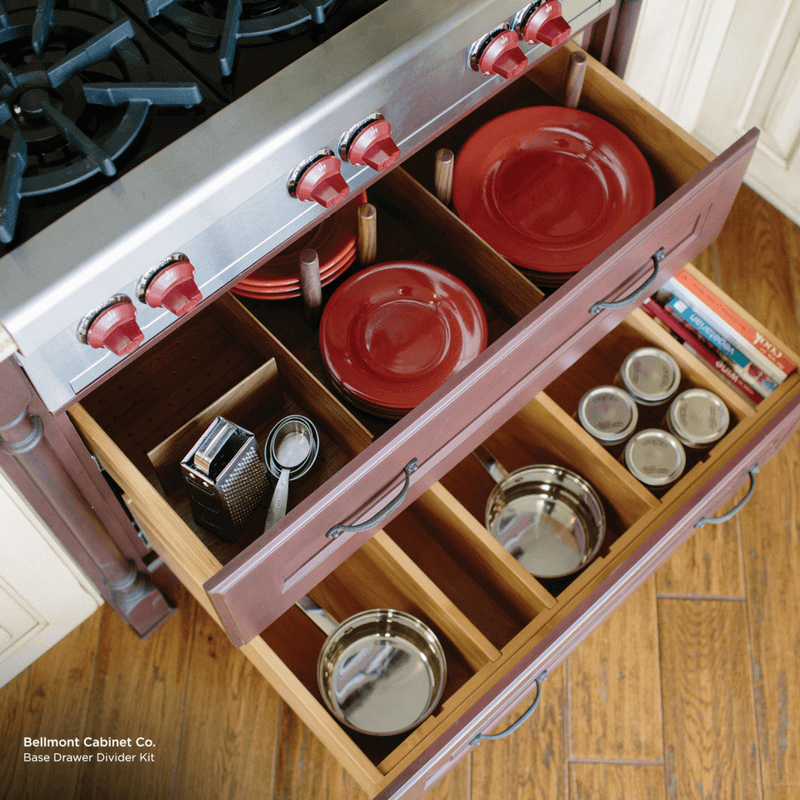 This is my absolute favorite, have-to-have kitchen accessory that we almost always specify for our clients. We have this in our working showroom kitchen, and I love it. The pots stay neatly in one place WITH their lids, and all the plates are easily within reach.  Neatness is your friend!
Kitchen Accessories – Roll Out Drawers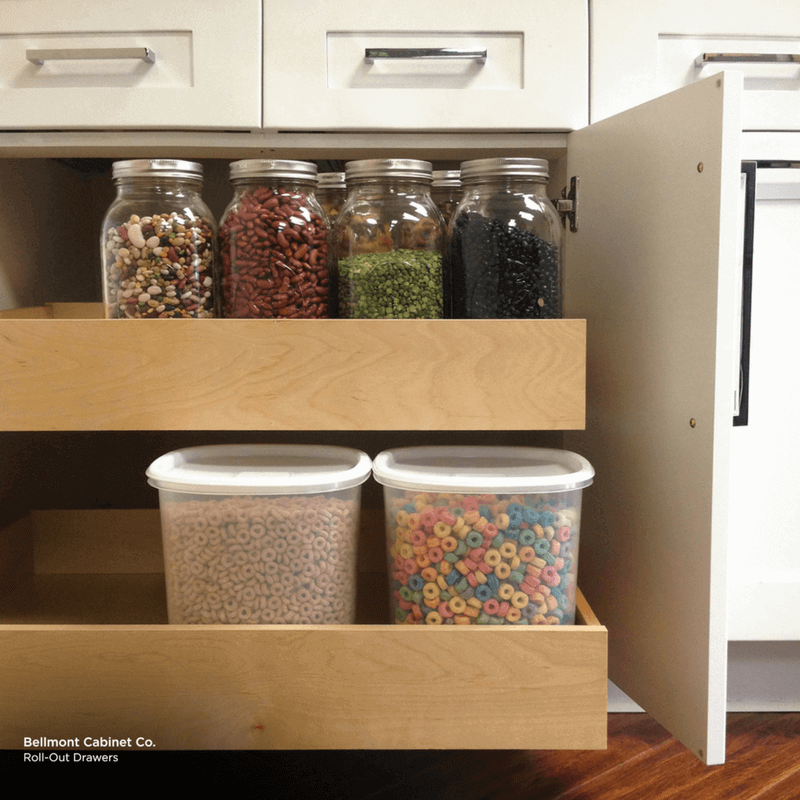 This is our second most favorite kitchen accessory—roll out drawers. Instead of having plain shelves that just sit there (we want to make every single inch useable, right?), we always suggest roll-out drawers. This makes it super easy to reach everything in that cabinet and to store it safely when you're not using it.
I've spent a fortune on dishes, and I hate it when something gets broken or chipped just because I stored it carelessly or removed it without taking everything out of the cabinet first.  (Do you remember the days when you got free dishes at the grocery store every time you spent a certain dollar amount? Oh, the good ole days!) Pull-out drawers mean no more wasted space or damaged dishes. That's a win in my book!
Kitchen Accessories – Bread Board Knife Drawer Insert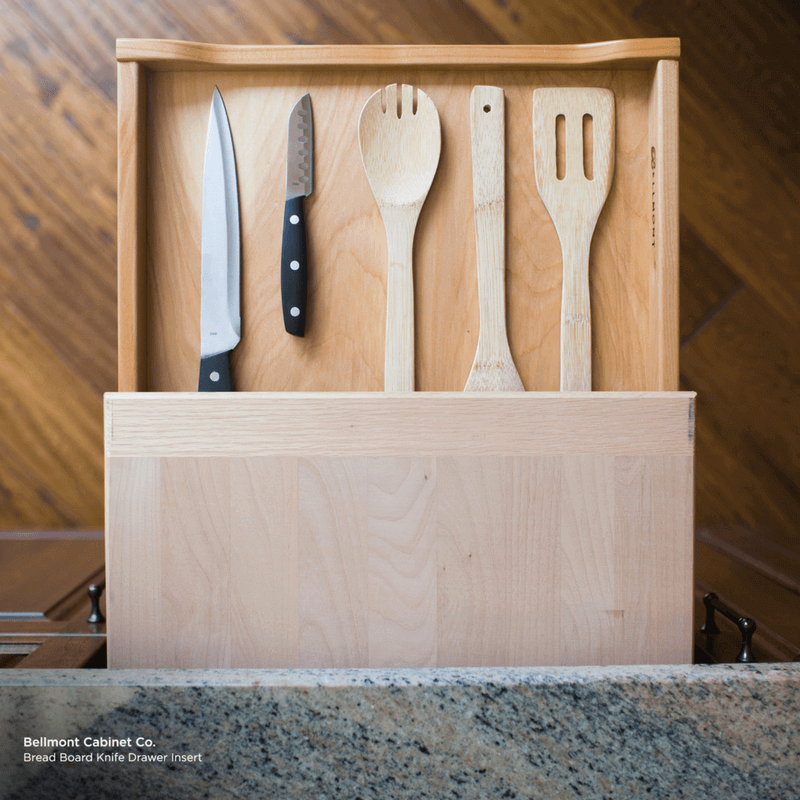 This is so state-of-art, yet so practical and simple: a knife drawer under the bread board. When you're not cutting and chopping those vegetables, slide both of them neatly away. This is a great way to free up premium counter space and to store knives in a place where they won't get dulled (from getting knocked around with the spoons and forks).
Kitchen Accessories – Square Corner Drawer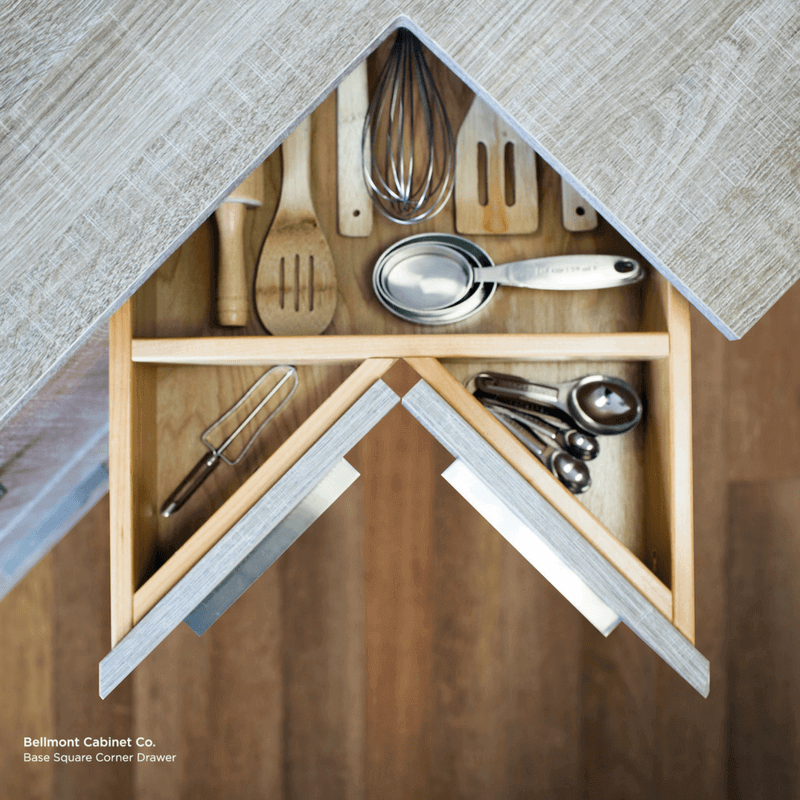 Why waste a perfectly good storage space in the corner? The base corner drawer once again takes advantage of all usable space. In my houses, we've always had a junk drawer (you know – for the extra soy sauce packets from Chinese takeout and such), so it makes sense to take a once-void corner and use it for useless things like parmesan cheese packets from pizza delivery (or ok, fine—cooking tools).
Kitchen Accessories – Waste / Recycle Pull-Out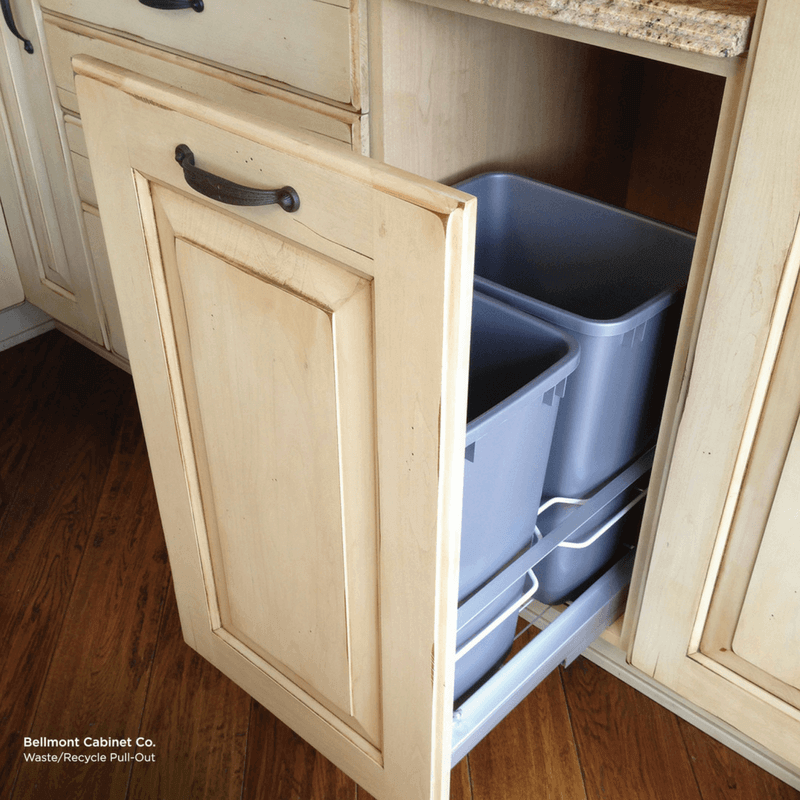 A trash bin is not a beautiful thing to have in your kitchen, so let's tuck it away in a cabinet.   It just makes sense to use pull-out bins to keep trash out of sight (both aesthetically and hygienically). We like to use pop-out handles for cleanliness.  In a recent remodel, we put these trash bins in the utility room to store dog food—brilliant!
Kitchen Accessories – Tall Pantry Pull Out

If you've got a grandiose pantry in your kitchen, you know how convenient it is to see everything in stock in your "grocery store," but what if you don't have the available space or don't want to give up valuable square footage for a walk-in pantry? If that describes your kitchen, a tall pull-out pantry is the best way to keep things organized without sacrificing space or storage.
Kitchen Accessories – Sink Cabinet Storage Caddy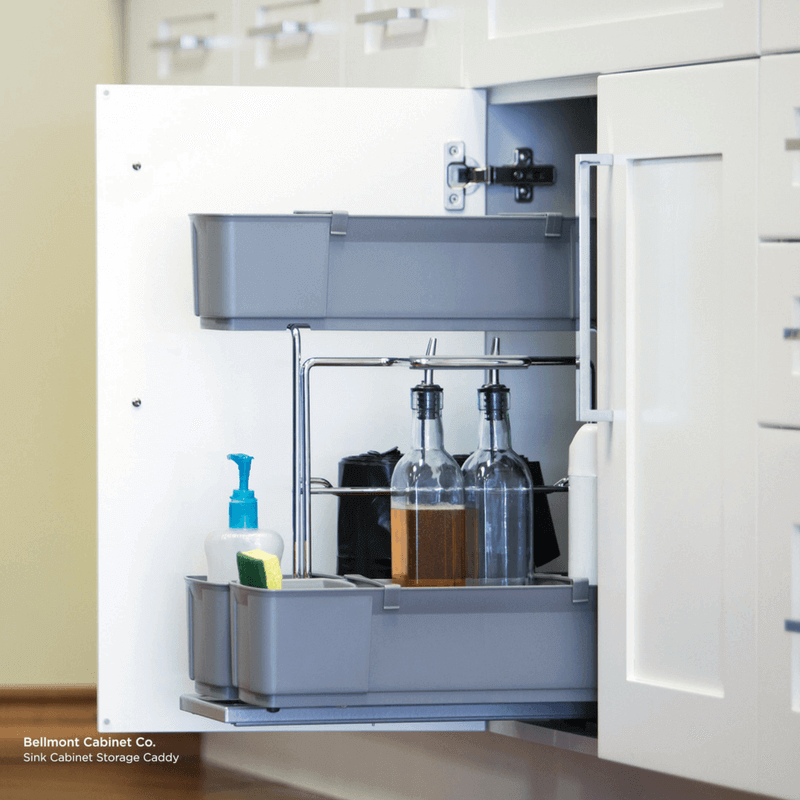 Let's just face – it the space under the kitchen sink is awkward with all the pipes and disposal, not to mention how gross it can get under there. This is why I love an under sink storage caddy for the sponge and dish soap. All the cleaning chemicals in one place without reaching into the dark under-cabinet space? Worth it.
Which Kitchen Accessories Do You Wish You Had
Want to trick yourself into believing you have more space with a kitchen remodel? Then consider all or one of these top 10 important unseen kitchen accessories you don't want to live without.
Get the Kitchen Remodel Calculator
Kitchen remodels can breathe new life into a home. Right now you may be wondering if you've got the budget for a remodel. Download this easy excel worksheet to quickly figure out how much you should begin to budget for a kitchen remodel and you'll be able to plan for your remodel knowing full well how much it will cost.

[gravityform id="19″ title="true" description="true"]