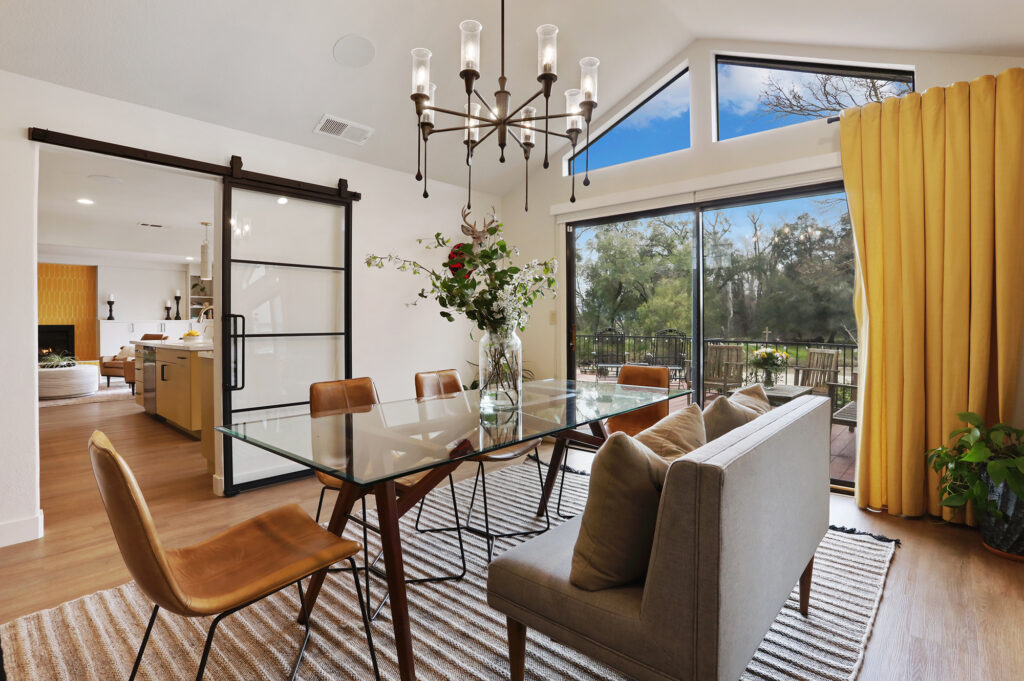 Recently, we had the pleasure of working with a client who wanted to update the interior of her 1980s home with a complete home makeover. Our goal was to bring in the bright, cheery colors she desired while also creating a balance of playful and sophisticated elements. This interior design project was created for a young computer engineer who has an eclectic personality and wanted her space to be both playful and sophisticated. The client loves the color yellow, so a cheery and happy yellow hue was chosen as the main theme of the space. To balance out the playfulness, black and white were also introduced as classic, sophisticated colors.
(Hint: be sure to read all the way to the end to see the before pictures)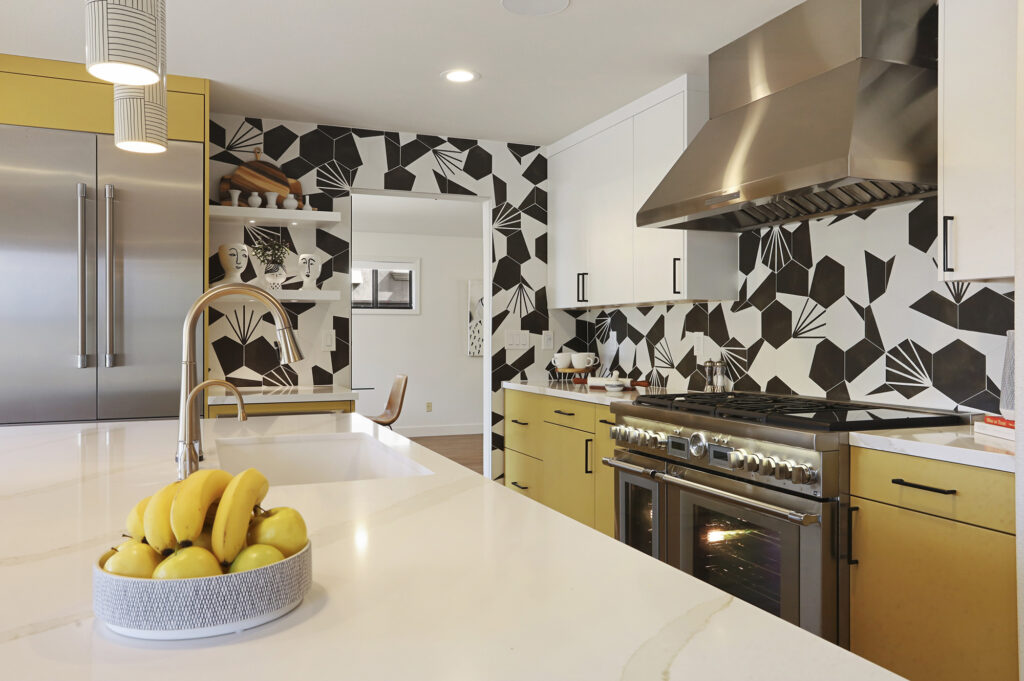 Transforming a 1980s Home Makeover into an Elegant and Playful Oasis: A Detailed Look at Our Design Process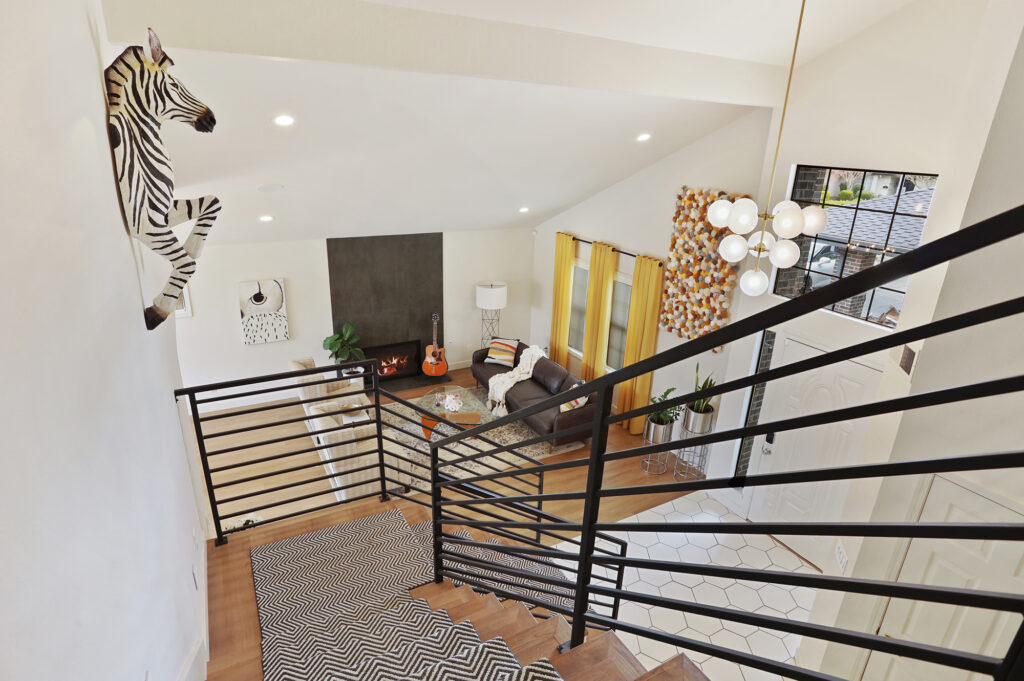 Starting with the entry and staircase, the old 1980s honey oak interior was updated. A new stair railing was installed, and new flooring and a staircase runner rug were introduced. To add a touch of whimsy and showcase the client's quirky personality, a zebra was placed as if it was crashing through the wall. Additionally, an eye-catching light fixture was installed to bring more light into the space.
Introducing a Whimsical and Modern Touch to the Living Room
The living room was given a much-needed update with metallic large format tiles from Emser Building Blocks. We replaced the outdated pink tile fireplace surround and mantle with something more sleek and modern.
Updating Old Spaces for New Sophistication
Moving on to the dining room, the old spaceship looking lighting and ceiling fan in the center were removed and replaced with an iron chandelier featuring what looks like droplets to play into the client's artistic personality.  This tied into other black iron elements between the entryway, living room and kitchen to create continuity throughout the space. The entrance to the kitchen was moved away from the slider to make it more functional and free up circulation when entertaining. A swinging door was replaced with an iron and glass door that can keep kids and pets in the kitchen when entertaining guests. 
Creating Functionality and Style with Updated Features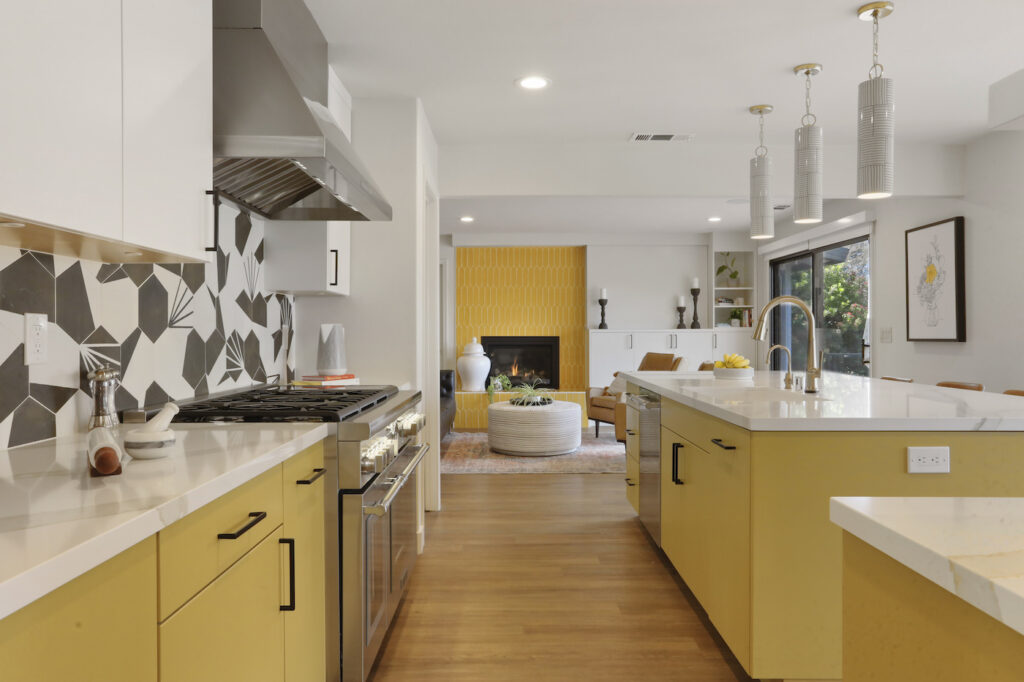 In the kitchen and nook area, we were able to improve circulation through both spaces by moving the entrance away from the slider door while also installing a door that would keep kids and pets out when entertaining. In line with our client's wishes, we installed an oversized gas/induction range along with 8×8 hexagon tiles for added visual interest as well as butterscotch colored cabinets which contrasted nicely against them. We also updated lighting in both areas for additional ambience and put up shades that would protect from heat but still allow views of the backyard river.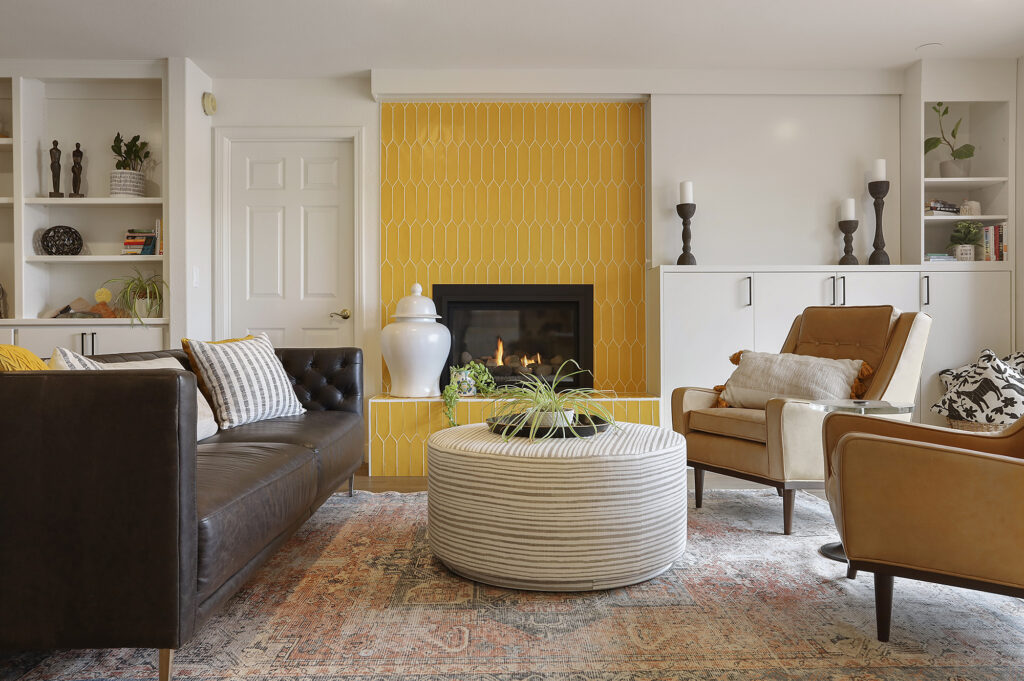 Finally, in the family room we created a custom hidden TV cabinet with a sliding door panel that looks like artwork when open. All furniture was arranged to take advantage of the view of the river outside. Throughout the home we updated existing honey oak built-ins and fireplace mantles for a contemporary touch.
We are so proud of the end result of this project!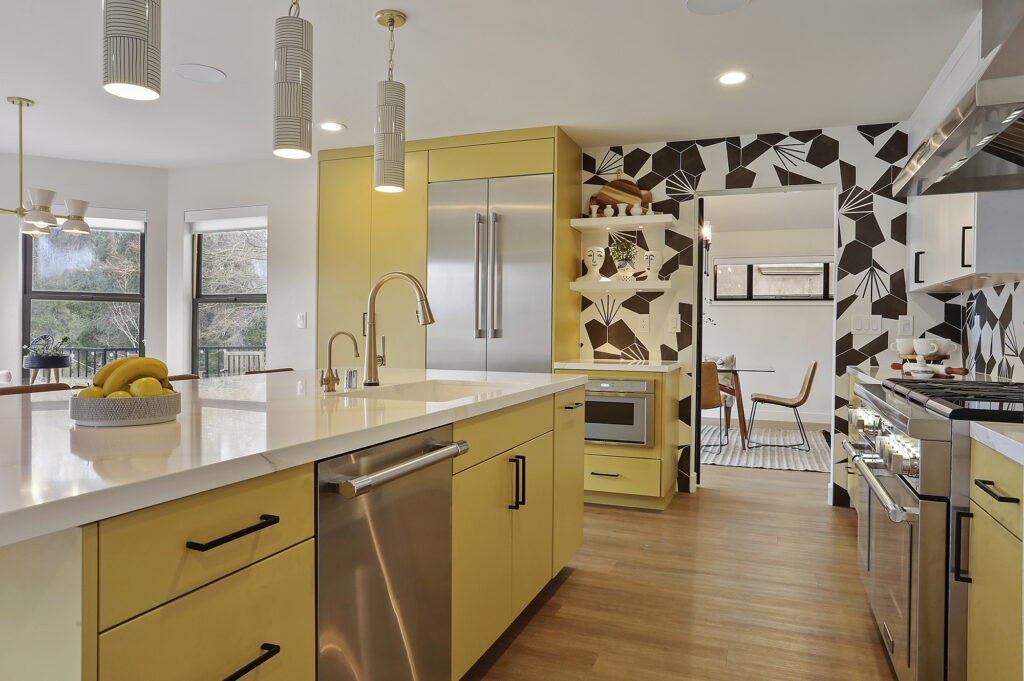 The result is an interior that is both playful and sophisticated, creating a bright, welcoming space for our client to enjoy with family and friends! We successfully transformed a 1980s home into an elegant and playful oasis that perfectly reflects our client's eclectic personality. Through careful consideration, we chose every detail down to the last hexagon tile for maximum aesthetic appeal while also enhancing functionality in each space.
Before Images (because who doesn't like the before pics!)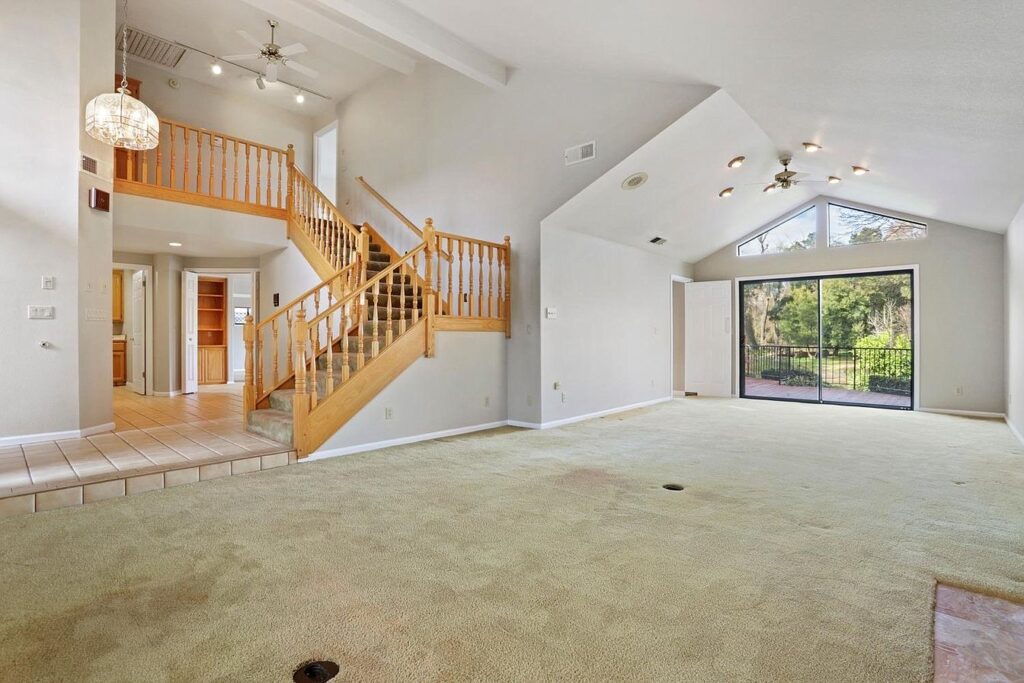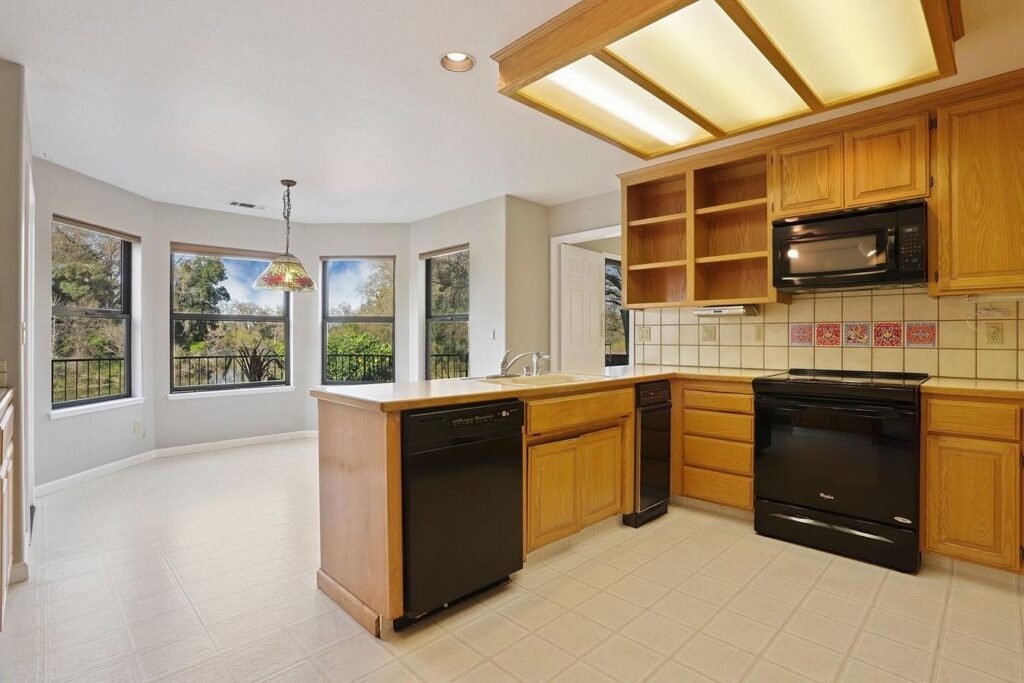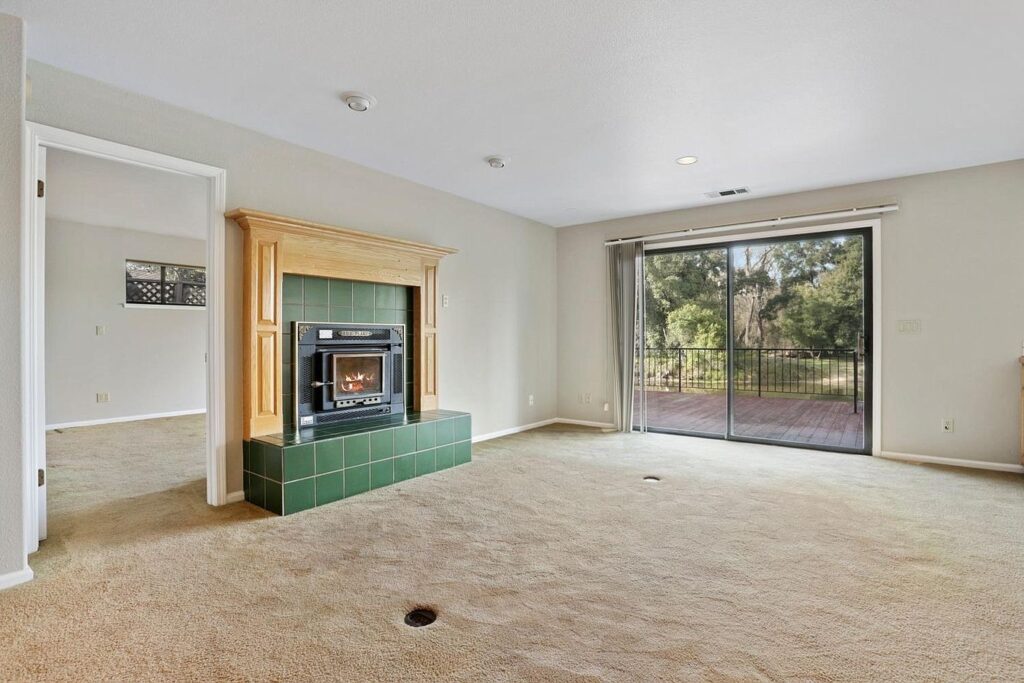 If you're looking to transform your interior, contact us today and let's get started on creating something amazing together!
Until next time,