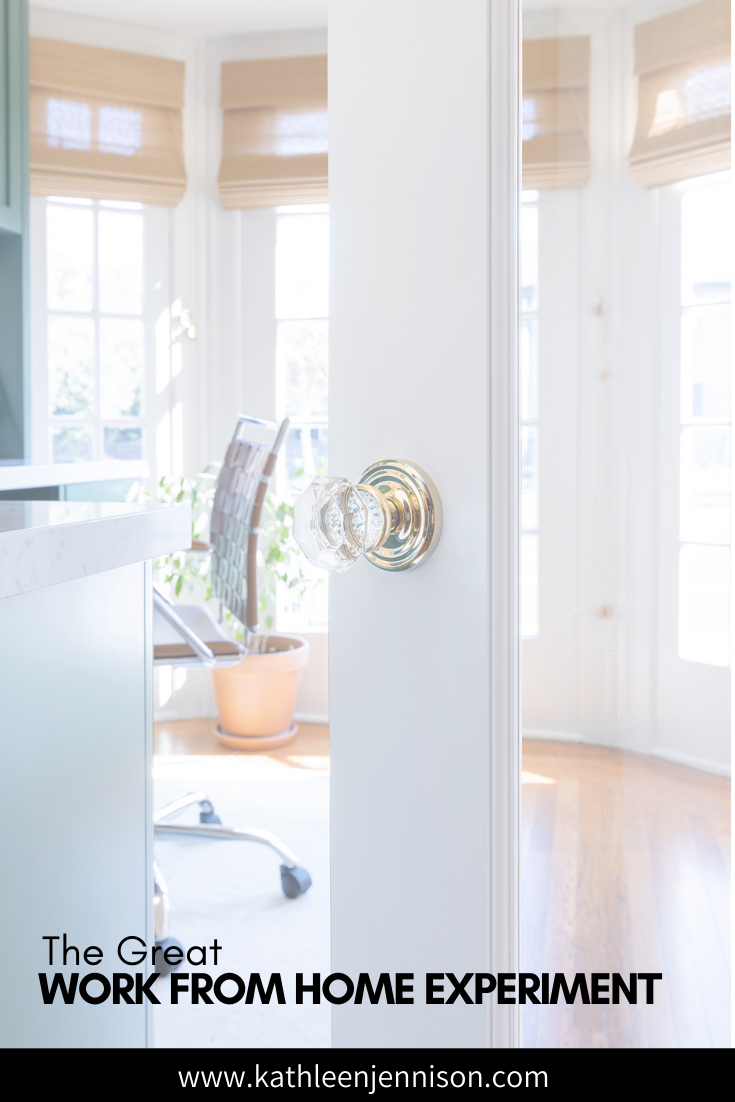 Spending less time in a "real" office and more time working from home has led to a huge need for actual home office space. Setting up the laptop at the kitchen island or dining room table just doesn't cut it (awkward Zoom call interruptions have to stop, kids and pets!).
Working from home is no longer a luxury afforded a few, but now a common occurrence. With the success of the great work-from-home (WFH) experiment, many companies are re-evaluating the return to the office strategy.
The Work from Home Challenge we Suddenly Faced
In 2019, many workers found themselves with a new set of challenges when they suddenly found themselves creating office space within the constraints of their current living spaces. For example, Zoom meetings prompt you to search for suitable backgrounds (because you know – the bathroom may have privacy for an important call, but is the shower curtain the best backdrop for a "camera on" meeting?).
Clever homeowners transformed underutilized spaces – such as garages and closets – into makeshift offices. But these temporary spaces have their drawbacks too, because of less-than-optimal organization, lack of privacy and constant distractions.
What to do When the Garage or Closet No Longer Serves You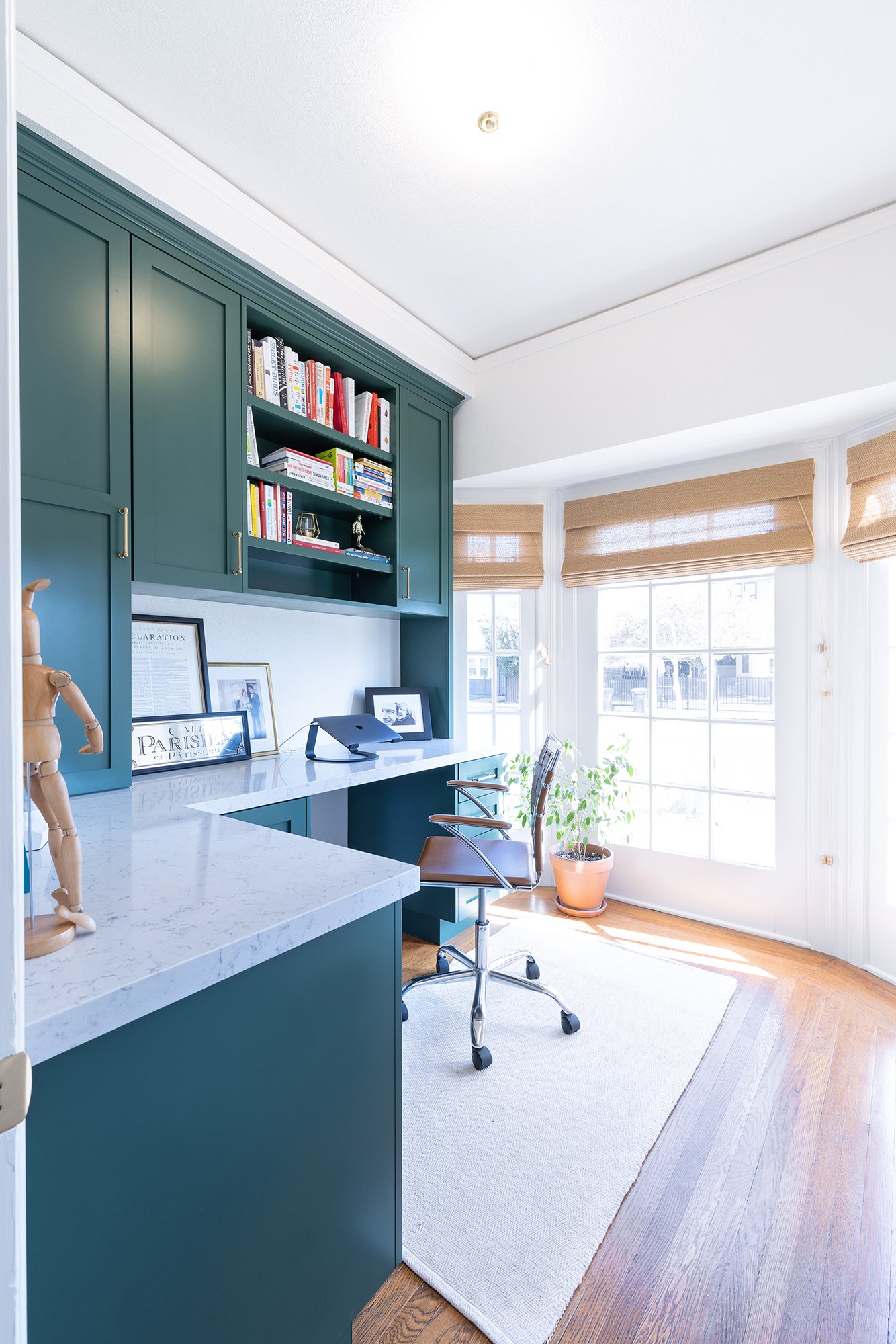 When we are remodeling for a client with home office needs, we can easily turn a lesser used space into a permanent office. That large hall closet or the unused walk-in closet in your home could make for a great "cloffice." Yet, when the garage or closet no longer "serves", our clients learned they usually prefer a designated room that allows for separation of work and home life (and a door you can close!) Repurposing a guest bedroom or converting a little used nook/loft area are some conversions we've tackled.
This is the best solution, because we can then outfit their new office with custom built-ins, cabinetry, and all the best amenities of a cushy, corner office. Often, home plans now include two office spaces for adult use and one school / study room for kids.
The home office trend will continue to dominate into 2022 and beyond. Of course you already know you need a comfortable chair and desk, plenty of file storage, and the best WIFI possible in your WFH space. So I'm not going to tell you that. But if you're ready to upgrade your home office into that cushy-but-cozy and properly outfitted "corner office" feel, keep reading.
The Work from Home Essentials you Might have Skipped
Does the glare of the sun interrupt your Zoom calls? It's best to place your desk facing a window (instead of the window behind you). This will not only make you look great on camera, but it is pleasant to look out the window while you're working. Sometimes though, your home office's space plan will not allow you to face the window. The next best solution for your work from home environment is proper window coverings.
If you do a lot of video calling or simply find yourself squinting past the glare as you type, you would greatly benefit from a Roman shade or a Roller Shade (with or without a blackout liner).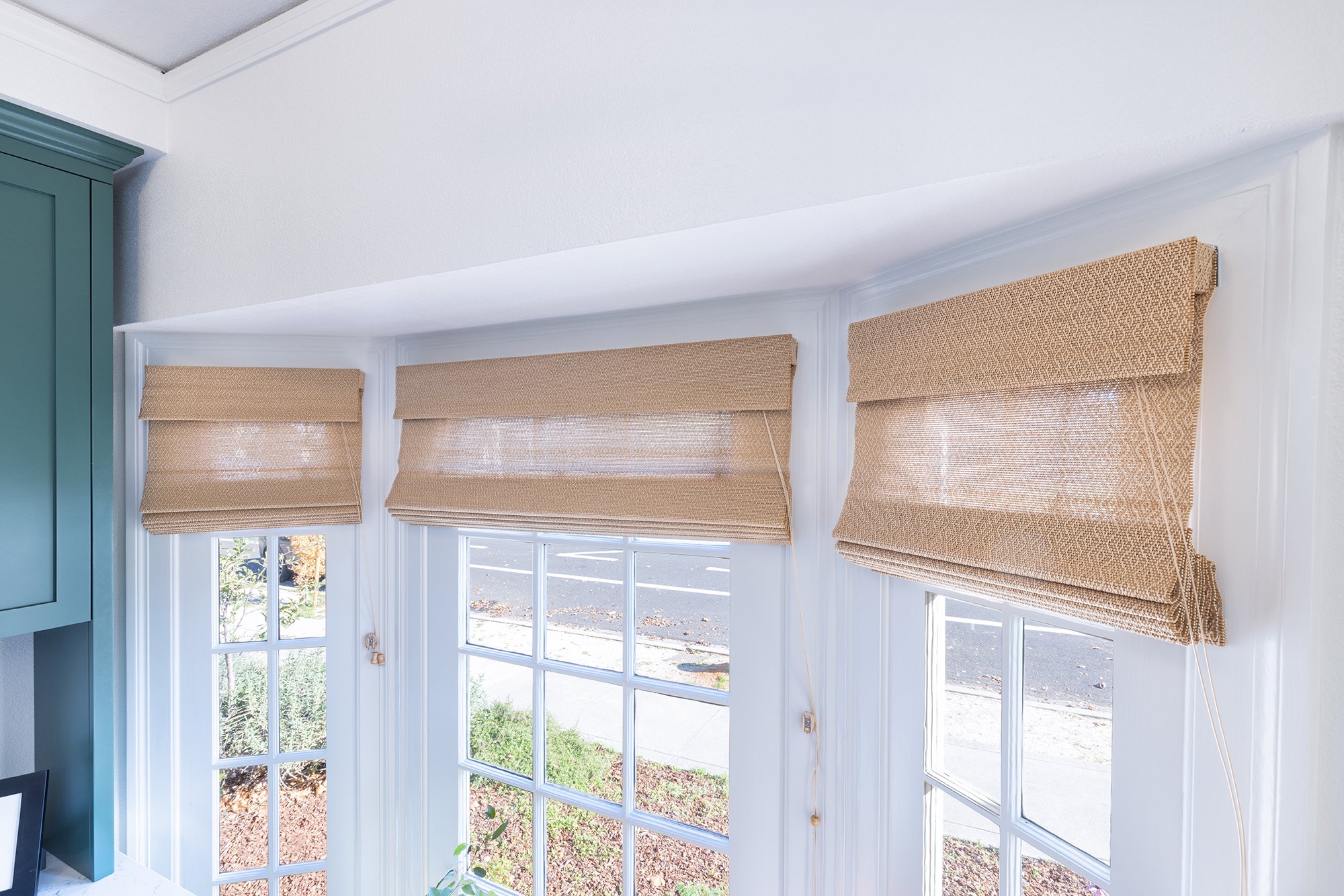 For added style, we could add drapery panels, even if they are just stationary. This creates a luxurious layering effect that doesn't feel stuffy.
Sound Absorption When you Work from Home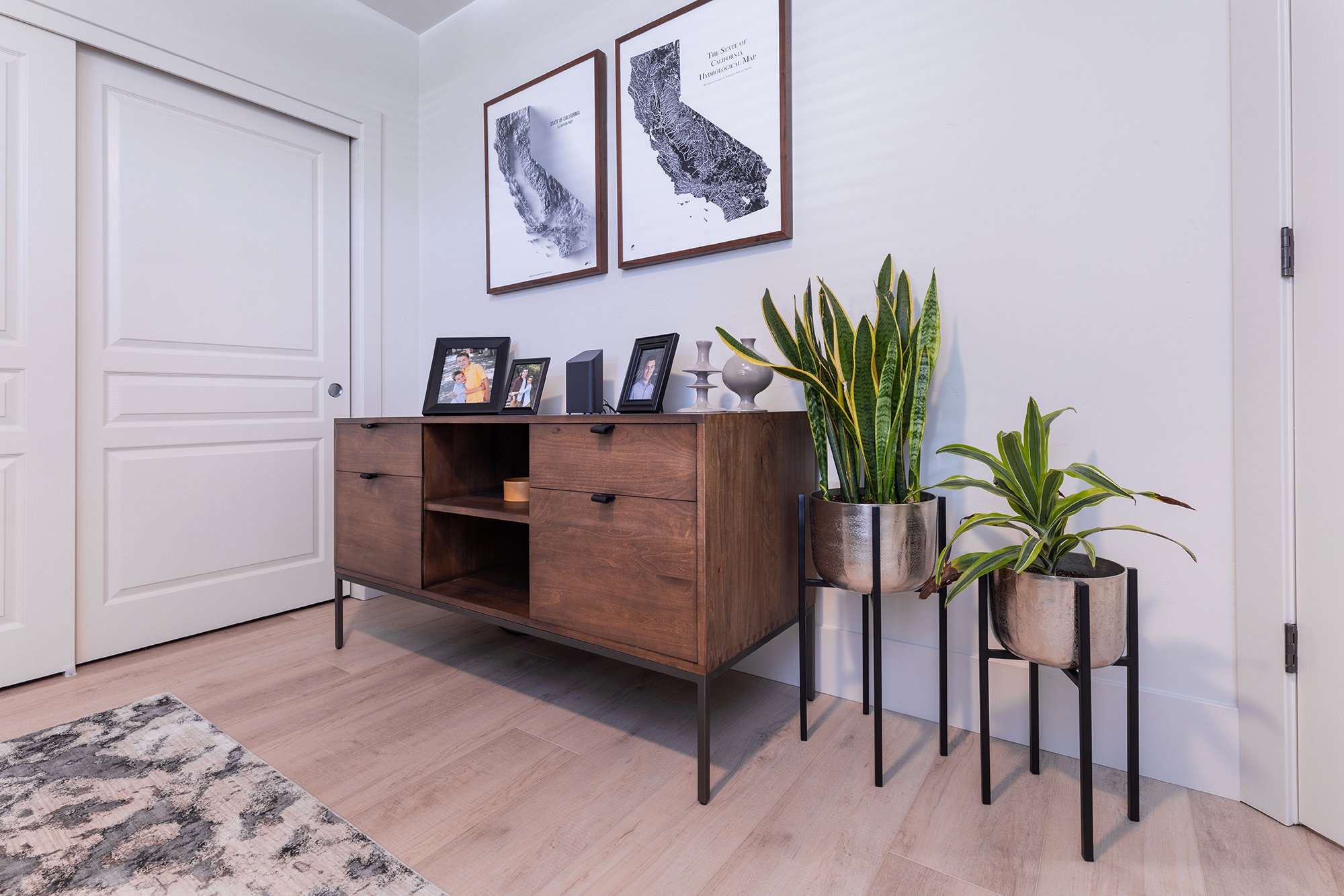 Does the "echo" affect your Zoom meetings? An echo can happen when there are too many hard surfaces such as wood flooring, blank walls, sleek desktop surfaces, and taller ceilings in your work from home space.
To counteract the dreaded "echo" add:
An area rug on your hard surface flooring.
Include decorative large format artwork on the walls.
Use a paint designed for sound absorption.
Include drapery or shades on windows (sorry to repeat myself, but it is that important).
Why you Need Natural Elements in Your Home Office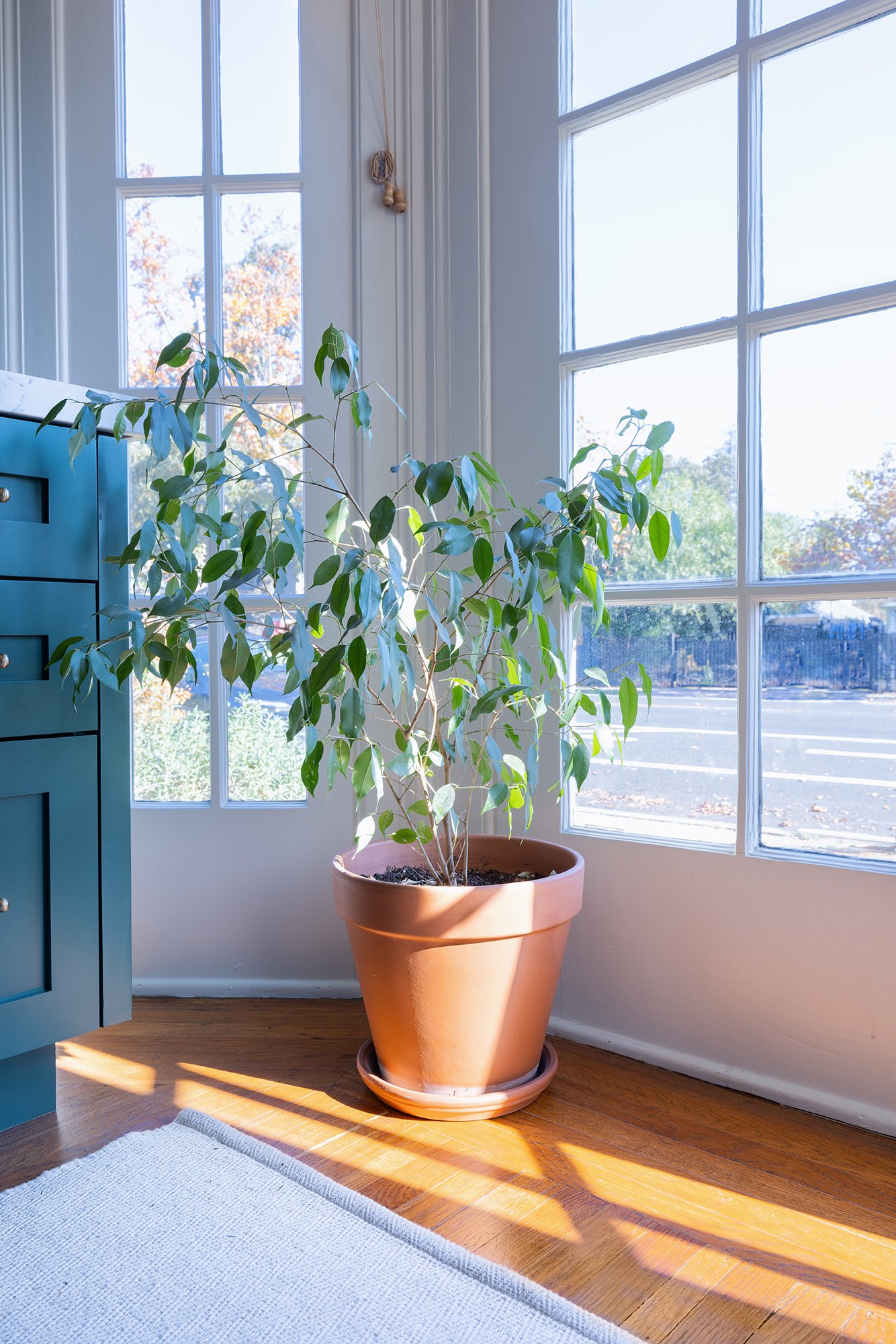 While you're gazing out the window from your properly placed desk, you might have the urge to go for a walk (and we encourage you to during your break). But adding natural elements to your work at home design will keep you from going stir-crazy in your WFH office.
Everyone needs a mood boost at the moment. Soothing materials to nature-inspired hues can inspire calm and lift spirits. Wood elements, natural fibers, and earthy patterns and palettes in your home office, will have a strong emotional impact on you.
Small things can have a subtle impact like a water fountain, live plants, a wool rug, and soothing colors.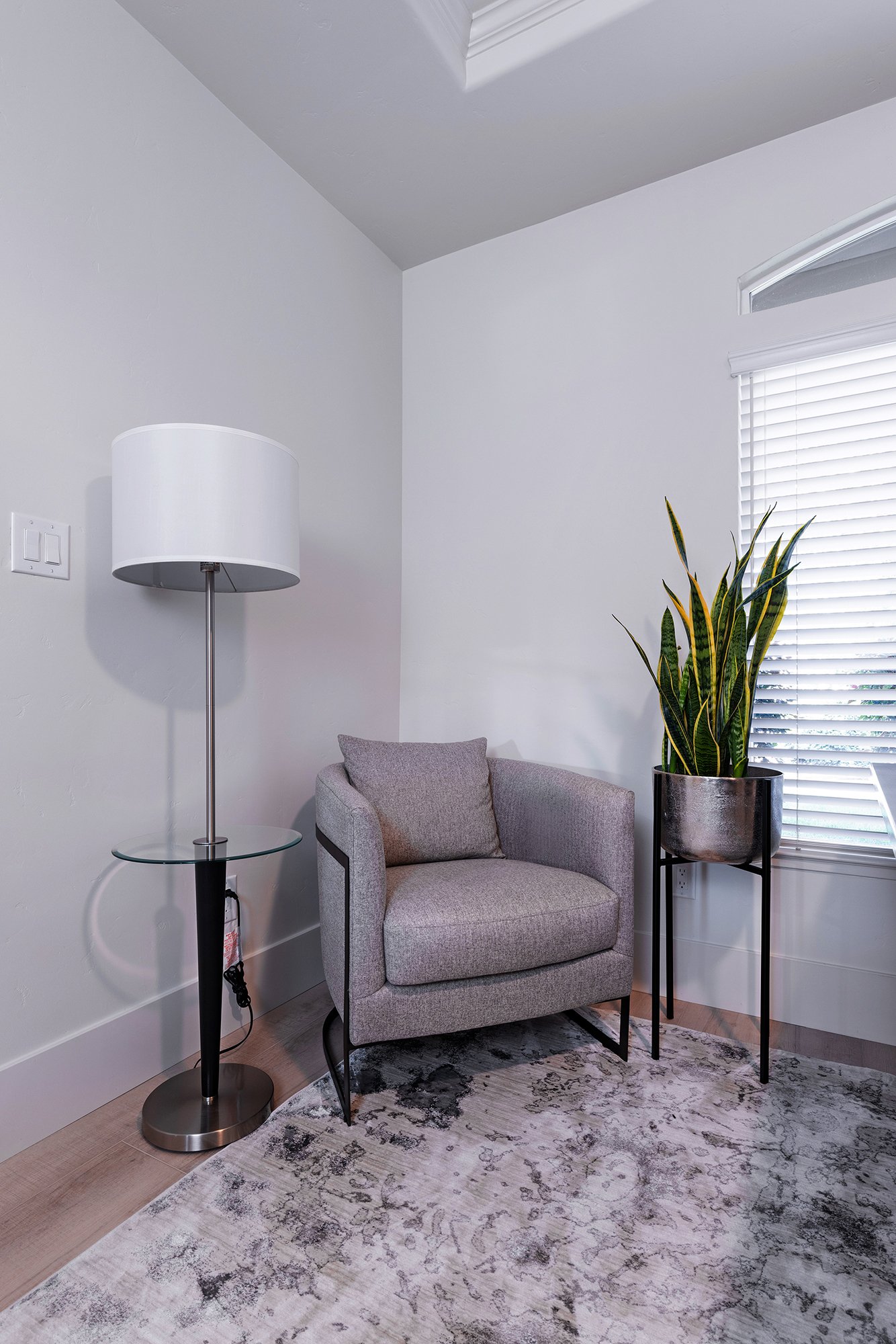 In this office space we selected nature inspired hues in a mixture of tonalities of grays and beige. These hues are usually considered to be friendly, soothing and inviting. The natural wood surfaces of the desk bring in a woodsy element.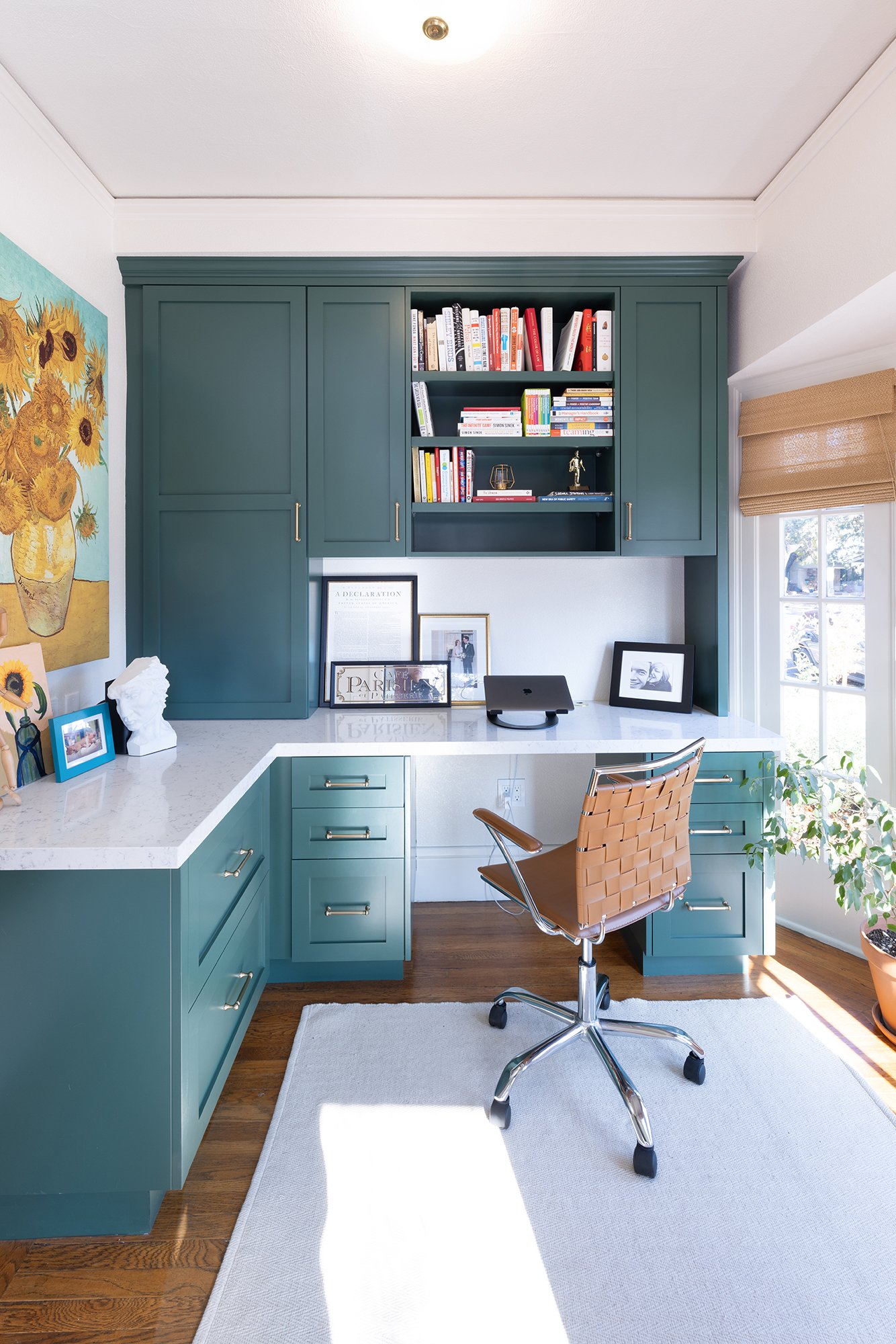 In this office space we used the color green which is heavily associated with nature. It triggers a sense of comfort and calm. The green mixed with gold feels elegant. Load of built-ins allows for plenty of storage and a well organized office.
Do you find yourself WFH? We'd be happy to help you design an office that will keep the work flowing and the spirits high.
Until Next Time,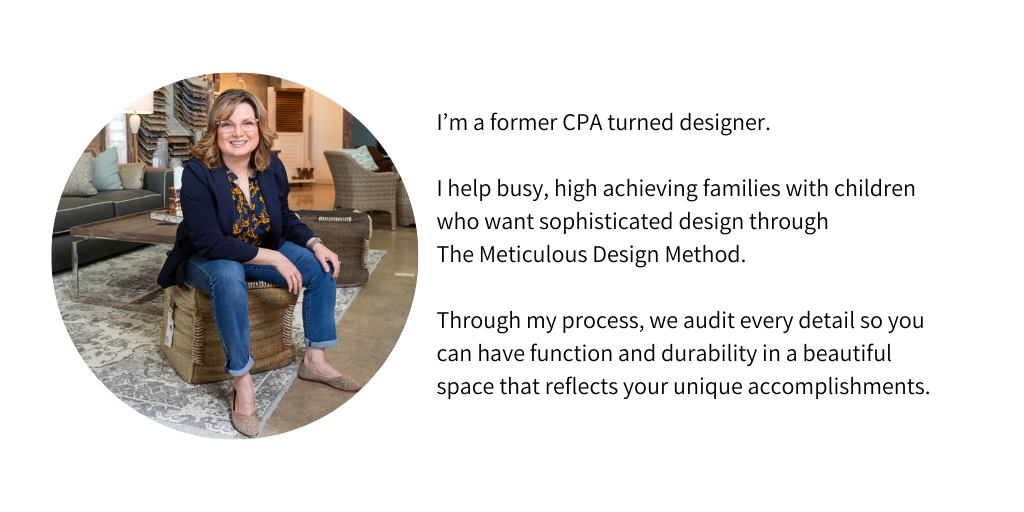 Work From Home Office Spaces Collection
Three Designer collections done for you!Mix and match.