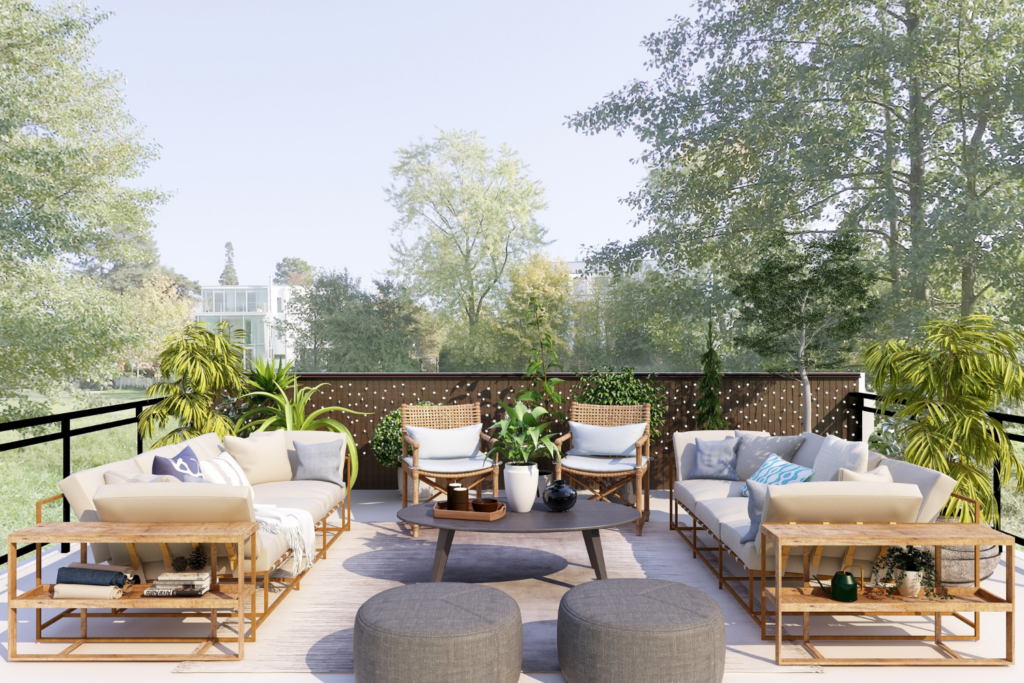 Creating your own outdoor living area at home is the perfect way to escape from the hustle and bustle of everyday life. Whether you're looking for a place to relax in peace, entertain friends and family, or just reconnect with nature – it all starts with designing an outdoor space that best reflects your needs. With these three simple steps, you can create a unique outdoor living area that will bring the environment you desire most into your home!  Let's get started!
#1 Daydream, then Decide on the Outdoor Spaces Dedicated Purpose
Take a few moments to daydream about how you would like to use your outdoor living area. What activities do you most enjoy? Would you love a tranquil spot for morning coffee as a couple or an entertaining space for family gatherings? Maybe you'd prefer a solo book reading and reflection experience? The possibilities are endless – so let your imagination run wild! Once you've settled on a purpose, it's time to decide which elements and furniture will best suit your design.
Now, think about your color scheme to match your vibe. The right color scheme can instantly transform any outdoor living space into a vibrant oasis or calming retreat. To set the tone, consider light colors that are inspired by nature, such as blues and greens. If you want something more bold, experiment with bright oranges and yellows or deep reds and purples – either way, choose colors that reflect your personality!
#2 Get Inspired, then Go Shopping for Quality Outdoor Furniture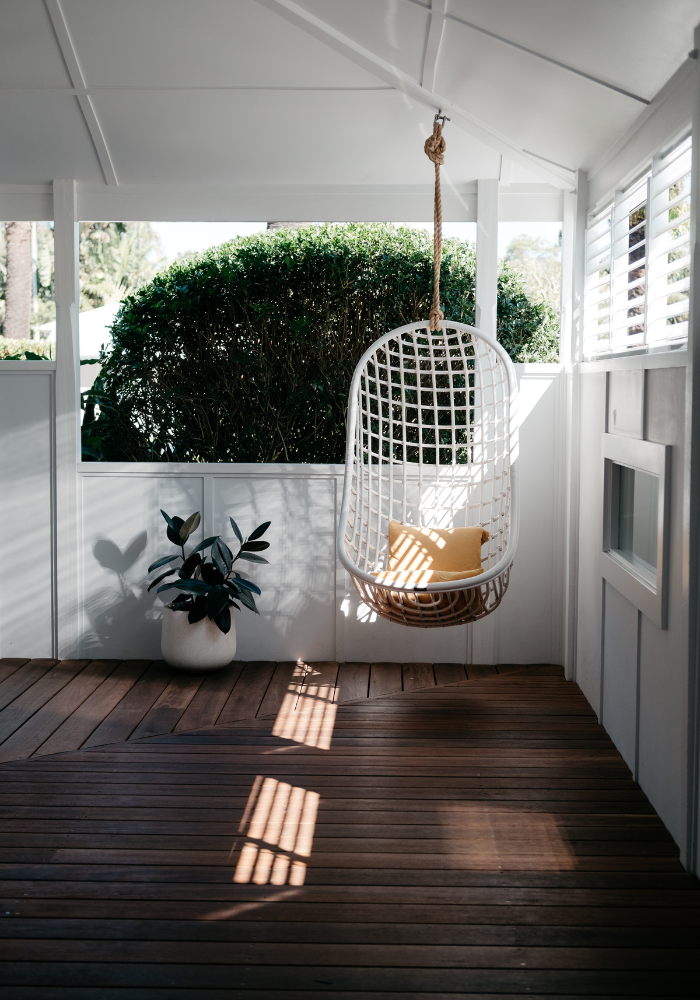 Once you know what activities you'd like to do in your outdoor living area, it's time to start searching for the perfect furniture and accessories. While quality is essential to make sure your furniture can endure the elements, don't feel limited by traditional materials. Today, outdoor furniture is available in a variety of materials that are designed to withstand both UV rays and precipitation – from wicker chairs and weatherproof cushions made of polyester fabrics, to aluminum tables with stone tops that look great even after years of use.
Once your furniture and decor are all set up, it's time to think about functionality. What storage solutions do you need? Would extra pillows or cushions be helpful? How about adding some sound-absorbing elements like plants and vines? Finally, top off your design with a few comfortable pieces such as an oversized hammock or swing chair.
#3 Plan it Out, then Purposefully Layer Furniture, Accessories & Décor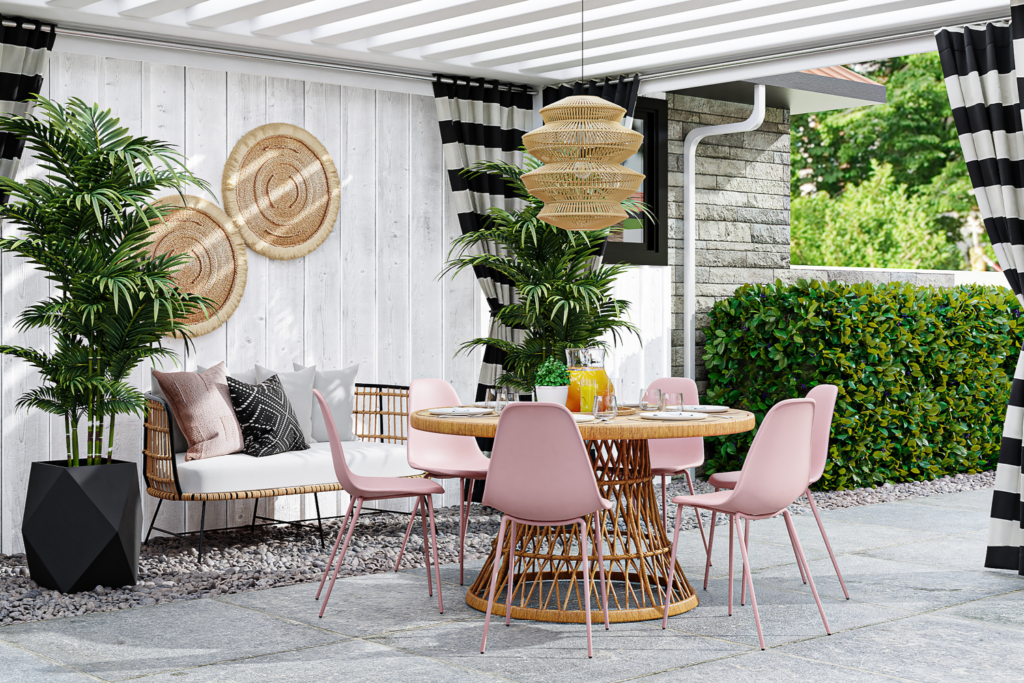 Outdoor living areas are not so different from indoor ones – the same design principles apply. To create an inviting and functional outdoor space, layer your furniture, accessories, and décor in a way that makes sense for how you will use it. Start with the ground up, like you would indoors; choose a rug to set the tone of your space, then add furniture pieces that best fit your needs. Layer fabrics with throws, pillows, and cushions to make it comfortable for lounging or entertaining. Finally, accessorize with plants or other decorative elements that bring out the atmosphere you want to create!
Don't forget to add a few finishing touches. The right outdoor decor can truly bring your outdoor living area to life. From dreamy, string lights and decorative lanterns, to colorful pillows that will define the space – go for items that make you feel at home.
Creating the perfect outdoor living space doesn't need to be difficult – just trust your own design aesthetic and have fun with it! Now that you know how to design an outdoor living area, it's time to get creative! With these three simple steps, you'll be able to create a unique outdoor oasis that reflects your style and meets all of your needs.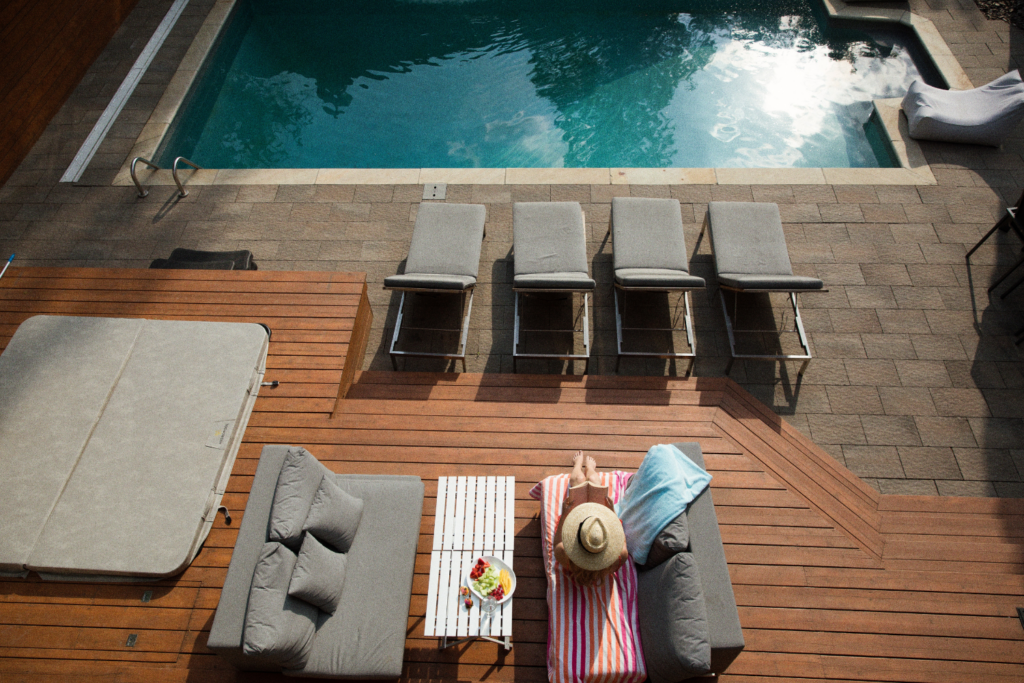 If you ever get overwhelmed or need help designing yours, reach out to a professional designer who specializes in creating unique outdoor spaces. With their experience and expertise, they can help bring all your ideas together in one beautiful place so you can start enjoying nature from your very own backyard. Enjoy!
Have a question about styling your outdoor space? Leave us a comment and we'd be delighted to answer!