How Much Will a New Kitchen Cost? – Cabinets
Uncomfortable, annoying and downright ugly, your kitchen has seen better days.
Not only are the doors falling off the cabinets, anything without a home on the countertop is stored in the garage.
You dream of cabinets that are less like cardboard and more like fine furniture.
You imagine a home for all the small appliances and easy access to the wine glasses.
In this blog series "How Much Will a New Kitchen Cost", we will go over the oh so important elements involved in a kitchen remodel: Appliances, cabinets, countertops and tile, plumbing fixtures, and finally lighting fixtures.
Included, free for you to download, is a spreadsheet that will help you calculate your new kitchen based on the amount you should invest to get the best return on your dollars. Fill out the worksheet with the easy to follow instructions and you will have tackled the biggest question I get about kitchen remodels – "How much will a new kitchen cost?"
Last week, we talked about kitchen appliances . Running neck and neck with your appliances, cabinets are a big-ticket purchase, eating up 35-40% of your budget. There are many door styles and what you pick will set the style of your kitchen.
How your cabinets look on the outside is central, but more importantly, how you design what type of cabinets you place where in your kitchen is even more essential. Base cabinets with shelves or drawers? Drawer banks of three or four? Do you need roll-outs or full high doors? Trash bins? Tall pantry? Wall cabinets with glass?
There is so much to plan.
Kitchen Cabinets – It's More Than a Bunch of Boxes
Modern, transitional, or traditional – this is where you should consider the style of your home. If you have a bungalow, then maybe by-the-book modern cabinets might not look so great. But you can bend towards modern if that is your vibe.
If you want a more modern sleek look, go with a slab door.
If you are more transitional, get a flat panel with raised stiles.
Are you into a more traditional look? If so, go with a raised panel, ornate reveal, and an arched rail.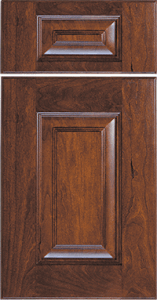 You can read this blog to learn all about cabinets.
And oh, the never-ending question – painted or stained? White or gray? Dark or light?
I personally am not a fan of white cabinets. I know – here I go again – going against current trends. If you must have painted cabinets, go with a color – it can be a soft ivory, but go with a tint of color.
And wood cabinets with the right stain are gorgeous. In fact, we have a rift sawn oak cabinet that is to die for. Say what? Oak? Are you crazy? Nope, the quarter sawn oak cabinets have that cathedral grain that people are ripping out daily and feel dated, but a rift sawn oak is a straighter grain and when coupled with the sturdiness of oak, can't be beat.
Trending up in my design world are laminate doors. We are currently working on a project with laminate doors and it will be terrific (another reason to sign up for the mailing list – you can be the first to see the after pictures)!
QUICK TIP: Mixing metals in your kitchen is a big design trend and brings vibrancy to any room. Plumbing fixtures, lighting fixtures, and hardware don't all have to be the same metal finish. In fact, combining a variety of metallic hues and texture is the new rule.
Kitchen Cabinets – What's Your Mojo?
Here are some door styles in each category. Not sure which door style is best for you? Send me an email with a picture of your homes exterior and kitchen and let me know you read this blog. I will reply with the best option for you.
Modern kitchen designs are streamline with lots of flat surfaces and minimal embellishments. Exotic wood veneer and stone are often used.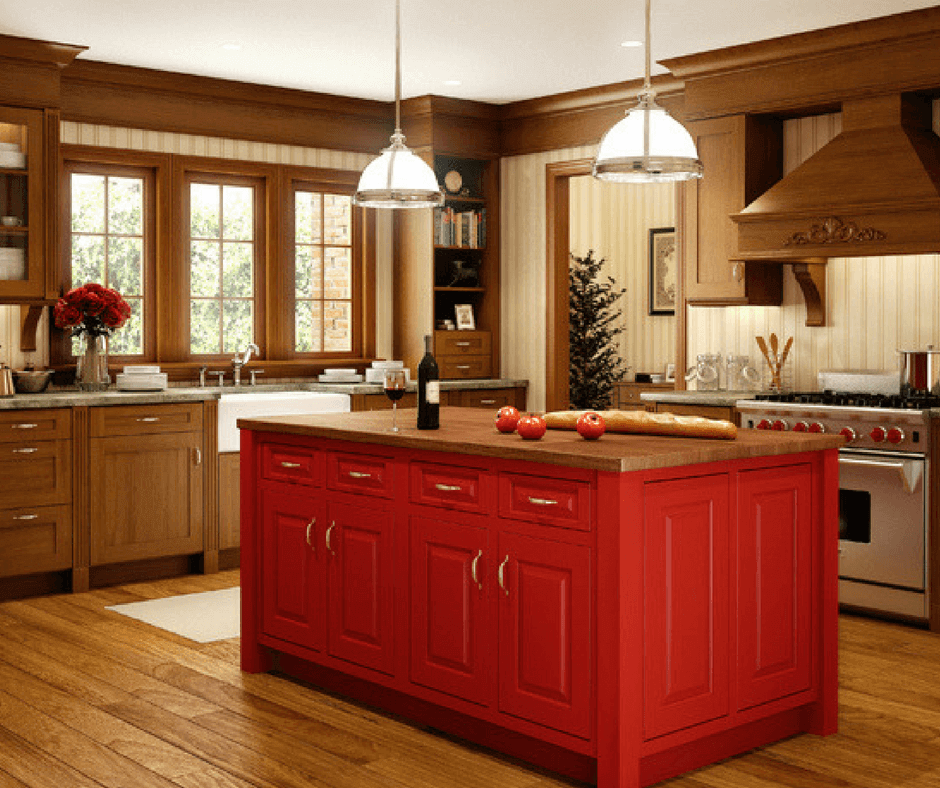 Transitional kitchen cabinets have a simple profile (often shaker style doors pairing stained and painted finishes). There will be a mix of natural and man-made materials.
Traditional kitchens have cabinetry with raised panels, elaborate profiles and large applied moldings. You will see classic stains and colors with natural materials.
The cabinet line I carry in the Design Workshop is Canyon Creek. We have a full display with many of the door styles and finishes. One of the things we do for our Remodel Clarity Session clients is leave you with a cabinet catalog so you can look at the pretty pictures. Go to Canyon Creeks website to learn more about their product or stop by the Design Workshop and we will be happy to go over your kitchen design options.
Did I mention the budget calculator worksheet? Be sure to grab your free workbook and get your budget figured out straight away, so you can focus on the pretty stuff like countertops and tile. Yup, we'll be nailing down your countertop and tile choices next week – once you're signed up, you won't miss a single post, so see you then!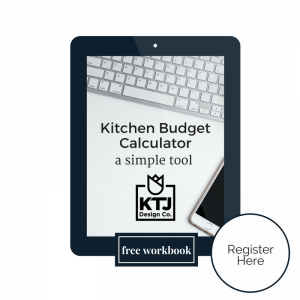 [gravityform id="19″ title="true" description="true"]