How Much Will a New Kitchen Cost? – Countertops
As you scrub the tile and grout for the gazillion time, you envision gleaming solid surface countertops – sleek, stylish, and super easy to clean! – but which material is the best?
Granite?
Marble?
Quartz?
And aren't they so expensive?
It can be so confusing!
In this blog series "How Much Will a New Kitchen Cost", we're going over the oh so important elements involved in a kitchen remodel: Appliances, cabinets, countertops and tile, plumbing fixtures, and finally lighting fixtures.
Don't forget – I've also created a free spreadsheet to help you calculate your new kitchen costs based on the amount you should invest to get the best return on your dollars. Go HERE to download, then fill out the worksheet with the easy to follow instructions and you will have tackled the biggest question I get about kitchen remodels – "how much will a new kitchen cost?"
This is part three of my weekly blog series on "How Much Will a Kitchen Cost?" We've talked about kitchen appliances in week one and last week we tackled kitchen cabinets.
Kitchen Remodel – Countertops
In my design world, there are only a few materials that I consider for the countertops and granite is my very last choice. I know – what is wrong with me, you thought granite is where it's at. But believe me, it's NOT your best option. (Don't believe me? Go HERE to read the bad news about granite.)
Instead, your kitchen countertops should be Quartz!
It is a stronger material that is easier to maintain than any other countertop surface. Unlike granite, there are no pits or seams to scrape food and grime out of, and some even include anti-microbial properties, which keeps your kitchen cleaner AND less germy. There are many notable brands, Cambria, Caesarstone, and Silestone. They are all equal quality and provide many of the same colors.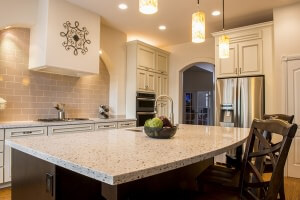 But let's say all things considered, you love the look of granite or marble and want the real deal. No problem – just be aware that there is more maintenance and you must be ready to embrace the natural patina. There are many stunning slabs of granite and marble and it is easy to fall in love with any of them. Here is a picture of the gallery at Medimer and you may begin drooling as I did.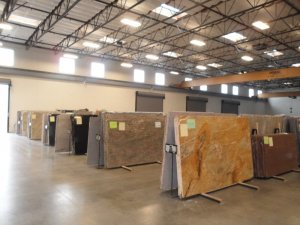 I have found (the hard way) no matter the material the fabrication is critical in getting the best look. Make sure you (or your contractor) has a fabricator that will do mitered edges. And speaking of edges, please don't get a bullnose edge. It is outdated and looks dumb. Go with an eased edge. It is much classier and will stand the test of time.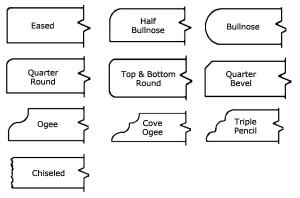 Kitchen Remodel – Tile Backsplash
Tile takes less of a starring role in kitchen designs since solid surface countertops edged them out of center stage. But this is your opportunity to splurge and go all out when picking your tiles.
For instance, I wouldn't recommend marble as an appropriate surface for a kitchen countertop (now a bathroom is another story) but on the backsplash, you can go all out with this expensive material.
Square, geometric, stacked, penny rounds – the choices are literally limitless. Go big and bling it out on your backslash with fun and trendy tiles. Yes, I just said trendy. Because you don't need a whole lot of them, you can swap them out in 10 years and give your kitchen an instant facelift.
Here are a few vignettes we put together for you.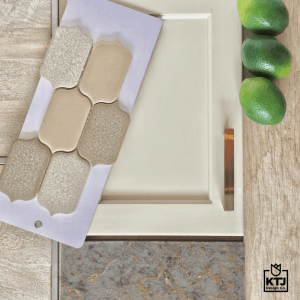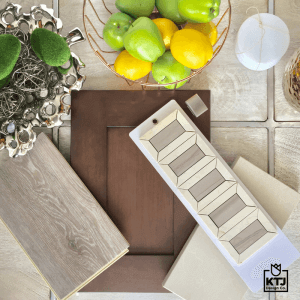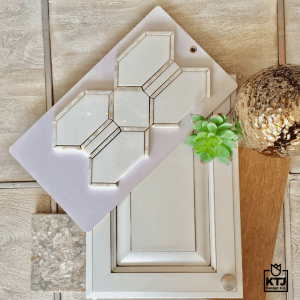 My advice on tiles – if it makes your heart swoon, go for it.
Don't pay attention to design magazines about what's in or what's out.
Don't pay attention to your sister-in-law.
Don't pay attention to your spouse.
Pick a tile that puts a smile on your face. It will never be wrong or out of style.
QUICK TIP: If you pick a cabinet with lots of wood grains (like oak), go for a solid surface countertop that is less busy (i.e. no granite). Too much mixing of pattern will make you uneasy. (read this blog about patterns)
The Budget Calculator is an easy tool to give you a general idea of how much you should invest in your new kitchen. Follow the easy instructions and get your budget nailed down. Estimating your cost is the first step to your new kitchen. Remember to sign up, download your copy AND get every post in this series so you can be on the way to that kitchen of your dreams!