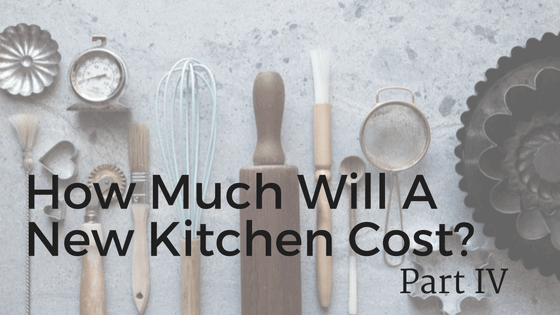 How Much Will a New Kitchen Cost? – Plumbing Fixtures
Confession time.
My kitchen is 60 years old.
It has the original sink.
It has the original green and yellow tiles
It has the original white cabinets with black hardware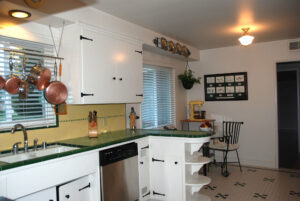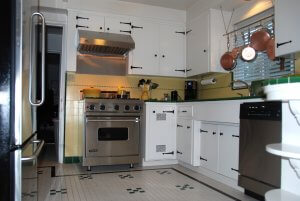 I know – you thought I remodel my kitchen every few years. And surely I have all the latest trends and technology, right?
Nope, it has all the same old stuff because I am too busy designing all your kitchens. You are so selfish!
Just kidding. About you, not me.
I need to remodel my kitchen and honestly I have been too busy. My sink is a chipped mess and my faucet is a drip (literally).
But you don't have to live with an ugly sink or drippy faucet.
In this blog series "How Much Will a New Kitchen Cost", we're going over the oh so important elements involved in a kitchen remodel: Appliances, cabinets, countertops and tile, plumbing fixtures, and finally lighting fixtures.
Included, free for you to download, is a spreadsheet that will help you calculate your new kitchen. Go HERE to download your copy, fill out the worksheet with the easy to follow instructions and you will have tackled the biggest question I get about kitchen remodels – "how much will a new kitchen cost?"
This is part four of my weekly blog series on "How Much Will a Kitchen Cost?" We've talked about kitchen appliances in week one, kitchen cabinets in week two, and countertops and tile in week three. Now we will tackle plumbing fixtures.
New Kitchen Cost? – Sinks
The sink is basically a bowl to hold water, right? Porcelain, stainless steel, Silgranit – those are basically your choices. It all comes down to maintenance.
You want something that will clean easily and look sanitary. Well – that is easy because they will all do that. You can go with a double bowl, single bowl, or super single bowl. Say what?
Well, here's the skinny. The thought is that since no one hand washes dishes any more you don't need a double bowl because then it is easier to clean large pots. Soooo, following the advice of my plumbing sales representative, I installed a single bowl in the Design Workshop kitchen.
I don't like it.
I don't like it because I like to fill up the sink with sudsy water to drop prep tools in while I am cooking, but then there is no place to rinse the vegetables. Dilemma!
I am now suggesting to my clients a semi-single bowl because you have the separation, but you still get a large sink to do the heavy work. I like this sink from Blanco. It is a super single sink and silgranite, which is easy to maintain and super cool.
When I replace my kitchen sink (which will be in 2017! Really!) I will get a stainless-steel sink – But in most of my kitchen remodels we install Silgranit.
QUICK TIP: No matter what type of sink you pick, simply clean it with Bar Keepers Friend and it will always look fantastic. DO NOT clean your sink with an abrasive or harsh cleaner. In fact, if you have Comet or 409 in your house – throw it out immediately.
New Kitchen Cost – Faucets and Fixtures
When it comes to faucets, you want a pull-down faucet for functionality. I like the big commercial kitchen vibe. Next decision is the finish. Brushed nickel is all the rage, but honestly, after having installed it over the past five years – I don't recommend it. It is not as strong as chrome or brass and to me it always looks dirty and smudged.
Chrome plated fixtures are the most durable and will serve you well. And I know everyone is ripping out their gold fixtures, but I am in love with gold fixtures.
Here are three of my favorite faucets.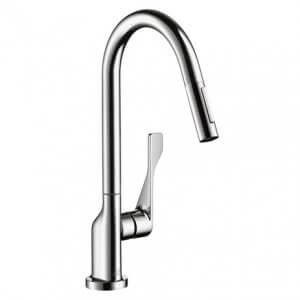 Can you tell I like the professional look? Yeah – I think we all secretly think of ourselves as a chef (do you secretly have a toque blanche hat and white double-breasted jacket?). Well, point of fact, we are the chef in our home!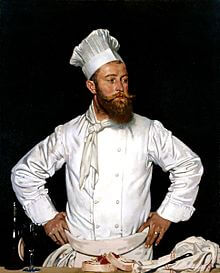 Have you downloaded The Budget Calculator? It is an easy tool to give you a general idea of how much you should invest in your new kitchen. Follow the easy instructions and get your budget nailed down. It is the first step to your new kitchen (and helps with sleepless nights too!)
Stay tuned for the last part in our series – Lighting! Yes, it's time to break up with your fluorescents – make sure you're signed up to receive these posts right in your inbox and I'll show you how.