This house was built in the twenties and underwent a remodel with a thousand square foot addition 20 years ago. Every room is exquisite and exudes owner Barbara's personality – glamorous, chic, and a little sassy. She is in her 80's, but there is nothing vintage about her. In fact, she is the liveliest person I know. She works out every day, very philanthropic, and quite the socialite. Someday I want to be just like her!
Barbara was embarrassed by her large jetted tub that used many, many gallons of water. At the time she put it in twenty years ago, it was state of the art. Now she wanted to update the master bathroom with a period specific clawfoot tub and relocate the shower to the corner. She likes all white rooms. And sexy tile was in order to go with the sexy tub for her newly remodeled master bathroom.
We replaced the old water hog of a tub with a cute updated acrylic clawfoot tub. This will be perfect for soaking and ready with fragrant bath bombs!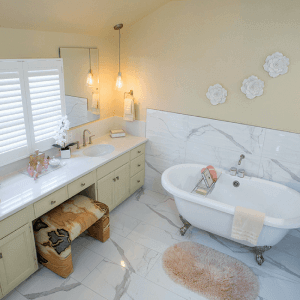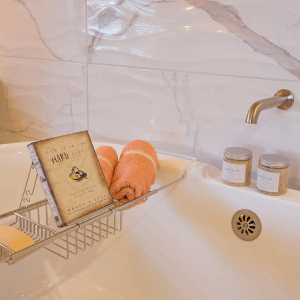 Even though we designed this bathroom with an old-fashioned looking clawfoot tub, we wanted the plumbing fixtures to be modern and sleek. These brushed nickel fixtures express just enough sass. This wall mounted valve and spout work best in the small space.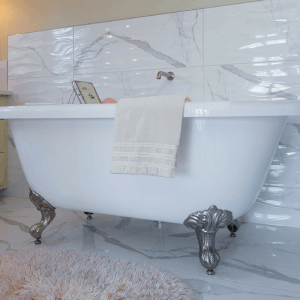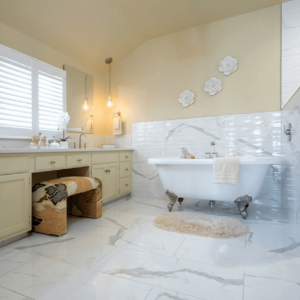 The before shower was a little tiny thing (who could have room with the giant tub?!), so we enlarged the footprint and moved it to a corner. We left off any glass or doors so it feels even bigger and airier. One thing we always do is put the shower valve nearest to the opening. Have you ever been in a shower where the valve is right under the showerhead? You have to turn on the water and jump out while the water warms up. Placing the valve right next to the opening makes it much safer.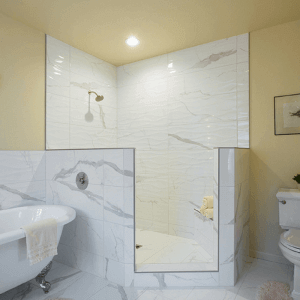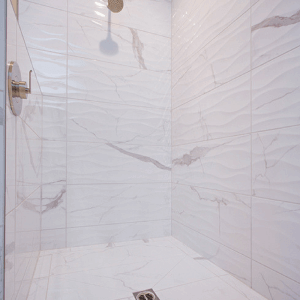 The large mirrors and overhead lighting were also dated, so we picked out smaller mirrors with beveled edged and pendant lights with Edison style bulbs. This soft light is friendlier to the face and balances out the vanity area.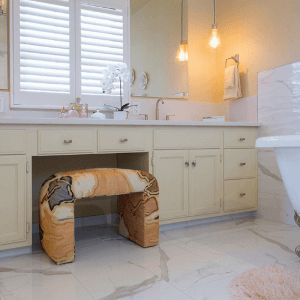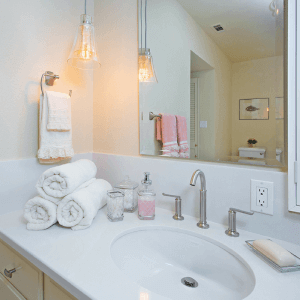 A sexy bathroom needs a sexy chandelier, but the ceiling was low, so we picked a ceiling mounted fixture with lots of sparkle.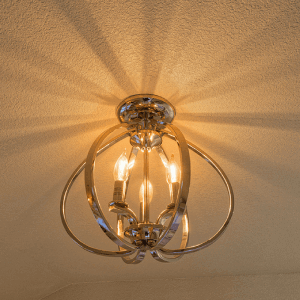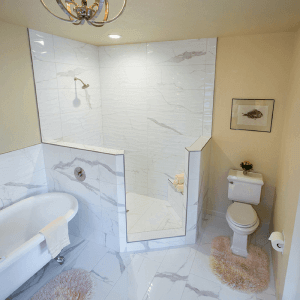 Wavy porcelain tiles with a marble grain look were just the ticket for this over the top bathroom.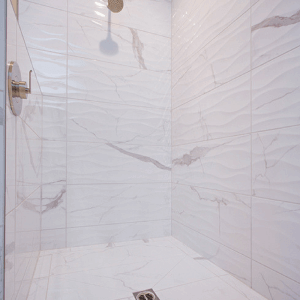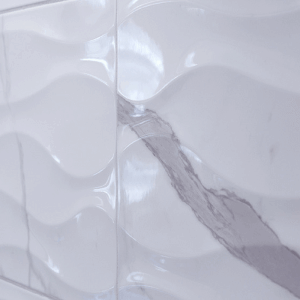 And of course the old tile countertop had to go and a new cultured marble countertop installed.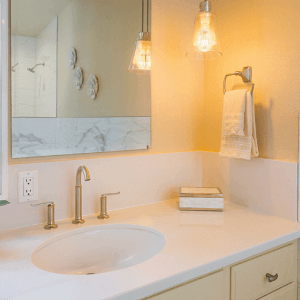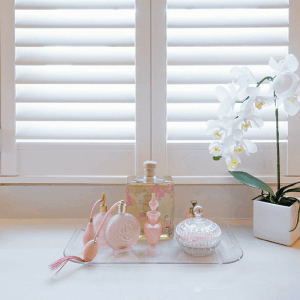 The before pictures show a bathroom that isn't really too awful, but now it is a glorious gem to go with its glorious owner.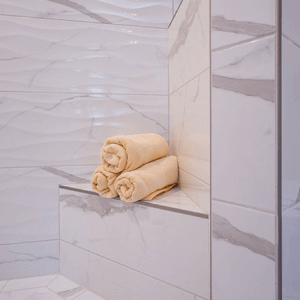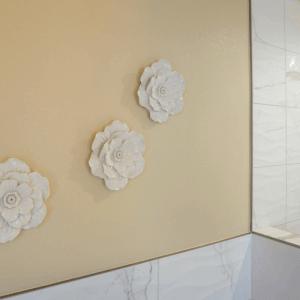 A bathroom doesn't have to be cookie cutter. You, too, can have a bathroom that matches the style of your house, but is extremely gorgeous and completely functional at the same time.
If you would like a sexy master ensuite, check out our services