Experts Weigh-In on the Biggest Interior Design Trends for 2017
One huge struggle my clients face when trying to design their interior is "What's in style? I don't want to have outdated finishes." And I'll have to say that when it comes to the biggest interior design trends for 2017, I've got a big case of FOMO myself. You know, fear of missing out on the next big thing.
I work extremely hard to stay current by reading articles and blogs, attending seminars, joining industry organizations, taking continuing education courses, and traveling to trade shows. But even after all this, it's still so daunting to me, so I can only imagine how scared it makes you!
I learned long ago that networking (you know – good old fashioned talking to people face to face) is the best way to be in the know. And when I wondered what the biggest interior design trends are for 2017, I rang up the best local interior designers I know and simply asked them.
"What do you see as the biggest interior design trends for 2017?"
The responses are spot on in my opinion, but a few happily surprised me.
Interior Design Trends for 2017 – Metallic Zen Inspired Wallcoverings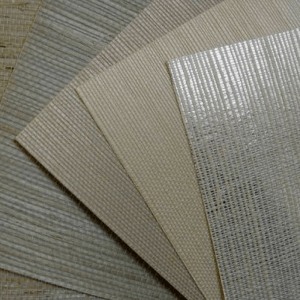 "We all know wallpaper has been in for a few years. Many designers, as well as showcase houses, have been especially using grass cloths for a few years now," says Jennifer Fagalde of Fagalde Interior Design in Folsom, California. "Now I see a trend towards the use of metallic grass cloths as well. It still has the natural organic feel so many people like these days, but these metallic textures make such a beautiful compliment to many luxurious spaces as well. They come in silvers, golds, coppers and more. They look beautiful against many of the rich colored velvets that are hitting the market right now too."
I couldn't agree more with Jennifer about wallpaper having installed it several times in 2016. Wallpaper will definitely add a layer of texture that is subtle and so luxurious.
Interior Design Trends for 2017 – Resurgence of Natural Stone for Countertops
"I do see a resurgence of natural stone for countertop materials. Not the browns and golds of the last decade, but fresher colors including blues and greens, say Laura Neuman of Pepperjack Interiors in Loomis California. "I see the natural stones used like jewelry in powder rooms, master baths and even in concert with simple flat monochromatic engineered quartz in kitchens. Why? Hmmmm, perhaps the granite producers are getting more creative with their product to compete with the rising use of engineered stones, but perhaps it is because in our crazy world people always take comfort in mother nature!"
I have noticed many exciting natural stone slabs in my showroom visits as of late and I agree there are some exciting and vibrant choices. Browns and gold – no way. Be adventurous and pick something pretty.
Interior Design Trends for 2017 – Metallics Will Remain Strong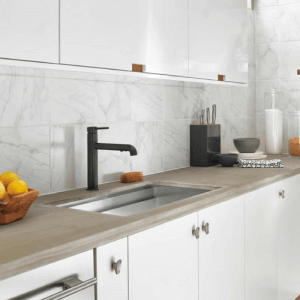 "Metallics will remain strong for 2017 with the use of matte golds and coppers in decorative items, fabrics and wallpapers balanced with matte black plumbing fixtures, says Rebecca Ward of Rebecca Ward Design in Sacramento, California. "Metallics and black combined with Pantone's green color of the year will help bring a bright freshness to the white and gray palettes everyone loves."
We always love to infuse our designs with a mix of metallics but I never thought about how great they will look with this year's color of the year. Spot on, my friend!
Interior Design Trends for 2017 – Autumn Orange and Gold Green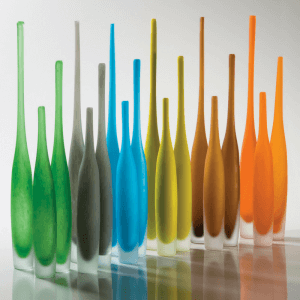 "White is always right… But I see green, orange and earth based colors trying to make a comeback, say Wendy Glaister of Wendy Kristina Glaister Design in Modesto California. "Glad I hung on to my parents' orange and green goblets from their wedding 50 years ago this August!"
Orange and green color combination is always vibrant and striking and when you can throw in a family heirloom as inspiration, you can't go wrong.
Interior Design Trends for 2017 – Moving Away from Neutral Colors
"Think deep drama and jewel tone colors for 2017 as we move away from the neutral colors that have adorned our walls, say Deanna Mackensen of Reddezn in Yuba City, California. "You will see textures and patterns replace modern, clean lines to form a comfortable aesthetic with green taking center stage in furnishings and accessories."
I'm always about the drama, and very tired of neutral colors – yeah, baby – go bold!
Interior Design Trends for 2017 – Resurgence of Oak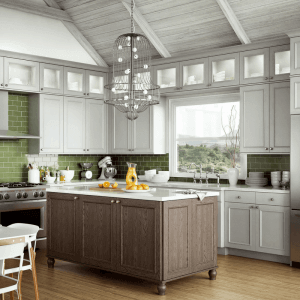 "The resurgence of oak used for cabinets and wood flooring," says Tami Faulkner of Tami Faulkner Interior Architecture & Design in Oroville California. "This is not the gold oak of the 1980's, but is weathered and soft with a natural matte finish in blond and gray tones. There is nothing old and tired about it"
I've long been telling my clients who have custom built and still in good condition oak cabinets to think twice before they decide to replace them or paint them because I knew this look would come back. Oak is a beautiful wood and if you have cabinets with a quarter sawn grain (the kind that has the big cathedral graining), then don't couple it with a busy granite countertop. The two will compete and be too busy. Instead use a quartz countertop with less of a pattern and in a lighter color.
Interior Design Trends for 2017 – Velvet for Luxury
Are you wondering what I think? I know you have been dying to know! My pick for the best interior design trend for 2017 is more luxurious and glamorous fabrics. And the best luxurious and glamorous fabric for families with kids and pets is velvet. This bullet-proof fabric wears well and is a breeze to clean. I especially love JF Fabrics velvets that are washable. How more kid and pet friendly can you get? Pick a deep color and you can't go wrong.
Match up that glamorous velvet sofa with a metallic grasscloth wallpaper, jazz it up with a mix of metals (in the tables, lamps and accessories), add a rustic oak wood cocktail table and you've got that designer look all wrapped up.
Check out these designer's websites and be sure to follow them on Facebook and Instagram.