How to Interior Design Your Living Room – Sequel
A Case Study Using My Three-Part "How to Interior Design Your Living Room" Blog Series
In my three-part design blog series "How to Interior Design Your Living Room," you learned how to interior design like a pro with all the right tools and the best sequence of steps.If you missed them, here are the links.
In this sequel, I followed my own advice and designed a space for a client as you would in my three-part blog series.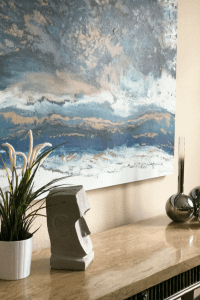 I first talked to D several months ago, He recently moved into the area and needed his rental house to have a "woman's touch" as he put it. We went back and forth on dates because I was all booked up and as he travels a lot – well anyway you get the picture, we had a hard time connecting. When we finally meet, he told me he wanted his space furnished and decorated within the next two weeks because he was expecting house guests.
Yikes, that is not how our process works. We take three weeks to develop the design concept, another few weeks as you approve all the selections and then another 4-8 weeks ordering and receiving products and merchandise. Finally, when we have received all the parts and pieces we do the installation day.
He resigned himself to my process and we signed a contract. My team and I quickly measured his front room (which is to become his office), took tons of pictures, and asked him lots of questions. I know he is a well dressed man (having seen his amazing closets and shoe collection),  has an accomplished career, just relocated to the area, and some recent changes in his personal life.  He needs a space that reflects his fashionable side, conveys elegance and warmth, feels well appointed, but remains masculine.
As my team and I drove back to the office, I thought about his upcoming house party and wanted to make it happen for him. Since most of the work was decorating already furnished rooms (living room, bedrooms, kitchen and bathrooms), why couldn't we shop retail and get it done in 10 days? I liked the challenge. And could I, do it? Shop retail (something I hate), shop locally (not even sure what was available), and do it all within his low budget (this is a temporary home, so he wants to keep the budget low)?
I called my new client the next morning and pitched the idea. He said, "that's what I'm talking about!" He would be gone the next seven days, which was also ideal, because the KTJ Design Co team could go in and out and not have to worry about bothering our client.
I explained I would have complete autonomy on all the selections and he would have to accept everything. He said he trusted my design aesthetic (he had done his research on me) and agreed to the terms.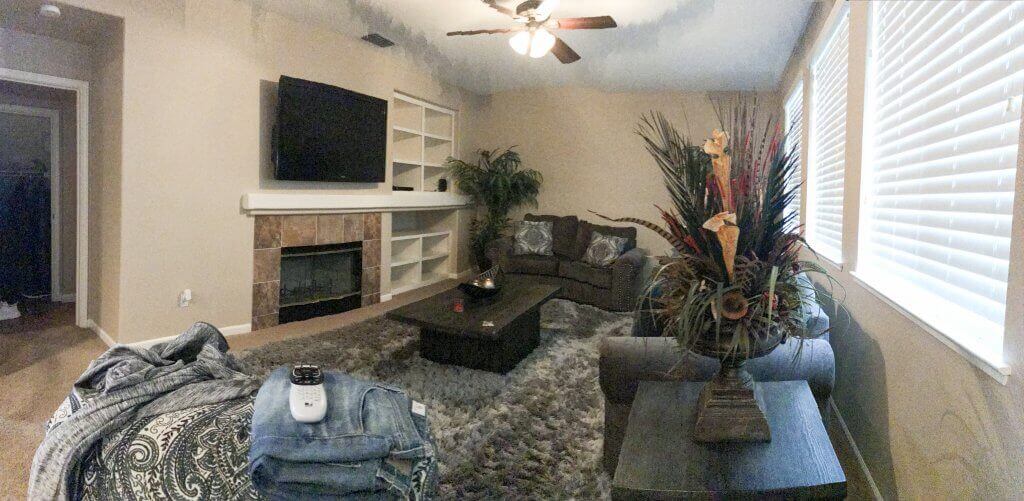 How to Interior Design Like a Pro – Day 1
Since we didn't know what was available in the local area because we always shop our Trade Accounts, we spent the first day scouting out  resources. After meeting with D's assistant at the house to get a key and gate remote, we scanned the house to determine what items we could use and what had to go. There was in fact only one table and four lamps that were delegated to the garage, otherwise we could incorporate the other items in the house.
[one_half padding="0 14px 0 14px"]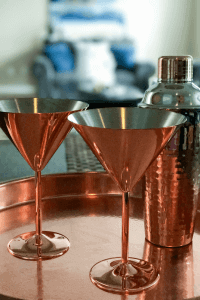 [/one_half]
[one_half_last padding="0 14px 0 14px"]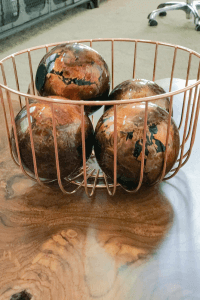 [/one_half_last]
He wanted a home office and I knew of an office furniture liquidator in the Port of Stockton. That was our first stop. We didn't find any "office" stuff that would work for our inspiration, but we found two marble top tables and a desk chair we liked.  Our next stop was a strip mall with Ross, Cost Plus World Market, Bed, Bath and Beyond, Ashley Furniture, and Target. We hit them all. Our last stop was another strip mall with TJ Max and Pier One. There are limited furniture stores in our local area within our price range for this project. We checked out three of them, but that was a bust. Even though we had a low budget, there is a break-even point between value, quality and price and we couldn't find the sweet spot at any of these local stores.
[one_half padding="0 14px 0 14px"]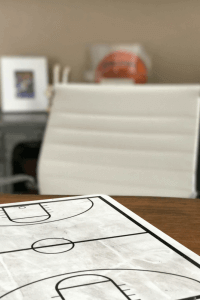 [/one_half]
[one_half_last padding="0 14px 0 14px"]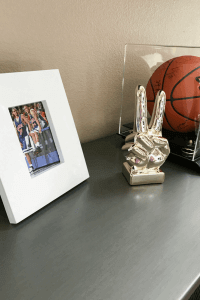 [/one_half_last]
How to Interior Design Like a Pro – Day 2
We had many ideas, but needed a game plan. We sketched out his floor plan to scale and made two furniture plan options that we thought would work.  With our furniture plan we knew exactly what sizes of furniture we needed. We also knew what pieces we needed.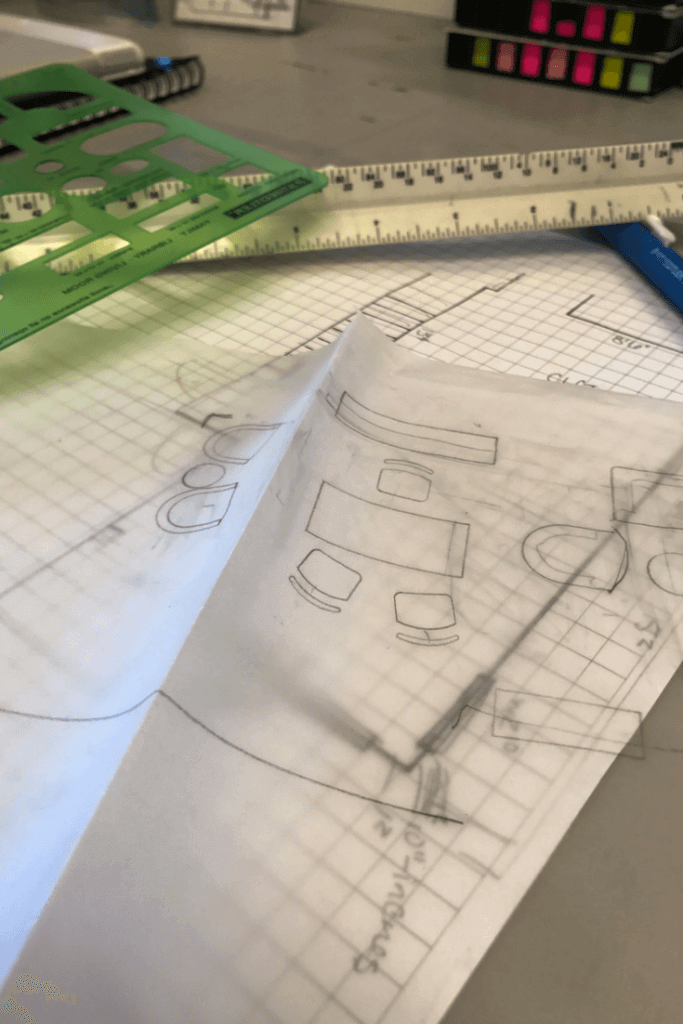 Then we created an inspiration file on Pinterest (see the board here) and curated items we had seen at several of the stores (see Part 1 of the series for details on how to measure your space and create your furniture plan and inspiration file). The living room set he purchased is from Ashley Furniture (we saw it front and center of the showroom), so we perused Ashley Furniture and I must admit they have some cute vignettes. We didn't see anything that would fit into our design concept and we were limited by what he already had. If we were starting totally from scratch some of the items from Ashley Furniture would have worked (I sense a blog coming about this coming- hmmmm).
Armed with our plans and inspiration (to figure out your style, read Part II of the blog series), we loaded into the cargo van, determined our route and went shopping. We knew we had to nail down the big pieces first – sofa, chairs, desk, storage. We had chosen one sofa from Pier One, but they did not have it in stock. A quick search by the store clerk revealed only one available in that style was in Fresno – too far to drive and defeated our purpose of shopping local, so we settled on their Mitchell sofa.
[one_half padding="0 14px 0 14px"]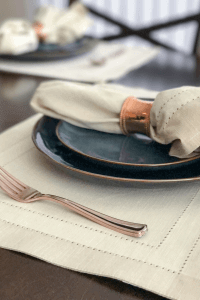 [/one_half]
[one_half_last padding="0 14px 0 14px"]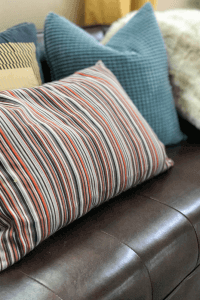 [/one_half_last]
We also found a nice chesterfield chair for the master bedroom, a piece of artwork in our color palette for the living room and snagged a bunch of accessories.  With TJ Max in the same shopping center, we picked up more accessories – mostly for the bathrooms and kitchen.
We headed for the next strip mall, and found most of the pieces we liked at Cost Plus World Market. We loved these two leather chairs and these two lounge chairs (see full photo gallery below). The dining table could work perfectly as a desk and completely fit into our design concept. More accessories for the kitchen, some lighting, rugs, coffee table, and credenza and we were feeling accomplished. Our van couldn't handle all the boxes so we made a quick delivery to the home. Good thing D was out of town, because he would have totally freaked out about the all the boxes and bags strewn everywhere (he is a bit of a neat nick). Back to the strip mall to pick up the rest of our goods and one more stop at Target to pick up the counter stools we liked and some more accessories and the van was fully loaded again!
Totally exhausted from a full day of shopping and lifting heavy boxes we called it a day.
How to Interior Design Like a Pro – Day 3
Our first stop was to the home to unpack what we had and determine where we needed to fill in. I had prepared a quick spreadsheet the night before with what we spent so far and knew we were bumping the budget limit. A quick assessment of our items and we knew the drapery we had purchased and one of the floor lamps was too expensive. We could get less-expensive items at Ikea and this meant a 60-mile trip. Oh well, we were bending the local rule, but you gotta do what ya gotta do.
[one_half padding="0 14px 0 14px"]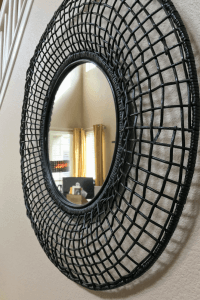 [/one_half]
[one_half_last padding="0 14px 0 14px"]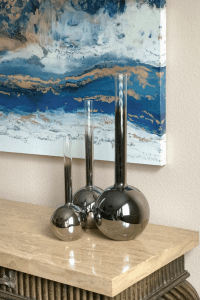 [/one_half_last]
How to Interior Design Like a Pro – Day 4
Time to do a full install. We uncrated, we assembled, we hung, we moved this and we moved that and finally after a long day everything was in place. But we hadn't found a few key pieces and some of our selections weren't going to work. A go-back pile started in a corner and another shopping excursion was in order.
[one_half padding="0 14px 0 14px"]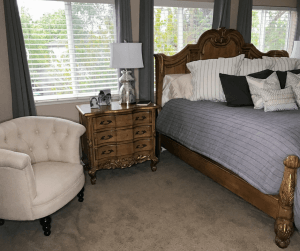 [/one_half]
[one_half_last padding="0 14px 0 14px"]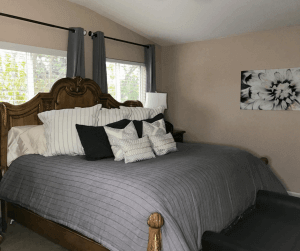 [/one_half_last]
How to Interior Design Like a Pro – Day 5
So off to good ole' Home Goods. We found several large pieces of artwork, towels, rugs, and other accessories. We could have picked up many more accessories, but we were at our budget limit and would have to make it all work. While we were at Home Goods, we got a call from our clients' assistant. D would be home that day around 3-4:00. Crap. We weren't expecting him until the next day, so we went into high gear. We had about three hours to pull it all together and we were running around like crazy (a real reality show for sure). But we got it done!
[one_half padding="0 14px 0 14px"]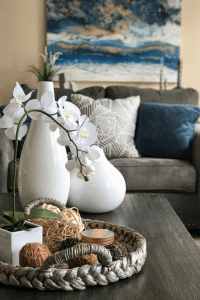 [/one_half]
[one_half_last padding="0 14px 0 14px"]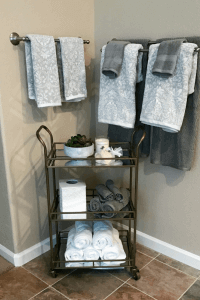 [/one_half_last]
Conclusion and Retrospective
This case study put to the test my blog series. Could you interior design your living room? The important thing I learned was you must have a PLAN!
We were so tempted to purchase many great pieces we saw, but had to remind ourselves of our design concept (pulling out the cell phone to check the Pinterest helped a lot). We also knew what was going to fit and what wasn't going to fit. So even though something we found would be perfect, we immediately checked our notes and knew it wouldn't work. This saved us a lot of trial and error, not to mention time (which we didn't have much of) and money (again, which we didn't have much of).
So is there a service I need to add to my menu? I think so and already put into place processes to add to my list of services. Be sure to sign up for my newsletter so you hear about my new offering first.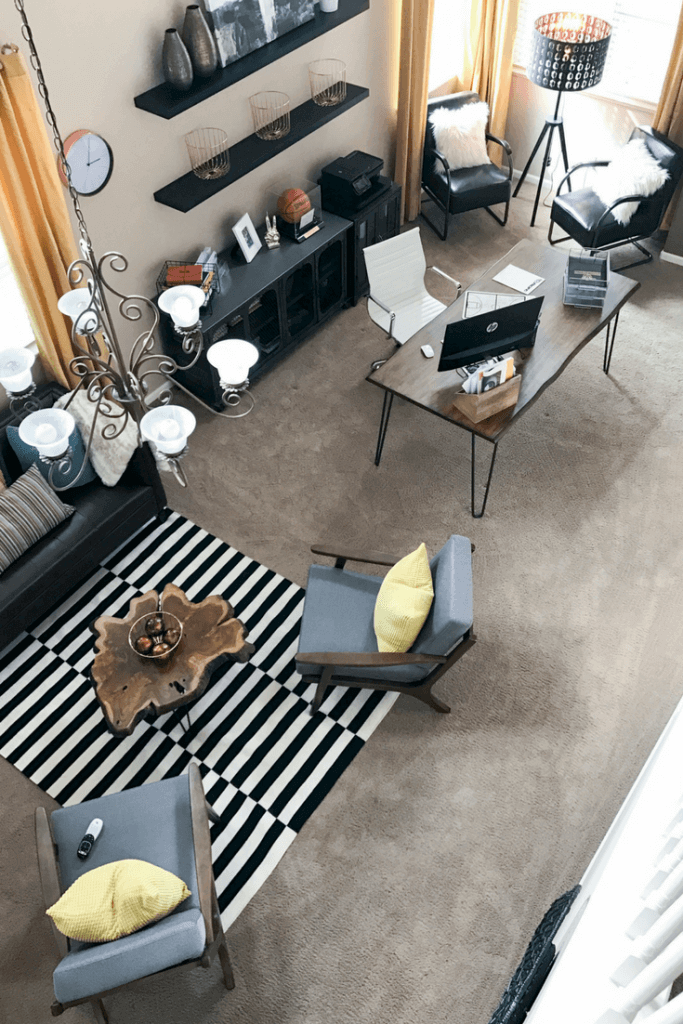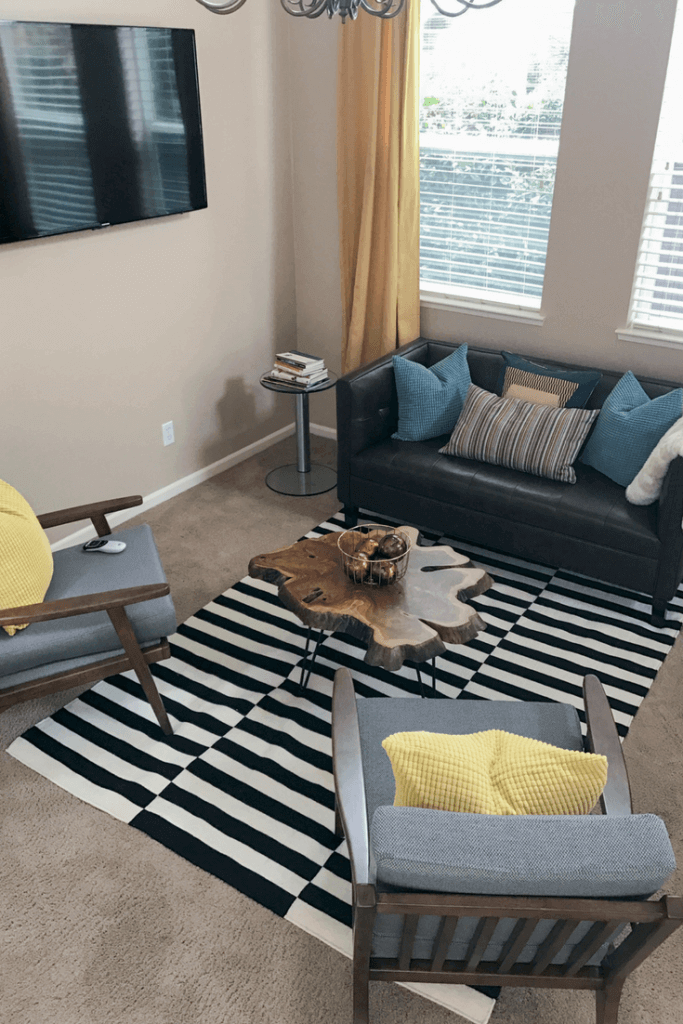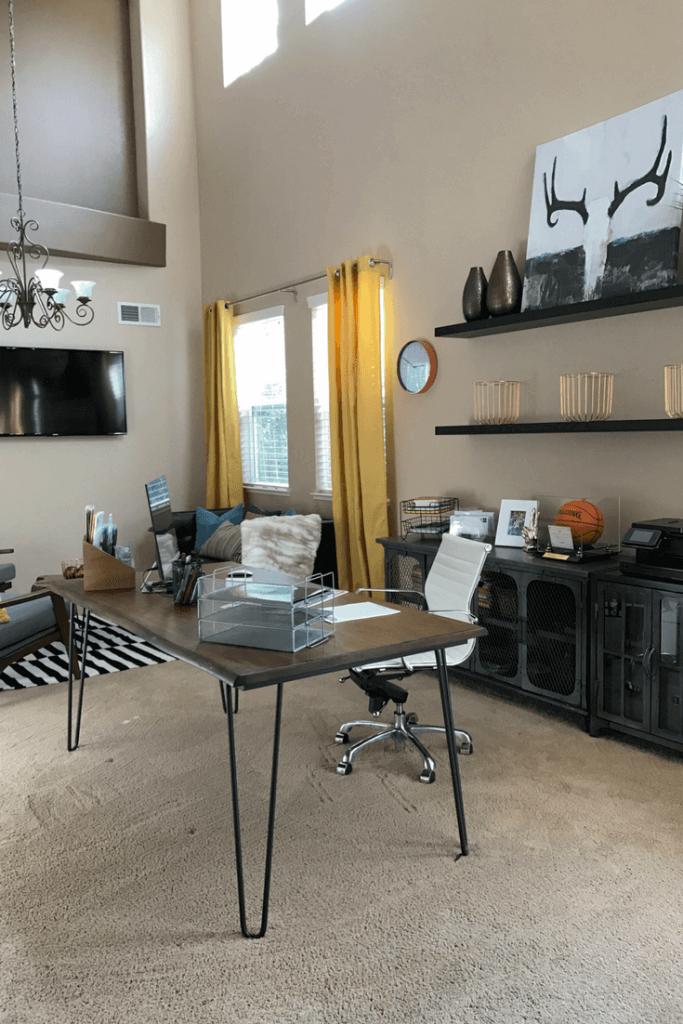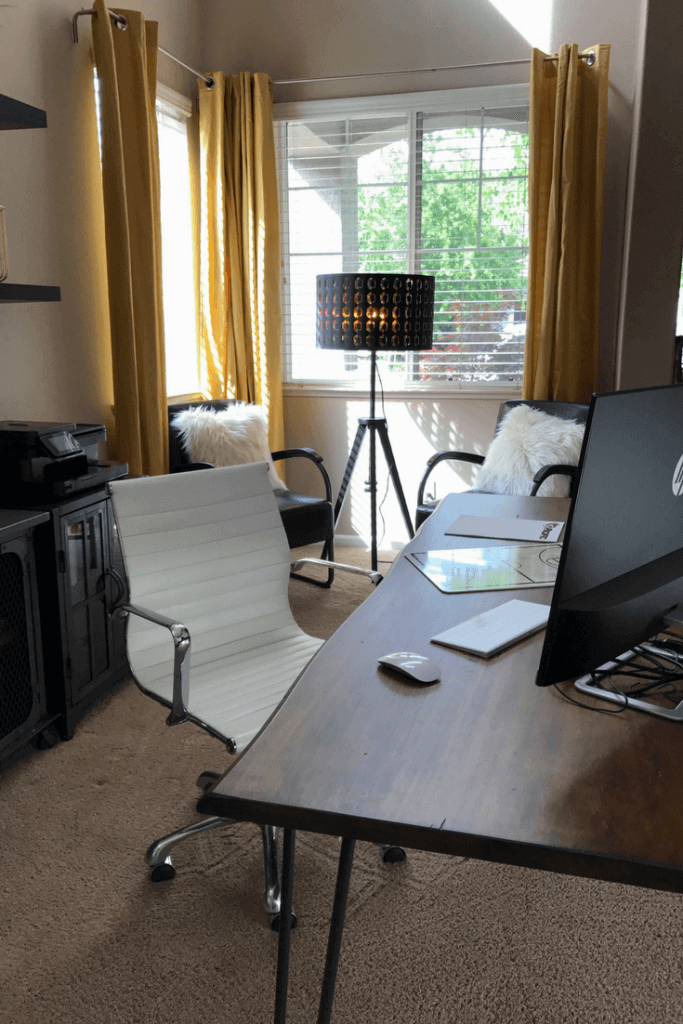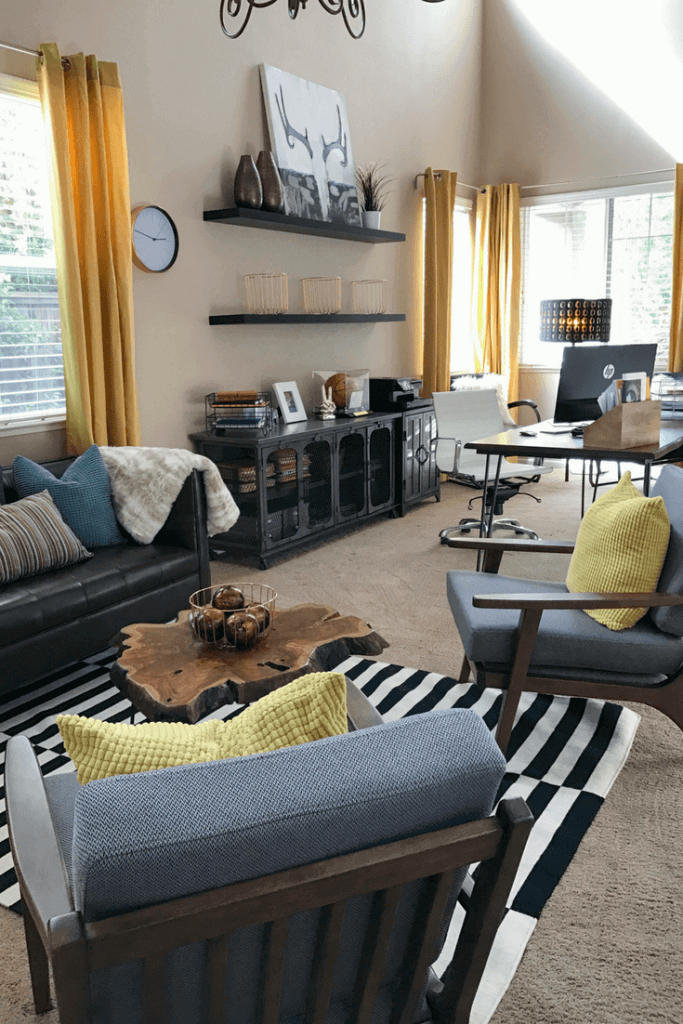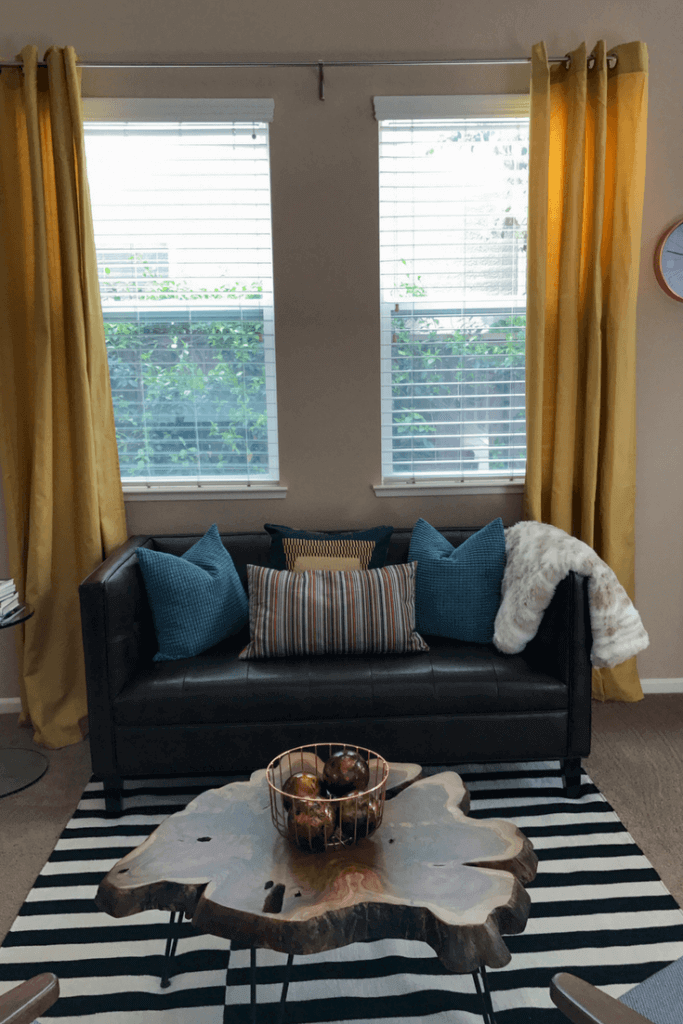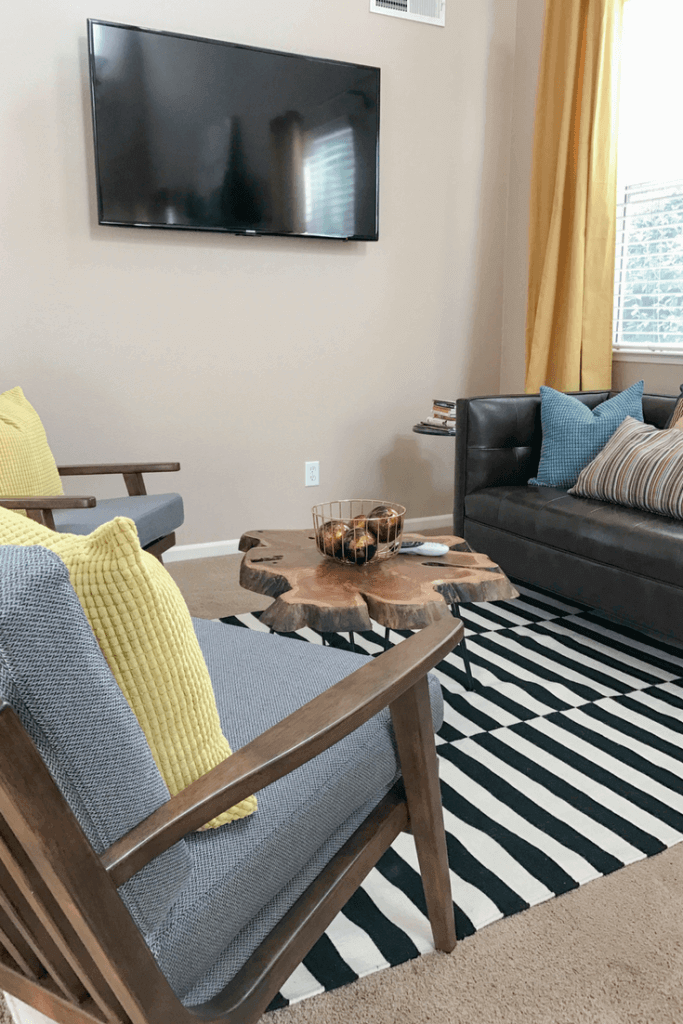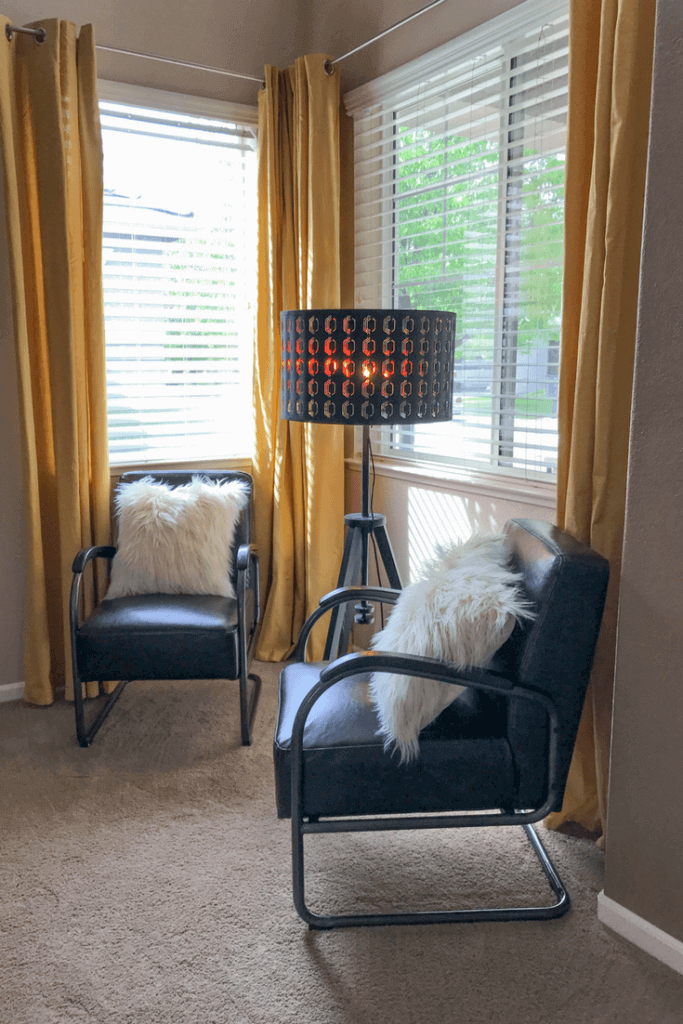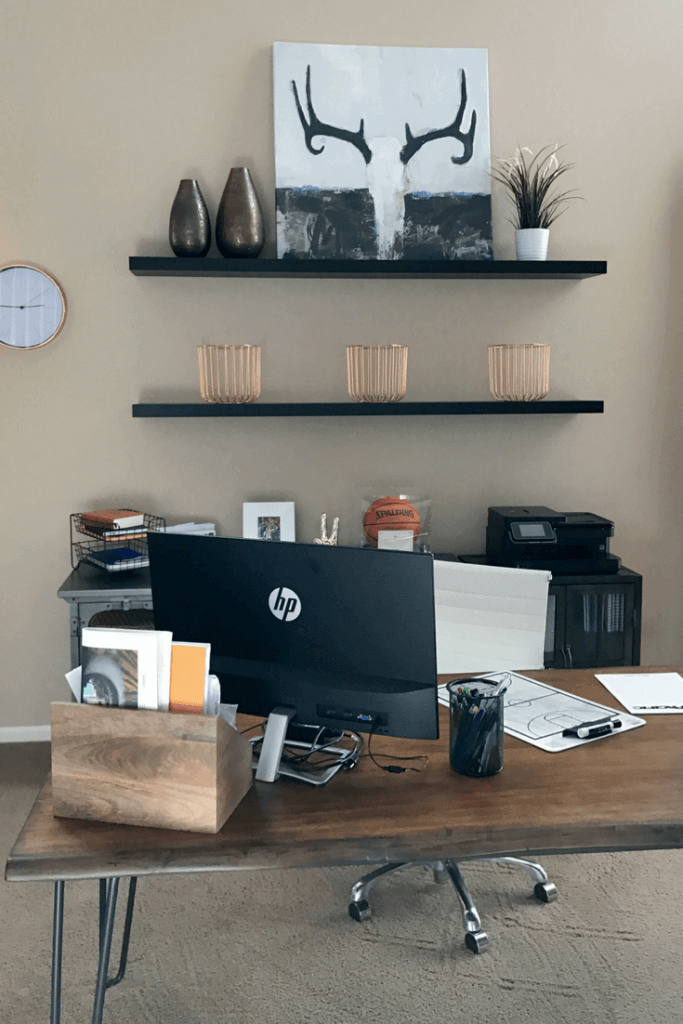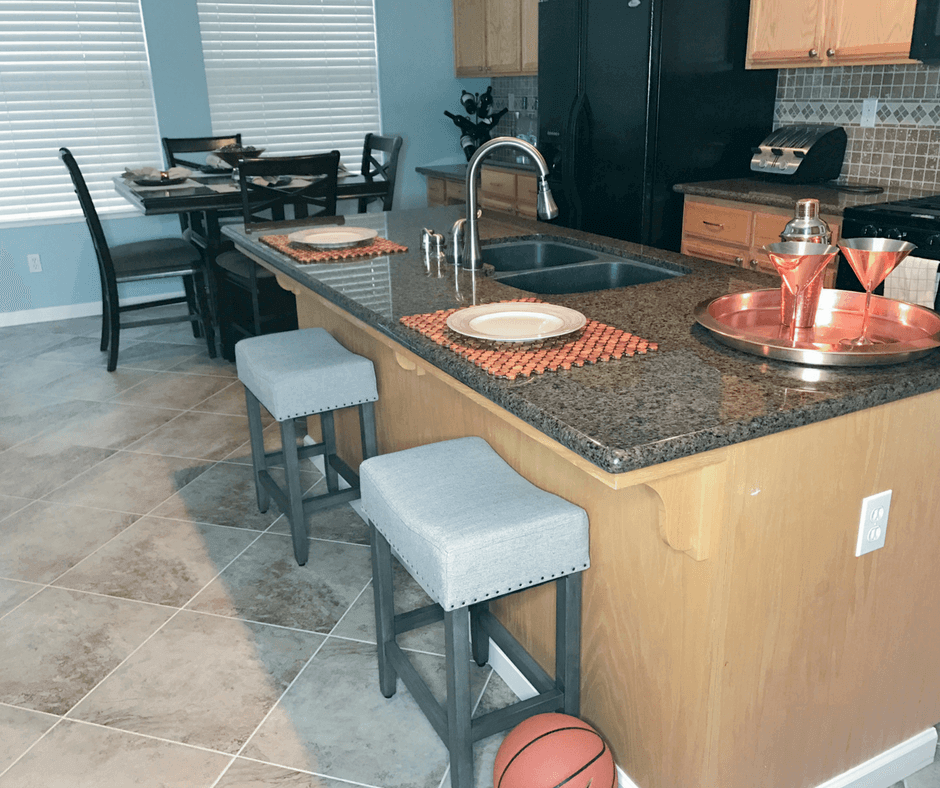 A few counter-height stools maximizes seating (hey, how did that basketball get there?)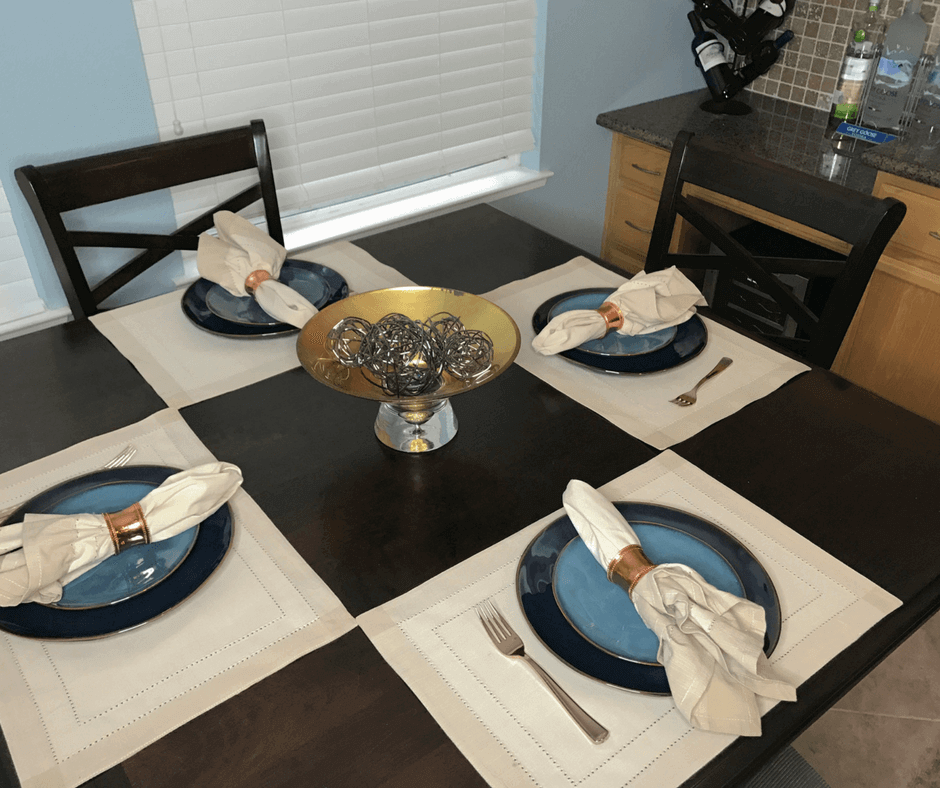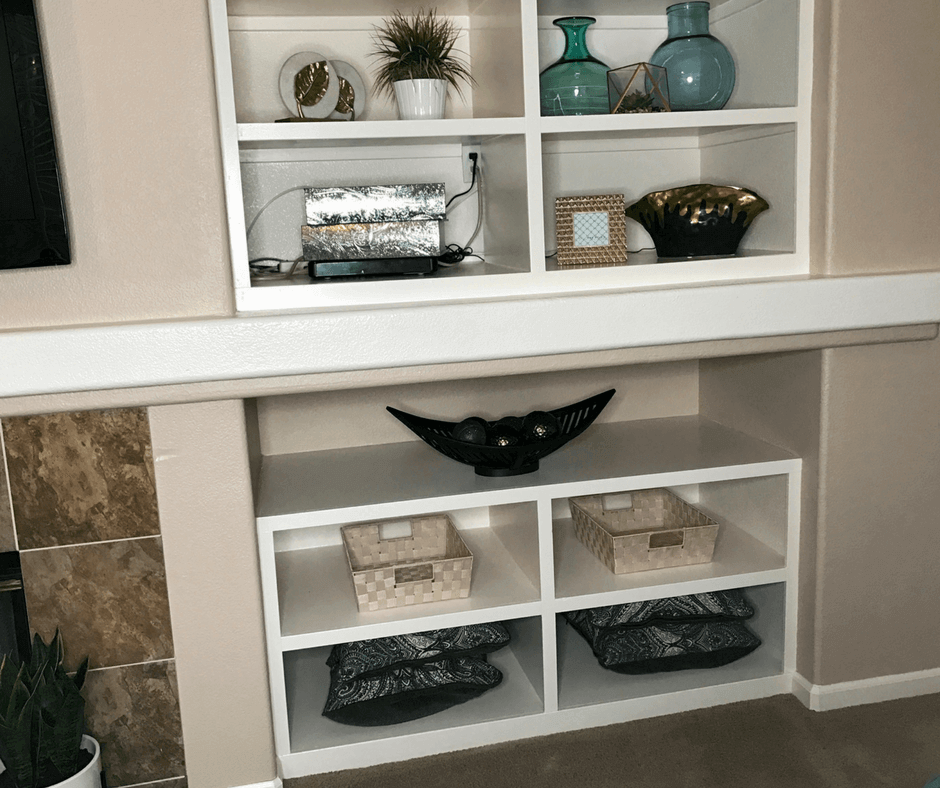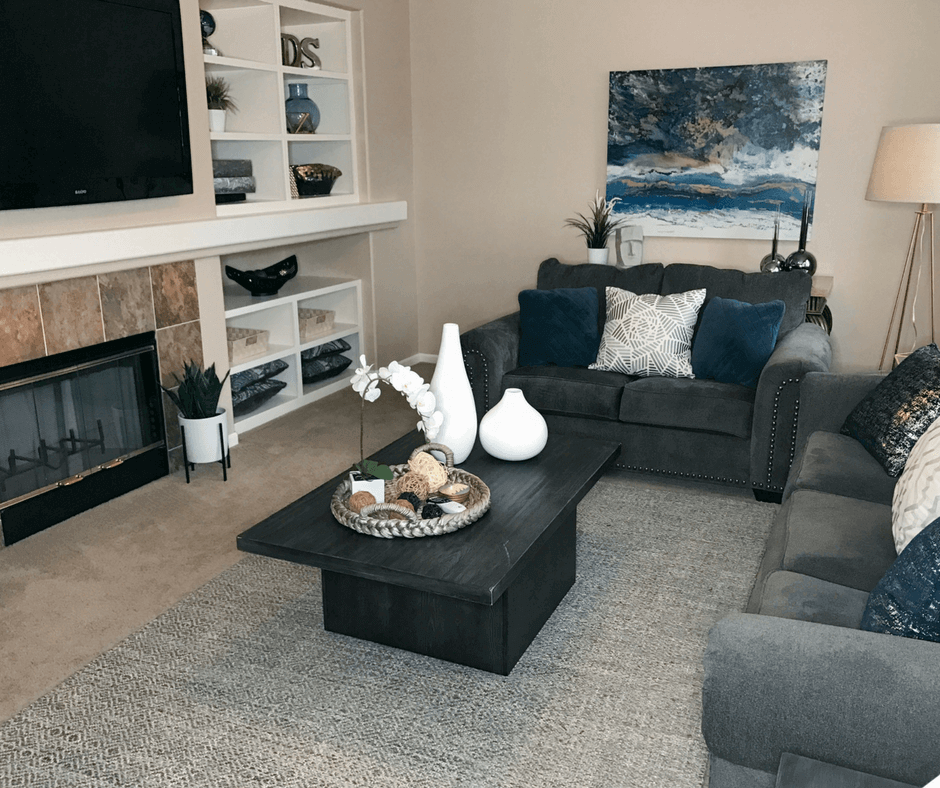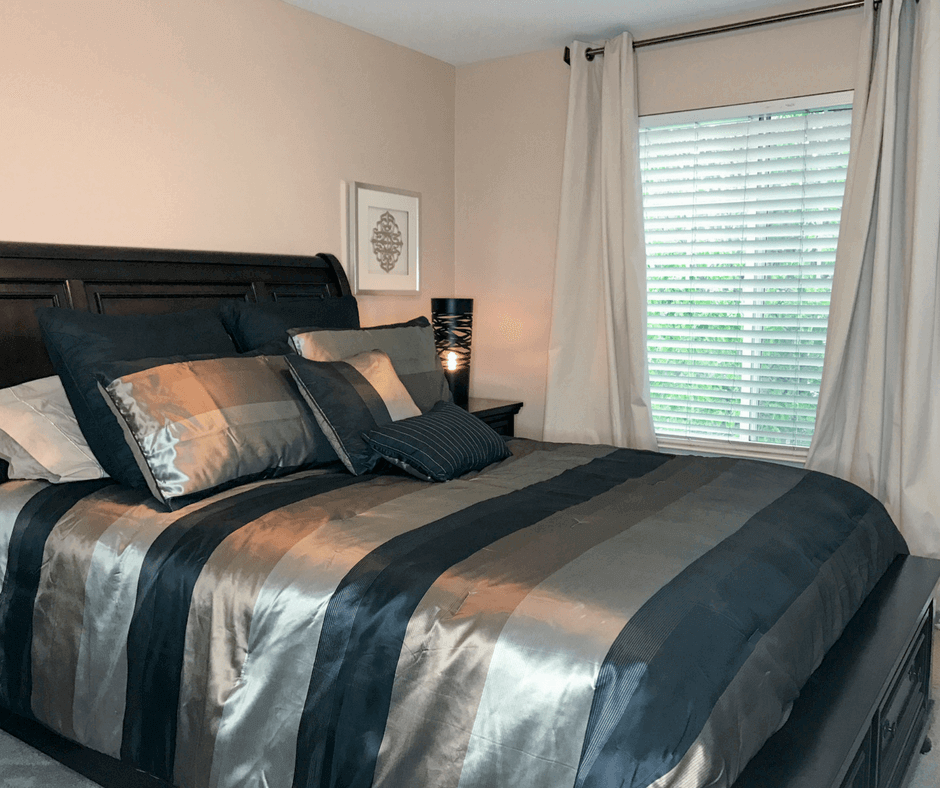 Was It Successful?
You may be wondering? What did D think?
He was happy.
He said it was just what he needed. He was feeling blue and lonely. Having a house that felt like a home made him feel at ease.  He wasn't too thrilled with the mustard colored drapes. I told him to live with the for a while and he would try to love them (sometimes you have to be uncomfortable to get comfortable).
Be sure to sign up for my mailing list – I have a new design service coming out in May and if you are on the mailing list you will be the first to know about it.