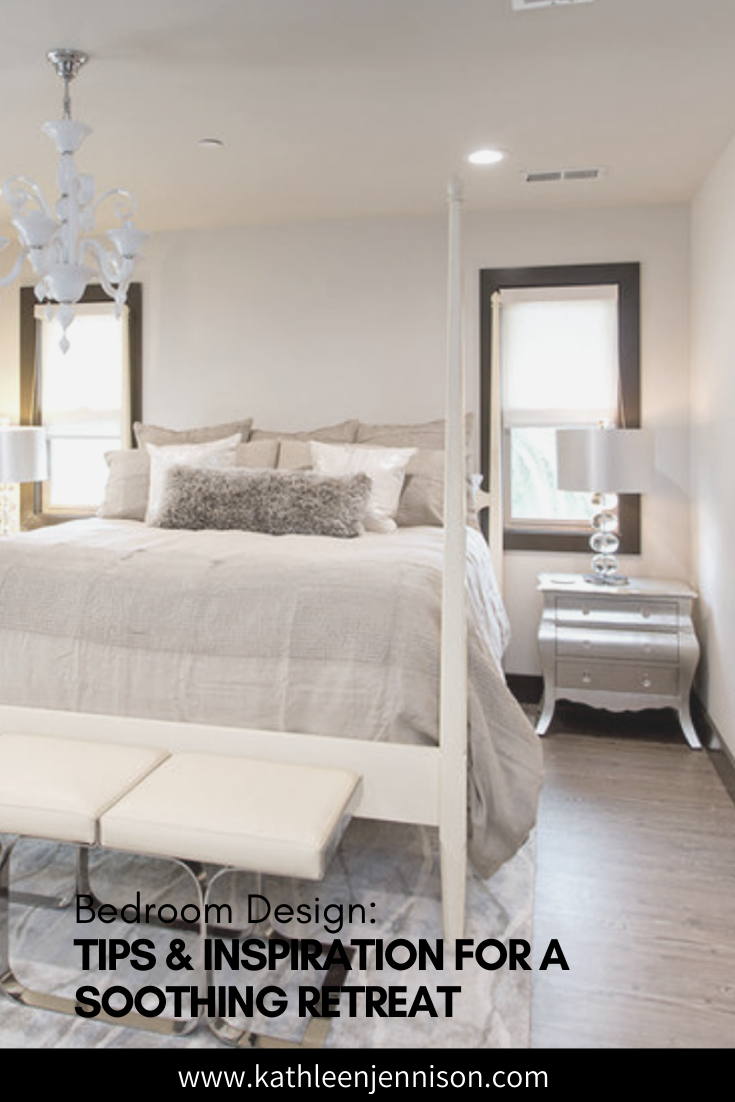 Bedroom Design: Tips & Inspiration for a Soothing Retreat
Have you ever noticed that bedrooms are typically the last rooms homeowners will furnish? While it may feel natural to focus primarily on the rooms where you entertain guests, like your kitchen or living room, I'd argue that bedrooms should be higher on your priority list.
Think about it — your bedroom plays a pivotal role in your daily routine. Whether it's early mornings preparing for the day or winding down with your favorite book before getting quality sleep, creating a comfortable and soothing atmosphere is essential to achieve ultimate wellness and relaxation.
Today, I'm sharing 3 gorgeous bedrooms with you, including their stand-out features, the inspiration behind the designs, and tips to inspire you to transform your own bedroom into a sanctuary you'll never want to leave.
Bedroom #1. Soft, Airy & Luxurious Retreat
Goals & Inspiration: In this beautiful Lodi home, our clients decided it was time to update the entire primary bedroom. Their main goals were to create a bright, fresh, and relaxing retreat to begin and end their day. By replacing the old carpet with resilient flooring, purchasing new furniture, and changing the wall color and texture, our clients now have a bedroom that feels like a getaway in a luxury hotel.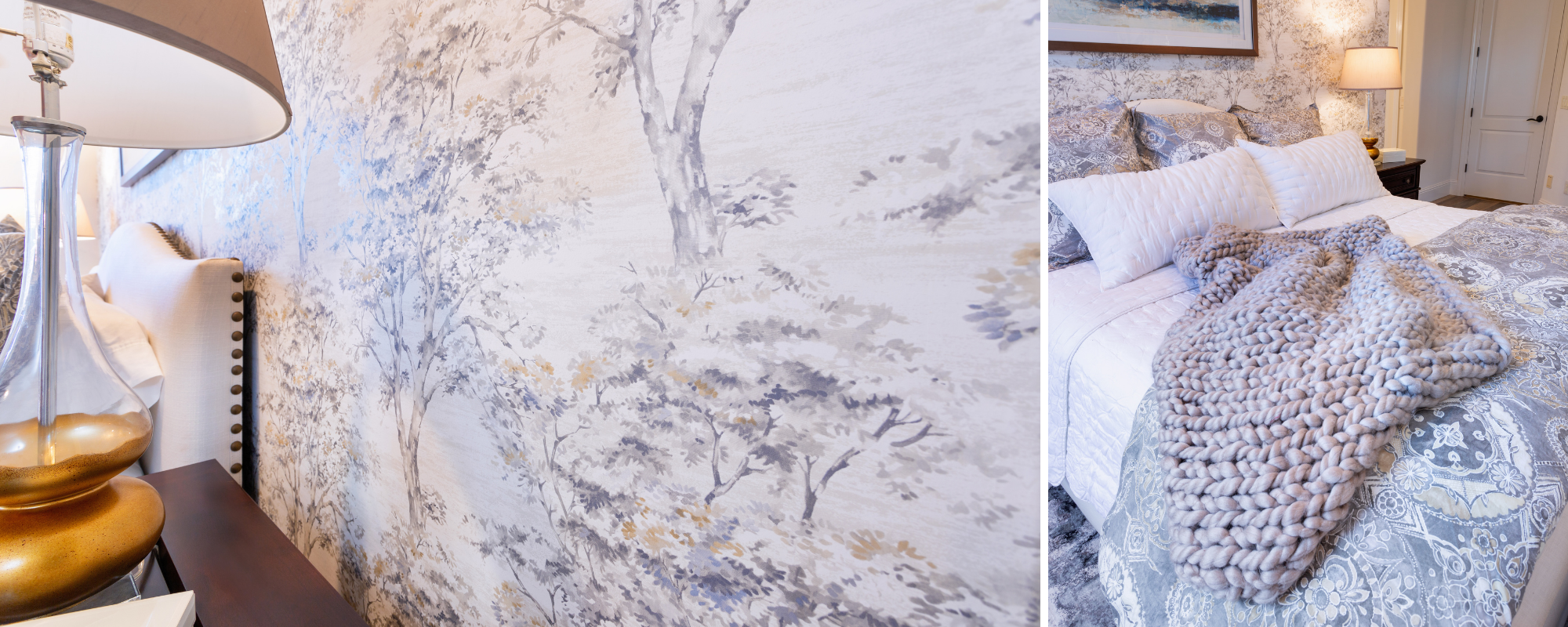 Favorite Feature: You may have already noticed that the beautiful wallpaper is the stand-out feature in this bedroom. The subtle, neutral pattern elevates a sense of luxury while perfectly complementing the colors of the bedding and rug. Light and airy…exactly what our clients desired.
Design Tip: Pay close attention to color, as the color palette in your bedroom can profoundly affect your mood. Opt for soothing hues that soothe you, such as soft blues and greens, neutral accents of ivory, mauve, or gray, or even some saturated yet moody colors, if they speak to you. Of course, white and ivory sheets are always a must. They are classic and coordinate with any bedding, making the entire room feel clean and crisp.
Bedroom #2. Nature-Inspired Haven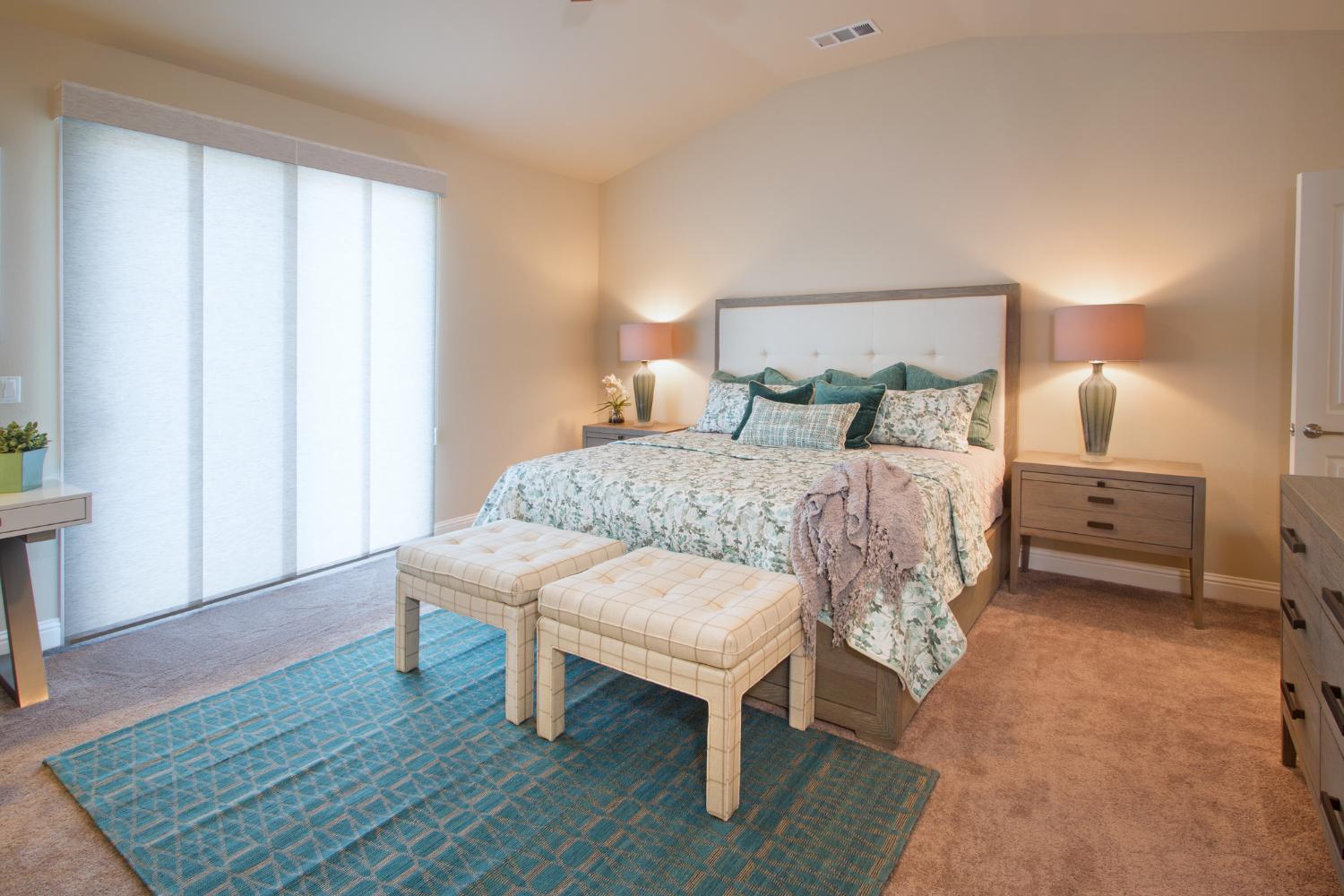 Goals & Inspiration: The fun-loving family residing in this newly built Valley Springs Home wanted to transform their master bedroom into a cozy sanctuary inspired by nature. Soothing blues and pops of deep teal perfectly contrast with the neutral tones and natural wood elements, reflecting the peace and tranquility of the outdoors. In addition, the luxurious king-sized bed (complete with a motorized mattress) infuses the space with a new level of comfort,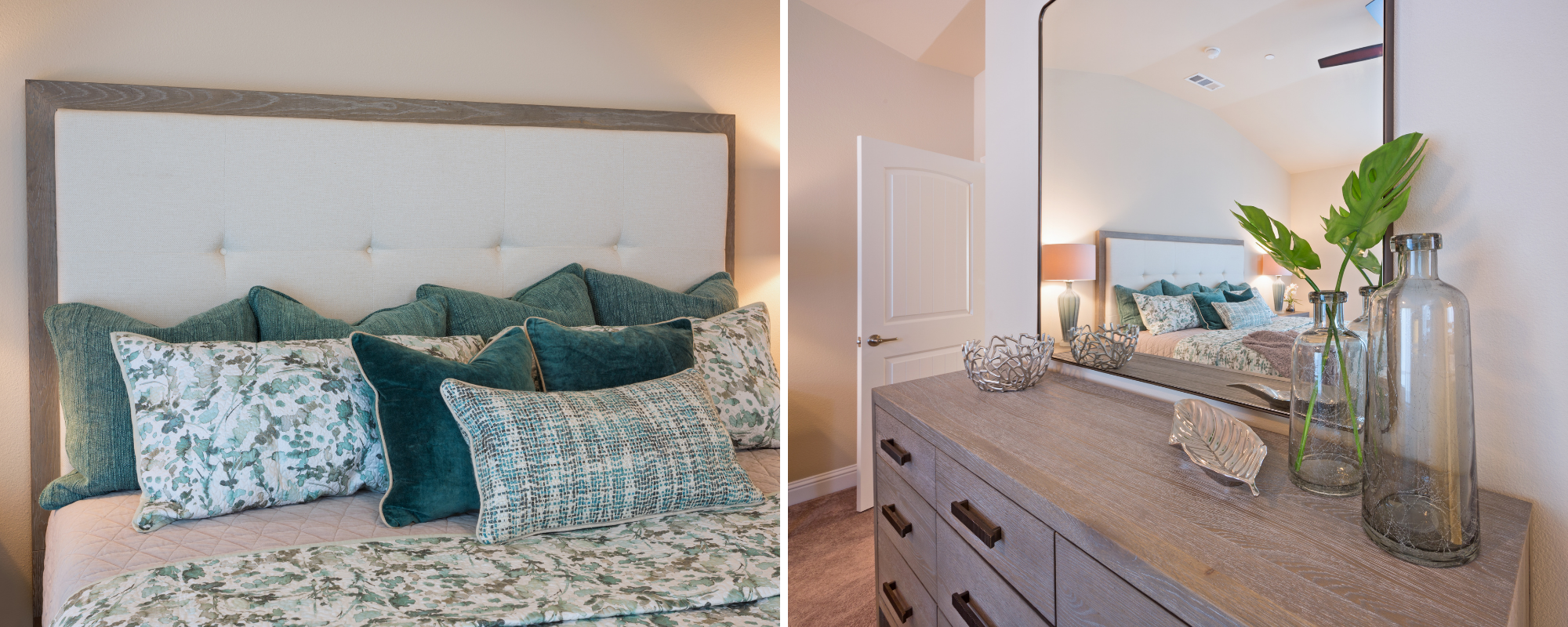 Favorite Feature: The understated luxury of the upholstered headboard is effortlessly casual and timeless, making it the perfect focal point for this cozy, nature-inspired bedroom. The contrasting yet complementing elements of fabric and wood infuse the space with beautiful texture and dimension.
Design Tip: Invest in a high-quality mattress. A bedroom may be beautiful to look at, but trust me — that won't matter one bit if your mattress is uncomfortable. Without a doubt, your mattress is the best investment you can make in your bedroom.
Looking for a mattress that promotes restful sleep? My entire staff and I swear by Sattva handcrafted mattresses (which you can personally try in our Shoppe). We always test our products before making recommendations, and I can genuinely say we have all experienced the best rest on this state-of-the-art mattress.
Bedroom #3. Unique, Multi-Functional Refuge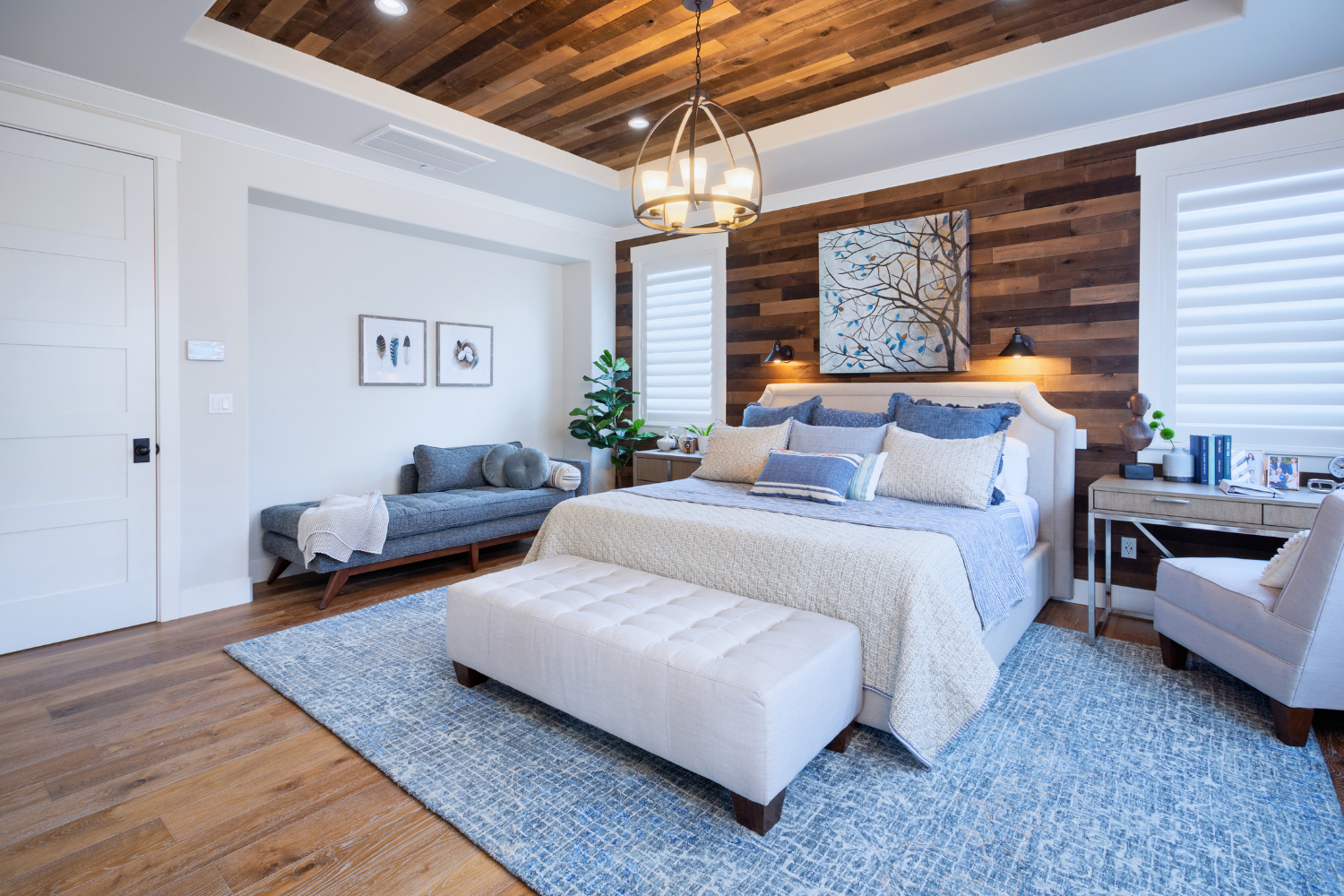 Goals & Inspiration: After moving into a bigger home in Vera Ripon, this large family decided that designing and furnishing the master bedroom was the first room on their list — they needed a place to sleep! Although the couple didn't care for the wood-paneled wall, they did not want the expense and time commitment of retexturing it, so we made it work with the design and it turned out incredible.
With four small children, at least one ended up in Mom and Dad's room each night. Not ones to compromise on sleep, we selected a comfortable settee that could double as a child's bed. In addition, mom's daily journaling routine made the desk a necessity, turning this room into a practical, multi-functional space.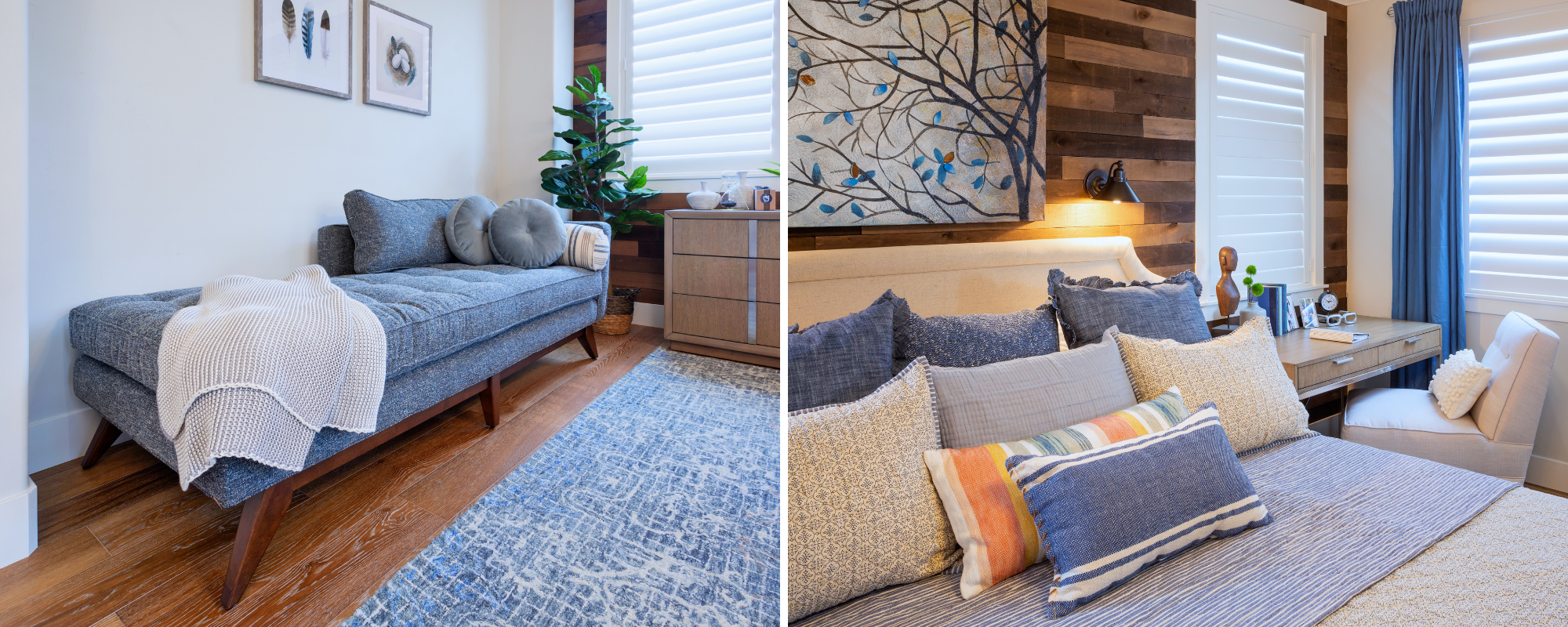 Favorite Feature: While the settee is intended to be used by the children, it is anything but childish. Perfectly nestled into the alcove, its deep blue upholstery stands out and enhances the bedroom's level of sophistication… and we love it.
Design Tip: Layer your lighting. I've said this so many times, and I'll continue to repeat it – balanced lighting will set the desired ambiance, so don't limit your options. Along with bedside tables, consider reading sconces, recessed lights, and chandeliers…and don't forget the dimmers! The ability to set the mood as you prepare for sleep is a necessity in any bedroom.
Bonus Tip: Take note of the natural light to determine the type of window coverings you'll need. If it's necessary to block some sunlight, I suggest black-out roller shades with soft drapery or simple Roman shades with black-out lining.
Make the Most of Your Bedroom Design
Take it from us, having a room designed just for you and your own enjoyment is incredibly fulfilling. It can be a place where you feel refreshed after a long day, a peaceful sanctuary where relaxation is effortless. That's what we want for you.
Are you ready to transform your bedroom into a beautiful space that calms and comforts you? Book a Discovery Call, and let's discuss your goals.
Until next time,