Don't Judge a Cabinet By Its Cover (& Other Things You Need to Know
When you think about starting a kitchen renovation, your mind probably wanders to gorgeous stone countertops, state-of-the-art appliances, island seating…the big stuff. Today, however, I'd like to discuss the real workhorse in a kitchen: the cabinets.
Surprised? Here's why…
Whenever I first talk with my clients about their kitchen, I ask them what they love and what could be better. The resounding response is more storage. After all, ample and functional storage is what keeps your countertops clear, items easily accessible, and mealtimes or gatherings flowing smoothly. I firmly believe that no matter how beautiful a new kitchen looks, if it does not function well, you will end up hating it just as much as your old kitchen!
This is why taking the time to focus on the inside of the cabinet is arguably more important than style. (Though style is still important.) Focusing on what's behind those doors ensures that you're investing in a kitchen that will work hard for you every single day.
Today, I want to share 9 great ways to design kitchen cabinets for your lifestyle, while using one of our latest projects to illustrate.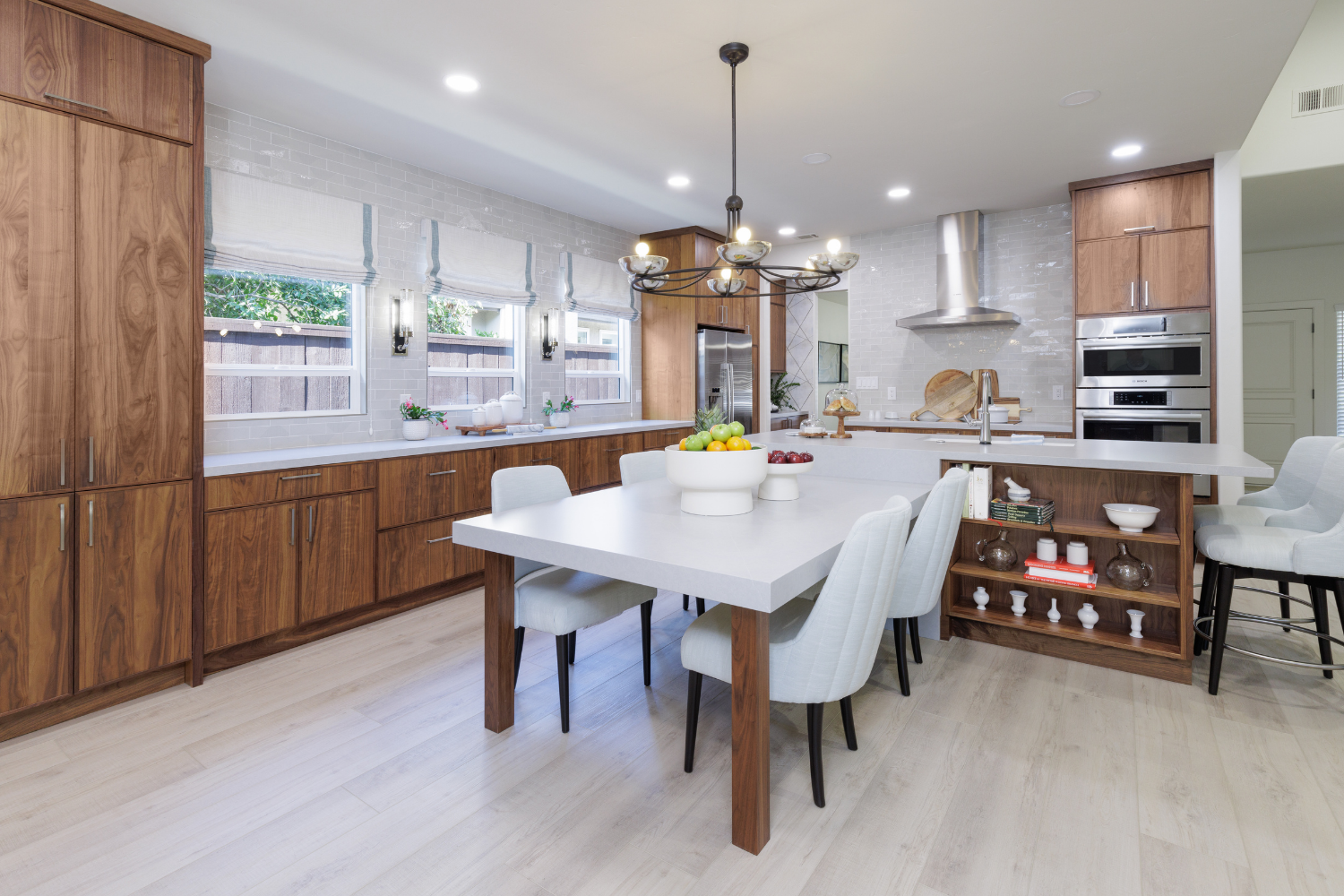 Meet Jon & His New Custom Kitchen
When I first toured Jon's home, everything was in pristine condition. Yes, you read that correctly. Although the style was a bit outdated, his meticulous care had kept his home looking brand new. Frankly, I was surprised that he had called us. When I asked Jon why he needed a remodel, he confessed that his #1 goal wasn't about style — he wanted the space to work better for his lifestyle.
Of course, as soon as he said this, my creative wheels started turning! I knew right away that he would appreciate custom cabinets and amenities that add up to everyday ease and enjoyment. The first order of business? Make a plan.
Creating a kitchen cabinet plan — the layout, the features, the dimensions, etc. — is an incredibly intricate task. We consider the how first and foremost. For example, how do you cook your meals? Who is involved in food prep? And where do you generally store items? Unique to each client, this information determines what the kitchen needs to function well.
We went through this process with Jon, created the perfect plan (we could see the excitement on his face!), and brought it all to life. I'll let you imagine the construction process and skip right to the amenities we chose. Here's what Jon's kitchen looks like now…
1. Spacious Pantry Storage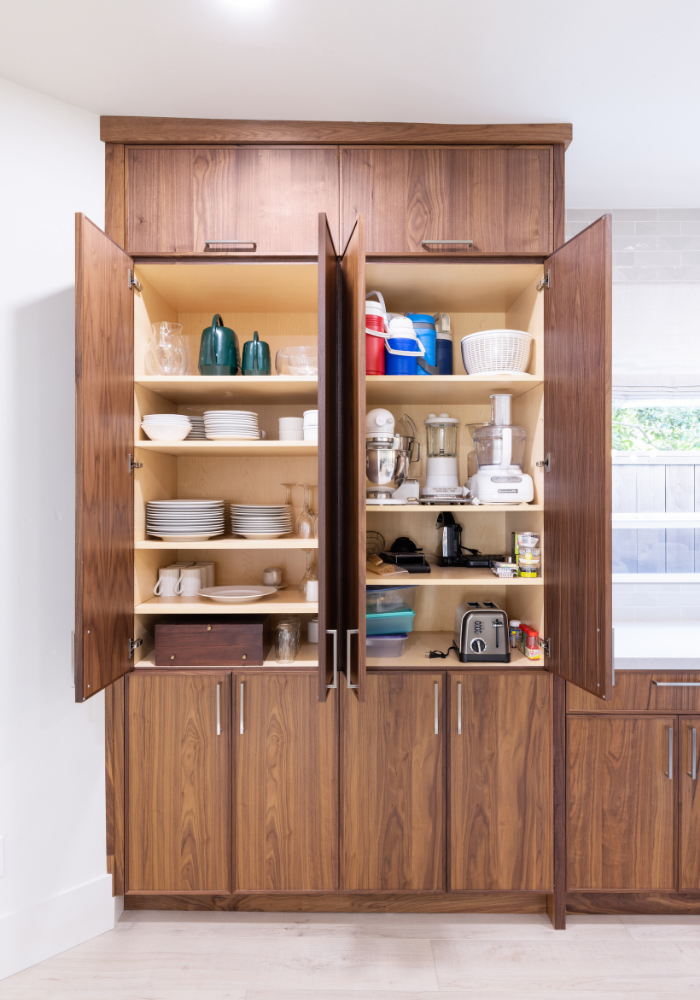 We designed this spacious pantry storage for the small appliances and equipment Jon uses most often, such as his blender, toaster, food processor, salad spinner, and more. He no longer has to give away precious counter space to these items or forget about them in the backs of drawers. It's clean, organized, and ready to be used at a moment's notice.
2. Pot Drawer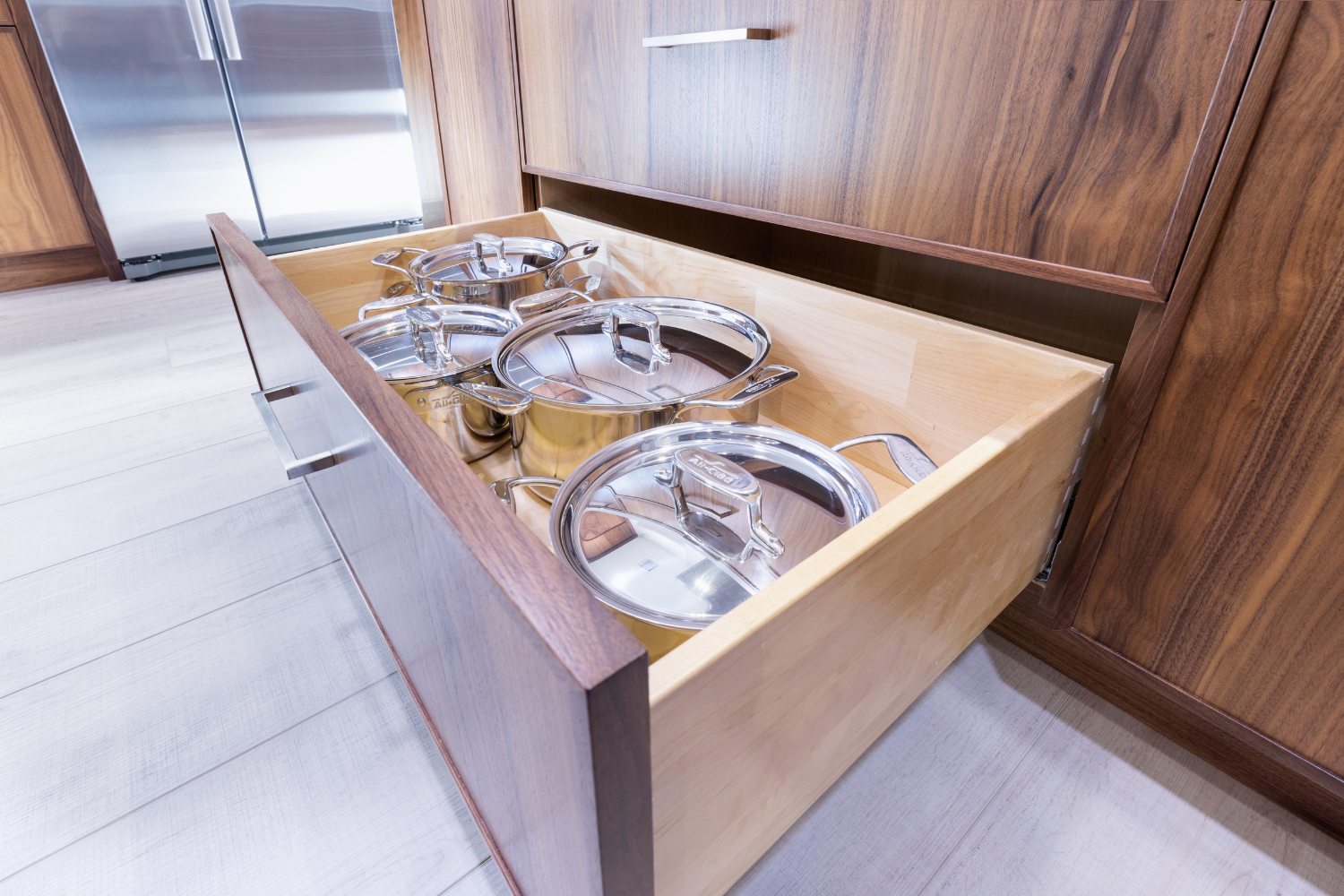 Not everyone has the room for a tall pantry, but everyone will have base cabinets. We recommend maximizing your lower storage to the fullest, as this is where the most heavy-duty storage occurs. We created deep base cabinets for Jon to hold his largest items, like this pot drawer. He can easily see and conveniently access every single pot, pan, and lid…no searching required.
3. Dish Drawer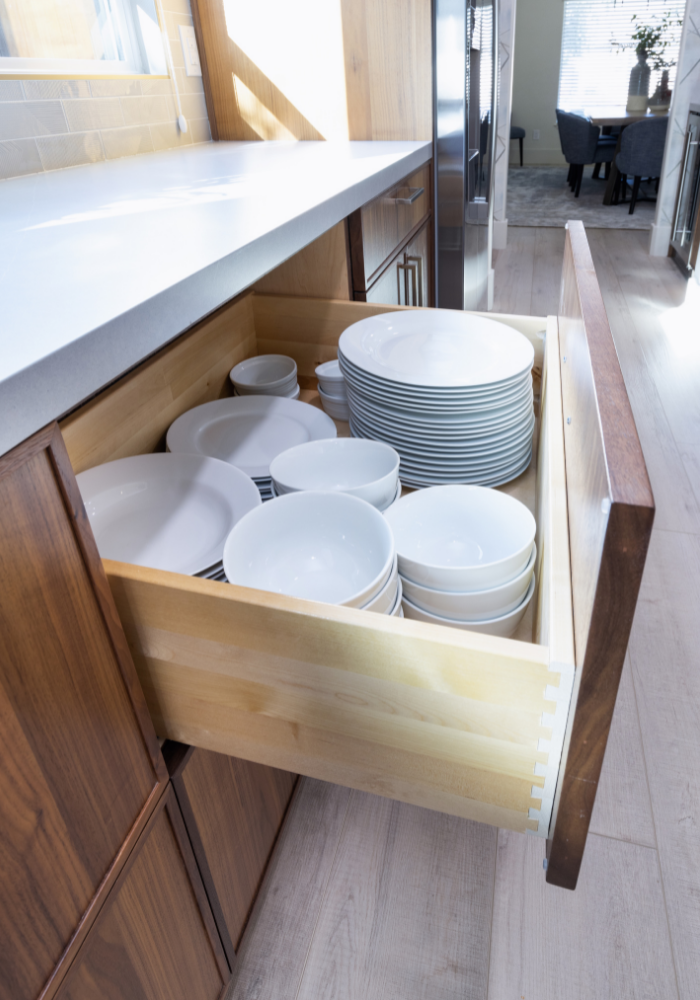 Most of us grew up with plates and dishes stored in wall cabinets, but relocating them to a dish drawer means no more straining to reach that heavy stack of plates. As an added bonus, having dishes at a low, child-friendly height encourages little ones to be more involved with tasks like setting the table and unloading the dishwasher. Even better — put your dish drawer right next to the dishwasher for convenience.
4. Trash Container Pull Out
An ugly garbage can in a kitchen is an unnecessary eyesore, not to mention the odor it can add to the space. Instead, we opted for the convenience of trash and recycling all in one place, neatly tucked away in a cabinet. Always a great choice.
5. Easy Access Spice Drawer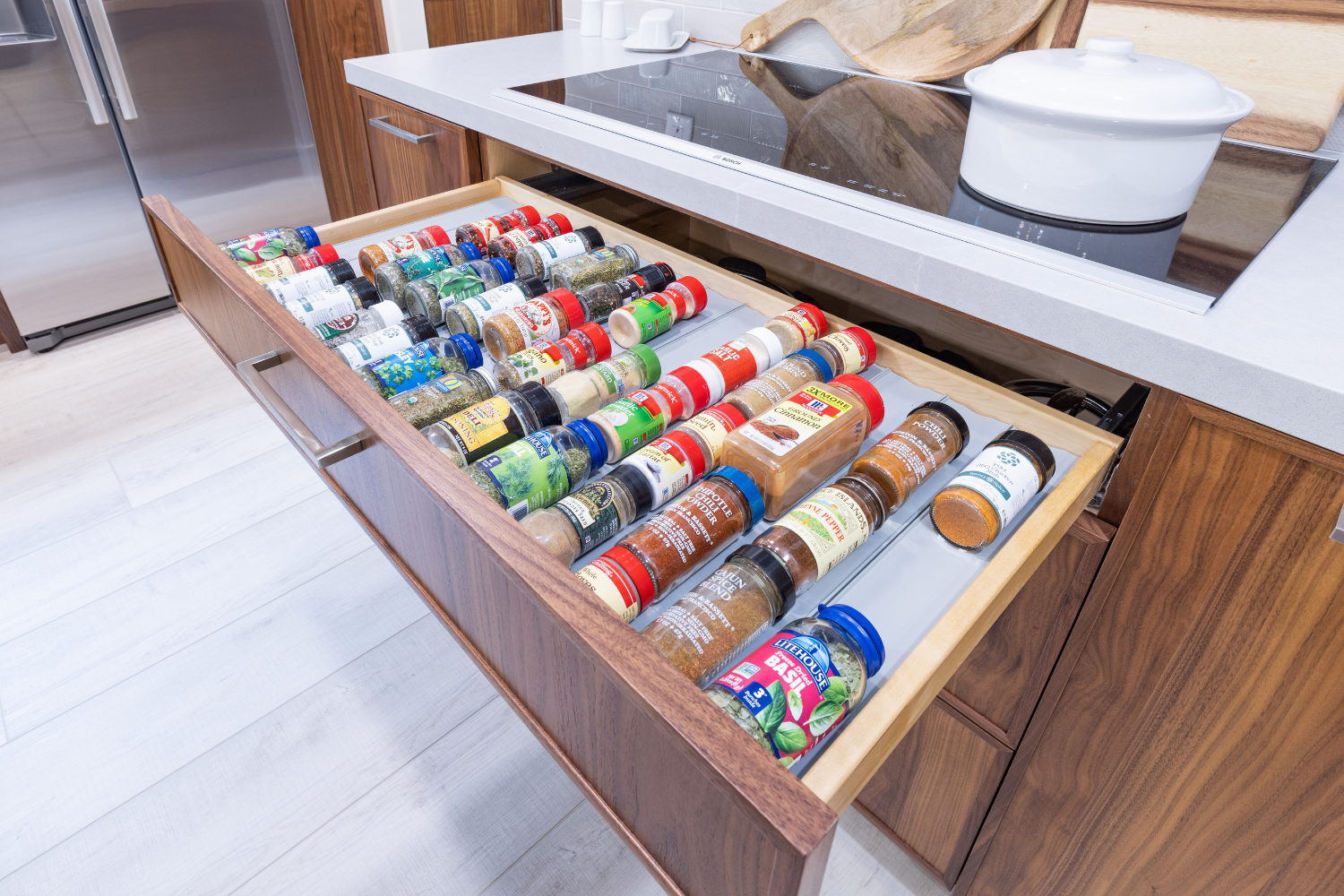 Jon is an avid cook, so keeping his spices within easy reach was essential. We installed this spice drawer right under the cooktop. This feature makes it easy to see all of the labels at a glance, so you're never again grabbing cinnamon instead of cumin or blindly feeling around for that lost jar of thyme in the back of a cabinet. You could even take it a step further by purchasing matching containers and making your own labeling system.
6. Paper Towel Pull Out
Rather than taking up valuable countertop space or under cabinet storage, a paper towel pull-out offers both a sturdy dowel to hold the roll as well as storage below for all other paper goods or cleaning supplies used in kitchens. Sounds simple, but it adds ease to clean-up, and who doesn't want that?
7. Utensil Pull Out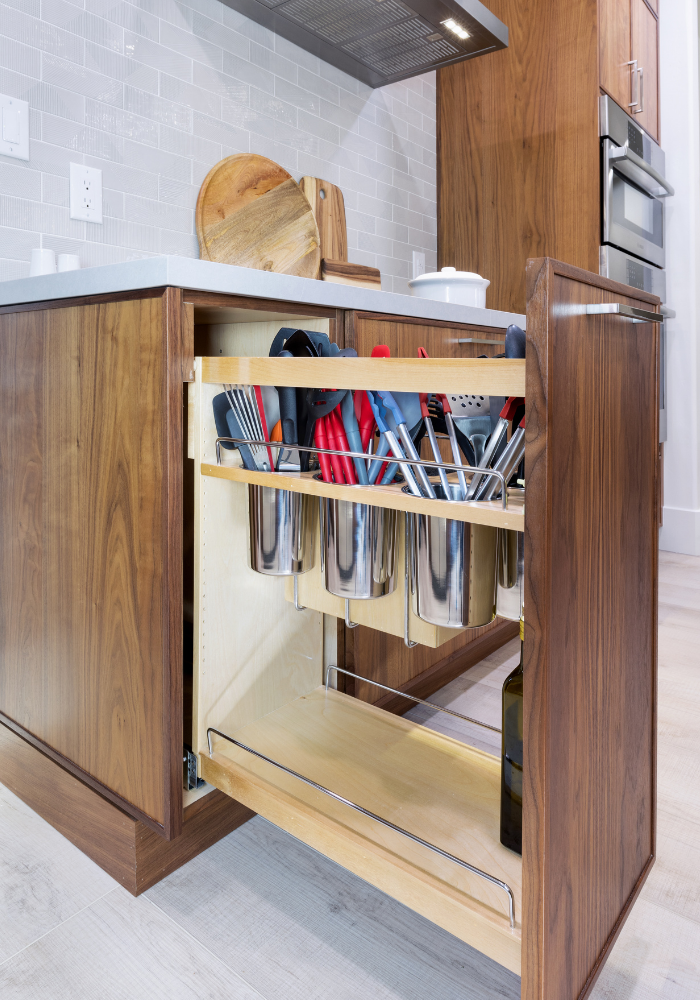 If you cook at home, you will want that spatula or big spoon readily accessible when you're in the thick of it at the stove. The usual go-to — clunky countertop bins — can cause clutter that can become more irritating than helpful. A utensil pull-out keeps the countertops neat while maintaining the convenience of keeping those cooking tools close.
8. Blind Corner Lazy Susan
Any kitchen that has a 90-degree angle will have a blind corner, and I think we have all experienced the inconvenience that comes with it. Lost items. Strained knees. You get the picture. Converting that corner into a functional lazy susan gives you instant access to whatever is inside, along with a good deal of additional and practical storage. I always recommend this for corners!
9. Tray Dividers for the Highest Cabinets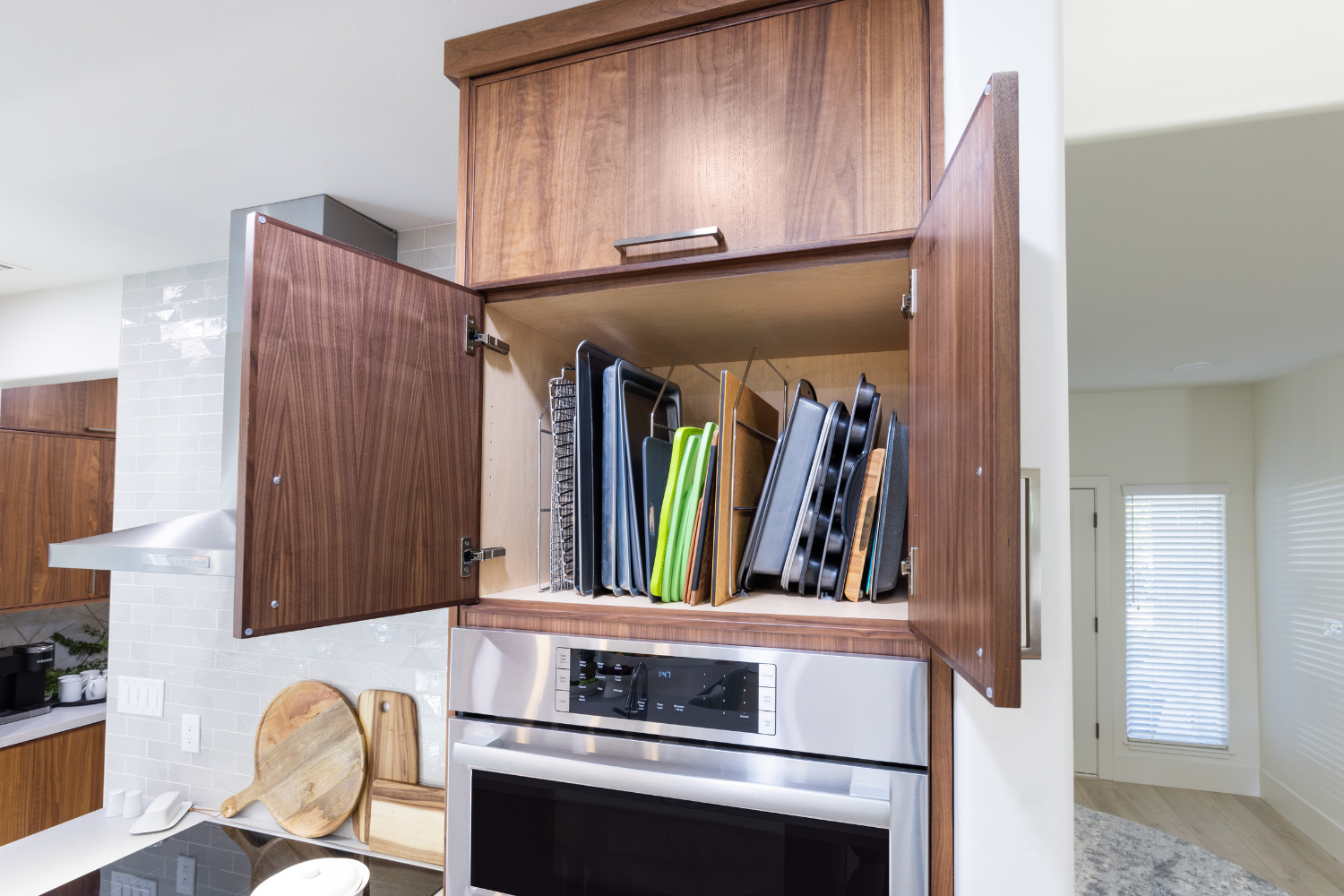 Another experience I think we have all had? That good-for-nothing cabinet that is way too high to reach. Fortunately, there's a solution these days. Rather than getting a stepstool and pulling items out one by one to find what you need, transform this cabinet with a tray divider. Now, that hidden space becomes perfect for cutting boards, baking sheets, and easy to reach items that can be stored vertically. This is exactly what we installed for Jon, and he loves it.
Final Reveal: A Kitchen that Works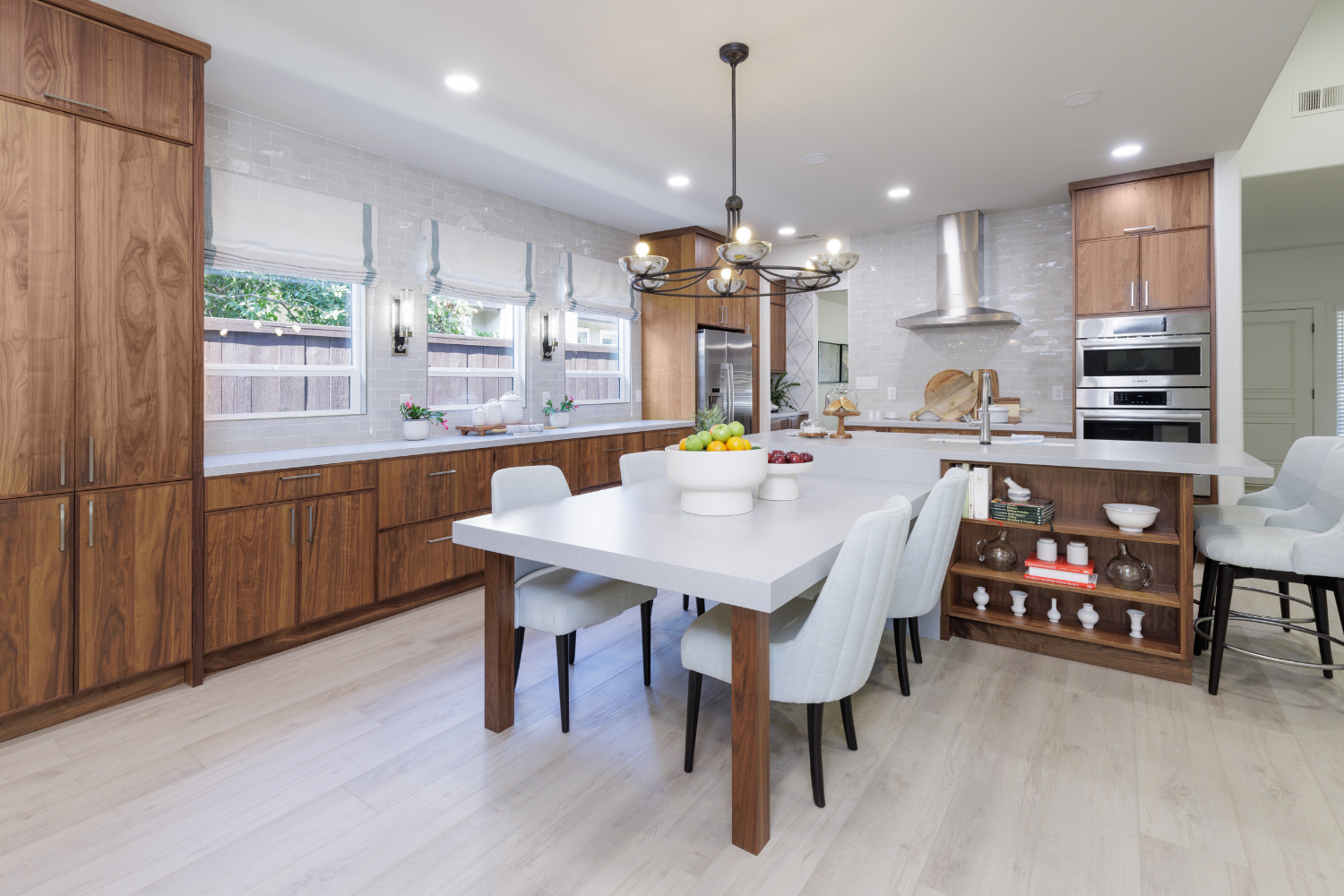 We've all heard the phrase, don't judge a book by its cover, but I firmly believe the same can be said for kitchen cabinets. Of course, they should look beautiful on the outside, but it's what's on the inside that really counts.
Case in point? After the renovation was complete, our team returned to Jon's home to prepare for the photoshoot. I was just tickled to see that Jon had already purchased new pots, pans, dishware, cutlery, and small appliances. They were all neatly organized and stowed away in their designated places — just as we had planned!
At the end of the day, Jon got exactly what he had hoped from his renovation: a well-planned and functional kitchen that enhances his lifestyle and makes everyday living easier. And isn't that what it's all about?
If you're ready to make your kitchen work for you, we'd love to help. Reach out to us, and let's discuss your renovation goals.
Until next time,