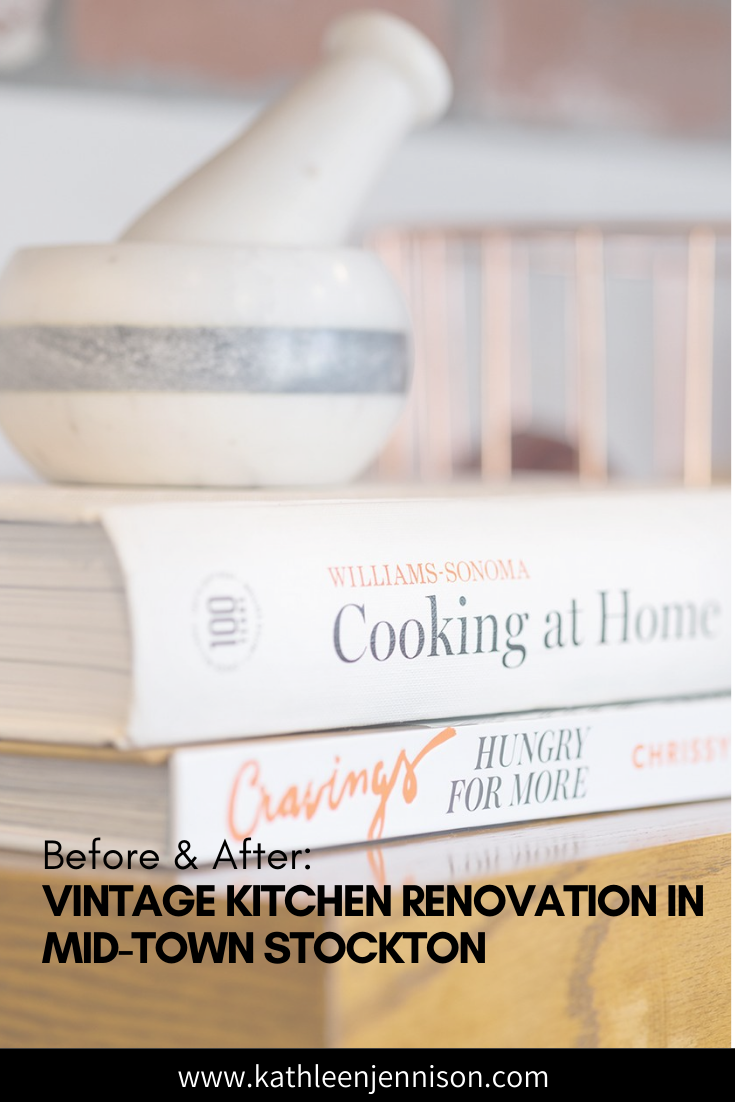 Last year we remodeled the bathroom for Cameron and Hannah in their 1926 bungalow in Midtown Stockton, and this year they asked us back to renovate their tiny kitchen.
A Trendy Stockton Couple
We adore this young, vibrant millennial couple. Cameron has a quick wit and makes me laugh. Hannah is inquisitive and wants to know all the nitty-gritty details (a trait I share).
This project and client were like no other. We worked on both projects during the pandemic (a challenge in and of itself), and halfway through the kitchen remodel, they shared that they were expecting a baby! They were such troopers through the whole process and delays. I am grateful to be a small part of their exciting life.
Besides admiring their lifestyle and character, the next best thing I love about Cameron and Hannah is that they like bold and colorful.
They were willing to take risks and trusted our judgment when we suggested bold cobalt blue cabinets in the kitchen, alpine green cabinets in the new office, and highly patterned tile for the flooring.
Design Goals & Challenges
Goals
Cameron and Hannah's goal was to create a new modern kitchen but maintain the vintage character of their charming 1926 bungalow.
They also had a primary goal to open their tiny 80 square foot kitchen. That meant knocking out a wall between the existing kitchen and small office to gain another 87 square feet.
Since Cameron works from home, we needed a home office, so we borrowed the kitchen nook area (that was so separated from the kitchen and didn't offer much) and turned it into the new home office.
Challenges
Lead times: The range and hood sat on a freighter in the Los Angeles harbor for over 6 weeks.
Flooring: We originally wanted to continue the wood flooring that was vintage in the rest of the house into the kitchen. But when we attempted to refinish all the wood floors, it painfully became apparent that the flooring had been refinished too many times over its 100-year life and had no more to give.
We decided to put ceramic encaustic style tile in the kitchen. This is one of those times I say we had a happy mistake because the tile floors look best.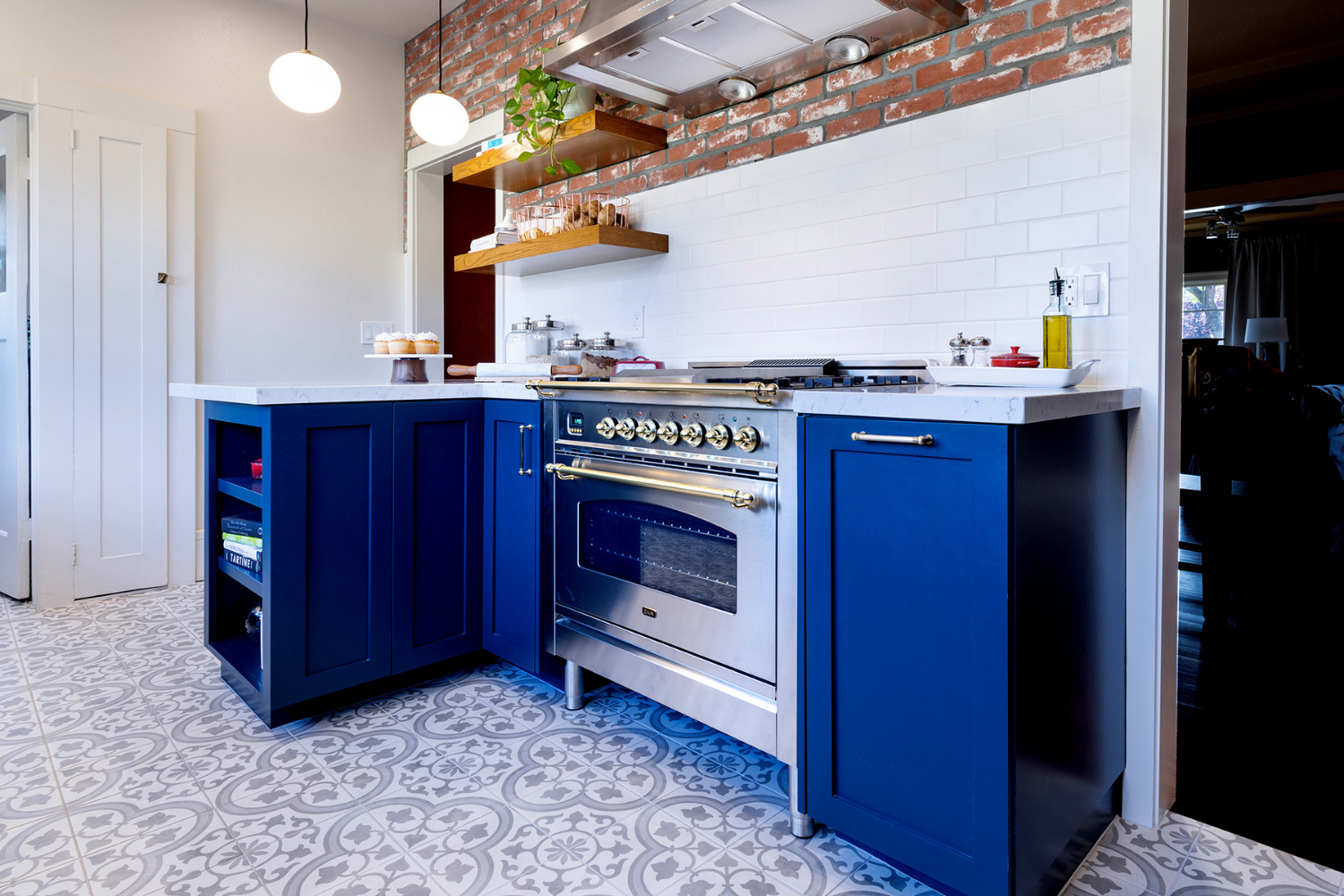 Wood Windows: We looked into replacing the wood windows with like-kind wood, but it was cost-prohibitive. Luckily, our contractor could refresh the old windows with a bit of scraping, putty, and elbow grease to bring them back to life.
We used two windows from the old office area and borrowed the window from the laundry room because it was the same size. Then we swapped out the old kitchen window into the laundry room. This wasn't the only time we got creative with salvaging the old.
Doors: As with all older homes, there were too many doors! We were able to take the door from the old office and use it as a new door into one of the bedrooms. Then we had a new door fabricated for the new office to match the existing doors, put a glass and gold knob on it, and viola, it looks like it is original.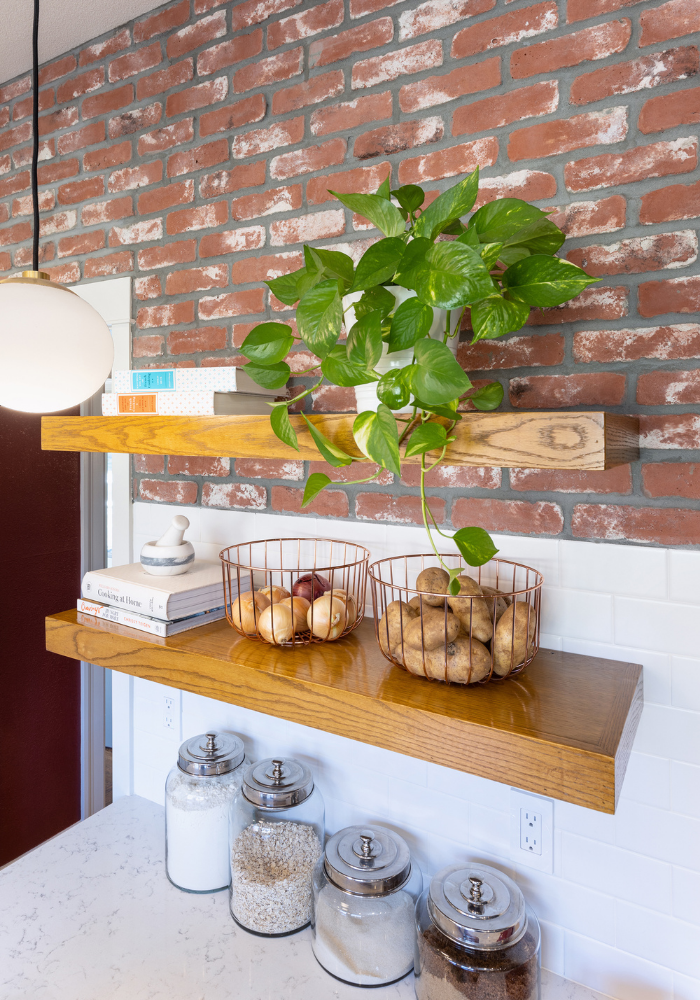 Crumbling brick chimney: In one of the corners of the old kitchen, there was a 1′ x 1′ bump out. On further investigation in the cellar, we discovered it was a chase for a non-functioning red brick chimney. Unfortunately, the fireplace it served was long gone, and in the meantime, it was a chase for plumbing, HVAC, and electrical conduit.
This is a huge building code violation. We had to demolish the old fireplace and re-work the ductwork and conduit. Hannah really wanted to use the old brick in the new kitchen design. Unfortunately, it was severely crumbling and couldn't be salvaged.
We decided to use a new red brick veneer on a section of one wall to bring in the character and charm of days gone by. It looks original. In fact, I've heard that their visitors have commented, "Oh, wonderful you were able to use the old brick."
Vintage Kitchen Renovation Revealed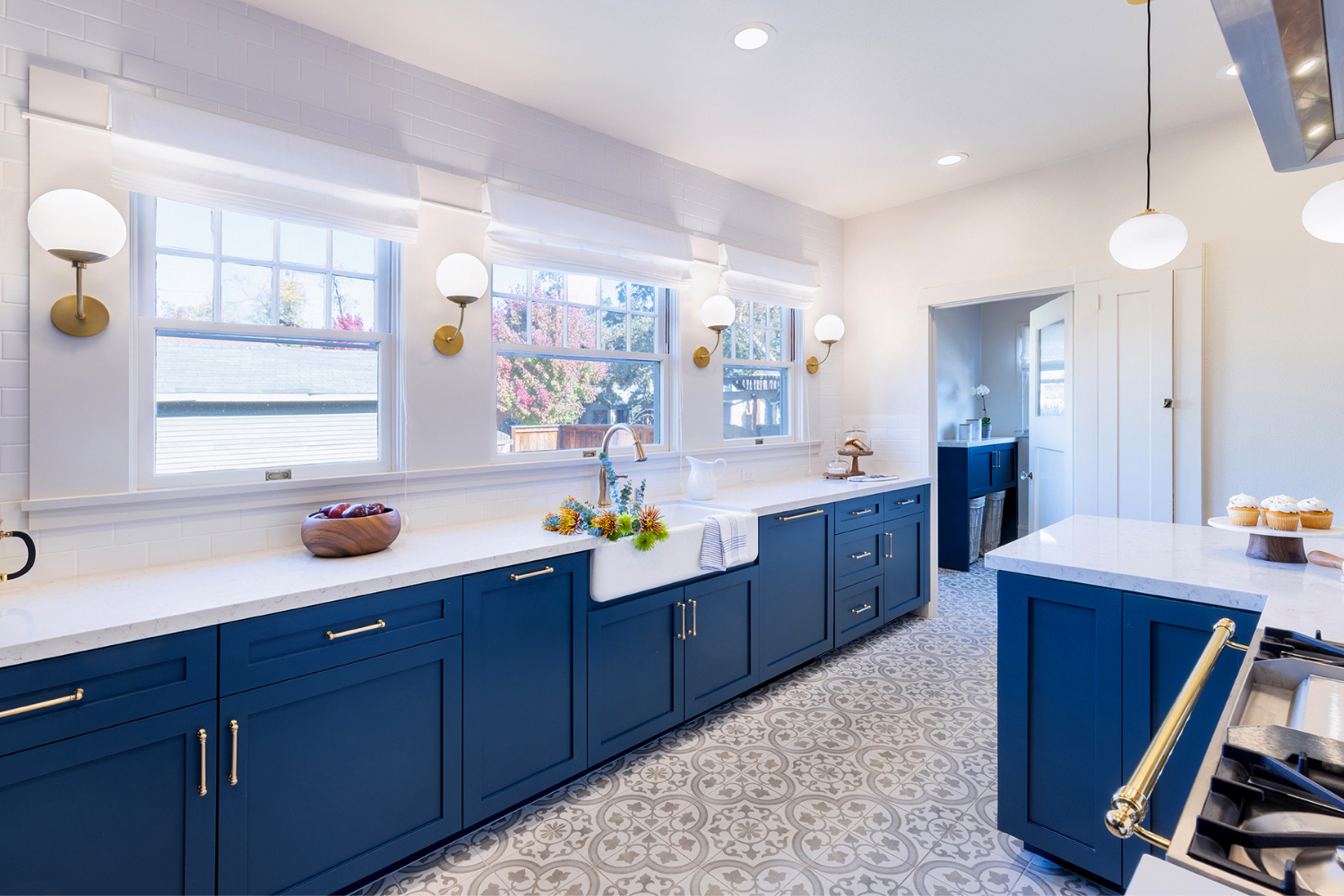 Isn't it stunning? Even though by today's standards this kitchen is small, it looks grand!
Blue shaker style cabinets, gold hardware and fixtures, red brick, classic white subway tile, white quartz countertops, old-world style range, and fanciful floor tiles are all the ingredients for a vintage kitchen with modern amenities for a young growing family who love to cook and entertain.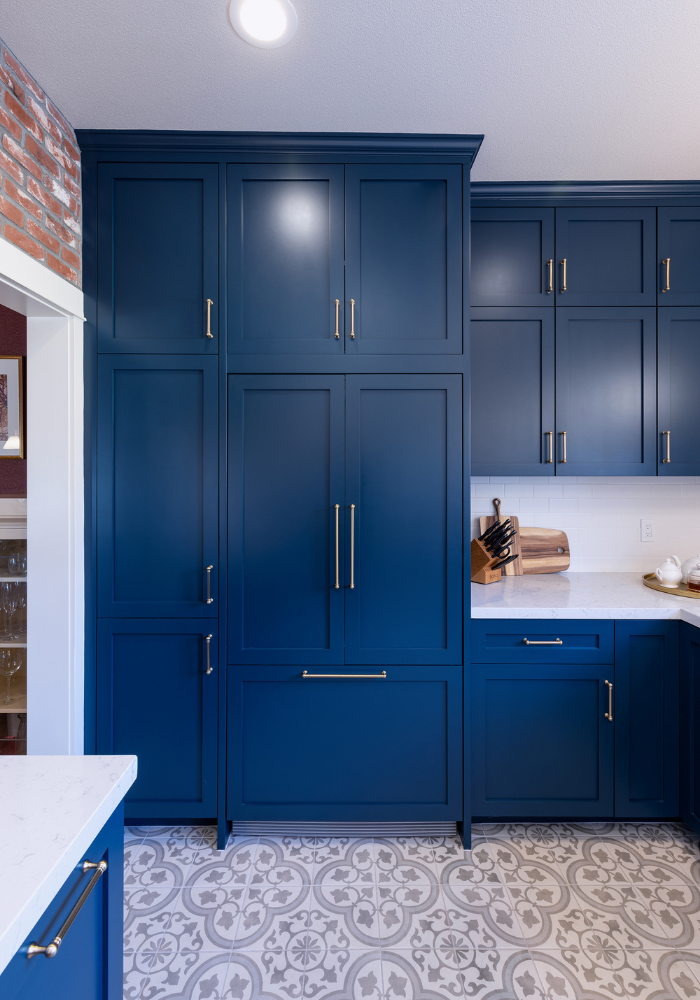 One way we accomplished this was with panel-ready appliances. By matching the appliances with the cabinets, your eye floats around the room without disruption.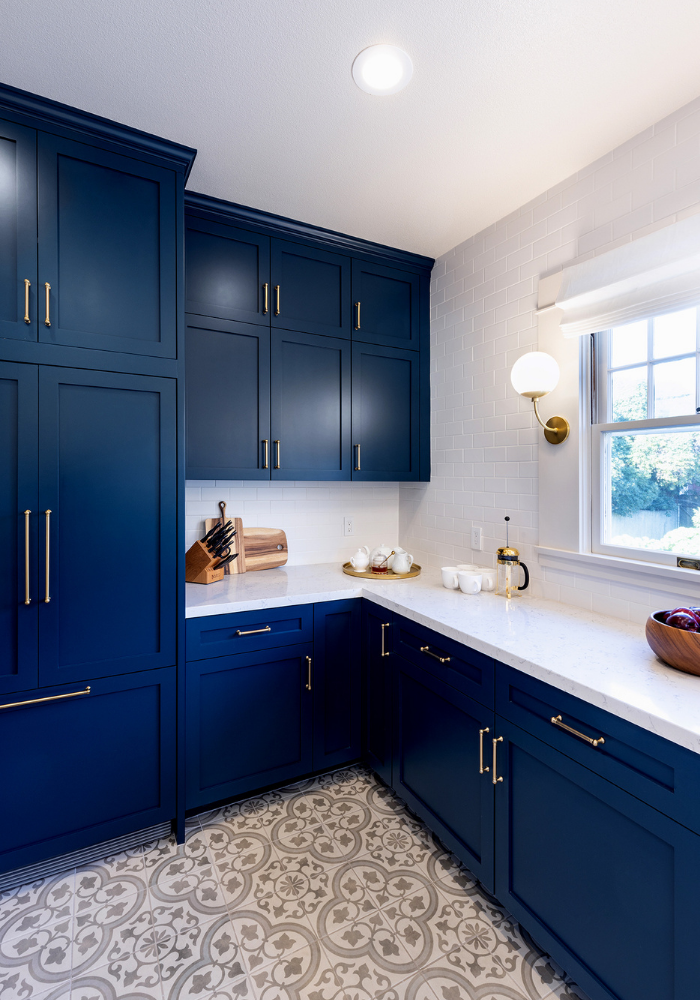 Another sleight of hand was putting subway tile up the window wall to the ceiling. This makes the 8′ ceilings feel higher. With the addition of three windows on this wall, natural daylight streams into the kitchen and floats into the dining room and living room.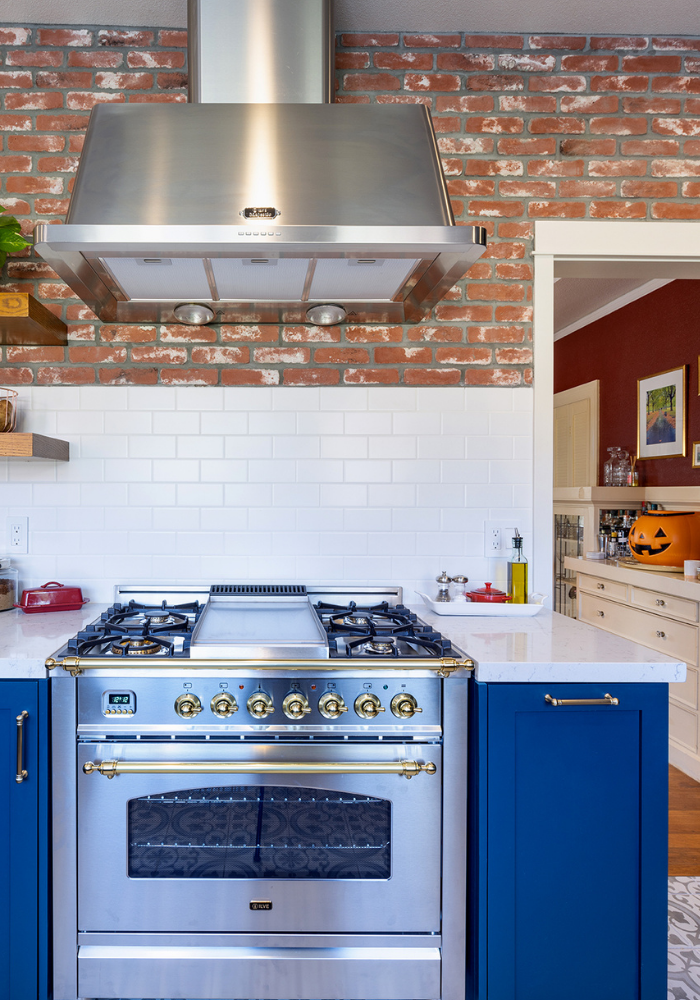 All the fun stuff happens on the range wall. A stylish vintage-looking range with gold hardware is elegant and unexpected. But with brick on the wall, the gem of a range is the true focal point.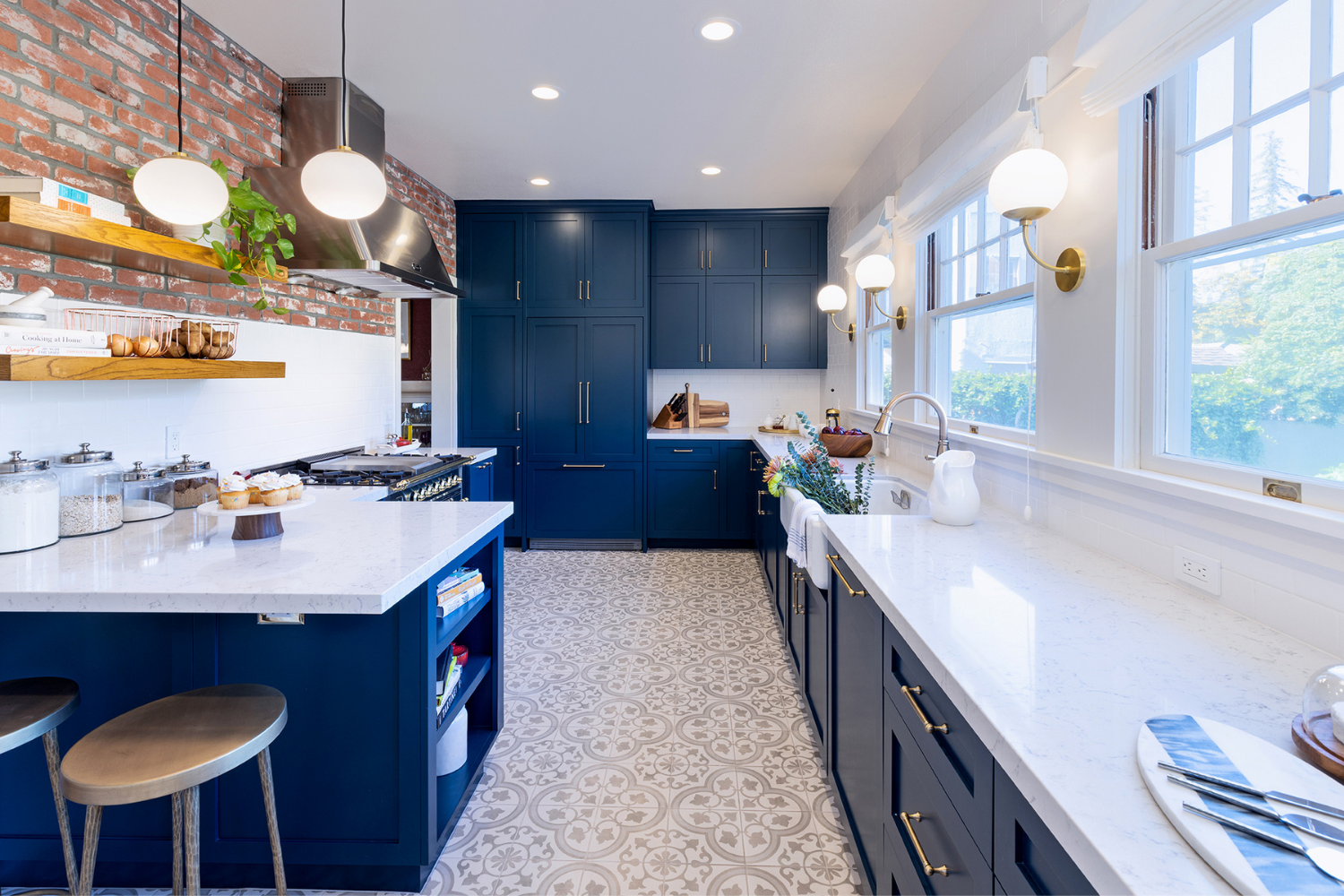 A few wood floating shelves bring in a wood element, and it is perfect for displaying knick-knacks. A small peninsula wraps around to offer counter seating.
The theme throughout the renovation was, "We have to finish before the baby arrives." As a result, all our subcontractors worked above and beyond to complete the project and minimize stress on our expecting mama.
We did finish before beautiful Eleanor arrived, except for the range. I outfitted our homeowners with a two-burner hot plate to get by, and it all worked out well in the end.
What's the Next Phase?
We have completed the bathroom renovation (Phase 1) and the kitchen/laundry/office renovations (Phase 2) for this lovely small bungalow in mid-town Stockton. It is such a charmer, and I absolutely love this home. I look forward to starting phase three when we upgrade the living room.
My wonderful clients have been so smart in investing in this historic home, and I couldn't be prouder. Tell me in the comments – what is your favorite part of this beautiful renovation.
Until next time,
Kathleen