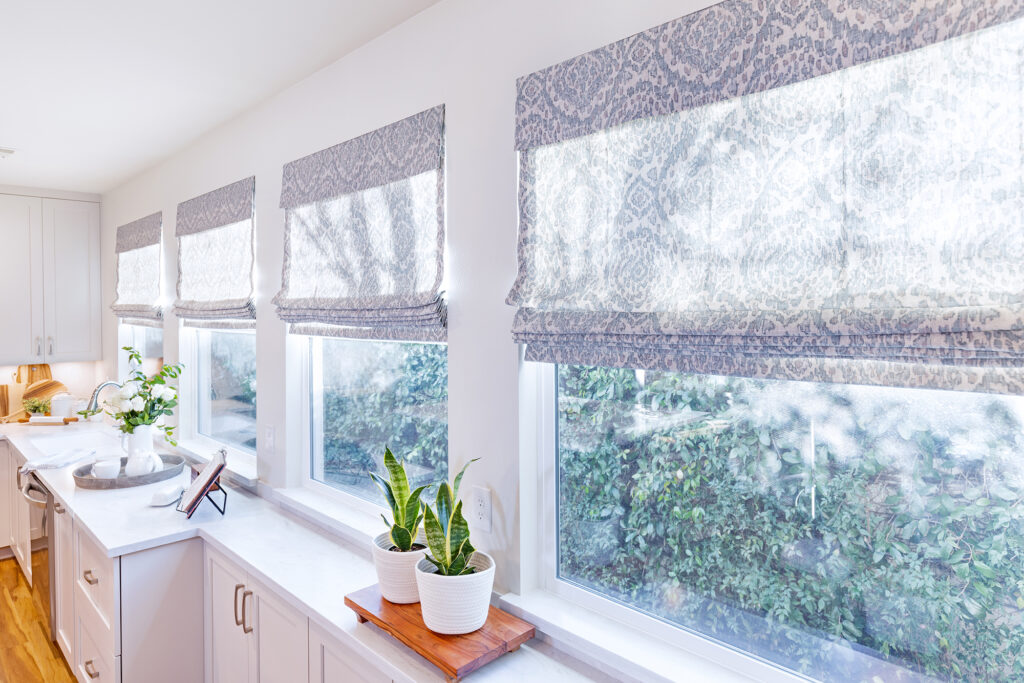 If you're in the market for a kitchen renovation, KTJ Design Co is the perfect choice! Our recent project is a beautiful example of how modern and functional can come together to create an inviting space perfect for cooking, baking, and entertaining.
Creating an Inviting Kitchen Renovation Perfect for Cooking and Entertaining
The clients wanted to turn their outdated kitchen into something more up-to-date while also taking into account the other rooms in their house that were adjacent to it. Working with our team of experienced professionals, they had a vision for how their perfect kitchen would look and function. The existing kitchen was dark, cramped, and difficult for the chef and baker of the family to work in at the same time. They wanted a bright open kitchen with loads of functionality for both their culinary talents.
Removing the Old Peninsula to Create an Island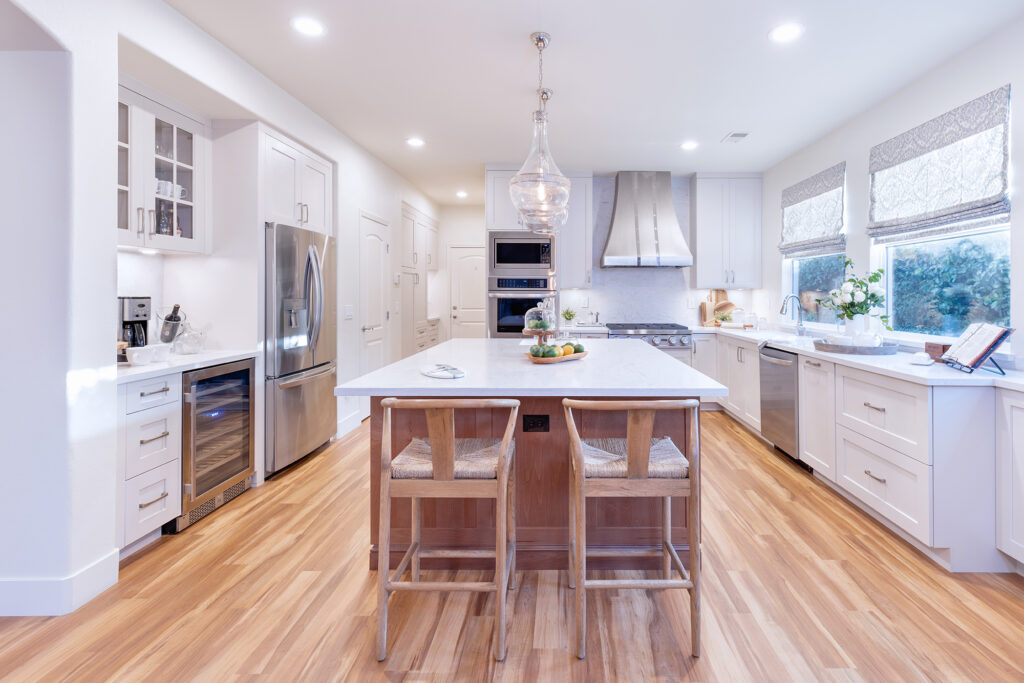 The kitchen renovation began by removing an existing peninsula to create an island with seating for baking with the grandkids. This opened up the space and allowed for better lighting throughout – something that was much needed in the dark existing kitchen. Four new windows were also installed to further brighten the area with natural light and create a magnificent focal point when walking in from the entry to the kitchen.
Custom Wood Cabinetry, Countertops & Backsplash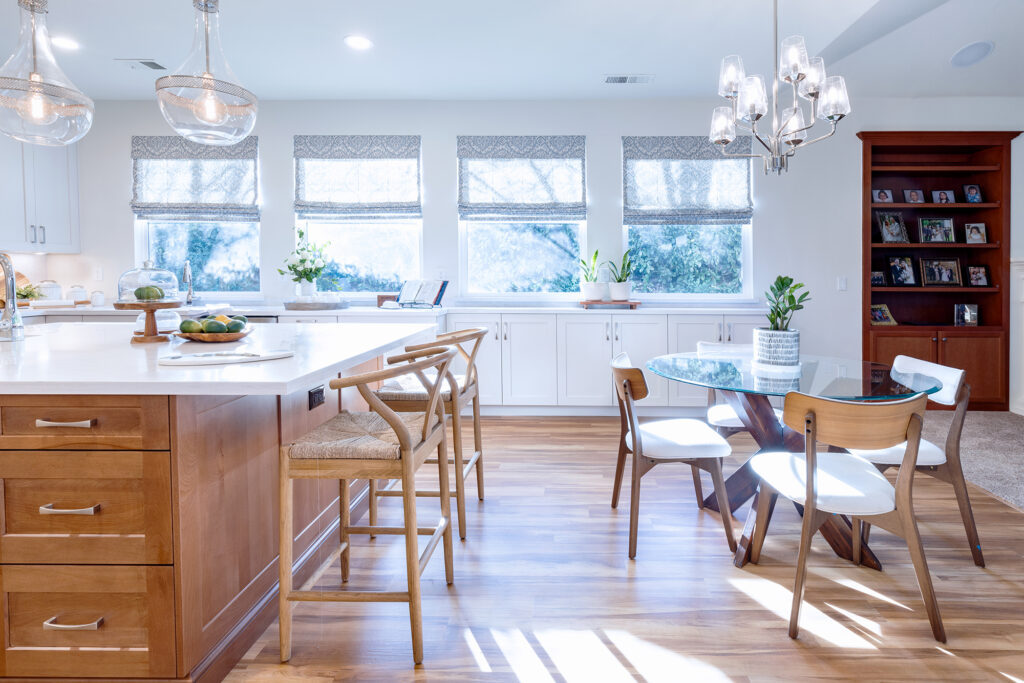 Our team then incorporated a beverage area for easy access to coffee or cocktails, while keeping their nook area with its existing table and chairs. To match the adjacent family room cabinetry, custom wood cabinetry was made with shaker style doors for the island. For the perimeter cabinets, a custom paint color was used. It is half-way between bright white and gray for a soft look and feel. The countertops, backsplash, and integrated sinks are all Corian solid surfaces to mimic the same material they have in their other house. They absolutely love Corian for its quality and ease of maintenance. Additionally, a prep sink was added to the island for little hands to help with cooking and baking.
An underused and not too functional storage closet at the garage entry was transformed. When entering from the garage, a drop zone was created as well as additional broom and linen storage. While keeping their existing walk-in pantry there is still plenty of storage.
Installing Luxury Vinyl Planks & Robust Appliances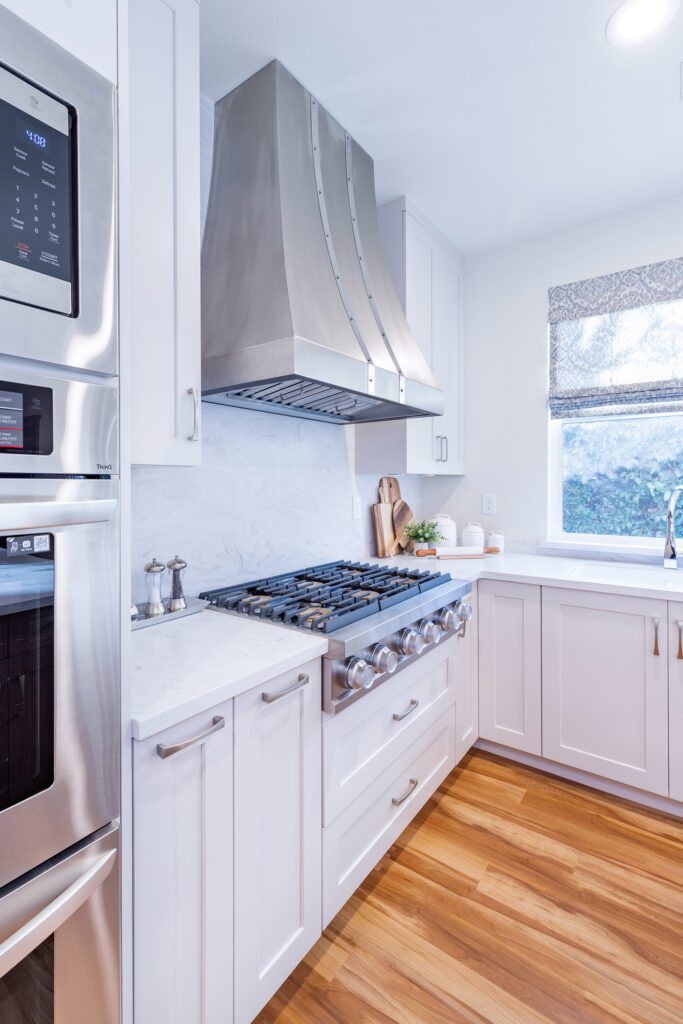 Luxury vinyl planks from Coretec Flooring were installed throughout the kitchen, entry and living room, leaving existing carpet in the adjacent family room. The Coretec material is soft, quiet, and will stand up to all their grandchildren and guests.
To make cooking more enjoyable for the client, who loves to cook, a robust gas Dacor rangetop was added. The clients selected their own appliances, including an LG double oven and microwave unit stacked upon each other for convenience – as both of them are tall. Lastly, a beautiful custom stainless steel hood by Stoll Industries was added to finish off the look!
Finishing Touches: Plumbing & Lighting Fixtures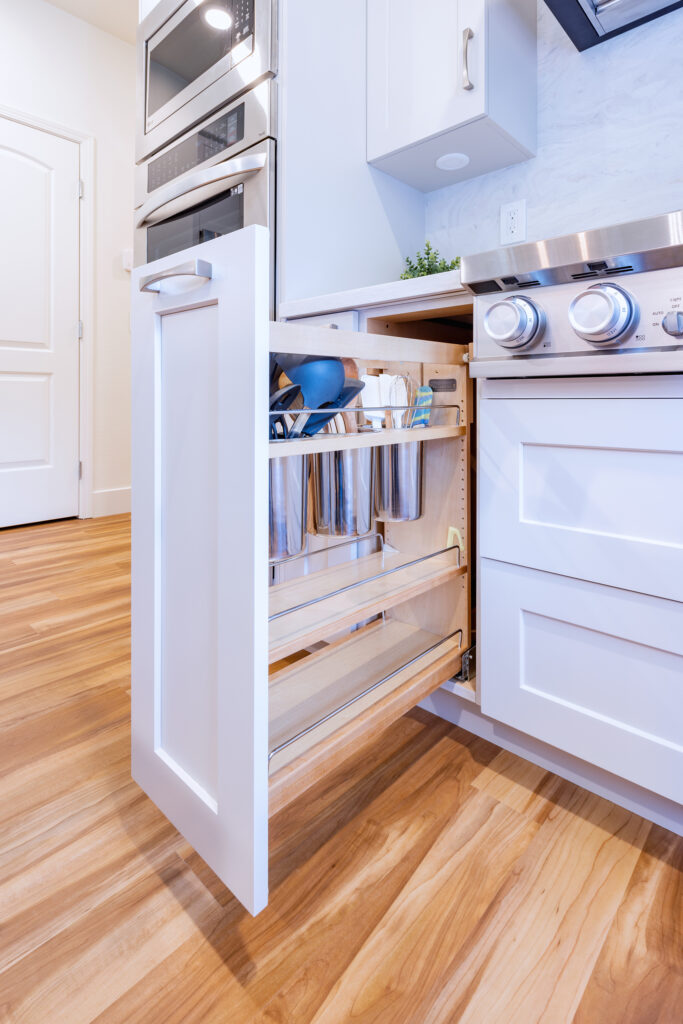 Attention to detail was also given to increase the opening going into the living room and dining room, while keeping the existing arch way into the space. Chrome plumbing and gorgeous oversized lighting fixtures were added for a modern look, as well as a touchless faucet by Delta Faucets. The cabinets included amenities built in for spices, cooking sheets, trash bins, pot drawers and dish drawers to even increase the functionality of their kitchen further.
The Outcome: A Beautiful Kitchen Perfect for Hosting Guests or Just Having Family Dinners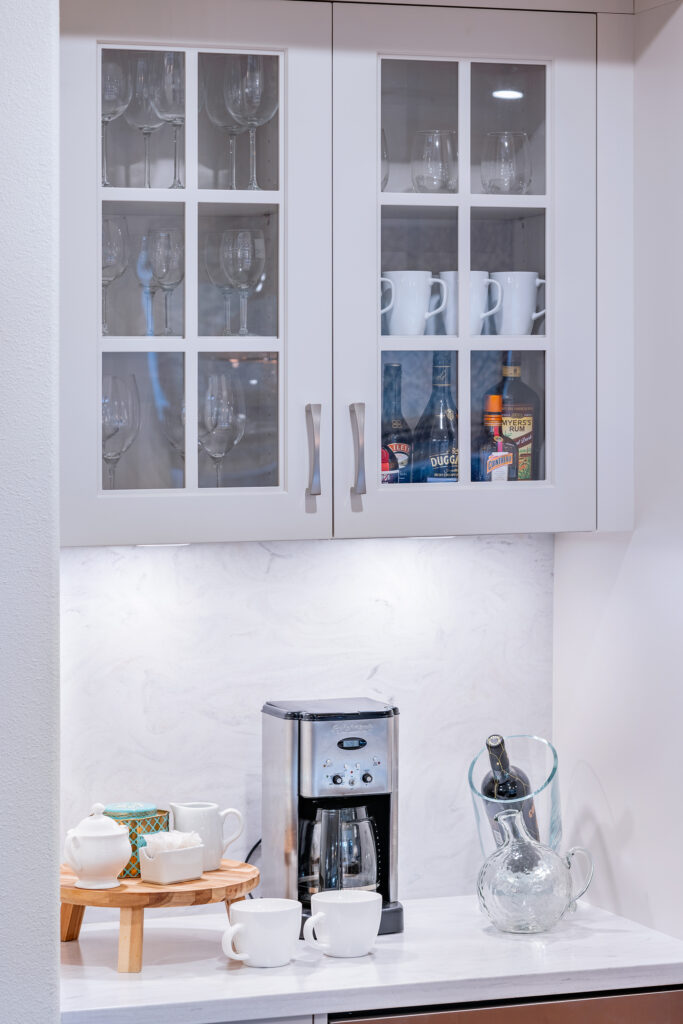 The outcome was nothing short of stunning – a kitchen that is welcoming and inviting, perfect for hosting guests or just having family dinners. The design and construction team at KTJ Design Co did an outstanding job of taking into consideration the clients' needs as well as their desired aesthetic.
Get Started on Your Dream Kitchen Today with KTJ Design Co!
If you're in the market for a custom kitchen renovation project of your own, then contact KTJ Design Co today! With their help, you can make your dream kitchen come to life – the perfect space for cooking, baking, and entertaining. Don't wait – contact KTJ Design Co today and start planning your dream kitchen!
Happy renovating!