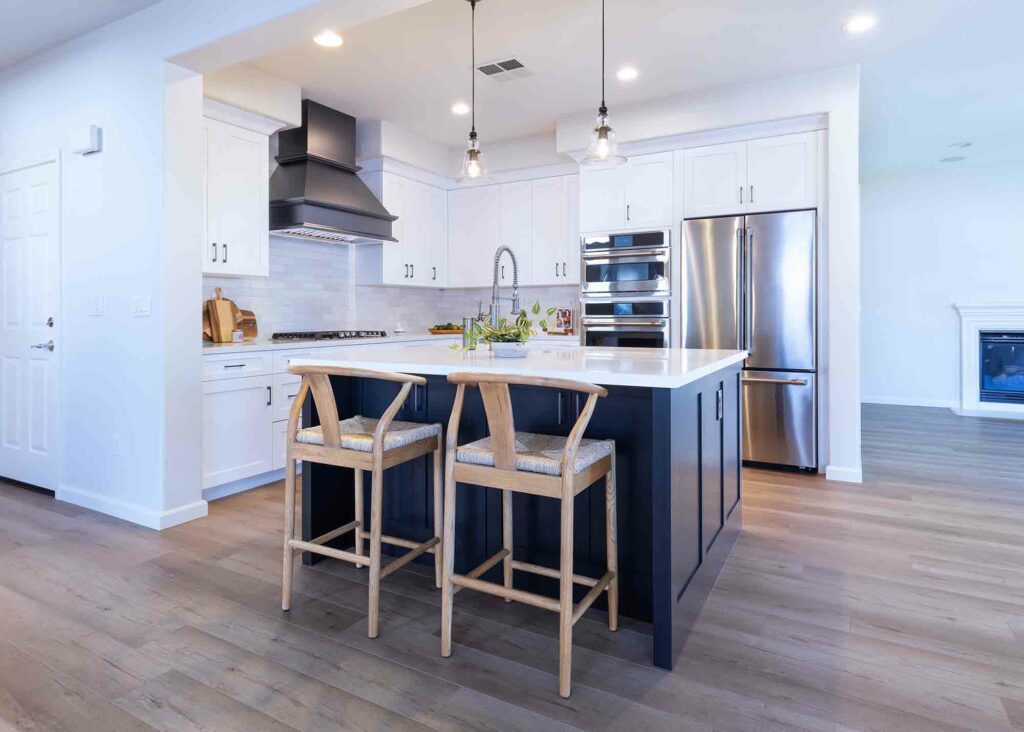 Welcome to the Elegant Contrasts Project, where we transform a dated kitchen into a modern and stylish space with just a few simple steps. You may be feeling daunted by the idea of renovating your old-fashioned kitchen. However, we have an ideal case study that will put you at ease. So, let's dive in and learn how to turn your kitchen into a dream come true! Let's begin with some useful tips and tricks to help you navigate this exciting project. Keep reading for more information on our successful transformation process.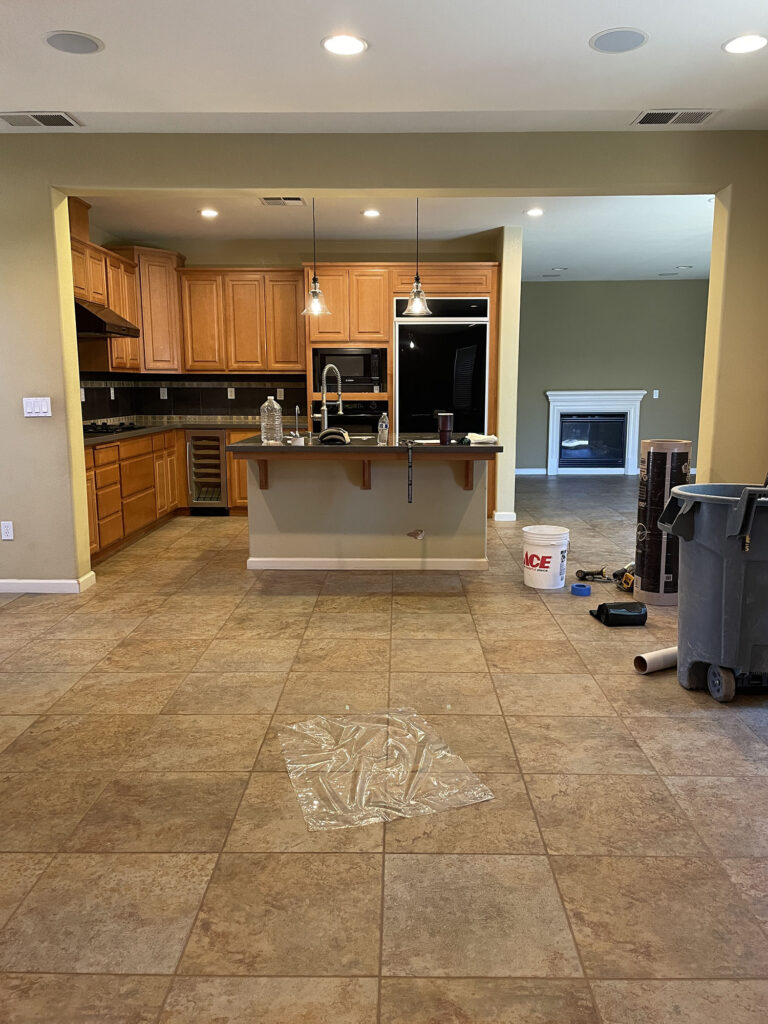 Our clients at the Elegant Contrasts Project were in the same boat as you. They had appliances breaking down and a dated layout that just didn't fit their needs anymore. After realizing that their new microwave couldn't even fit into their old cabinet cut out, they knew it was time for a change. And what better way to start fresh than with a complete kitchen remodel?
Updating the Finishes: Find out how this simple change added value to their home.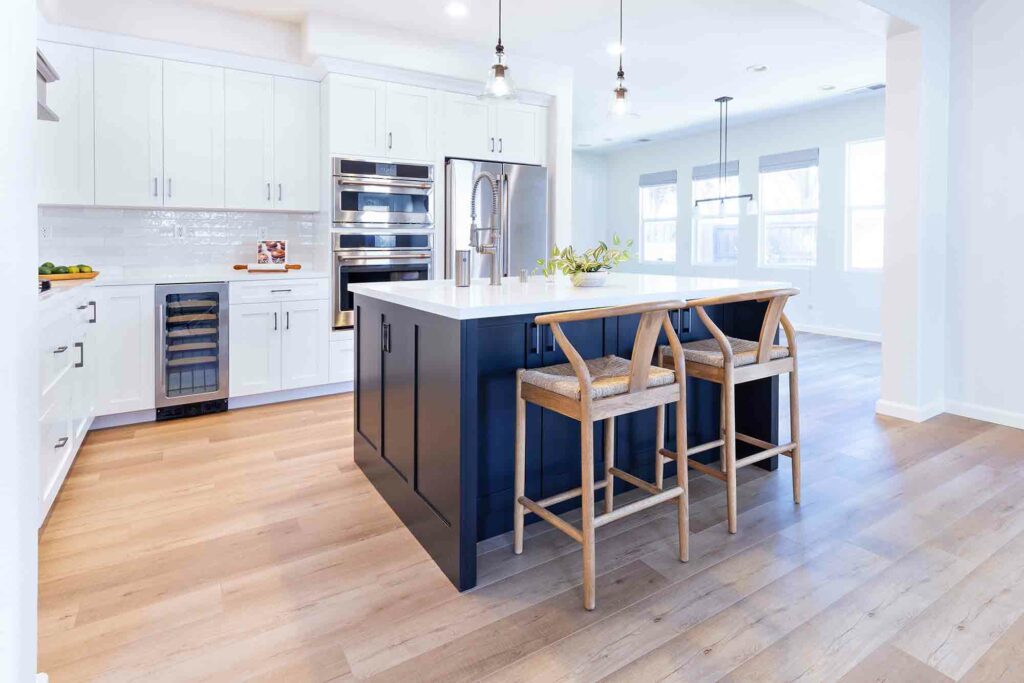 The first step in this project was to update the finishes. The old black granite countertops, backsplash, and builder-grade orange maple cabinets were replaced with sleek frameless cabinets and timeless quartz countertops. This not only modernized the space but also added value to their home.
One of our favorite elements in this remodel is the combination of black and white cabinetry. The hood and island are painted black while the perimeter cabinetry is a crisp white. This contrast adds visual interest and creates a classic yet contemporary look. Plus, it's perfect for any style preference.
To cut costs on cabinetry, new soffits were built at the perimeter of the kitchen instead of extending them all the way to the ceiling. Not only did this save money, but it also eliminated that pesky dust-collecting space above the cabinets. And let's be honest, no one wants to deal with that.
Playing with Contrasts: Discover how this kitchen remodel design choice can fit any style preference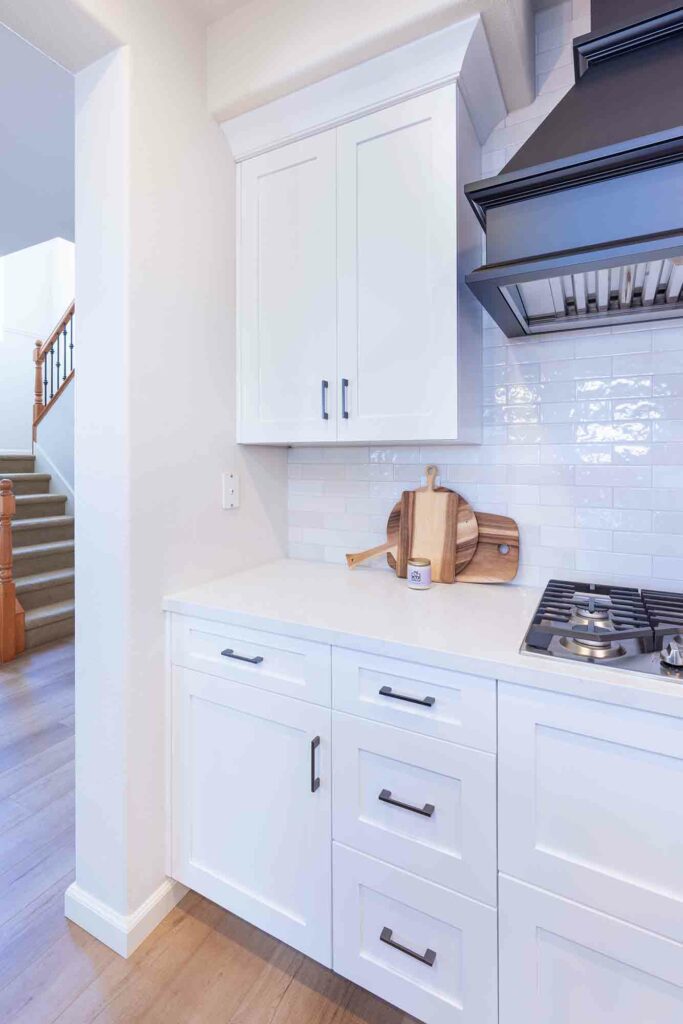 But the real showstopper in this kitchen is the new cabinetry-style chimney hood. Painted black and installed as a focal point above the stove, it adds a touch of elegance and sophistication to the space. We love how it ties in with the other black accents throughout the room.
Speaking of accents, new gunmetal hardware was installed on all of the cabinetry, giving it a subtle yet stylish update. It's often the little details that make all the difference.
Cost-Saving Measures: See how reusing existing appliances can benefit your budget.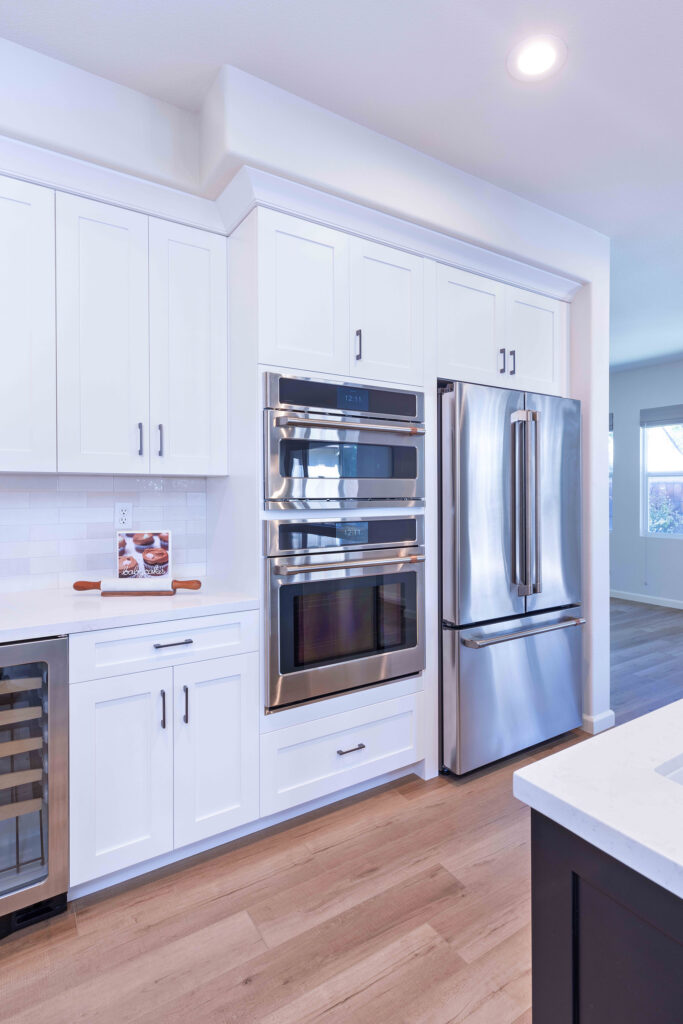 Another cost-saving measure in this remodel was reusing some existing appliances such as the wine refrigerator, dishwasher, faucets, and pendant lighting. These were all fairly new and in great condition, so it made sense to keep them and allocate the budget towards other areas of the project.
Adding Value through Flooring: Find out why new flooring was a major change in this remodel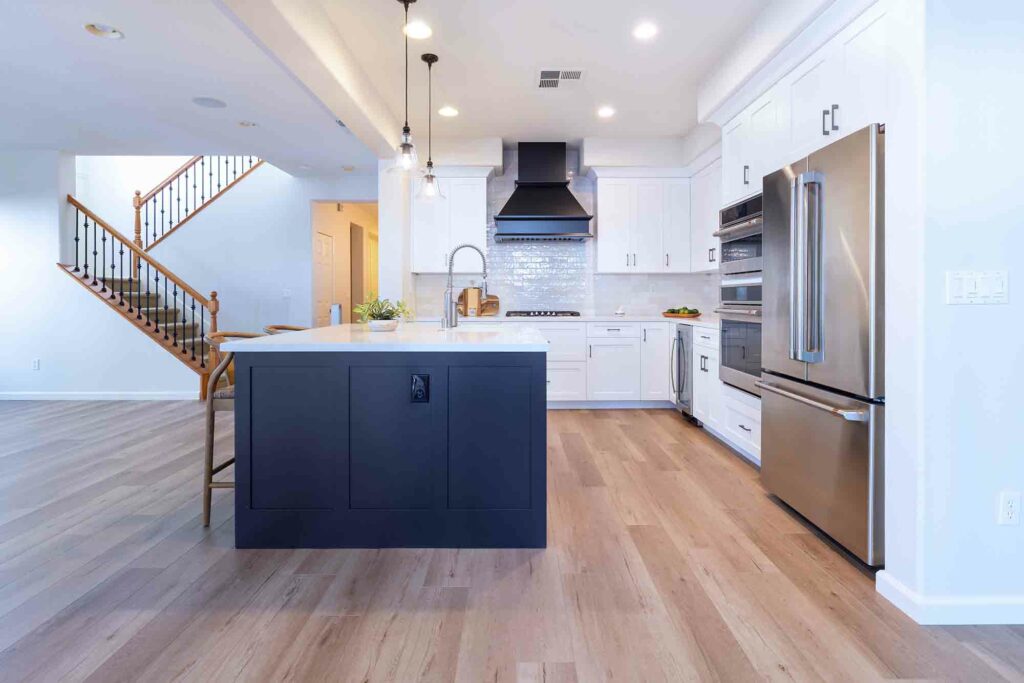 One major change that also added value to the home was installing new LVP flooring throughout the downstairs. Not only is it softer on the feet (perfect for a household with a teen, dog, and elderly mom), but it's also easier to clean up spills than tile. And with this new flooring came a beautiful marble-look tile hearth surrounding the fireplace. It's these thoughtful details that truly complete a remodel.
The Power of Paint: Say goodbye to outdated colors and hello to a bright, fresh white.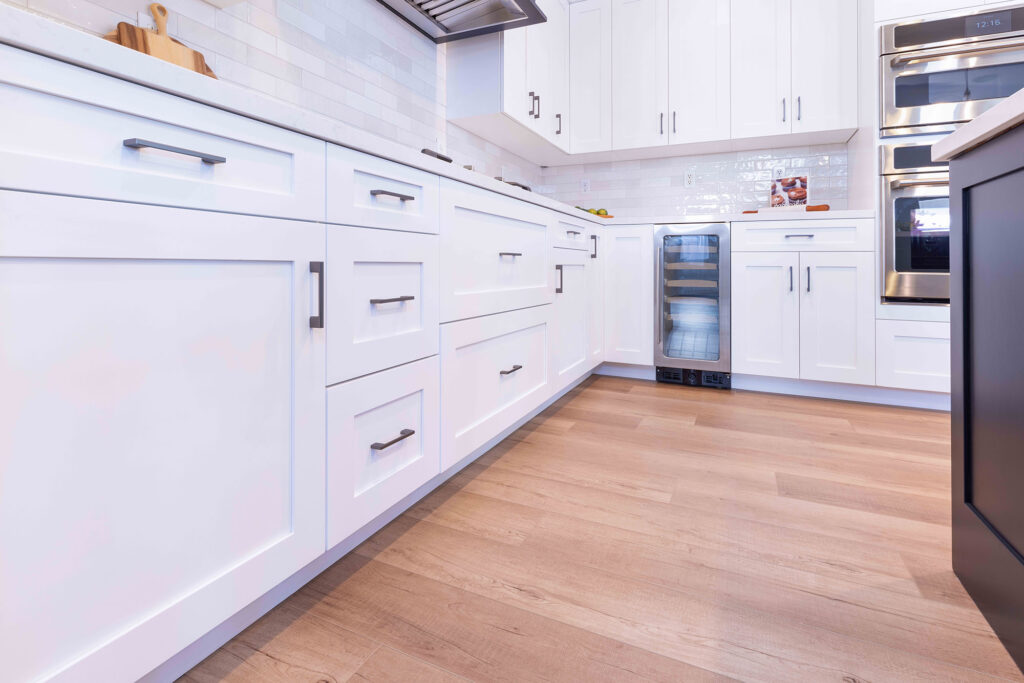 But let's not forget about the walls. Say goodbye to yellow, red, and black from before because we painted throughout in bright and fresh white paint. This instantly brightened and lightened the space, making it feel more welcoming and spacious.
Finishing Touches: Discover the final details that complete this stunning remodel
And finally, the finishing touch to this stunning remodel – new Roman shades on all of the windows. Not only do these add a touch of elegance, but they also provide privacy and light control for those lazy weekend mornings.
Acknowledging our Partners: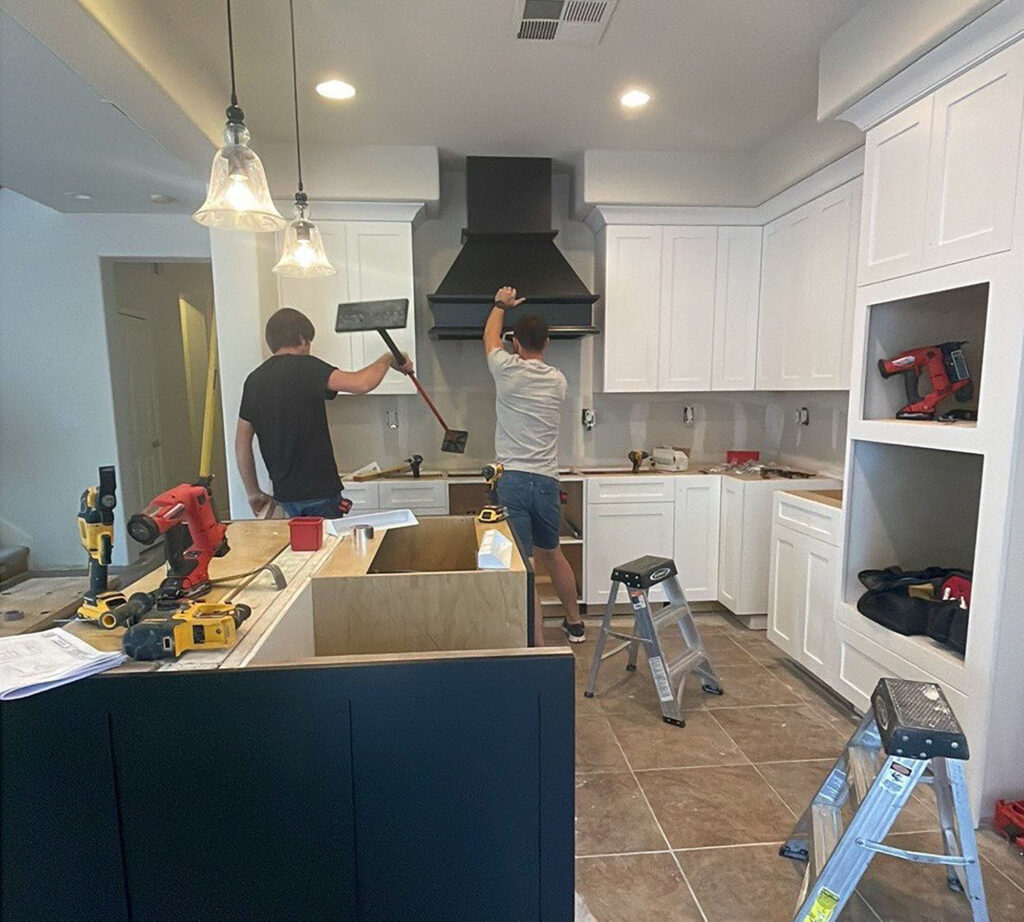 We couldn't have accomplished this beautiful project without our amazing team. A special thank you to Wynnbrooke Cabinetry, Hardware Resources for their gunmetal hardware, MSI Surfaces for their Calacatta Vicenza quartz countertops, GE Cafe appliances, Bedrosians tile for the subway-style backsplash, and Emser Tile for the hearth tile.
But wait, before we end this case study, let's take a moment to appreciate the incredible work done by Schatz Construction. Without their expertise and professionalism, this remodel would not have been possible. From the initial consultation to the final touches, they were there every step of the way to ensure a successful project (in record time too!). Thank you for your hard work and dedication!
So there you have it – a complete kitchen remodel that not only meets your needs but also adds value to your home. Don't let the thought of a remodel overwhelm you, because with the right team and design choices, it can be a smooth and rewarding process. Thank you for joining us on the Elegant Contrasts Project journey, stay tuned for more case studies like this one. Cheers to happy remodeling!
Until Next Time,